Welcome to this week's version of The SCOOP. There are updates on events from the past week and events that are coming up.
Johnny Can Spell (new phonograms)
We are a couple week in on our Johnny Can Spell program. This week we worked on some new phonograms and reviewed the ones from last week. To get an idea of what our Johnny Can Spell time looks like, you can read below:
We start off with reviewing past phonograms
Then we write 6 spelling words each day (5 words from the day before + new word previous day)
Then we introduce a new phonogram
Finally,we introduce a new sight word that will be added to tomorrow's 6 sight words
This week's phonograms:
"ur" the /er/ of nurse
"ir" the /er/ of first
"wor" the /er/ of work
"ear" the /er/ of early
/sh/
In addition to these sounds and words, we talk about the formation of the letters and correct capitalization. Here's a student sample from Friday. (we underline letters that say their name and are proud to be mistake-makers!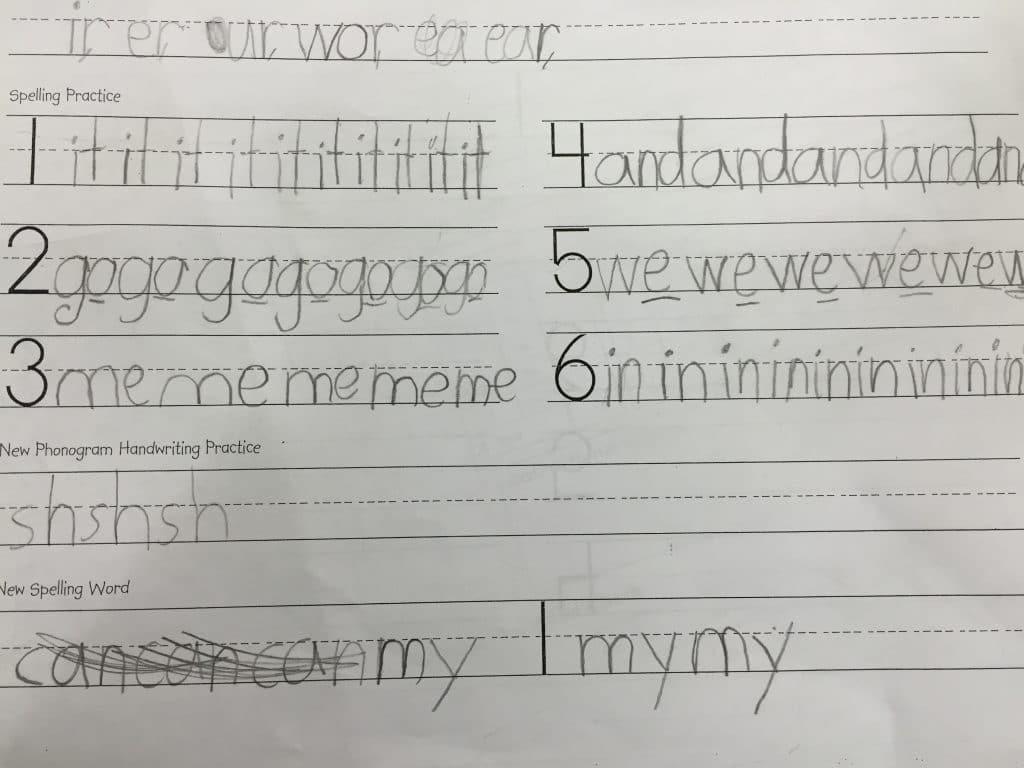 Fine Artists
This past Friday we were able to get our Fine Artists lesson drawing dogs! Thank you to all our Fine Artist Volunteers (Angela Weathers, Jennifer York, Megan Brenk, and Jan Ash). The students used a yellow Beeswax Crayons to sketch a dog using shapes. They traced the dog with colored crayons. Then they put the dog in any place of their choice by drawing the surroundings of their dog. Then they painted their dogs using water colors. Check out some pics of your little artists at work!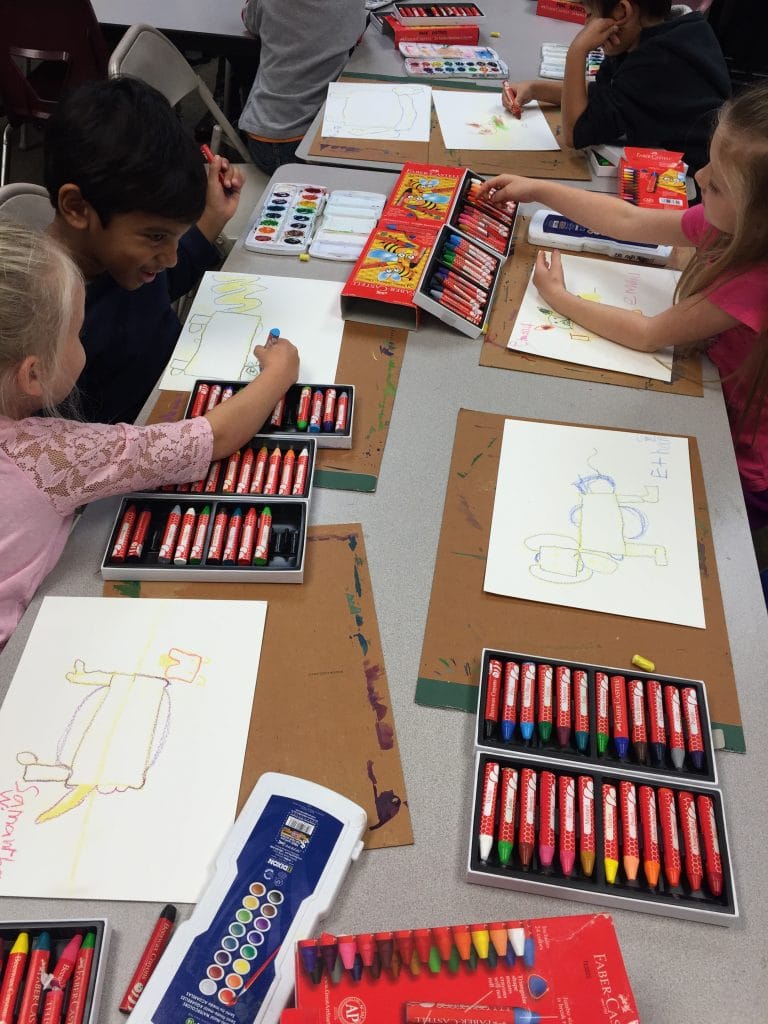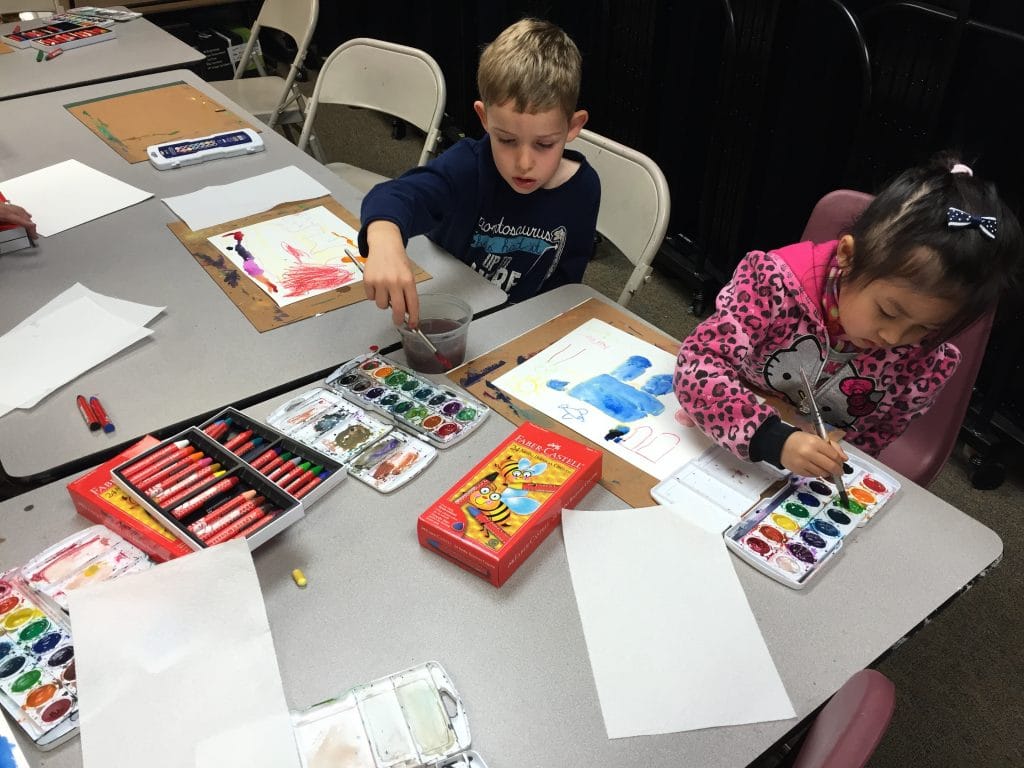 EBS Celebration of the Arts
On Thursday, February 5, 2015 at the Mira Mesa Barnes and Noble, from 5:00 – 8:00  you can come to tour the EBS art show. In addition to the art show, there will performances by our school choir, band and orchestra. A guest visitor will also be there….Ms. Sloan's dog…PENNY! (the kids know all about Penny and love her!) There will also be some other fun activities such as cupcake decorating and a scavenger hunt. You don't want to miss this great event! See the flyer with a timeline of events here: EBS Barnes and Noble
In addition, O's Kitchen is having a Family Night Out with 20% off. Help to celebrate and support our school!
Bus Drill
You each received a form today regarding a Bus Drill. This is an annual drill where students all get on a bus to hear about Bus safety. The Bus driver speaks to the students about the dangers and solutions off the bus and on the bus. The form only needs to be returned if you don't want your child to participate. We will participate on the bus drill on February 18th.
February Volunteers
Thank you so much to everyone who volunteered in our classroom in January! I can't tell you how grateful I am for the contribution of your time and effort. If you would like to volunteer during the month of February, please let me know the date and time you are available and I'll add it to our February Volunteer Calendar.
Valentines for Rady's
After a little scare at my home, I was reminded how fortunate we are to have good health and how grateful we are for health care providers. In an effort to teach to the heart/soul  our class will be making 200 Valentine's to donate to Rady's Children's Hospital.  I will be reading the children a book to start the discussion. I plan to tie this into our regular conversations about giving to others (generosity), and starting the conversation of remembering those who are sick and finding a way to care and bring smiles to the many who will be in a hospital on Valentine's Day. We will assemble as many Valentine's as we can next Friday (Feb. 6th). If you are able to join us and assemble we'd love to see you! We will be assembling at 11:30 am.
Valentine Celebration for 206
Hopefully everyone got the invitation for our class celebration. The invites went home in folders this week. In case you missed it, you can view it here. 206 Valentine Invitation
Please note the information below, if your child chooses to send valentine's to the other classmates:
26 students total
No candy or food in the Valentines (school policy)
Please only fill in/write the "From: ___" on each valentine as each student has to deliver to 26 bags. Thank you.
Day 100
In addition to all the other festivities….we are quickly approaching our 100th day of school. Each day we add a dot sticker to our 10-frames and count the number of days we have been in school (we used to count by 1's, 5's and 10's, but as the numbers grew we now only count from 5's or 10's and only count by 1's from a random small range of numbers). This is an exciting day that has been coming with a build of anticipation! This fabulous day falls on Wednesday, February 11th. We would love some volunteers from 11:15 – 12:30 pm to help out with a rotation of centers we will be doing. If you are able to volunteer and are cleared, please stop by and sign up in the hallway of 206 this week.
Day 100 Sharing – as another way for student to practice listen and speaking skills, students will be bringing in a small collection of 100 things that fit in a small bag. Be thinking of some ideas with your student. The focus of the activity will be on the oral presentation. A sample rubric will be attached so you can practice at home. Information for sharing will go home this Monday.
RAZ Kids
Each week, I get an email of the RAZkids activity and noticed only 10 percent of our class is using RAZ kids. I have blogged about it before and spoke to each family about it at conferences, but wanted to make sure that each family remembered about this amazing reading program that is free for all EBS students. This is another one of the wonderful purchases made by our generous AFP (that's you guys!…thank you!). I spoke with the kids about it this week and challenged them to go on the computer and read each night for 10 minutes before dinner time. The next day almost half of our students got on RAZ kids. We are trying to commit to reading a little every day and raise our stats to build consistency for reading growth and to enjoy some great books! Let me know if you have any questions.
Remember this is an independent reading activity, so it allows you a little rest and your child gets to practice reading (fiction and non-fiction). This can also be logged on your Homework each week in addition to the Bag of Borrowed Books. Here is a direct link to my Links page (under Info & Resources) tab with all the directions!
Field Trip
Just a reminder that info packets went home this week regarding our Field Trip to Birch Aquarium on February 17th. Please return the payment and permission form for your child. We are limited in the number of volunteers we are able to take on this field trip as it is based on adult to student ratio. Due to this constraint we are trying to give priority to parents that can hold many children in their car (4-6) and/or weren't able to come on the last field trip. Please let me know if you are able to join us on our field trip.
Box Top Collecting
Box Top collecting has started! Spot them on your products at home, cut them out and bring them in to raise money for EBS. There are also school prizes for top collectors.
Important Dates in February
There are many important dates this month that I thought I'd list them here. These are also listed on the Calendar Dates page. If you have any questions regarding any of the dates/activities, please let me know. Thank You!
February 6 – Assemble Valentine's for Rady's Hospital (11:30 am)
February 11 – Day 100! (volunteers needed at 11:15 – 12:30)
February 12 – Valentine's Celebration in 206 (10:15 – 11:15)
February 13 – No School (President's Holiday)
February 16 – No School (President's Holiday)
February 17 – Field Trip to Birch Aquarium (10:45 – 3:00)
February 18 – Bus Drill at EBS
February 19 – Chinese New Year
Mother – Son Bowling
Not sure if any mamas and their big boys got to attend the Mother Son Bowling event last weekend, but I got to see an adorable pic of the fun and had to share! Father – Daughter Dance is coming up soon (see the Calendar Dates page on our website).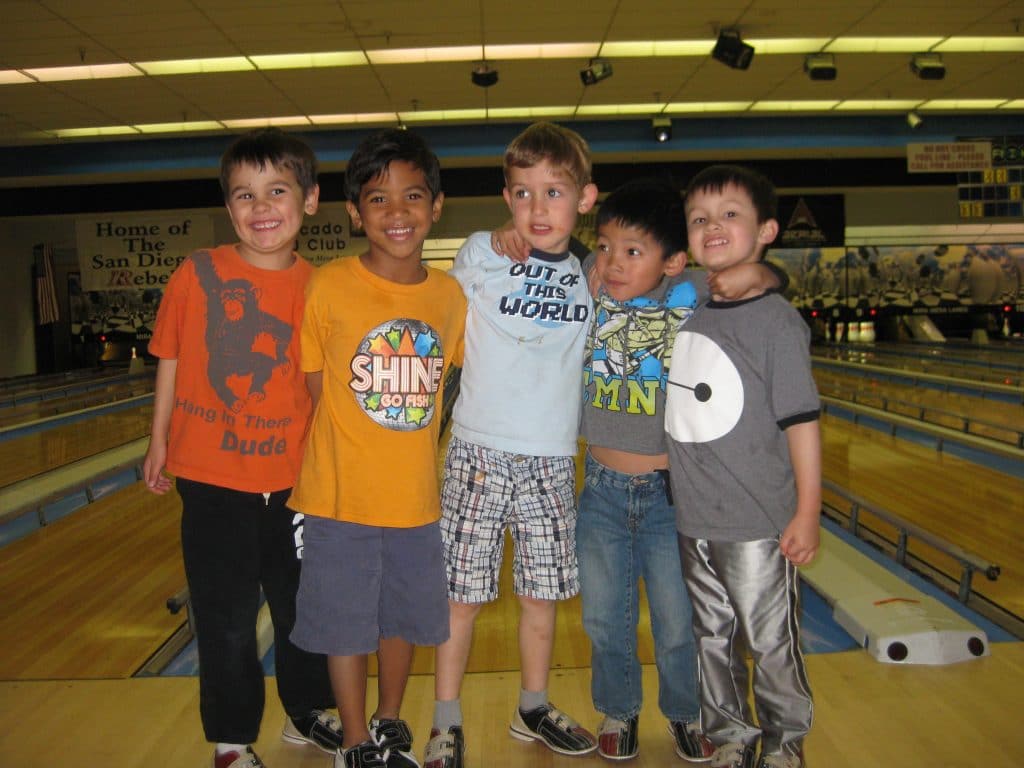 Cute Moments in 206…"Group Hug"!
This week, a sweet girl in our class was so excited as her mom came in to volunteer. When it came time for Mom to leave, this little one got a bit teary as she said goodbye. Upon hearing the sadness and consoles of his teacher, another student and dear friend jumped out of his seat with empathy and wrapped his arms around her to comfort her. As the others saw this act of kindness, most of the other student gathered around her too and joined in a group hug. (gets me teary when I see the pic) This was totally unprompted and one of those moments that just made me smile and put me in awe as children have most wonderful raw and loving reactions! …Love these kids! They are special and you have done a wonderful job in raising them!
Monday – 2/2
PE with Mrs. Blower…wear Tennis Shoes! (this is required to participate and receive an accurate grade from Coach Blower)
Renew Book Borrow Bags (return the bags to receive new books)
Bring in Box Tops
Tuesday – 2/3
Return School Library books
Bring in Box Tops
Wednesday – 2/4
Library Visit at 12:30   

(TK dismissal at 12:55 in the library)

Computer Lab
Bring in Box Tops
Thursday – 2/5
Minimum Day (dismissal at 12:30)
Celebration of the Arts (Mira Mesa Barnes and Noble)
Mission Federal Credit Union at School for deposits!
Bring in Box Tops
Friday – 2/6
Assemble Rady's Children's Hospital Valentine's at 11:15 am.
Homework/Reading Log Due (aim for 20 minutes of reading a session…break in two parts if needed)
Run Club for K Students (Wear Tennis Shoes)
Bring in Box Tops