Welcome to this week's version of The SCOOP. There are updates on events from the past week and events that are coming up.
 Thank you!
This week I was out for 3 consecutive sick days (a record in my teaching career). It was a long, rough week as my body was beat and is still weak! I'm still on the road to recovery, but am so grateful to be back and for your support and flexibility as I was attempting to get well. I am grateful for your understanding and missed those kiddos.
100 Day Sharing –
DUE: Monday, Feb. 9th
Monday of this past week, your student received direction/clue sheet with a green rubric attached and a brown paper bag and a due date slip inside. Don't forget this is due on Monday (February 9th) as we will begin student sharing presentations that day. We are aiming to finish the presentations by Wednesday, but may need to do some on Thursday as well if we run out of time.
Don't forget to practice the oral speaking part many times with your child so that they are able to read or remember their clues independently as well as practice being loud and clear. I can't wait to see the great ideas coming on Monday!
Field Trip (on 2/17/15)
If you haven't returned your permission slip please return ASAP! I'm missing a couple student permission slips and we are trying to get all the details out and confirmed during this week as we have a long holiday weekend coming just before our field trip. All Field trip info must be in by MONDAY! Thanks!
Valentine's for Rady's
I'm so proud of 206! They are so generous! We read a book all about Caring. When I first asked the kids if they knew what "caring" meant, they started to give examples of "carrying." It was a funny little moment that I hadn't expected and explained the difference between the two. We read a book all about a variety of examples to show that you care. After reading the book, we each wrote how we can care for others. Shortly after recess, we followed the book and writing up with thinking about kids in the hospital. This took a little explaining, but they quickly got it and started to understand that some kids don't get to go to school or sleep in their own bed at night because they have to stay in the hospital for periods of time.
After a good talk we explained this heart goal and how we were going to help and give to others. I showed them the sample valentine and explained how we were going to make 200 valentines for many of the kids in the hospital. After explaining the task the kids got to work! They were like mass producers! They did such an awesome job of putting these together to help other kids. I'm so proud of these guys! We also had some AWESOME MAMAS come out to help us! Thank you Amy Ju, Cathy Sin, and Alice Sestok and to Megan Brenk for organizing all the help while I was ill! We couldn't have done it without you!


Johnny Can Spell
This past week we added 2 new phonograms. We learned:
/ee/ – double ee says /ee/
/th/
/ay/
We review these each day along with writing 5 of them. Practice these at home or in the car,  just like when learning letter sounds. Here's the list we've practiced so far: er, ir, ur, wor, ear (early), sh, ee, th, ay
School Wide Book Drive for the 100th Day
On Monday an orange, half-slip flyer (pictured below) is going home regarding the book drive. All books are due this Wednesday, February 11th! The bag is just inside our door if you want to drop your book of yourself.  If not, we'll add in the bag during class. See details below.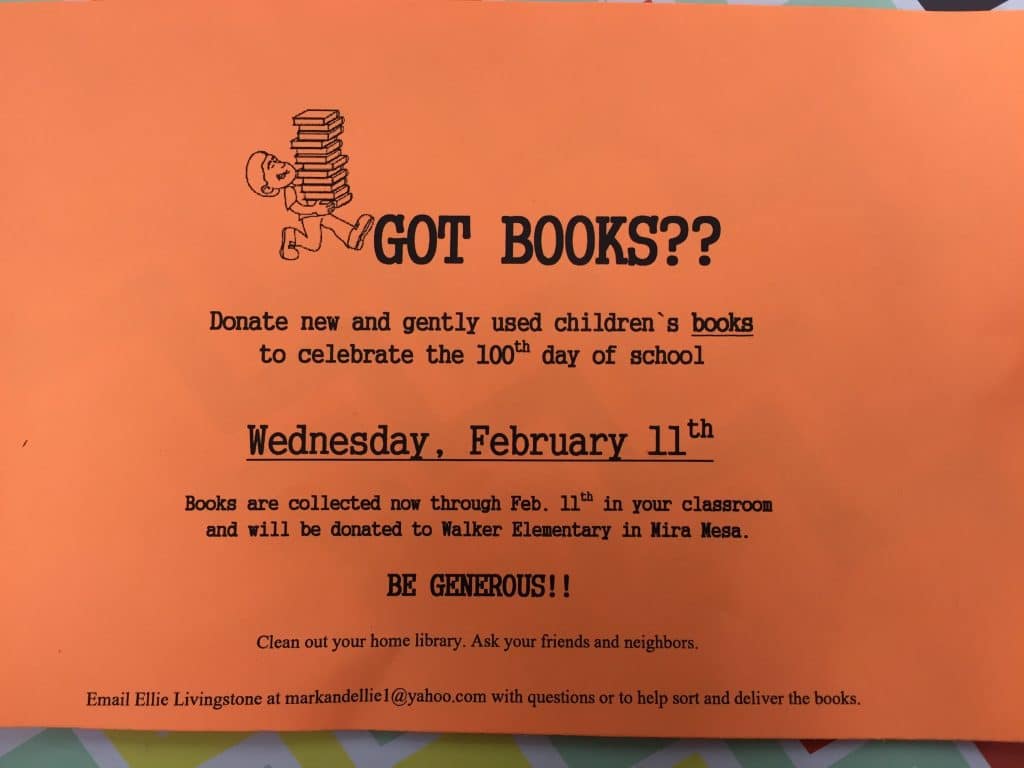 BOX TOP Correction
The former information given out in AFP minutes were incorrect regarding the next round of Box Top collections. No new date was given, but should be coming up in a couple of weeks! I'll keep you posted when I hear any updates. Hang on to those labels and keep on collecting!
Monday – 2/9
Music with Mr. Waczek
Renew Book Borrow Bags (return the bags to receive new books)
Start 100 Day Sharing

(All Student Sharing bags are due this day)
Tuesday – 2/10
Return School Library books
Continue 100 Day sharing
Donate a book to the book drive
Wednesday – 2/11 – 100th Day of School
Library Visit at 12:30   

(TK dismissal at 12:55 in the library)

Computer Lab
100 Day Center Celebration 11:15 am
Finish 100 Day Sharing
Last day to DONATE books to the book drive
Thursday – 2/12
Minimum Day (dismissal at 12:30)
Mission Federal Credit Union at School for deposits!
206 Valentine's Celebration
Final Field Trip Info/Reminders go home
Friday – 2/13
NO SCHOOL – President's Holiday