IN THIS POST:  It's going too fast…, Distribution Day Return, Spirit Week, End of TK Celebration!!, Last Day of School – Modified Schedule, Fine Artist Material Return, Save the Dates, This Week
It's going too fast…
I can't believe how fast this year has gone! We have 20 days left and then your sweet kiddos will be official Kindergartners!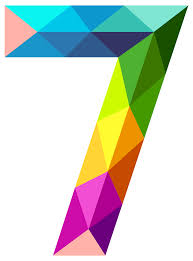 Distribution Day Drop Off
We will be having our final "Distribution Day" to return items to school for Virtual Learners. If you are an Onsite Learner, you do not need to return anything as items were brought back on April 12th.
Two Drop Off Options:
Bring items to the park for End of TK Celebration
Bring items the following day to drop off at the front of the school in the round blue bin
What Needs to be Returned:
Fine Artist Materials
Plastic tubs with silver lid
whiteboards
scissors
bag of independent reading books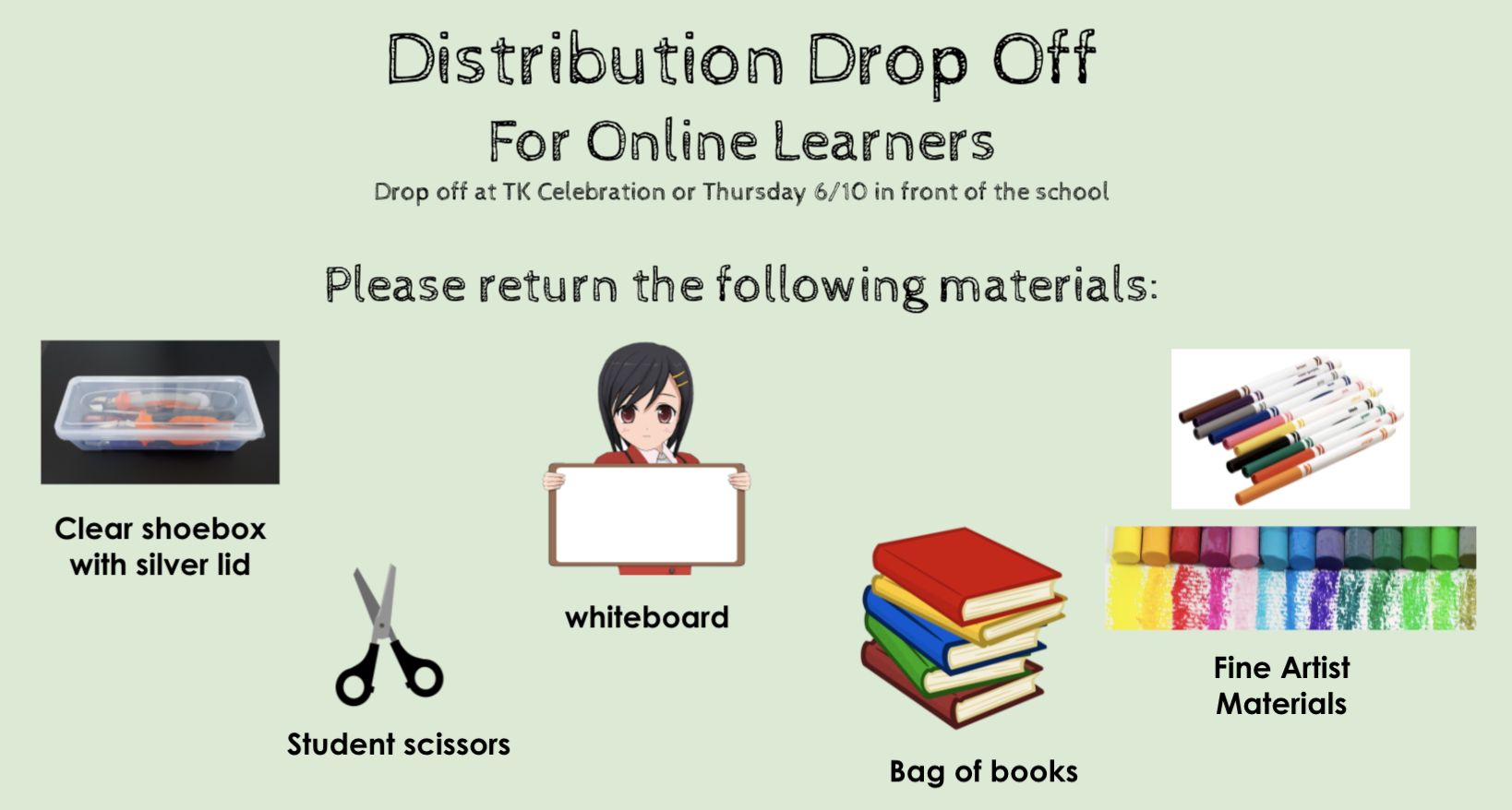 Spirit Week!!
This is an all-school spirit week! We are so excited and looking forward to lots of FUN! Please mark these down so you don't forget!
Tuesday, June 8th – Superhero Day!
Wednesday, June 9th – Sport Day!
Thursday, June 10th -Jog-A-Thon Shirt Day
Monday. June 14th – TK/K – Aloha Day (Dress Hawaiian)
Tuesday, June 15th – Penguin Day (Wear Black and White)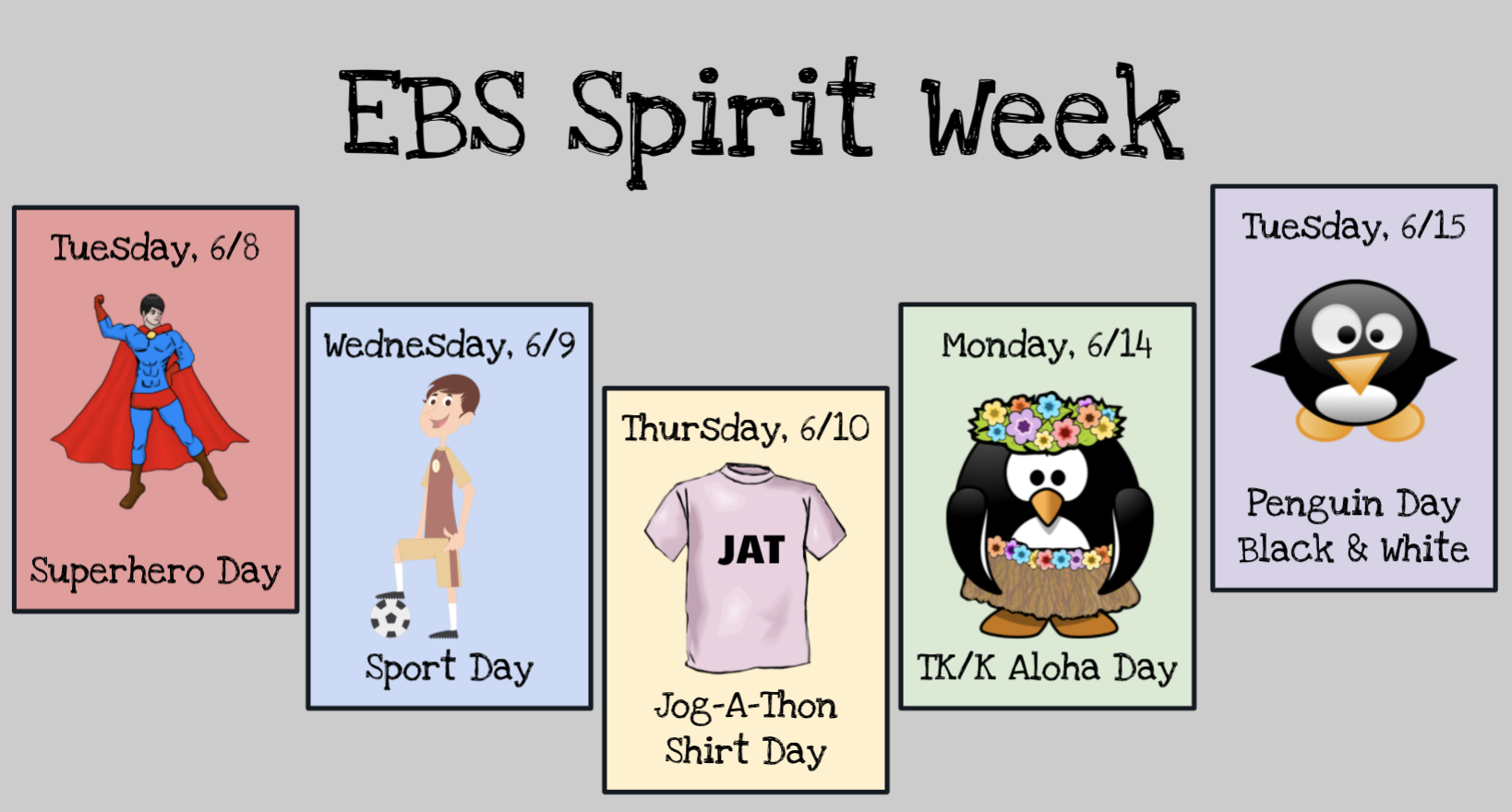 End of TK Celebration!!
The end of the year is coming to a close and we want to say goodbye to all our friends and have one last day to play in the sun! The infamous Miss Molly and Miss Anna are planning this awesome playtime in the park! (INSERT cheers and applause here!)
Please check your email and respond to the Evite so we can be prepared for your attendance! Mrs. Miller will also be bringing a small end of the year gift for each student! (I can't believe its over…tears!)
Last Day of School – Modified Schedule
The last day of school is a minimum day for our entire school therefore we will be on a minimum day schedule as well! Please see the schedule below and plan accordingly for pick up and log in times!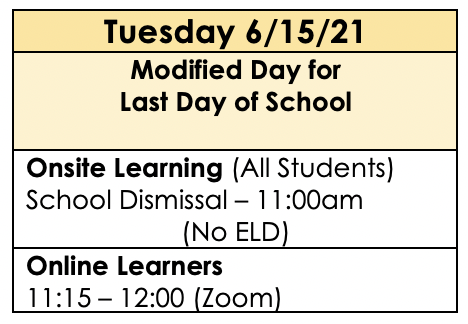 Fine Artists Material Return
Please return Fine Artist Materials (Markers and  Oil Pastels).
Onsite Students – Bring to school this week
Online Students – Return with Distribution Drop Off Materials
Save these Dates
TK End of Year Celebration – Wednesday, June 9th @ 2:45 pm (SR Community Park)
Distribution Drop off – Thursday, June 10th  9:30 – 3:00pm
Last Day of School – Modified Day Onsite Dismissal 11:00am, Online 11:15 – 12:00
The Week Ahead…
Monday – 6/7/21
Onsite students return weekly book bag for new books. Please include Reading Log
Online begins at 12:00 (ELD) and 12:30 (all Online Learners)
Tuesday – 6/8/21
Onsite arrival from 8:40 – 8:55
Online begins at 12:00 (ELD) and 12:30 (all Online Learners)
SPIRIT WEEK:  Superhero Day
Wednesday – 6/9/21
Onsite arrival from 8:40 – 8:55
Online begins at 12:00 (ELD) and 12:30 (all Online Learners)
End of TK Celebration @ SR Community Park (see Evite)
SPIRIT WEEK: Sport Day
Thursday – 6/10/21
Onsite arrival from 8:40 – 8:55
Online begins at 12:00 (ELD) and 12:30 (all Online Learners)
Distribution Day Return, 9:30 – 3:00 pm (or bring to the Park)
SPIRIT WEEK: Jog-A-Thon Shirt Day
Friday – 6/11/21
All Class Zoom 8:50 – 9:30 am
Music with Mr. Waczek @ 9:30 – 9:45
EBS Fun Fridays – 2:00 – 2:30 (ZOOM ID: 891 7068 6796 PASSWORD: FridayFun)