IN THIS POST: Mrs. Leatherwood, Mother/Son Bowling, 100th Day of School, Star of the Week, Library Books, How-To Writing, Math Tiles, Updated Cleared List, Upcoming Events, The Week Ahead
Upcoming Events
Mrs. Leatherwood
As many of your have heard Mrs. Leatherwood will not be joining us this semester as planned. She accepted another position at Walker Elementary as a third grade teacher! We will miss her so much, but are so proud of this milestone for her! Congrats Mrs. Leatherwood!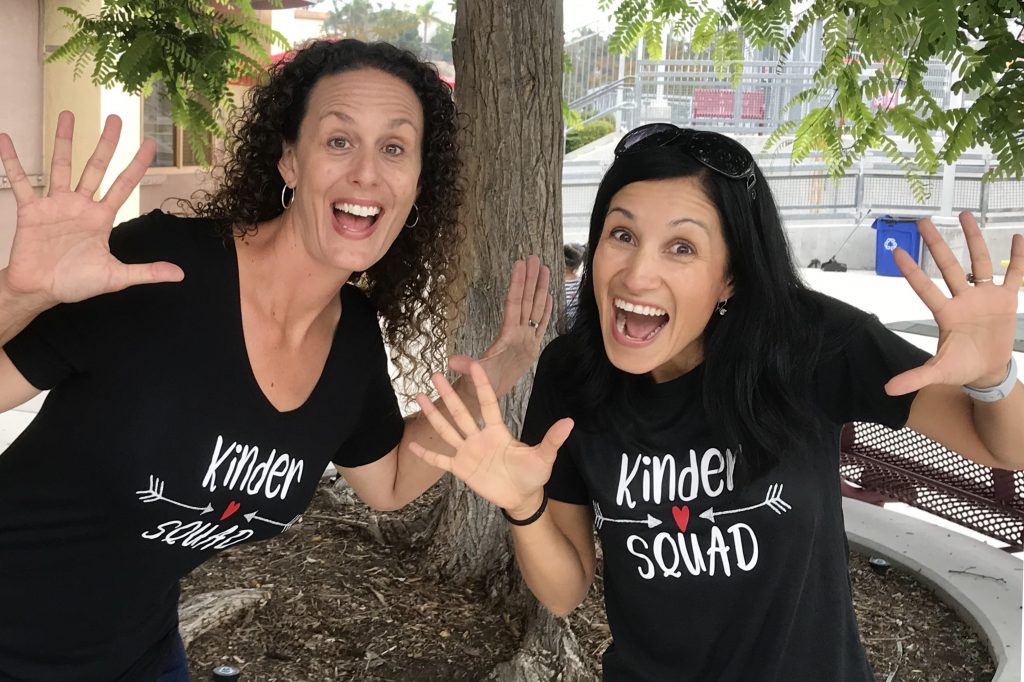 Mother/Son Bowling
This past Saturday was the EBS annual Mother/Son Bowling event! It was my first time I had attended and what a blast. I believe we had the whole bowling alley in use with about 250 EBS family members! Here's a couple EBS/206 families I spied there! #somuchfun
100th Day of School
The 100th Day of TK/K is a big deal in school world!! We have been counting the days since August and are already at 83 days of school! This year our 100th day falls on Wednesday, February 6th. For this day we will celebrate in many fun ways! We wanted to give you a heads up as to what was coming so you could start to think ahead about some ideas. 
Dress 100 Years Old – Be thinking and be creative how your 5 year old could dress as if they are 100 years old. Want some ideas…check out ideas on Pinterest or Google. Then get your cameras ready….cuteness factor comes in full effect on this day! 
Soon each student will receive an child-sized apron. Directions in detail will be attached. Students will be gluing 100 items (one type or idea) on their apron. Students will walk the red carpet in class to model their 100 day collection (wearing their apron). 
We will also do some in class activities/art on the 100th day as well! 
Star of the Week
We will begin our Star of the Week Presentations this next week! Each week, one child will receive a Star of the Week Poster with directions and a sample rubric. The focus of the presentation is listening/speaking skills. Students/Families will have a week to create and the poster and MOST IMPORTANTLY practice presenting their poster. Remember, only one child a week will have a turn, so it may be soon or in a month or two that your child has a turn. 
Library Books
We will be returning to the library next week! Please make sure you have returned your books by Tuesday at the latest as the library needs to check them in early before we come. Thank you! 
How-to Writing
This last week, we began a new type of writing…."How-To" writing! First we read a "How-to" book and discussed/charted what we noticed. Then we wrote a "How-to" book together as a class. We also made a list of different topics that the students know "how-to" do that could be possible topics to start their first book. Students then tried writing their own "How-to" books. They did awesome on their first shot. We will continue working on this type of writing for the next couple of weeks. Ask your child to tell you about their "How-to" book or help them come up with an idea that they they know how to do well and independently. 
Updated Cleared List
The most recent Cleared List came out this week! Check to see if you are on it and if so, what clearance level are you?! We will be attending about 2 field trips this spring and need enough drivers to help us get there. You must be D cleared to attend or drive any field trip. Please make sure if you plan to join us or are interested in helping, you must get D cleared. The fingerprinting lasts a lifetime in our district, though an updated school application will need to be submitted each year. 
Cleared volunteers as of 1-10-19
Upcoming Events
January 21st – No School for Martin Luther King Jr.'s Birthday!
January 22nd – Mrs. Miller attends one-day STEAM training
January 31st – EBS International Event
January 5th – TK/K Teacher PLC Day
January 6th – 100th Day of School
The Week Ahead…
Monday – 1/14/19
Before School Run Club
Computer Lab @ 10:15 am
Tuesday – 1/15/19
Before School Run Club
Computer Lab @ 10:15 am
Wednesday – 1/16/19
Thursday – 1/17/19
Before School Run Club
Whole School Dismisses at 12:30
Music @ 11:05 am
Friday – 1/18/19
Before School Run Club
EBS Spirit Days: Wear Red & Black or any EBS shirt!