IN THIS POST: Thank You! Happy Holidays, Room 206 Winter Celebration, Pajama Day, Character Education – Respect, Marble Party Recess, Sight Words, RAZkids Robots, Zones of Regulation,  Upcoming Events, The Week Ahead
THANK YOU! Happy Holidays!
A special thanks for all the love! Thank you for the beautiful class gift and adorable poster! So beautiful! Thank you for gift to one of my favorite restaurants! I appreciate all your kind words and trust as you let me work with your children each day! They are raw joy!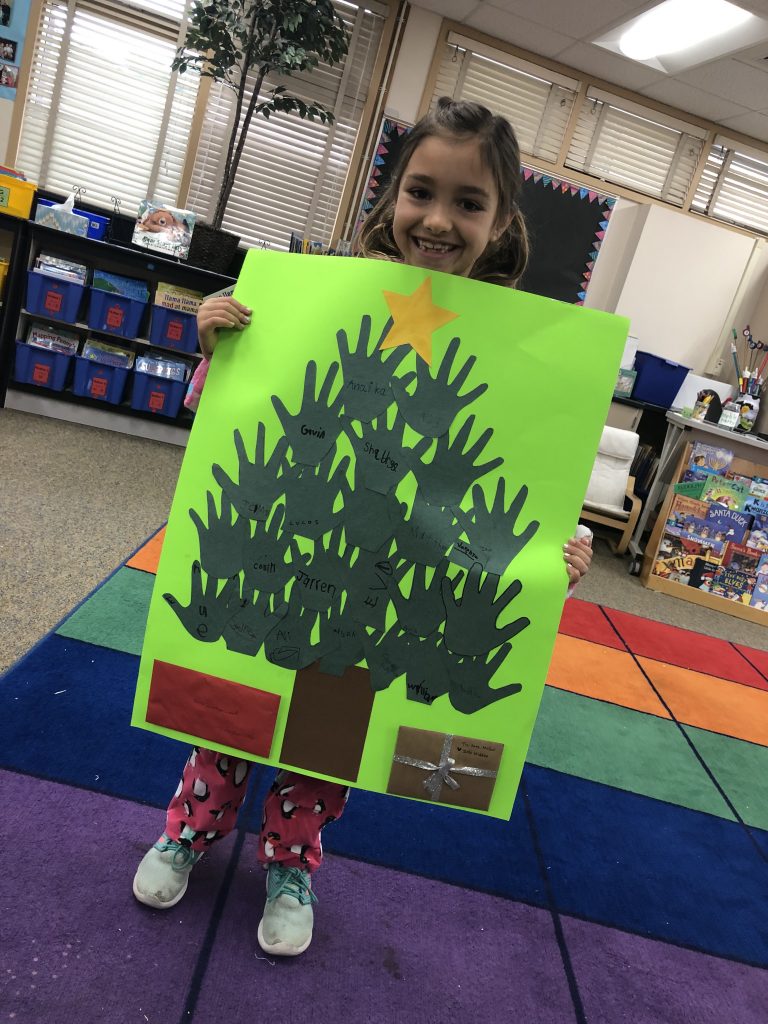 Room 206 Winter Celebration!
What a day we had on Friday! The kids were full of excitement with it being the last day and knowing there was a party to finish our day! Thank you to everyone came out and our awesome Room Mom, Dani Powell for planning such a fun day! We had a pre-party snack and story telling with popcorn, oranges, and juice boxes. After the snack, students broke into 3 groups and rotated through 3 different stations consisting of: Roll-A-Reindeer, Snowman Bowling/Stacking, and making a snow globe craft! Students had a great time and loved all the games and crafts! Thank you everyone for coming out and helping the students have such an amazing day!
Pajama Day!
Friday's excitement was increased by experiencing their first pajama day! There were many smiles to come in  a fun pair of PJ's!! Check out these adorable and cuddly kiddos!
Zones of Regulation
We have been discussing a new way to be aware of our own emotions and how to handle some of our emotions to make good choices and to be sensitive to the feelings of others. We have had some beginning conversations simply to understand each color and to discuss what we can do when we are in a yellow zone to slowly come back to green. Take a look at the pictures to understand more clearly. When in yellow zone, we have practiced:
Blowing candles out (blowing on each finger of one hand to calm down)
Taking deep, slow breaths
Walking away or ignoring the words or actions that upset you
These are a couple ways we have discussed to help us to be more aware of yellow zone and to move us back down to green zone. In an ideal world, we aim to stay far from red zone, where we are likely to make choices that can hurt others or ourselves.
Character Education – RESPECT
This Friday, Emily Forgeron came in to speak to the class about Respect! She came in to teach the students about Respect. She gave each child a small flag with the word "respect" written on it. She proceeded to read a couple short stories where respect and disrespect were shown. She asked the kids to raise their flag every time they heard an example of respect being shown. The students did a great job of listening and understanding examples of respect! Thank you Emily!
Marble Party Recess
This week, the 206 Team filled the marble jar and earned a class "marble party." For marble parties, we have a list of choices that the class can choose from. Each student voted on the option they would like best to choose for a party. The "extra recess" option was chosen by the class! We celebrated this week and have started to fill the jar again. The jar is already 1/4 full! So proud of these guys for their effort and team work!
Sight Words
First off…apologies for last month's confusion of light green words. The direction sheet had different words than the words on the cards. We realized their was a mix up in copying. To make it easiest, we are keeping the words printed on light green as December words. Dark green words will go home on Monday, January 7th. Thank you for understanding.
Don't forget to play the sight word activities over the break with the first 40 Rainbow words!
RAZkids Robots
Have you been reading from RAZkids lately?? If you forgot about this access, take some time to have your child read over the break! The Robot Rewards have been turned on by our Computer Lab reacher. This means that as your child listen, reads and answers comprehension questions they can earn points (and use previously earned points) to build a Robot! Its unique fun that motivates the kids to read more! Give it a try!
Upcoming Events
January 7th – Return to School
January 12th – Mother/Son Bowling
January 21st – No School for Martin's Birthday!
The Week Ahead…
Monday – 1/07/19
Welcome back to school!
Before School Run Club
Computer Lab @ 10:15 am
Tuesday – 1/08/19
Wednesday – 1/09/19
Thursday – 1/10/19
Before School Run Club

Whole School Dismisses at 12:30

Music @ 11:05 am

Behavior Assembly for all TK and Kindergartners
Friday – 1/11/19
Before School Run Club

EBS Spirit Days: Wear Red & Black or any EBS shirt!