IN THIS POST: Winter Party – Dec. 21st, Pajama Day Reminder, Character Education – 5th Grade, Holiday Learning, Absent Next Week?, Return Library Books, Mother-Son Bowling, Upcoming Events, The Week Ahead
Winter Party – Dec. 21st
Our Winter Party is this Friday, December 21st. This is our last day before Winter Break and is also a minimum day for all students. We plan to have our party from 11:00 am – 12:00pm. The students will then go to snack and recess and finish our day! If you would like to join us, and are cleared, please let Dani Powell know….we'd love to have you!
Pajama Day Reminder
Friday, December 21st is Pajama Day! Check the Weather and make sure to dress in weather appropriate PJ's. Remember we are not able to wear slippers or footsie pajamas. Layer with a jacket if needed and most importantly…HAVE FUN! Teachers wear their PJ's too!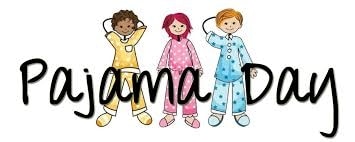 Character Education – 5th grade
This week our 5th grade Character Education Teachers came in and taught us about Respect. They gave a short demonstration to explain how respect work. Using some home ingredients they explained that the pepper they poured represented the people. The soap they put in were to model people who are being disrespectful. The pepper moved away from the soap, just as people move away from those who are being disrespectful. When sugar was add (representing respectful people) the pepper drew close to the sugar. This was an engaging representation to explain others reactions to us when we are respectful or disrespectful. We learned that "Respect is treating people kindly even if they are different from us!"
Holiday Learning
Back in November, we learned about Diwali. This week, we will take some time to learn a little about Hanukkah and Christmas. We will read or listen to a story and make a small craft to learn how others celebrate these holidays and what they believe.
Absent Next Week?
I know it is close to a 2-week winter break and many of us have plans to leave town. If you plan on missing any days next week, leaving early, etc, please let us know as we have different activities planned each day and some items to send home and want to make sure we don't miss anyone. Thank you and hope you have a wonderful winter break with your family!
Return Library Books
We will not be visiting the library until we come back from break. I would strongly encourage you to return you library book sometime this week before we go on vacation! This will keep books from getting lost and to keep students from forgetting their book. Our next visit will be: Wednesday, January 16th, 2019!
Mother Son Bowling
Our annual Mother Son Bowling event is coming up! This will be my first time going as my son is new at EBS this year! I've heard its great fun and is a special way to have some quality time with your little man! If mother's aren't able to attend with your son, another special guest may escort your son. Hope to see you all there!
Not a son??? Not to worry! Early February is usually the time that EBS has their annual Father/Daughter Dance! Your turn is coming up soon!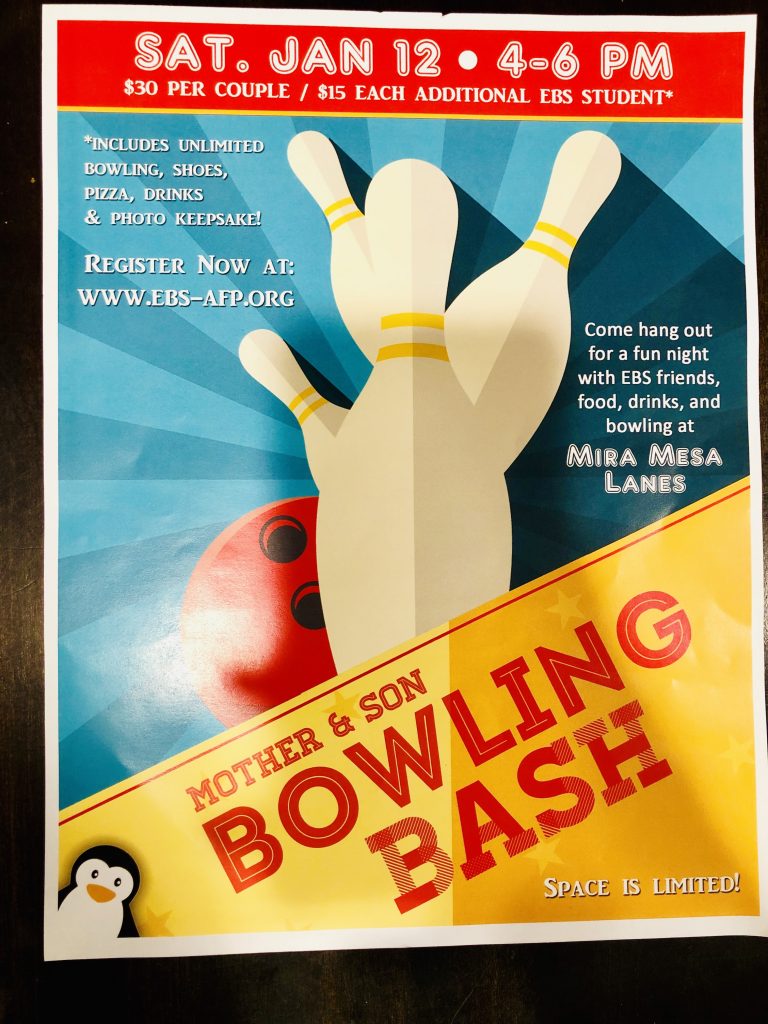 Upcoming Events
December 21st – All School Minimum Day
December 22 – January 4th Winter Break
The Week Ahead…
Monday – 12/17/18
Before School Run Club
Computer Lab @ 10:15 am
Tuesday – 12/18/18
Before School Run Club
Computer Lab @ 10:15 am
Wednesday – 12/19/18
Thursday – 12/20/18
Before School Run Club

Whole School Dismisses at 12:30

Music @ 11:05 am
Friday – 12/21/18
Before School Run Club

EBS Minimum Day – 12:30 dismissal for all students

Pajama Day!!
Room 206 Class Party! 11am – 12:00pm (All cleared family members are welcome)