Welcome to Week 19! This post includes:  •Reading Log Insight!  •Fine Artists – Vincent Van Gogh    •Character Education-Forgiveness  •Parent Grit Classes  •Shade Structure Ceremony   •New Technology Academy   •Run Club Achievements   •The Great Kindness Challenge   •Star of the Week    •This Week's Curriculum   •Future Dates   •The Week Ahead
100 Day Coins for Generosity!
This week you received this pink sheet along with a detachable/foldable box. Our awesome school has created a 100th Day activity that is also a GENEROSITY challenge. Families are trying to collect 100 coins to fill up their box with.
You are welcome to find change around your house and fill it up.
You could also make it an earning activity. For this activity, find a task your child is working to improve on (unpacking or packing their backpack without being asked, cleaning their room each evening without being asked, eating their vegetables, doing a house chore (s)). When your child does their challenged area their working on they can earn 10 coins at a time.
These coin will all be added to the San Diego Food Bank to help those who are hungry. There is such a large population of people on this earth who go without food. Having food to eat whenever we are hungry is something we can take for granted! Its crazy to think that $1.00 provides 5 meals worth!
In addition there are some great ways to practice math.
Recount the coins every time you add new coins
Count by 5's to see how many meals are in your box (5 per $1)
Sort coins by size, type, shape, or color and count groups.
Bring these back Friday, February 19th! We will also be adding dots to our Hearts for this month's We Have Heart Opportunity!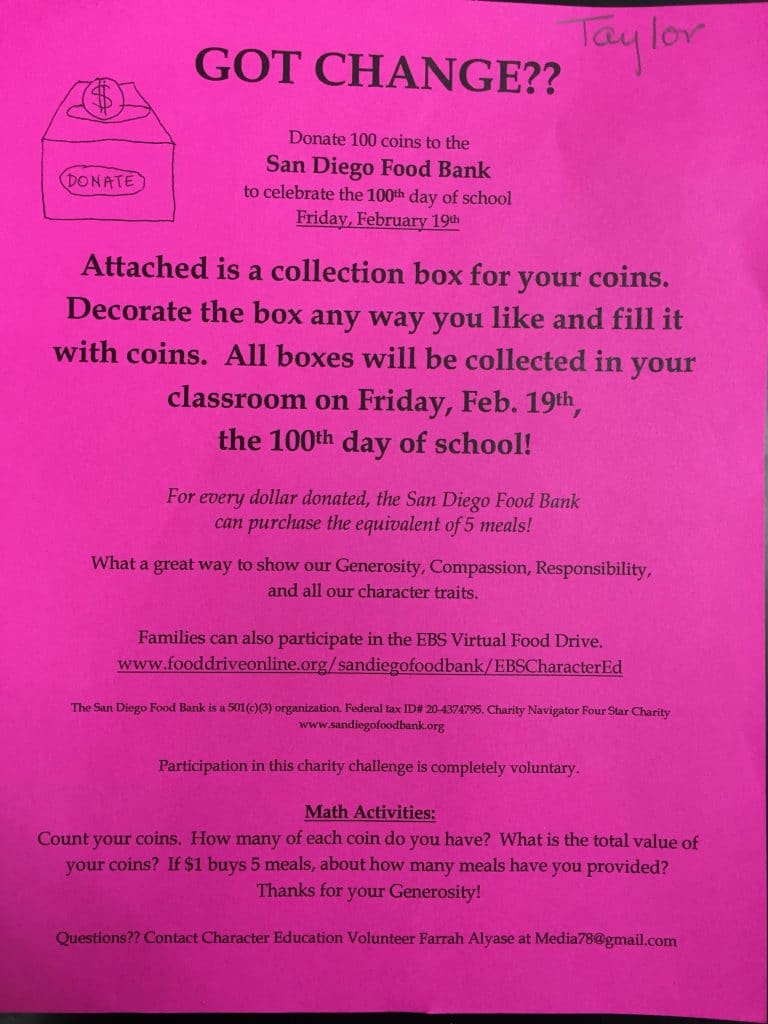 Mexico Appreciation!
My friend Dan was able to get and send some pictures of our friends in Mexico who gratefully received the grains, pasta, beans, and legumes we sent! They were so thankful and excited! Thank you for donating to these sweet faces!
CODING – The Technology Academy
The past two weeks in the Technology Academy, the students have been practicing how to code. They have become quite good at it!! Below is a picture of the letter that was sent home (you also received a log in picture). Once your child logs in they can go back to where they left off. For each new level there is short video they need to watch to explain the new level. Give it a try and watch your child go!
You can also access this page through the link on our resources page.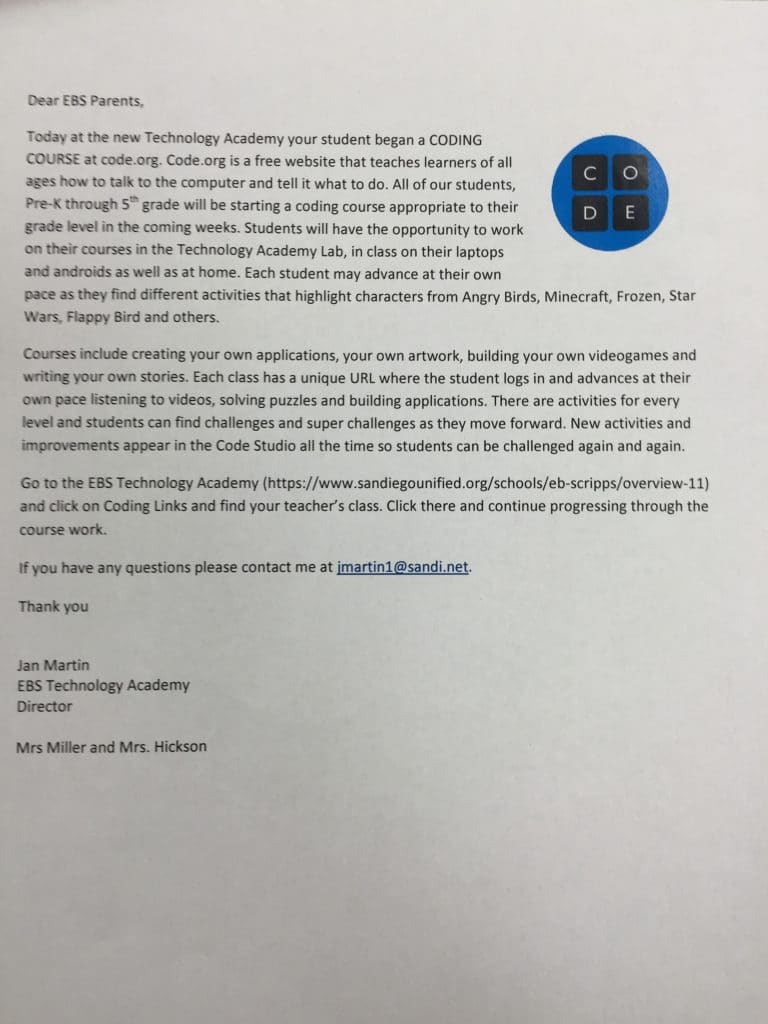 Valentine's Celebrating on 2/11/16!
Your Valentine's – Please make sure you don't mark who the card is for, ONLY mark who the card is from. We will have approximately 600 Valentines to deliver! This will greatly help your child and the volunteer helping your child!
Celebration – All cleared family members are invited to come Thursday, Feb. 11th from approximately 9:00 am – 10:00 am.
Wear Red or Pink – We'd love to take LOVEly pic with our Valentine's colors! Wear Pink or Red to celebrate the day!
Parking
Just a friendly reminder from the school office that there is No Parking in the Red Zone at pick-up time. Thank you in advance for your cooperation.
Clearance Deadline – March 25th
March 25th will be the last day for you to get "cleared" for the 15-16 school year. Your TB results will last you for a few years so it is well worth it. If you plan to come and join any of our end of the year activities please make sure you are cleared by March 25th!
This Week's Star!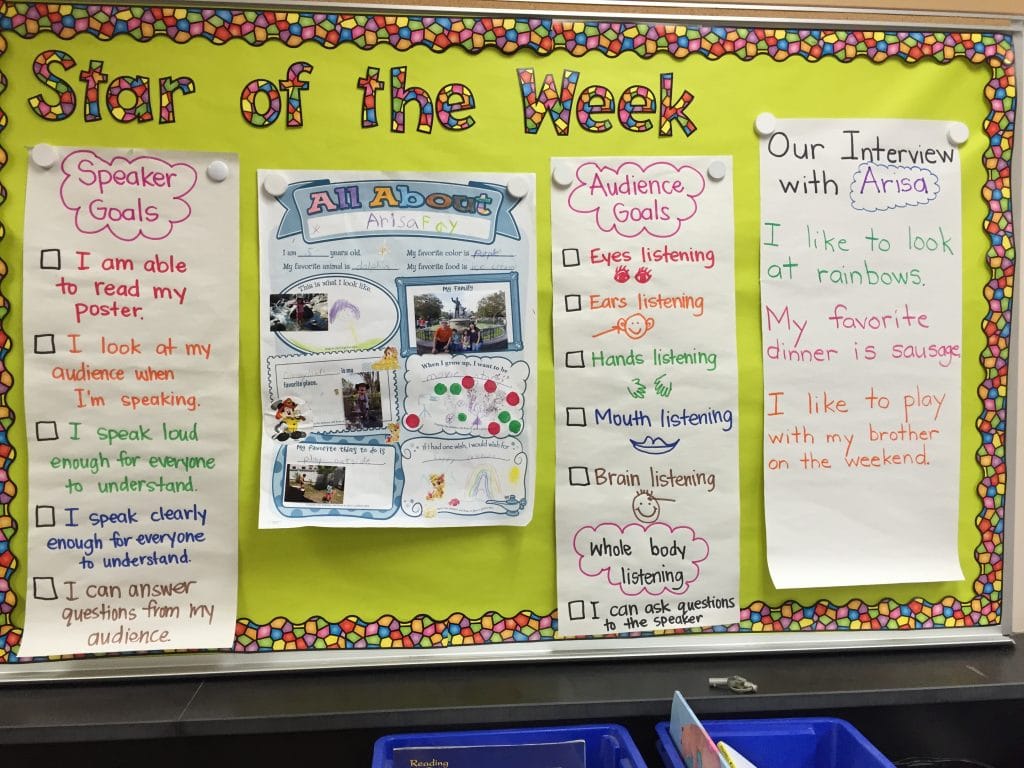 This past week in…
Math –  Math Language: In math we are spoke about the word "add" or "addition." We said it means putting together. As the math language and way of learning has changed a bit from when I was in school I want to familiarize you with some new terminology that can help your child in understanding. The symbol "=" is used with the words, "the same as." This is to help the kids understand that whatever is on one side of the "=" is

the same as

what is on the other side.
Writing – Editing. This week, the students got editing pencils A.K.A. "Make it better" pencils. This is a way for them to go back to their work, reread and add missing words, punctuation. This allows the reader to see what they made better too!
Letter Uu! This consonant sound is familiar to our students. They had an easy time coming up with many words that start with the /p/ sound. Now that most of our students know their letters and sounds practice having them write phonetically! See up above in "Writing."

Art

: The students created these sweet Valentine crinklies along with their snowmen with patterned scarves.
Upcoming Events
Grit Class – February 9th (Character Strengths)
Valentine's Celebration – Thursday, February 12th
NO SCHOOL –

Friday, February 12th

AND

Monday, February 15th

Grit Class – February 16th (ABC's of Resilience)
The 2nd Annual Appreciation of the Arts – February 18th
100th Day of School – Friday, February 19th
See Calendar Dates Page on our website to see important dates for this year!  https://www.linneamiller.com/calendar-dates/
A Look at our Week Ahead
Monday – 2/8
Volunteers: Shiho Brenner, Phyllis Chan
Chinese New Year
Candy Grams on Sale
Tuesday – 2/9
Volunteers: Stacy McMullan, Debra Marich
Character Education – Deb Marich (HONESTY)
Candy Grams on Sale
Wednesday – 2/10
Volunteers: Jeanne Smith, Megan McGarry
Send in Valentine's (25 students, Only sign who they are from)
Candy Grams on Sale
Thursday – 2/11
Technology Academy with Mrs. Martin
Lunch Only day at 11:35 pm (eat a BIG breakfast)
Minimum Day, whole school dismisses at 12:30pm (dismissal in 206)
Mission Federal Deposit/Account @ 8:00 am
Valentine's Celebration!!! 9:00 am – 10:00 am
Wear RED or PINK
Volunteers: Monica Rashidian, Laarnie Chou, Meeyoung Lim
Friday – 2/12
NO SCHOOL (President's Holiday) – Have a great weekend!