Welcome to Week 16! This post includes: • Volunteer Calendar  • Penguin Parade  • We Have Heart  Update  • Wish List  • Star of the Week  • This Week's Curriculum  • Future Dates   •The Week Ahead
The Early Edition
Penguin Parade

Since I wasn't able to be at the parade I don't have pictures yet, but I'll be posting next week. If you were there, feel free to post your pictures on the Shutterfly site for all to see! I can't wait to see and hear the kids reaction to the whole experience!
Mother Son Bowling
Last weekend the school hosted a Mother Son Bowling event. Similar to last year I heard it was a lot of fun! We had 2 sweets representing 206! Check out some of the fun they had!
Father Daughter Dance (Feb. 5th)
Now its the girls turn to have a parent night out! The flyers went home on Friday, but in case you haven't seen them yet, or you missed it, here is the flyer for the Father Daughter Dance! Please return the slip and payment by January 29th if you plan on attending! This event also typically has a great turn out and you won't want to miss it! Daddies…get ready to dance the night away with your little ladies!
RAZ Kids Robots
There is a feature on RAZkids that Ms. Martin helped us turn on. From now on, when your child gets RAZkids points for reading, and taking the quizzes, they can use their  points to build a robot. Its a fun incentive that the company offers to motivate kids.
To start building your own robot….
After your child clicks on their name color and shape, they should get to their own page with the little spaceship at the bottom. As they scroll down by the spaceship, see 2 options given at the very bottom of the page. There is a "Messages" window where you can click to send me messages. There is also a "Star Zone" window.
The Star Zone window is the way into the robot building section. When they click there they can begin to choose from different robot pieces depending on how many points they have. Eventually as they get more points they can build more than one robot! 
We Have Heart
How has the Generosity Homework been going? I have had a couple of kids come and tell me what they chose to do this week to show generosity! It so awesome to hear them so excited about giving to others! I'm so proud of them and can't wait to see and hear about all the giving they do this month! An extra benefit of giving is you are rewarded with good feelings of knowing you helped others!
If you haven't seen it yet…Check out the new "We Have Heart Page" that is documenting our giving this year!
On a side note, if you're family has any extra/old blankets, beanies, scarves, socks, mittens, tarps, or ramen noodles, or hot chocolate ….our Mexico connection, just put out an email to all his contacts (which included me) that the community he supports in Mexico had a rough time last week through the rain as they have so little to protect themselves from these rare rains and cold weather. As we know more rain is coming this season, so he is collecting any of these items to help them survive what is ahead. I will be taking more of my own family donations, but if you have any extra or old items laying around and would like to contribute, feel free to bring them to me this upcoming week. He will be going down next weekend to bring them as many supplies as he can collect.
Wish List
A sincere thank you from myself, Mrs. Hickson and the students for your generosity to help keep our classroom supplied with tissues and cleaning wipes and the little bowls to separate our math manipulatives! We love you guys!
Martin Luther King
This week we spent some time reading a few books and discussing the belief and impact of Martin Luther King. We shared about how he helped to bring justice and kindness to our nation! The students were very interested. One of the first questions when I told just a brief intro about him was…"Will be with us at the parade?" We were able to explain he isn't alive anymore, but that he stood for kindness and fairness and marched for these just as we will march at the Penguin Parade for what we believe is important! It was a wonderful and engaging time with them!
Star of the Week
We saw our first STAR of the WEEK presentation and it was wonderful! We are so proud of him! Below is a picture of his displayed poster. We also made some "Audience Goals" that the audience uses to help them we made a "Speaker Goals" sheet to help the speaker remember the focus of the presentation.
In addition, we interview our Star to find out a little more about them. I let the kids choose any question they want to ask our Star. I seriously wish you all could have been there as myself and 2 volunteers were able to hear this very funny, but serious line of questioning that randomly came up. These kids are so adorable! See the interview poster below!
Though we are sending one poster home a week, your child will get a turn! They are all excited to have this opportunity!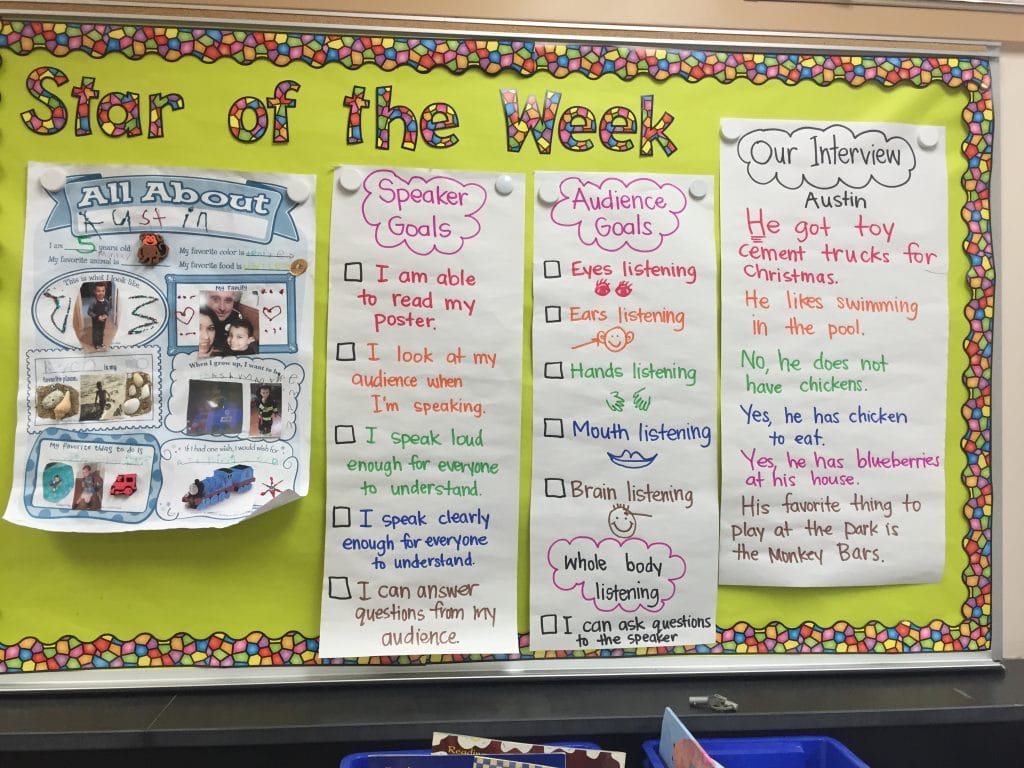 Perseverance
This week I witnessed a great act of classic 5 year old perseverance and independence. One of our sweet students came up to me just before recess with excitement in her voice. She couldn't wait to share with me how she, for the first time ever, had zipped up her own hoodie that morning all by herself! I hugged and high-fived her for what awesome "trying" that must have taken! We are constantly trying to be more independent, and equally or more important building character by persevering through any struggle or challenge we face! It was a motivator to the class as we had 3 other children who were able to put on their own jackets this week all by themselves! So proud of these guys…I just had to share my full heart!
This past week in…
Math – We finished up Concept 3 (numbers 6-10) The students have overall really improved in understanding these numbers and the relation of the numbers. During Problem of the Day, we are becoming more familiar with solving these problems. We have made a chart to help them remember some important parts to showing your thinking. See the chart below to see our 4 checks we use to help us in this part of our day!
Interactive Writing – The students are starting to see the authentic reasons, why we write. This week after a little problem occurred, we all spoke about it, came up with a solution and then one student said, "We should make a sign to help us remember!" It was great! We plan to make that sign next week!
Writing – Students have been trying their hand a "How to" writing. They are doing fabulous in coming up with ideas they know "how to" do. They verbally touch an tell the steps to their procedure before they even pick up their pencil to plan out their books. They number the steps, draw pictures to match and then write text to explain each step! These are so awesome! You can help by… coming up with some ideas for your child to write more about in this area. Some great examples have been… How to brush your teeth, how to get dressed, how to bake a cake, how to clean my room…etc.
Letter Hh /h/ – Spent time practicing the long and short "O" sound. This is tricky for the students to be versatile in the different sounds of a vowel. We also ran into some blends, such as "owl" that posed more options for the "O" sounds. This was exciting!
Upcoming Events
MLK – No School Day – Monday, January 18th – Have a great 3 day weekend!
Father Daughter Dance – February 5th
See Calendar Dates Page on our website to see important dates for this year!  https://www.linneamiller.com/calendar-dates/
A Look at our Week Ahead
Monday – 1/18
Tuesday – 1/19
PLC Collaborating Day with TK/K Teachers
Volunteers: Stacy McMullan and Nikki Green
Wednesday – 1/20
Volunteers: Jeanne Smith, Meeyoung Lim, Megan McGarry
Thursday – 1/21
Computer Lab with Mrs. Martin
Lunch Only day at 11:35 pm (eat a BIG breakfast)
Minimum Day, whole school dismisses at 12:30pm (dismissal in 206)
Volunteers: Kelly Murphy
Friday – 1/22
Music with Mr. Waczek – 8:50 am
Volunteers: Karrie Yi, Sharon Elbaz