Heart Goals for Room 206
Our class is on a journey of giving to others in need and recognizing all that others go without! Check in below to see our updates on what we are doing to understand and help this world around us in a variety of ways!
Thank you for taking the time to read this and have conversations with your child about giving!
Meals for Mexico
There are many people in our neighboring country that barely have enough food to survive. The cold winter is approaching and we are trying to stock them up on food for the their families. This is a fun and great way to help and raise awareness for those around the world who are hungry!
To participate:
Get a Quart-sized Ziploc bag (or make more than 1 bag)
Decorate the Ziploc with permanent markers (optional, but fun)
Fill the Ziploc with a bag/box of rice, beans, or any legumes
Drop off the bag of dry food in Room 206 (at EBS) by Thursday, Dec. 15th
Invite a neighbor or friend to do the same and bring their bag to 206 for them.
This is such an easy way to feed a family in need. One bag makes a whole meal for a family! This is always an eye-opener for students!
Tributes to Troops
We appreciate all of those who serve in our military! We spoke about this at Veteran's Day and just to give another thanks to our women and men in service, we are decorating stars in Red/White/Blue and are sending them off to Operation Gratitude! Be as creative as you can with your star (avoid glitter though) and then write a sweet message on the back (sign with first names only).  Return the stars by Friday, December 9th, 2016.
Heart Goals for Room 206
Read about what our student in the 2015-16 school year did to help and be generous to others.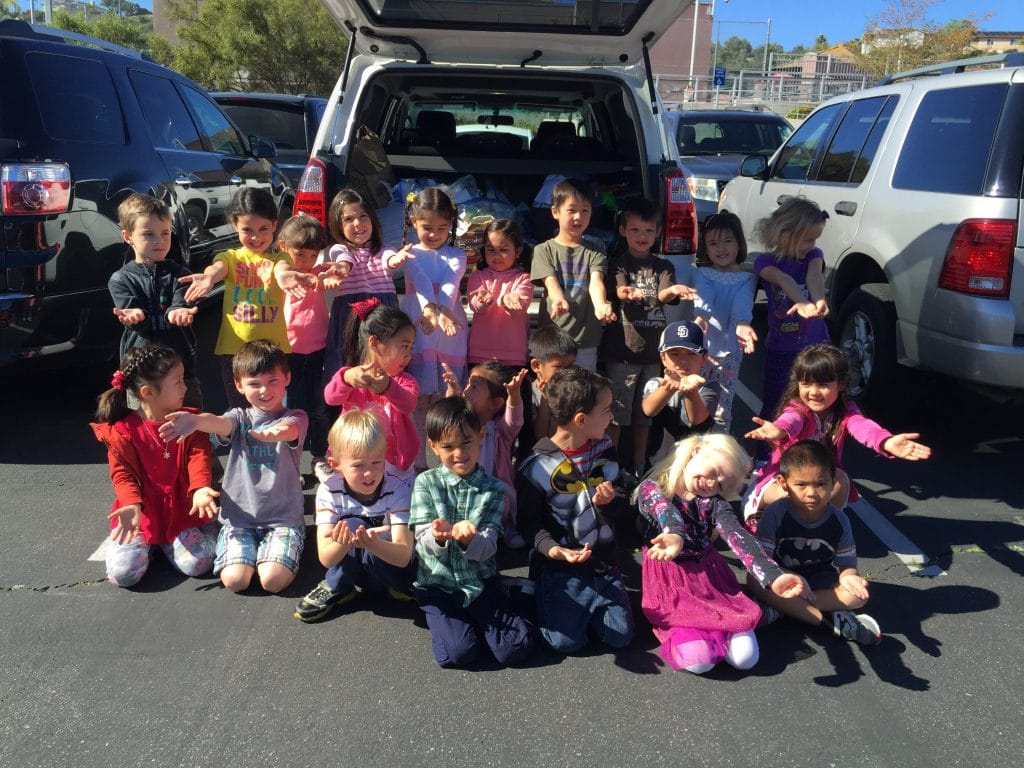 Books for Escondido Elementary School
To finish our year of giving off with a bang, we joined forces of many Scripps Ranch families in pulling together any extra, old, new, gently used children's books. The students at this school go without so many priority needs such at food, clothing, pajamas or even electricity or a home. These immediate trump luxuries like toys and books. We aimed to send these students off to summer with books to read at home and share with neighbors and friends.
Our class has been bringing in books, but we spread the word around our EBS campus and and we collected 900 books!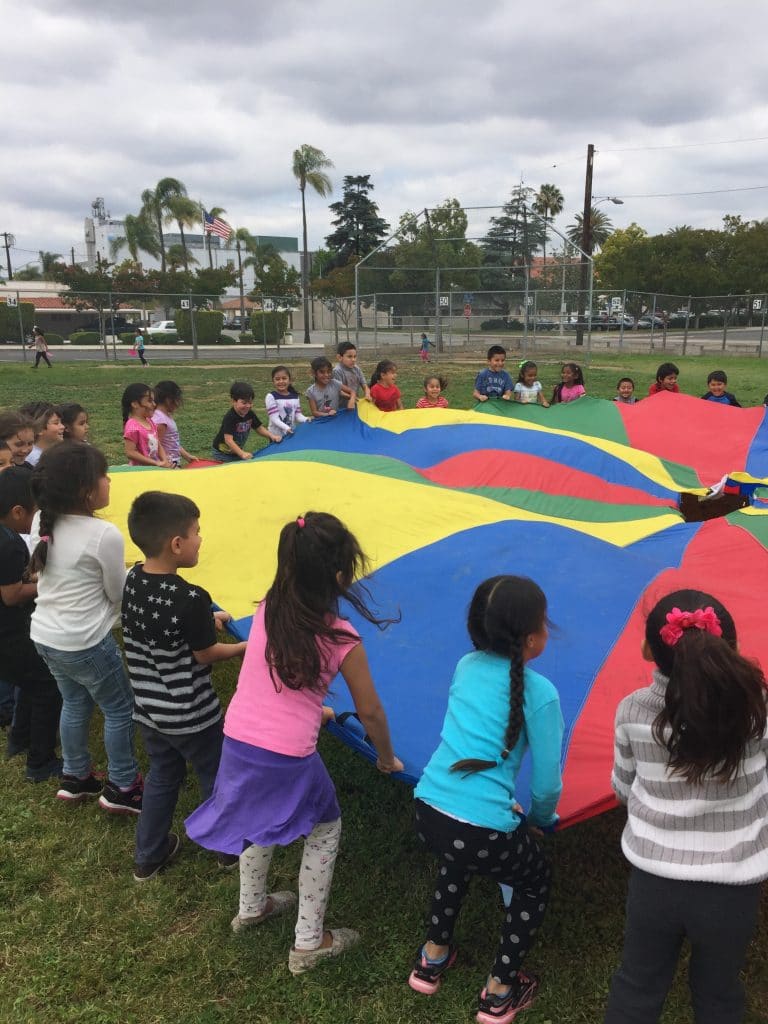 Songs and Smiles for Seniors
In April we visited Belmont Village Senior Living to bring some songs and smiles to senior residents. This was a new and wonderful experience! Many of the students were nervous, but they shined! They greeted the residents with smiles, kindness and a beautiful butterfly craft to hang in the window. We then sang, Rockin' Robin and Here Comes the Sun! The motions and melodious voices brought tears to many eyes. The students freely gave out hugs to all the residents before we left! It was a memorable and special day for us all!
Help for the Homeless
This heart goal is close to my heart. In college, I went downtown with a small group every Tuesday to feed, give, and talk with a San Diego Homeless community! It was an amazing outreach which brought a great awareness and great friendships as we connected with many of the same people each week! 
During the month of March we collected 69 Generosity Bags to give to those who don't have a home! These bags contain many items that are a luxury and gift if you are living without a place to call home. This heart goal is an opportunity to have some great and powerful discussions in your family about how there are so many different needs in our world. Our choice to be generous with our time and resources can make all the difference to one person.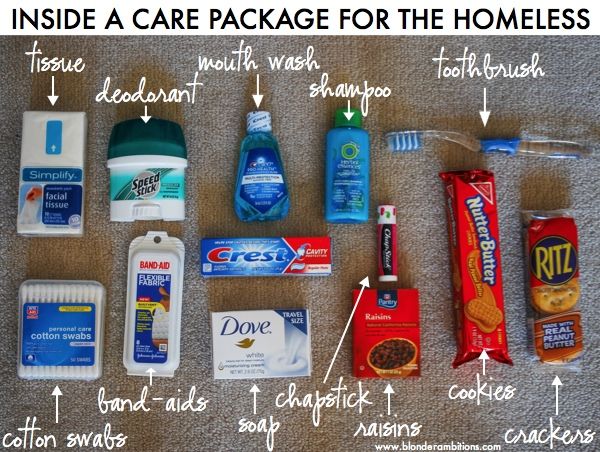 100 Coins for Generosity!
We collected so  many boxes of coins for Generosity on Friday. I didn't get to take a picture as they were collecting the boxes, but Its so awesome that so many meals will feed the hungry with those coins! Awesome job 206 team!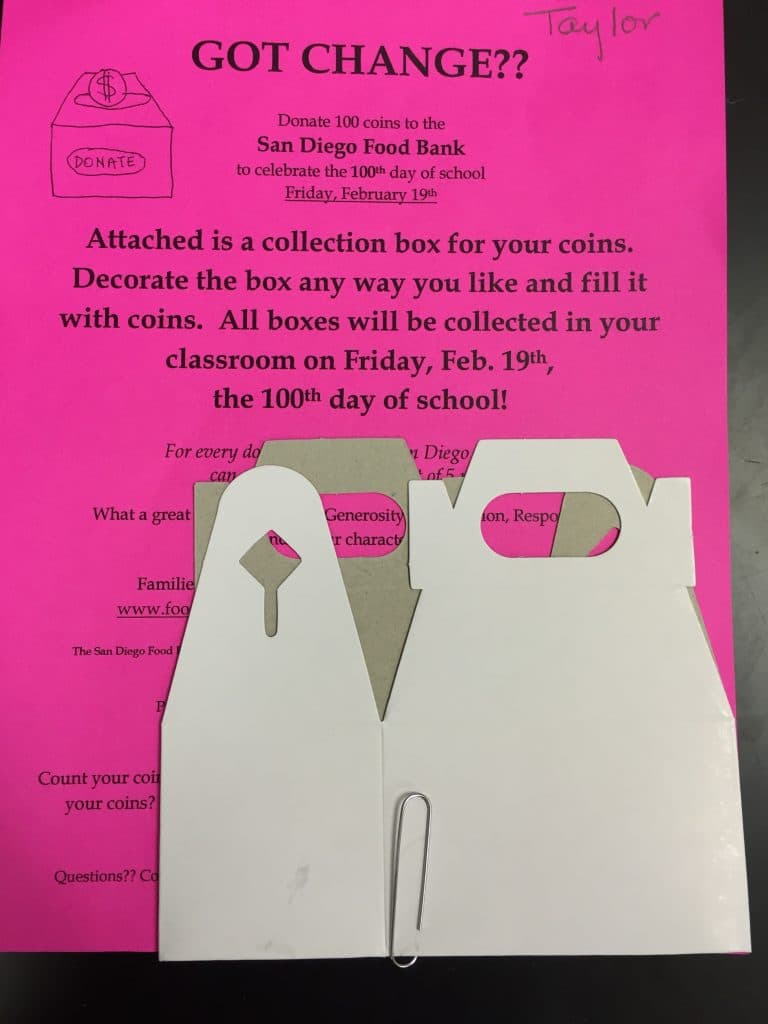 Homework Challenge – Generosity
In the month of January, students chose 1 of multiple choices in how they could be generous to their family, friends, neighbors and community. After doing their generous act, they wrote about how they were generous!
Smiles for Safyre
Megan McGarry read about a little girl named Sayfre who had lost her family in fire and was significantly burned herself. She told her aunt that this Christmas all she wanted was Christmas cards to fill up her card-holding tree. Our awesome 206 class each stepped up to the plate to contribute to give Safyre cards for Christmas this year! Thank you Megan for sharing this idea with us and for delivering our cards!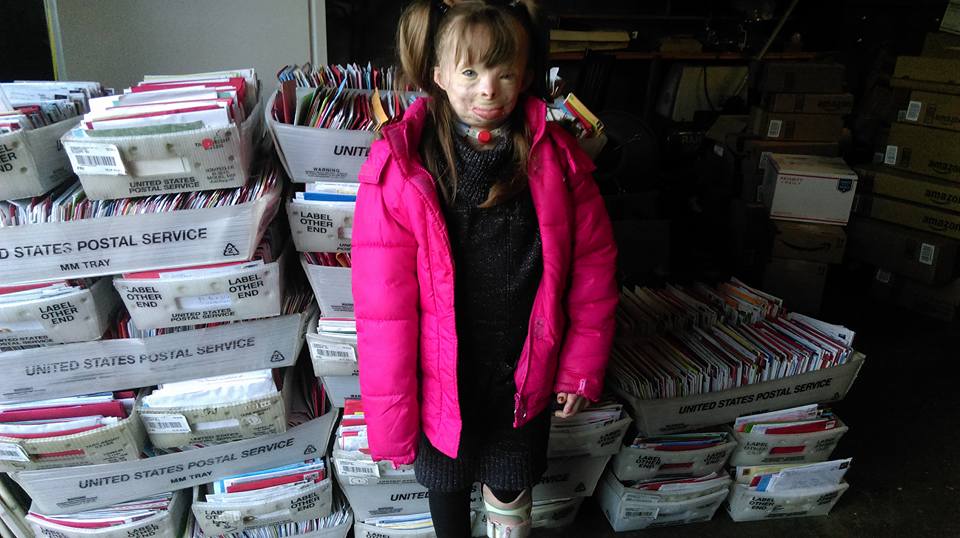 Tributes to Troops
Giving Encouragement to those serving far away from home!
The students made encouraging holiday cards to the military to encourage them on their deployments (especially during the holiday season).
The Elbaz Family's Nanny is in the military. She and her husband came to class this week to pick up our cards to the troops this week! The kids have started to see how many people are in need of so many different kinds of help!
Tributes to Troops (Cards to send out to deployed troops)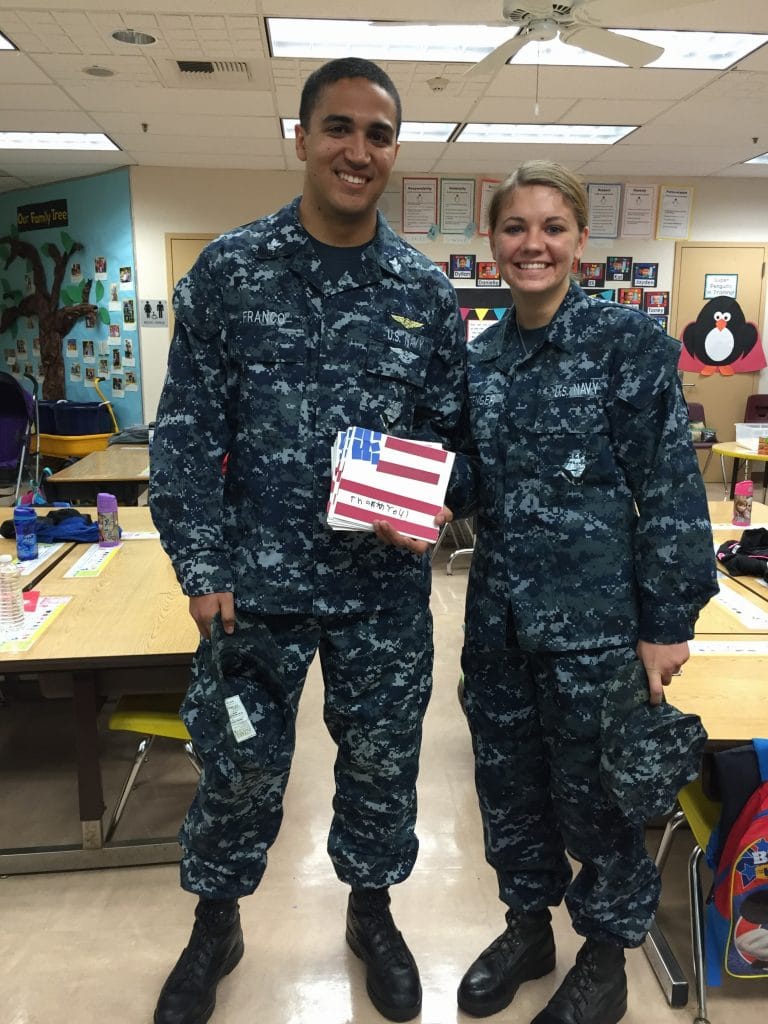 Meals to Mexico
Giving Meals for those who go hungry
Through a connection to families in Mexico, we gave food to those who go without so much and often miss meals. To do this project, we collected donations of beans, legumes, etc. The students decorated sandwich baggies and filled them with a bag of beans, pasta, rice, and legumes. The students collected 4 tubs filled with food bags! Awesome!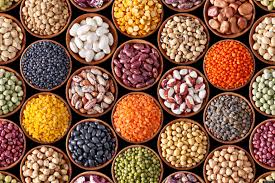 Photo: Students surrounding the many meals bagged for families in Mexico!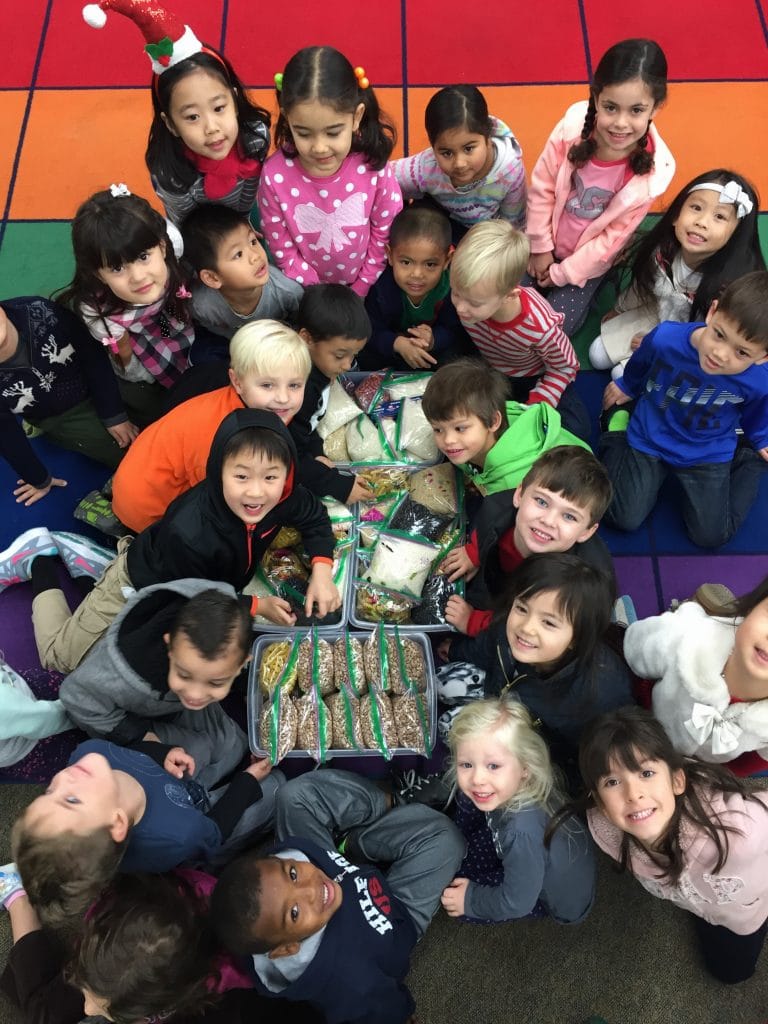 Rainbows to Rady's
Giving Smiles!
This giving was a realization of all those kids at Rady's Hospital (in the Cancer Floor) who are very sick. Many of them have stays at Hotel Rady's for a month at a time while they receive treatments and are constantly monitored for improvement! We know this can be so challenging and difficult. After speaking with a mother of one child on this floor, she said Rainbows would be a great way to bring smiles to the children on the floor! Each child was given a blank rainbow to decorate in any way they desired. A kind mother in our class delivered these special hanging rainbows to Rady's for us!