Welcome to Week 13! This post includes:    •RAZkids    •Western BBQ    •We Have Heart    •Final Color Week – RAINBOW   •This Week's Curriculum   •Future Dates   •The Week Ahead
Thank you to those of you that take the time to read the information and updates about our 206 Classroom.
Mother Son Bowling
Coming this January, shortly after our return from vacation…Mother/Son Bowling! Calling all Mothers of boys! Come on out to the Mother/Son Bowling Event! This is a fun event you don't want to miss! If you attend…take some pics to share with your teachers! See info below…
No Homework/Book Borrow
During our upcoming vacation there will be no reading log and no Book Borrows sent home. I hope you all have a wonderful, family-filled 2 week break! Reading logs and Book Borrows will go home as soon as we return. For this reason I am asking that students return Reading Logs and Book Borrow envelopes on Wednesday or at the latest Thursday morning.
If you find yourself with some reading time, I highly encourage you to have your child go on RAZkids and have your child listen (ear icon), read (eyeball icon) and quiz for books on line. The program tracks their progress and sends me a weekly email of which students have been online and for how long over the course of the week! The students are also given reward points and can record themselves reading (they love this).
Hanukkah
This past Friday, Sharon Elbaz, and The Green Family came in to share the Hannukah holiday with us! The kids had such a great time and learned so much! The students listened to a book, lit a pretend menorah, spoke about the traditions, colored some Hannukah pictures, danced to some traditional music and finished off the afternoon with a blue and white iced donut along with a goody bag! You likely saw all the little blue faces!
If you have a family tradition or holiday you'd like to share with the class, email or stop by to set up  a day and time!
Parent Book Club
You are invited to join Ms. Sloan for a parent book club.  She will be reading How to Raise an Adult: Break Free of the Overparenting Trap and Prepare your Kid for Success by Julie Lythcott-Haims.  She will meet during the school day, several times in January and February.  The exact times and dates to be determined (TBD).  If you would like to participate in this book club, please email the school, tell the office, or reply back to the "EBS News" email and purchase your own book.  If you cannot join the book club, Ms. Sloan is highly recommending that families read this book on their own.  "This is a very interesting, easy to read book!"

Though I won't be able to join the book club due to teaching, I plan to purchase the book myself. Check it out and see what you think!
EBS Traffic Warnings
The police have been out several times lately ticketing for illegal U-Turns, stopping in a red zone, stopping in front of the fire hydrant, not coming to a complete stop at the stop sign, parking in the bike lane, etc.  They gave 26 tickets one day last week!
New Chair Covers
If you haven't noticed we have new Book-Bag Chair covers. Over the last year 2 friends of mine (seamstress and treasured friends) have helped me (a lot!) in learning to use my new sewing machine and to create these beautiful chair covers. What an experience! I love sewing and love the clean, new look they give to the tables!
RAZkids
Who has gone on RAZkids at home??? I'm hoping you all have had at least one experience of having your child go on RAZkids at home! The kids love it and it is a great way to have them practice reading! They can use earphones, and even record themselves while reading. Here's the link again to the Resource/Links page that gives the directions.
I will be highly encouraging the students to get on and encourage you to also have your student log on regularly. I get updates of the students time spent reading. This is a great way to grow their reading and comprehension as there are quizzes at the end of each book!
We Have Heart Update!
This week our Rainbow got taken to Rady's (thank you Niki Green)! The Elbaz Family's Nanny is in the military. She and her husband came to class this week to pick up our cards to the troops this week! We are still collecting grains, rice, legumes, etc.! I forgot to take a picture but there is so much! Thank you! The kids decorated sandwich baggies and they are still being filled! We have so much food! Thank you! These will be turned in after this week, so you may still bring in grains this week! The kids have started to see how many people are in need of so many different kinds of help!
Meals for Mexico (1 bag = 1 Meal for a family)
Rainbows for Rady's (Differently decorated Rainbows for Cancer Patients)
Tributes to Troops (Cards to send out to deployed troops)
Hearing Tests
This week a hearing specialist came in to give hearing tests to the class. The kids did great! If there was any concern, she sent a notification home and will likely recheck later in the year. Students received a bunny stamp for helping out…this brought some smiles!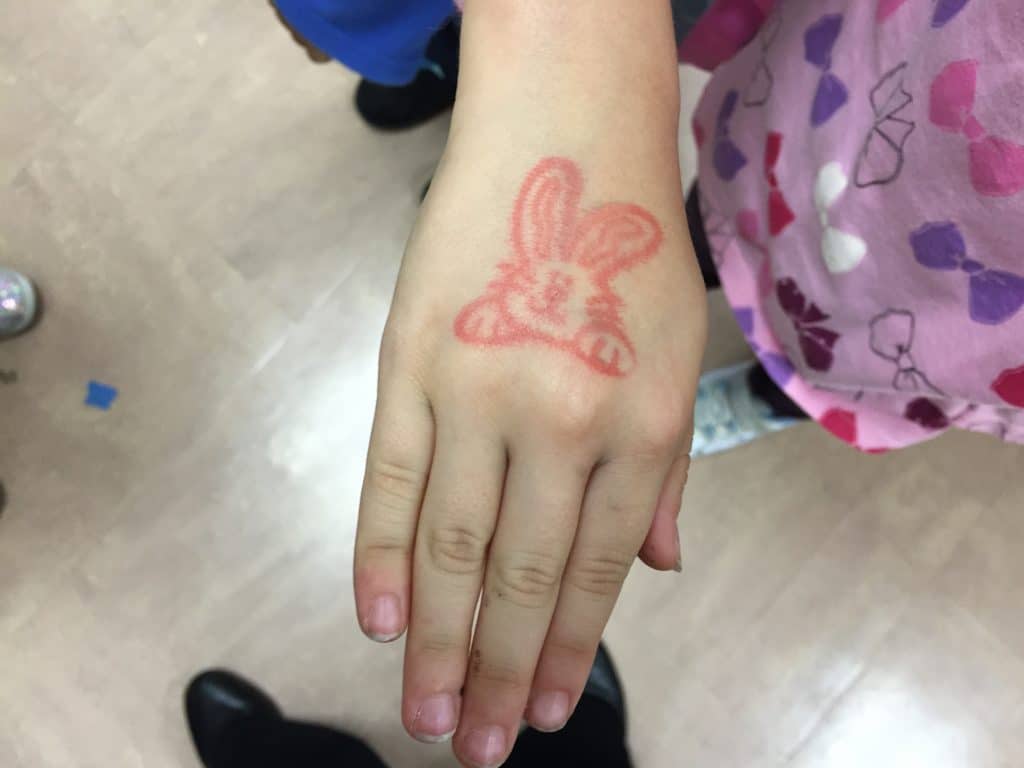 This Past Week's Color – 

R

A

I

N

B

O

W
This was our last color week! It was RAINBOW week! We had Rainbow snacks and dressed in our favorite color of the Rainbow. When we all came together on Thursday we created our own Rainbow.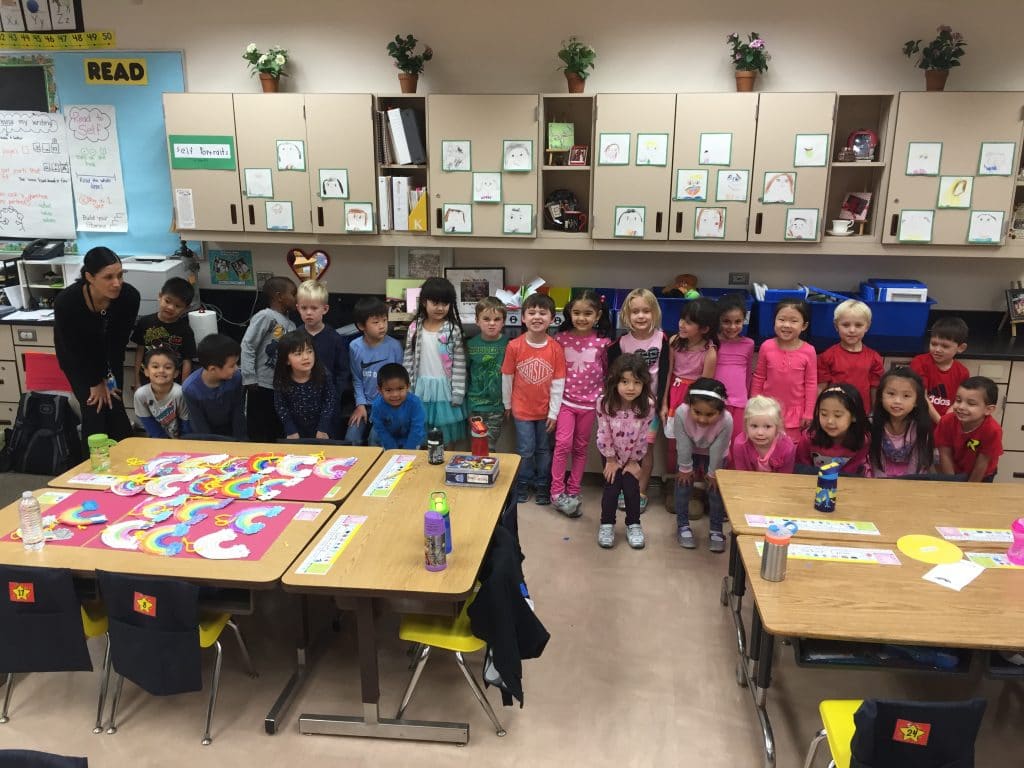 This past week in…
Math – practicing using different math tools to solve story problems
Sight Word Practice: I, at, the, is, to, it, go, me, and, we, in, my, up
Letter Jj– Short Jj sound
Art – Hannukah Menorah's (glitter!..they will go home this week)
Upcoming Events
December 2015
Our next classroom event is our Winter Holiday Celebration! We will have a story, crafts and treats for the kids. All parents are welcome to come celebrate with the class!  
Thursday, December 17th
9:00 am (just after drop off)
Room 206
All who are cleared are invited!
If you are interested in helping out with the event, please let a Room Mom know (Laarnie Chou, Jeannie Smith, Liz Urenda)!
January 2016
Mother Son Bowling – January 9th
Penguin Parade (site parade… families welcome!) – Friday, January 15th
Martin Luther King Holiday – Monday, January 18th
A Look at our Week Ahead
Monday – 12/14
Volunteers: Shiho Brenner, Phyllis Chan, Debra Marich
Tuesday – 12/15
Volunteers: Stacy McMullan
Wednesday – 12/16
Volunteers: Megan McGarry, Jeannie Smith
Fine Artist Lesson
Thursday – 12/17
Computer Lab with Mrs. Martin
Lunch Only day at 11:35 pm (eat a BIG breakfast)
Minimum Day, whole school dismisses at 12:30pm (dismissal in 206)
Volunteers: Laarnie Chou, Melissa Adomeit
206 Winter Celebration! at 9:00 am
Friday – 12/18
Music with Mr. Waczek – 8:50 am
Volunteers: Karrie Yi, Sharon Elbaz