The last 11 days! PLEASE, PLEASE tell your 206 friends to read the SCOOP as they will miss important end of the year info!
Summer Birthday Celebration
This week we are celebrating the July Birthdays this week Tuesday and the August birthdays next Tuesday. Say happy birthday to our Summer Friends! Thank you Alice Sestok for coordinating!
End of Year Grade Level Celebration
The Grade Level End of the Year Celebration will take place on Thursday, June 11, 2015. A yellow sheet went home on Friday with all the information regarding the day. The event will take the majority of the day. Students typically come dressed in swim wear (see our Kindergarten Spirit Week Modifications below) under their clothes and dressed prepared to get wet. Please make sure they are wearing water sandals (Crocs are also allowed), but no Flip Flops. Please sign up and return the money for the day by this Friday, June 5, 2015.
There is a sign-up sheet on the whiteboard near our backpack hooks to help us out for the day (a photo of the sign up is pictured below).
 206 Celebration
Our own classroom will be having a small goodbye party on Wednesday, June 10th at 11:45 pm – 12:30. We will be watching the 2015 classroom video made by Alice Sestok and listening to our beautiful 206 voices and smiles (they have been practicing) as they sing for you. Afterwards we will be heading outside to enjoy some Otter Pops out on the playground. Thank you Megan Brenk and Soya Lee for putting this time together so we can say our goodbyes! Everyone is welcome to come as long as you are cleared!
This has been an amazing year and I can't believe its ending so fast! Click below to see the flyer that will go home regarding the celebration!
YearBook – Last Chance! Don't Miss Out!
I just ordered mine yesterday (I'm a big yearbook fan as I have a full collection dating back to my own kindergarten year!). Don't regret missing out on your copy! Sales are open until Monday, June 1st! They are $25.00 with a $1.00 processing fee! I'm hoping to give the students a chance to sign year books one day during the last week, depending when the year books are delivered.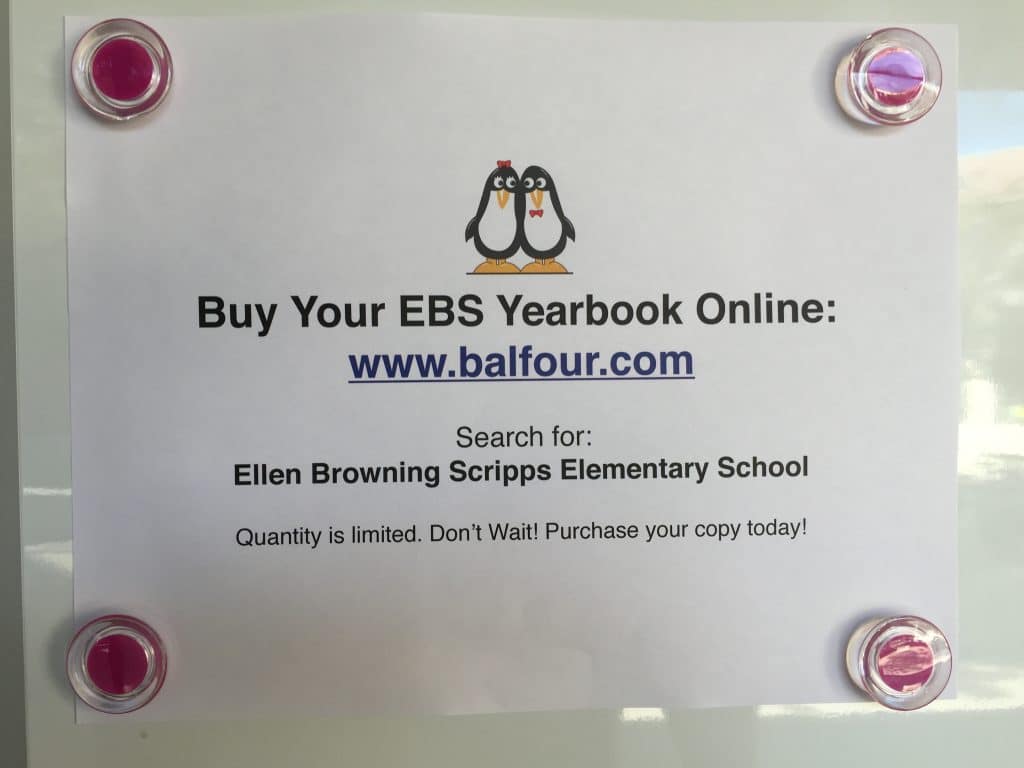 4th of July Parade
"Oh Say Can You See,….." any 206 families at the annual 4th of July Scripps Ranch Parade! We are hoping you can make it to represent EBS during the 4th of July Parade. You only need to wear a Red Shirt and return the slip to let the school know you'll be walking with your family/child. The route is about 1 mile long. See more info. below….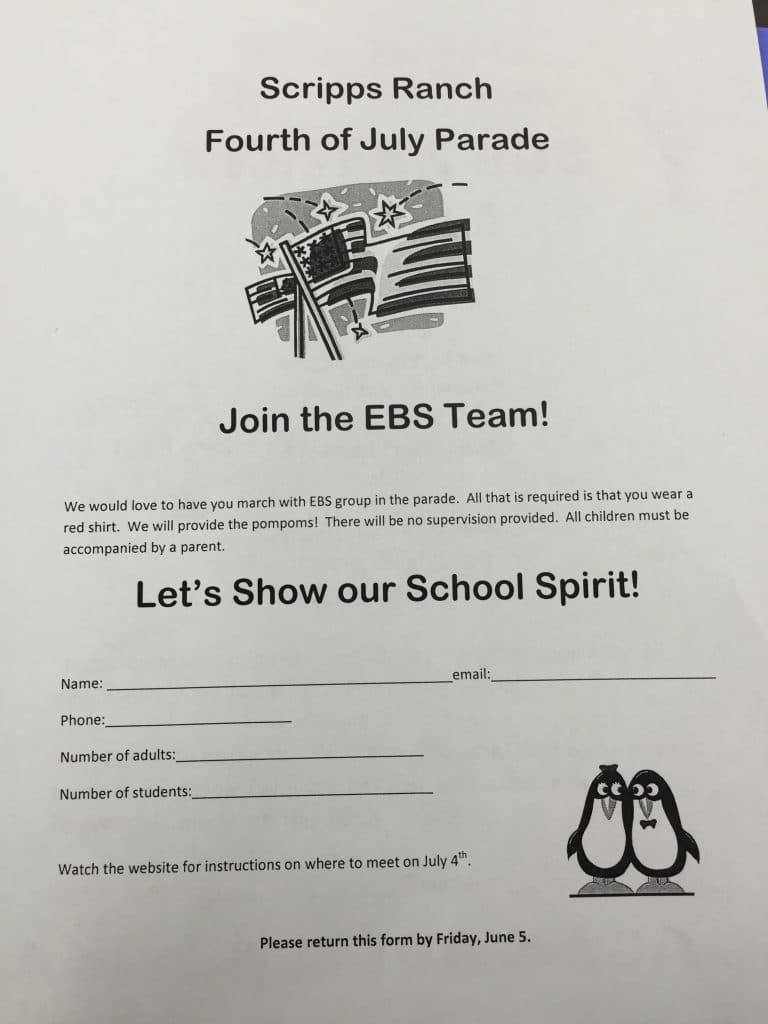 EBS Reminders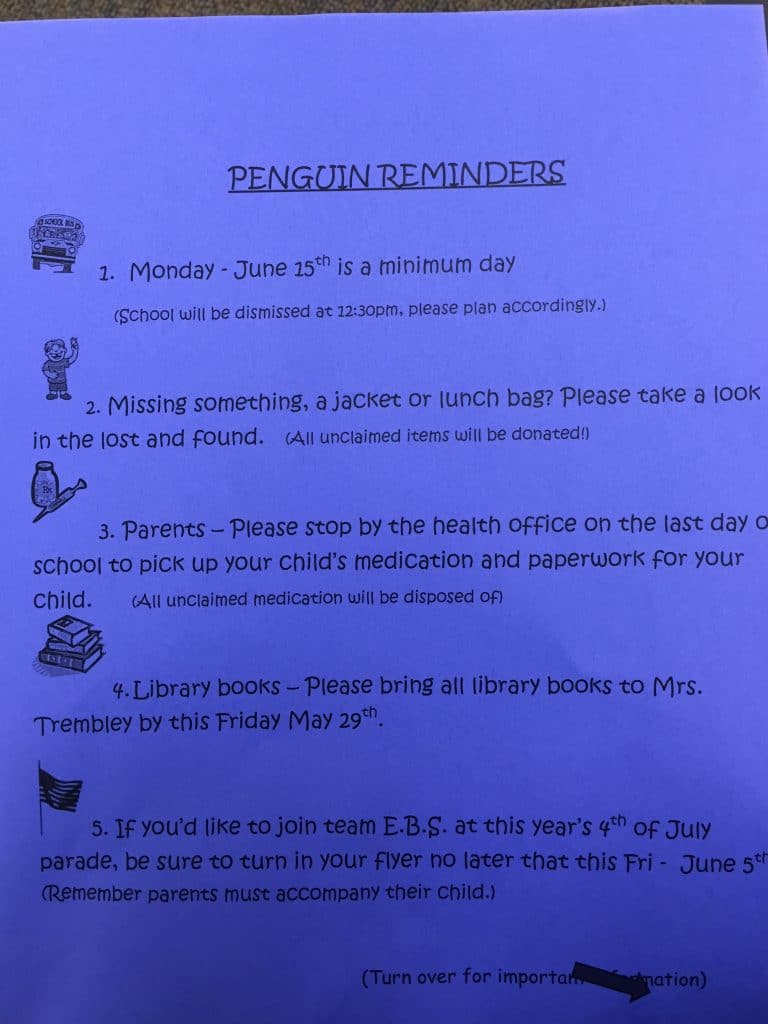 Emergency Disaster Drill
This week (Wednesday) we had a Disaster Drill. We spoke about the purpose of the drill and how it differs from a fire drill. The kids did great. They really improved on the walking part. This has been a struggle all year. Typically when we are walking out to our safe area, the kids are so distracted watching other lines walk out to their safe area, the miss the line moving and endanger getting themself and the rest of the line behind them lost or delayed from the rest of the line.
During a disaster drill Ms. Sloan gets on the intercom to tell the kids that the pretend shaking is taking place. At this time, the students are to crawl under a desk and protect their heads, necks and eyes first and foremost (we have practiced this). After the pretend shaking has stopped for 2 minutes, the students all walk out as they get in a line and we walk out to our safe spot. At the time, teacher teams go through all the classrooms to search and rescue any hurt students/staff. The students had to wait for a little bit and they did fantastic. Applaud your student as they were all calm, brave, and helped to keep us all safe!
Western BBQ Lunch – Wed 6/3
Flyers went home this week if you wanted to join the lunch with your student. The deadline has passed for sign ups, but if you already returned your slip to join your student, just come to join your student on June 3rd up at the lunch area that day at our regular lunch time (1:05 pm).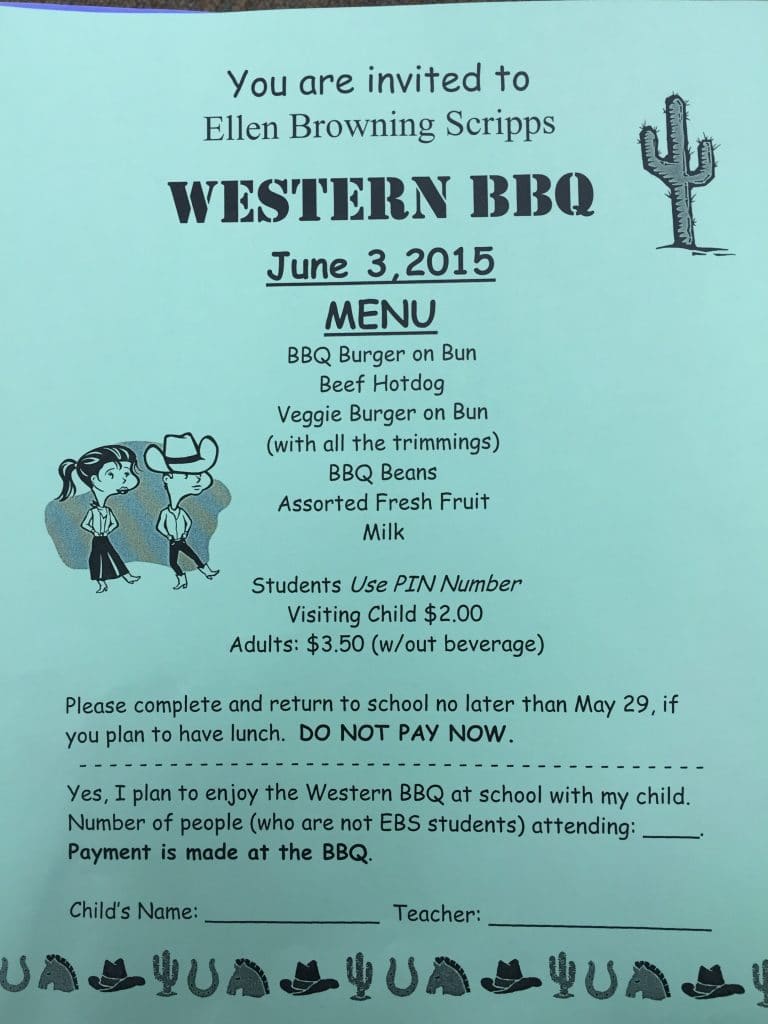 Library for the 2014-15 Year has ENDED
We will not be returning to the library for the rest of this school year. Our last visit is Wednesday. Thank you for returning your library books and we look forward to another year of checking out books next year! Ms. Tremblay was a warm and friendly librarian we were so fortunate to work with this year! TK dismissal will return to 12:30 on Wednesdays.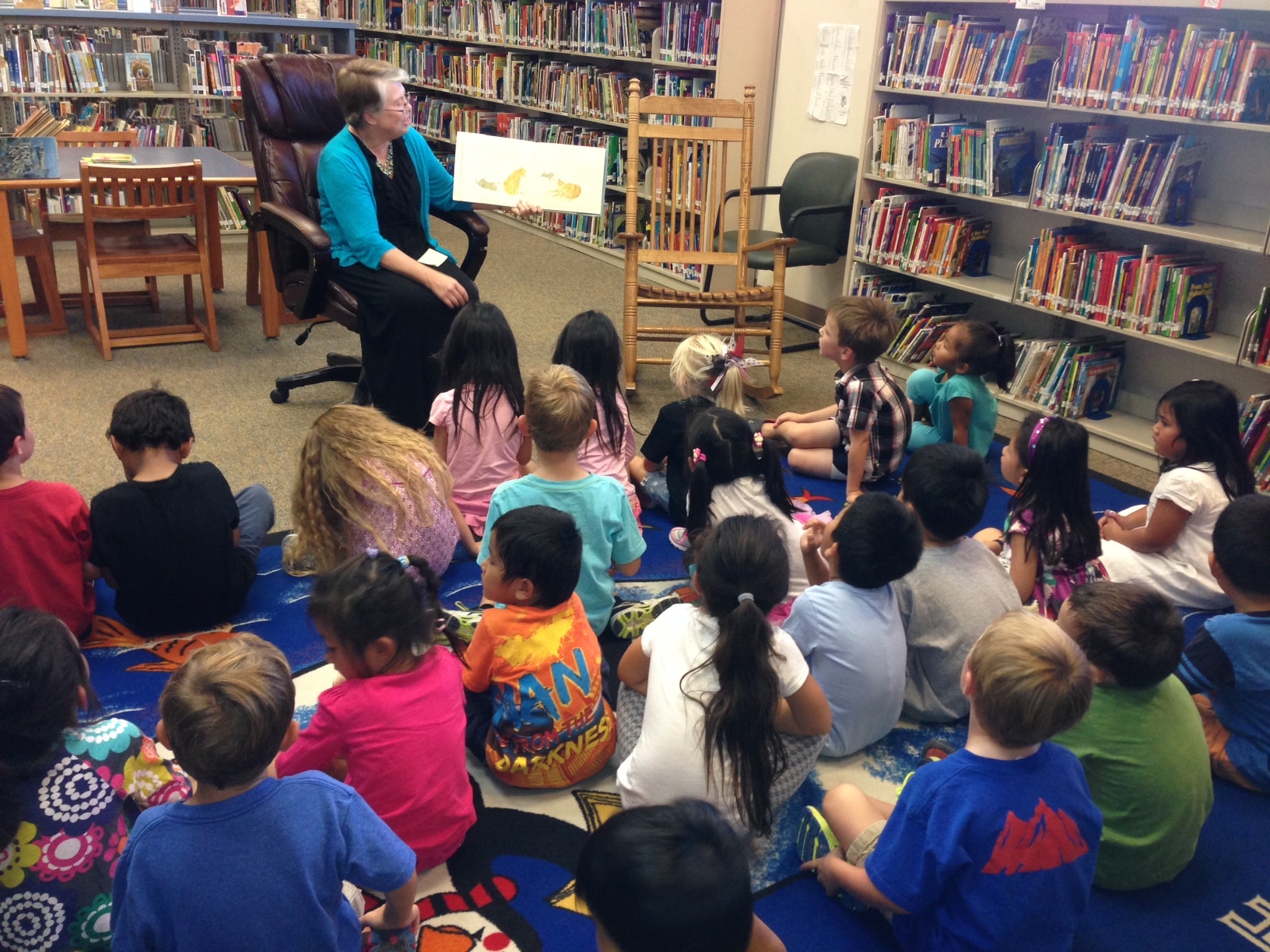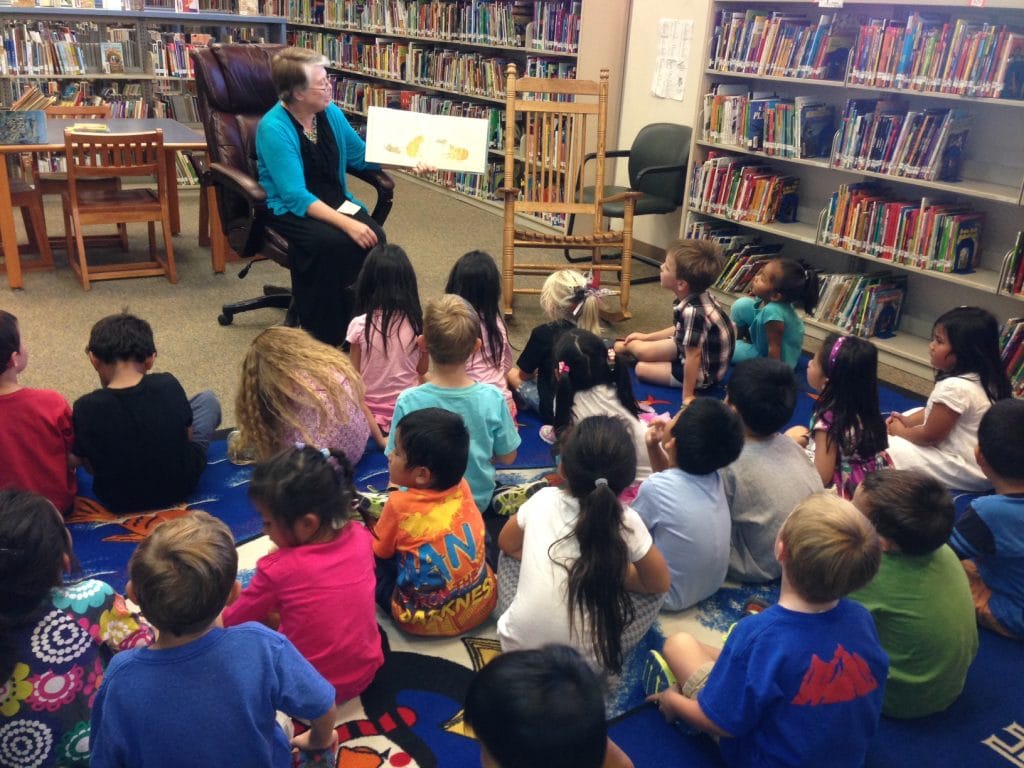 Trader Joe Bags
I am planning to send home some of your students materials during the last few days of school. I'm trying to collect a bag for each student. I have a few already, but if you happen to have any extra brown paper bags from Trader Joes send them over as I will create a bag for each student to separate their work and materials. Thank you!
Book Borrows Ending – Reading
This will be the last week that we check out books for Book Borrow. Please take advantage of the time and reading. Over the summer, PLEASE hold your child accountable to reading over the summer. This helps to keep the reading part of their brain in the game and keeps them from sliding back levels over the summer. Please return all bags/books by Monday, June 8th.
Spirit Week – MODIFIED for Kindergarten
Due to our End of the Year Celebration for Kindergarten, we have modified the days for Spirit Week so that we don't wear PJ's out the field for our JW Tumbles event.
Monday, June 8th – Crazy Hair Day

Tuesday, June 9th – Sports Day

Wednesday, June 10th – PJ Day (No Slippers)
Thursday, June 11th – Beach Day (Swim Wear underneath, No Flip Flops)
Friday, June 12th – EBS Spirit Day (Wear your EBS Shirts or School Colors)
How Lucky Am I???
Seriously, I feel so lucky…What other job delivers love notes, hugs, and flowers almost on a daily basis! I have a collection of students notes, pictures, and writings that are hanging above our classroom sink! This job is challenging and pushes me to do my best and yet it has to be one of the most rewarding careers ever! I feel so honored to have worked with your students this year! You have some love bugs on your hands!
This is a note that appeared on my desk one morning cheering me on! The flowers were handed to me by another two students with the words, "because you are so sweet Mrs. Miller." These kids spoil us with love!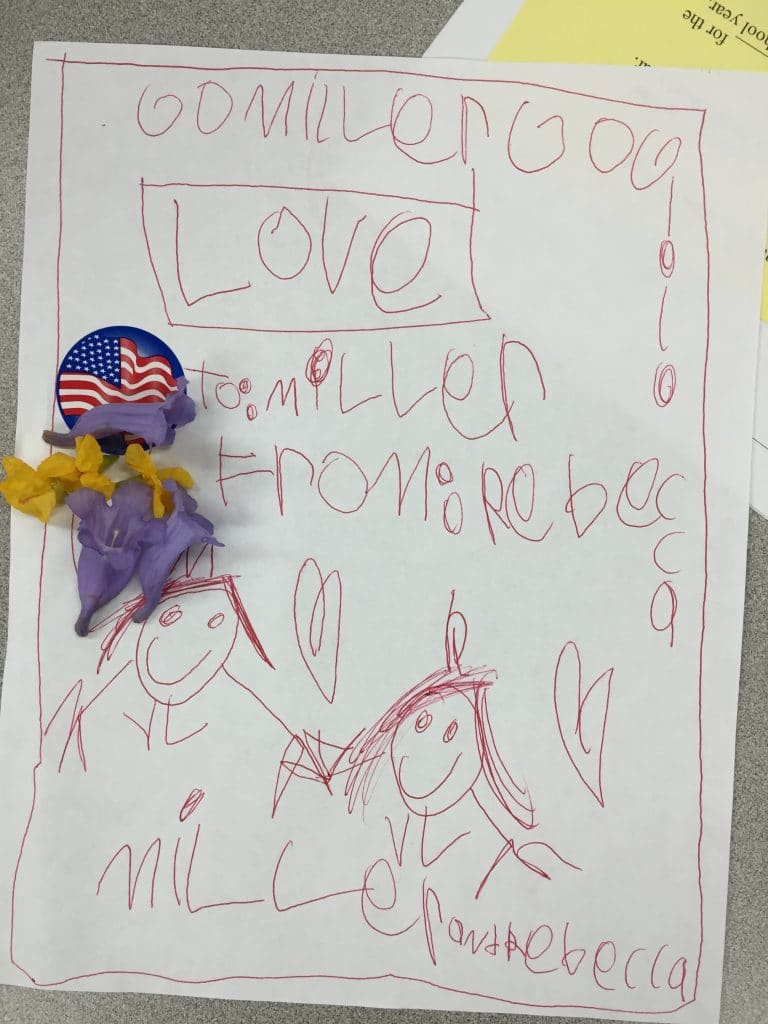 Student Writing
Recently, students have been writing books as another choice of writing. Here are two book samples from 206 Students. One is a life cycle of a butterfly and the other is all about Teachers!  Read the captions below each picture for translation help if needed.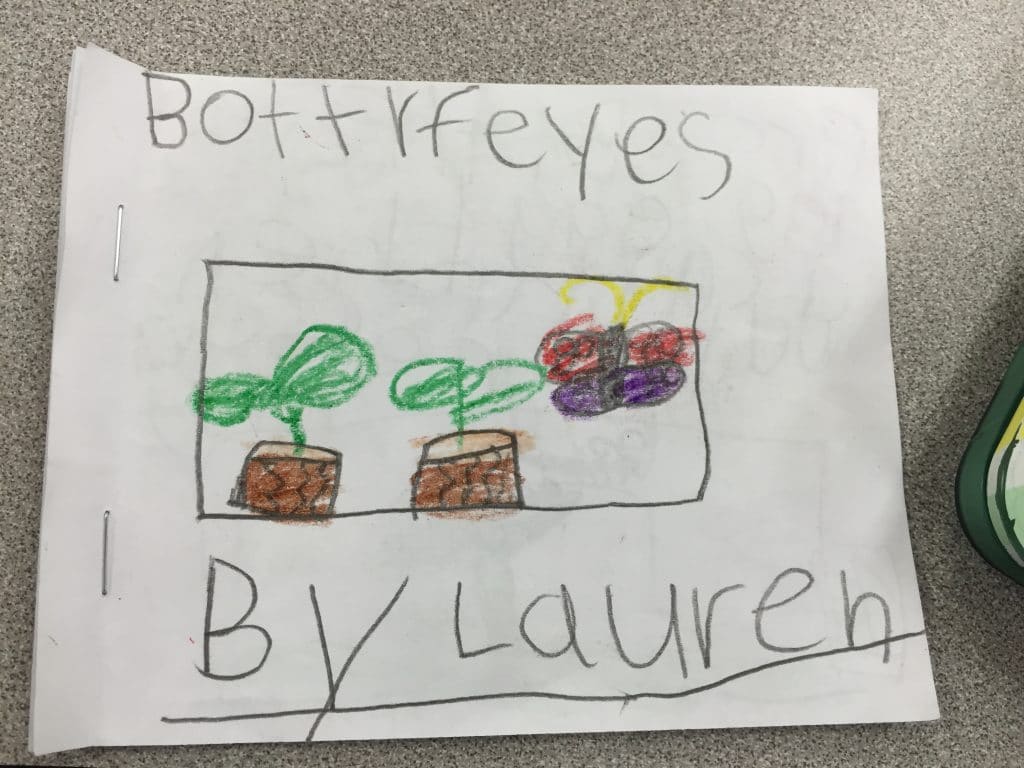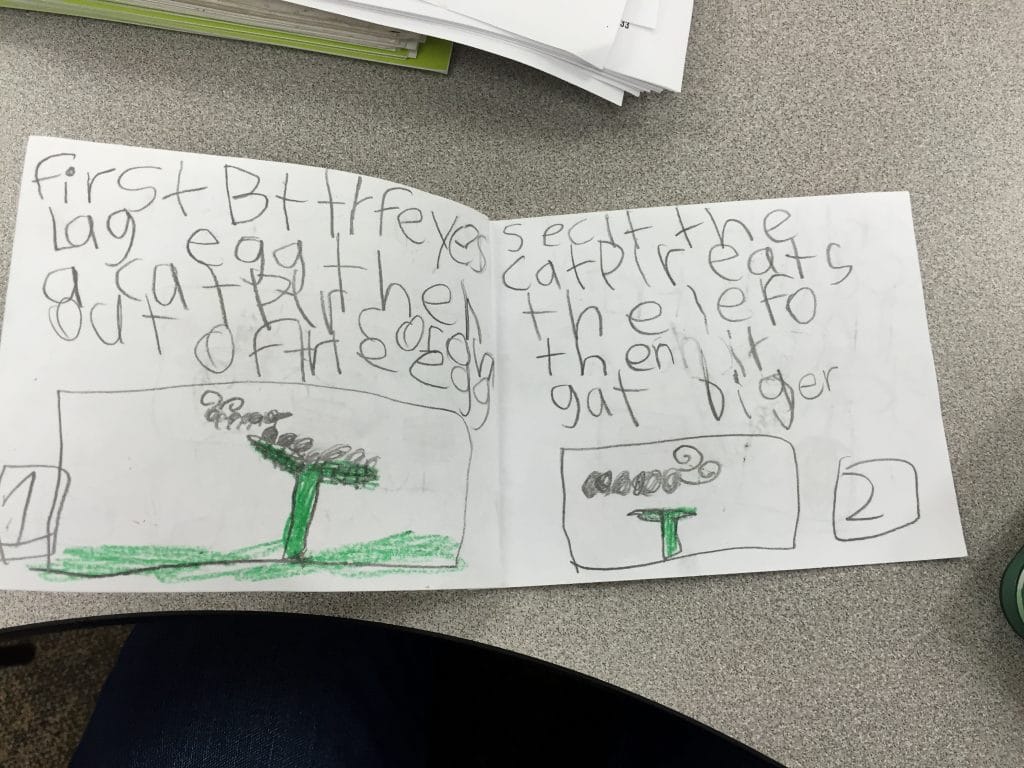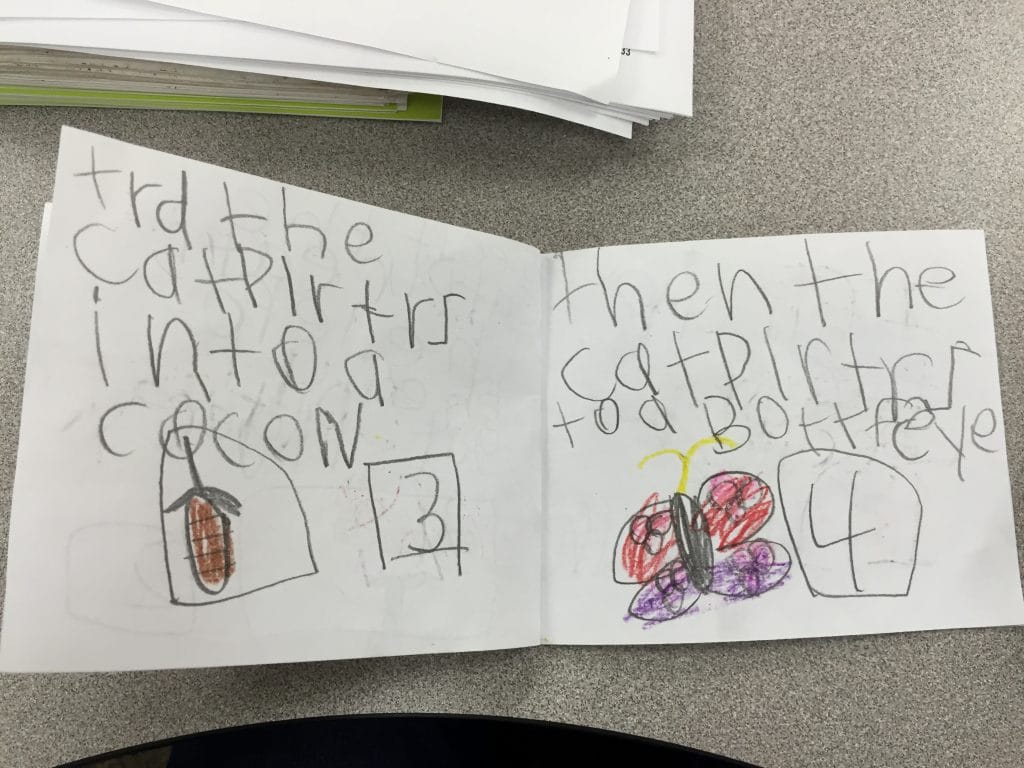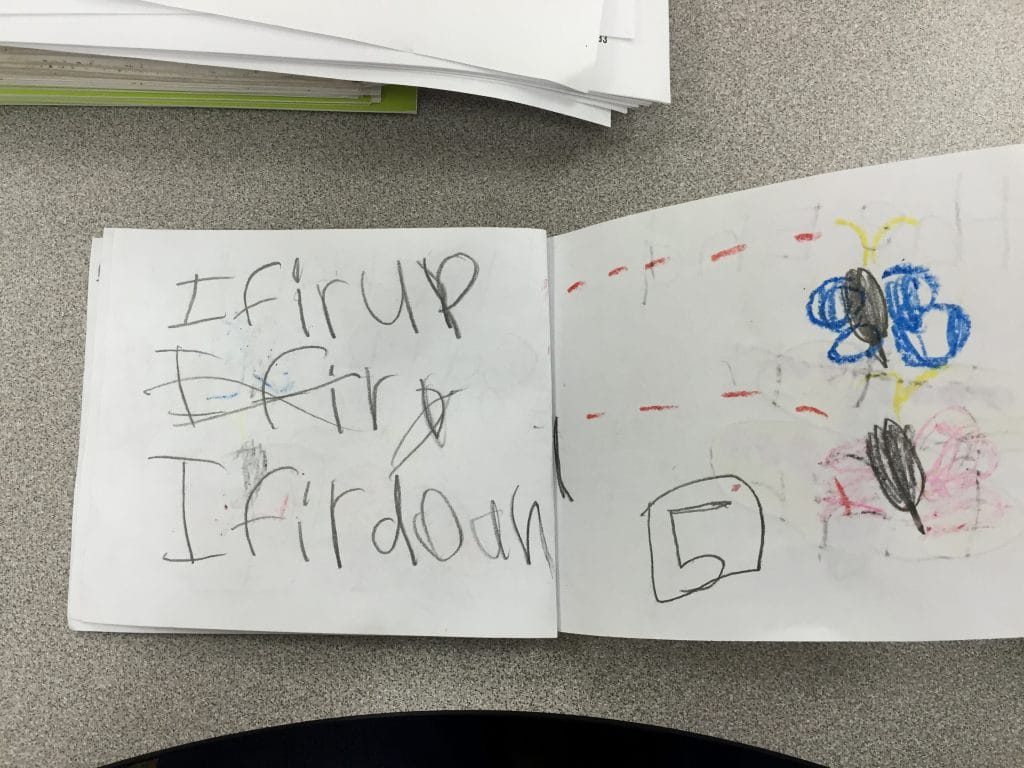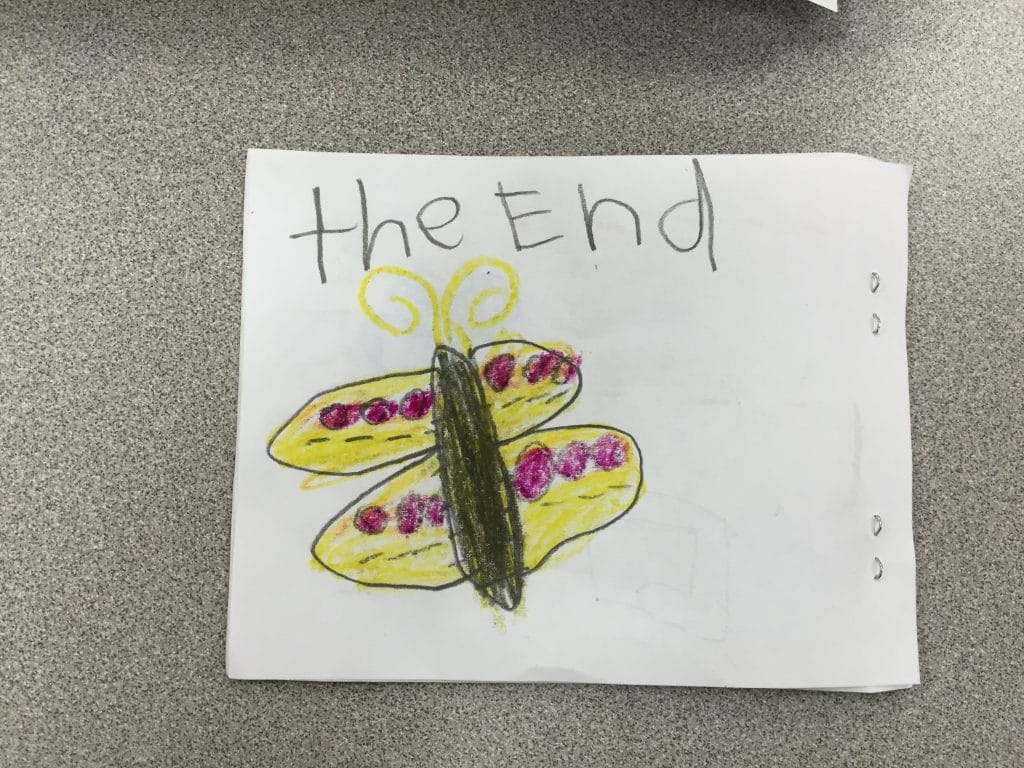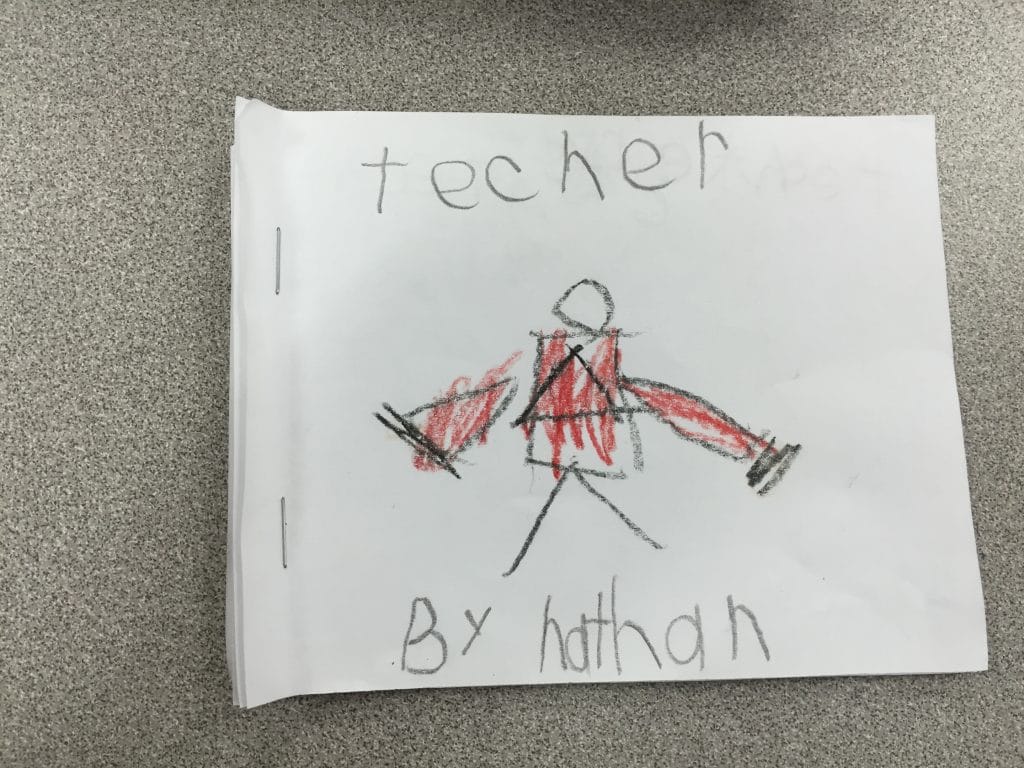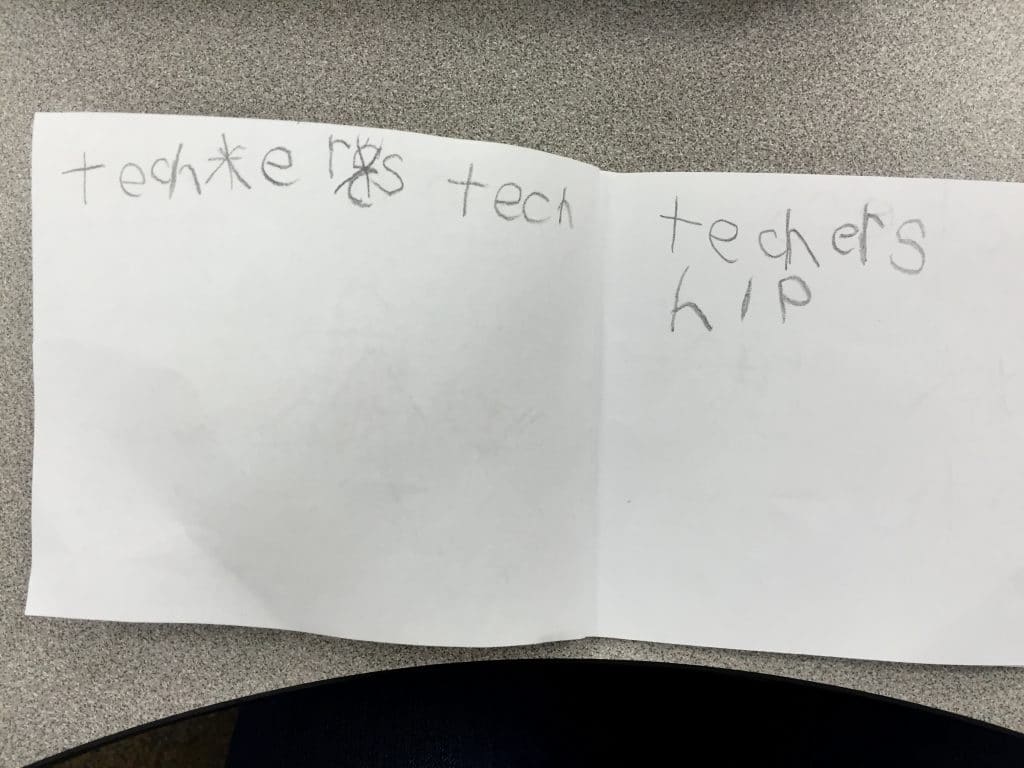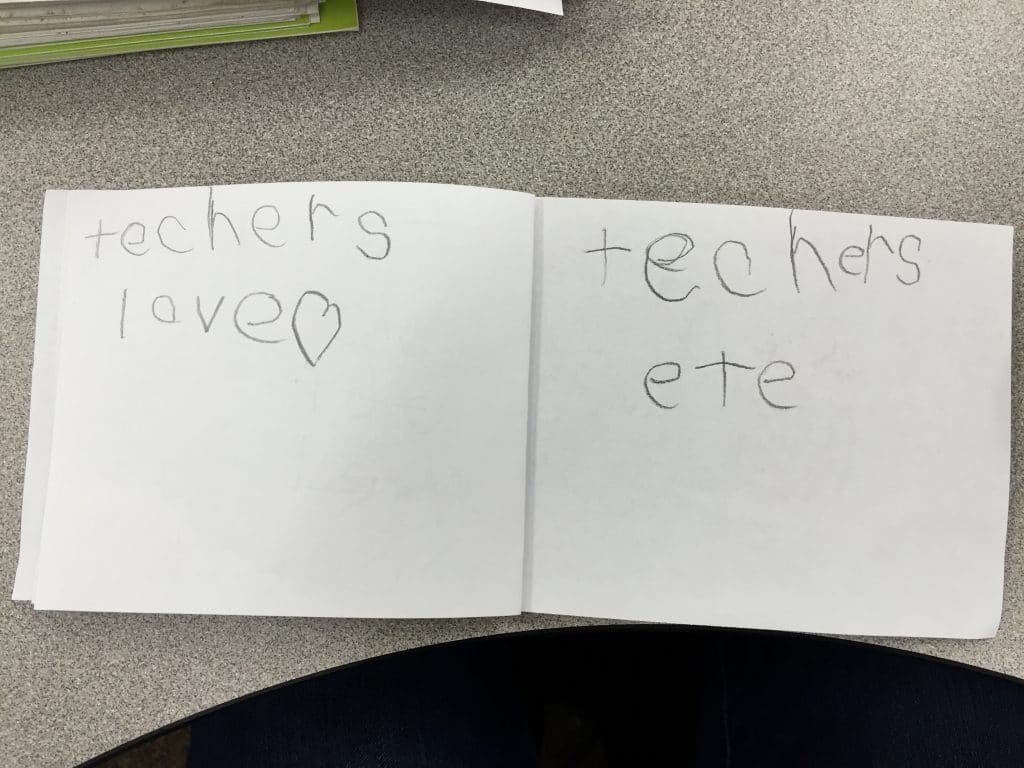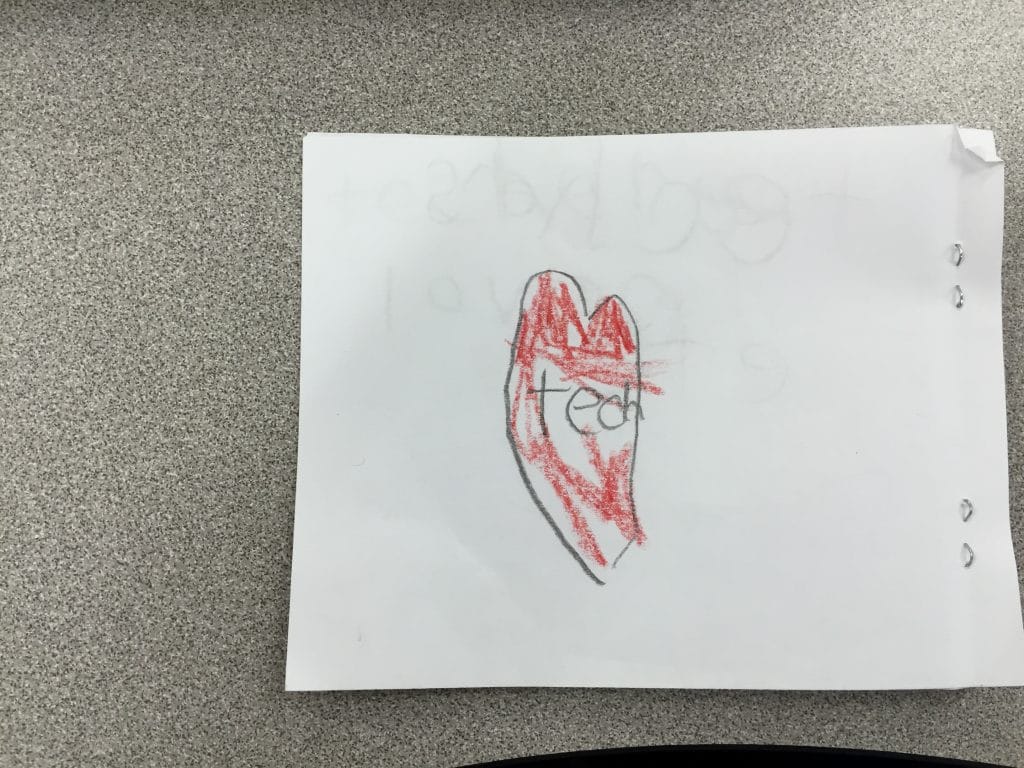 Monday – 6/1
PE with Coach Blower (don't forget to wear your tennis shoes)
LAST WEEK of BOOK Borrows! Don't forget to return your bag on Monday to check the last set out!
Tuesday – 6/2
Return School Library books – All Library books were due, Friday, May 29th!
Wednesday – 6/3
No More Library for the 2014 – 2015 School Year
Computer Lab with Ms. Martin
Thursday – 6/4
Minimum Day (dismissal at 12:30)
Mission Federal Credit Union at School for deposits!
Character Education – with Angela Weathers
Friday – 6/5
Homework/Reading Log Due (aim for 20 minutes of reading a session…break in two parts if needed)
Afternoon Run Club for K Students Only (Wear Tennis Shoes)
Return $ for End of the Year Celebration and Sign Up to come and/or Donate