Grandpersons Day & Thanksgiving Celebration
This coming Friday, November 21st, we will be celebrating Thanksgiving and some people in our lives that we are especially grateful for….our GRANDPARENTS! An evite went out this week inviting families (grandpersons included) to join us from 9:00 am – 10:00 am. We will be sharing a story, a craft creation, and a snack with all the ones we love! Please RSVP to the evite as soon as possible so that we can plan accordingly. We hope that you can all come to celebrate the ones we love as we go on Thanksgiving break for a week.
*If you didn't receive the evite, email Mrs. Miller at lcaldera@sandi.net or stop by the class on Monday.
Parent Conferences
They're-a-coming! This coming week, we have parent teacher conferences. Conference slots are 30 minutes each in Room 206. Thank you for being so flexible in your schedules to meet with me regarding your child's progress! I'm sincerely looking forward to meeting with each of you!
Due to conferences, the school will be on a minimum day schedule all week.
Book Fair
WOW! I haven't quite ever experienced a book fair like this before! Besides the amazing theme and decorations, there are many activities and lots of fun….that's all on top of some fantastic book selection! Our class was able to visit on Thursday to buy books or create wish lists. If you child created a book wish list, it was sent home in their folder/backpack on Thursday afternoon.
We're in the FINALS! Last week's edition of The SCOOP, showed a picture of our Coat of Arms…WE made it as finalists! If you didn't get a chance to vote, stop by and vote for our coat of Arms at the Book Fair. Thank you to all the parents that helped us during the visit at the book fair. They helped many kids on their wish lists and helped them to vote.
FAMILY NIGHT @ the Book Fair – A flyer is going home on Monday to give all the details regarding this fun-filled evening! Its a fun family night that you won't want to miss! It takes place this Wednesday (November 19th).


100 LAPS! —
A student from our class ran 100 laps! We are so proud of his effort and diligence to make it to 100 laps! He received a special ribbon along with a class cheer and some complete awe from his classmates! Great job! If you see him this week, give him a big congratulations! Not many students at EBS have made this accomplishment this year!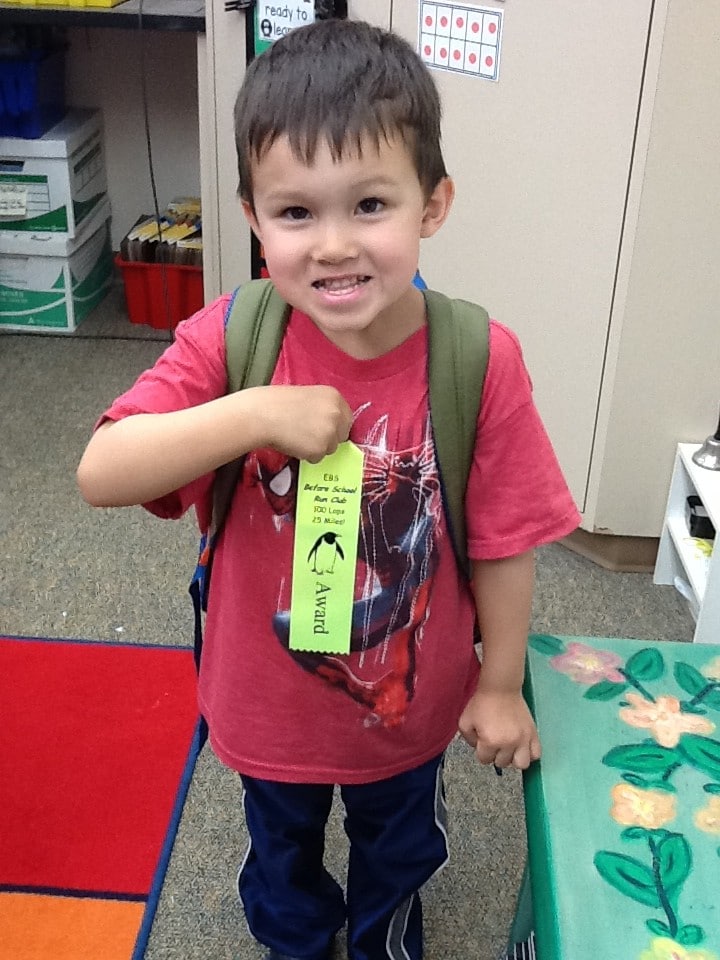 Back Pack Hooks/Labels
To clear up confusion, I had one of our wonderful parent volunteers, put new number labels on each of the hooks outside. Students can now hang their backpack on their own number. Please remind them of this change as I have told them in class, but I know its a new habit for us all. Thank you for your cooperation!
Thanksgiving Week – No School
The week of Thanksgiving – November 24 – November 28th, there will be NO school. School will resume on Monday, December 1st. I hope you all enjoy a week with your loved ones and your sweet children as we can all be so grateful for this wonderful life and all who are in it! I am very grateful for our 206 family. Your children are such an important part of my life and I love them dearly! Thank you for trusting me with their safety, and education each day!
Resources Page
(New Web Page under "Info & Resources") – To make it easier to access, I have added the main websites and school subscriptions the kids access to a "Links" page. Please visit this new page and use these resources purchased by our AFP to give your student additional practice with technology as a motivational tool. I will continue to add links that the kids use most often to this page.
Monday – 11/17
Music with Mr. Waczek
Return Book Borrow Envelopes (new books will go home for the week)
Parent Conferences – Minimum Days
Tuesday – 11/18
Parent Conferences – Minimum Days
Wednesday – 11/19
NO LIBRARY due to Conferences and Book Fair
Computer Lab
Parent Conferences – Minimum Days
Thursday – 11/20
Color Day – Wear PINK
Mission Federal Credit Union at School for deposits!
Parent Conferences – Minimum Days
Friday – 11/21
Homework/Reading Log Due (5 days of reading minimum)
Grandpersons Day and Thanksgiving Celebration – 9 am – 10 am
Parent Conferences – Minimum Days