Grandparents Day (and Thanksgiving too)
What a great time we had on Friday! Another round of applause to Megan and Soya for planning such a great event! It was so awesome to have so many grandparents there to enjoy the morning and to work with their grandkids! Thank you family members for taking the time to come in and help our 206 family and to enjoy this time of giving thanks!
Our morning started with a sweetly sung, 206 version of… You are My Sunshine. They did awesome! Then we listened to a great story about Grandparents Day. Finally, the students joined around the tables with family members to craft a homemade photo bookmark along with snacks that went along with the Charlie Brown Thanksgiving book we read the day before. What a fantastic way to spend our last day together before the week of vacation!
*Families….many students left their bookmarks in their cubbies in the classroom. Please feel free to stop by on morning of December 1st to pick your student's bookmarks up if you didn't receive any (or if they didn't go home with a grandparent or parent). Thank You!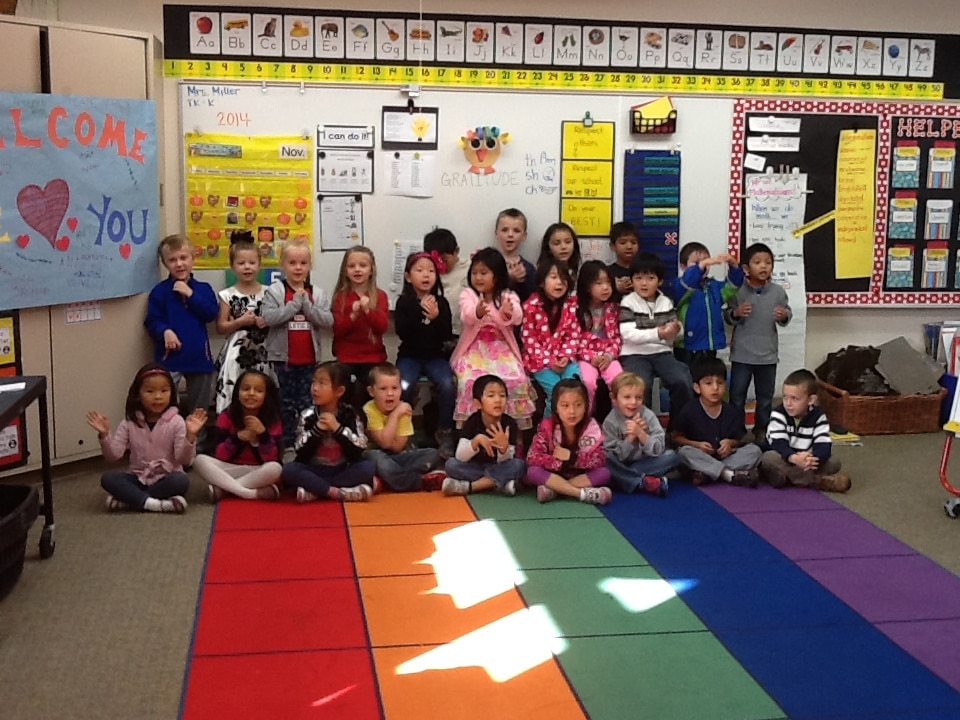 Fire Drill
Thursday morning we had our monthly Fire Drill. Each month we talk about why we have fire drills (to be prepared for the real thing). We discuss the bell (as it is quite loud) and how it needs to be loud to make sure that everyone hears it and is safe. We talk about how the broken bell sound (beep – beep – beep) means to  get out of the building quick quiet and safe.
For kindergarteners, often the biggest struggle is walking safely in line along with all the other classes in the school. It is easy for them to get distracted with all the commotion going on. We talk about walking closely in line, and how it important it is to stay a "puppy space" within the person in front of you, all while watching the person in front of you. It often happens that some students will be looking around watching other lines, or talking to the person behind them and when the line continues to move it leaves without them and when they turn around or refocus they either have to run (along with everyone behind them) to catch up or another class may even cut through the line to also get to the safe area. This causes them to get separated from the rest of the class. We will continue to work on the emergency procedures to make sure that we are prepared and safe with ease and automaticity.
Pink! Pink!
Pink!
Thursday was Pink Color Day! It was a two-fold Pink day in that Pink was the color of the week, but also the entire school was wearing Pink on Thursday. This past weekend was the Susan Komen 3-day walk. Three teachers from our school walked for 60 miles this weekend. In support of our teachers and the cause our school wore Pink on Thursday. Check out our Pink Picture below!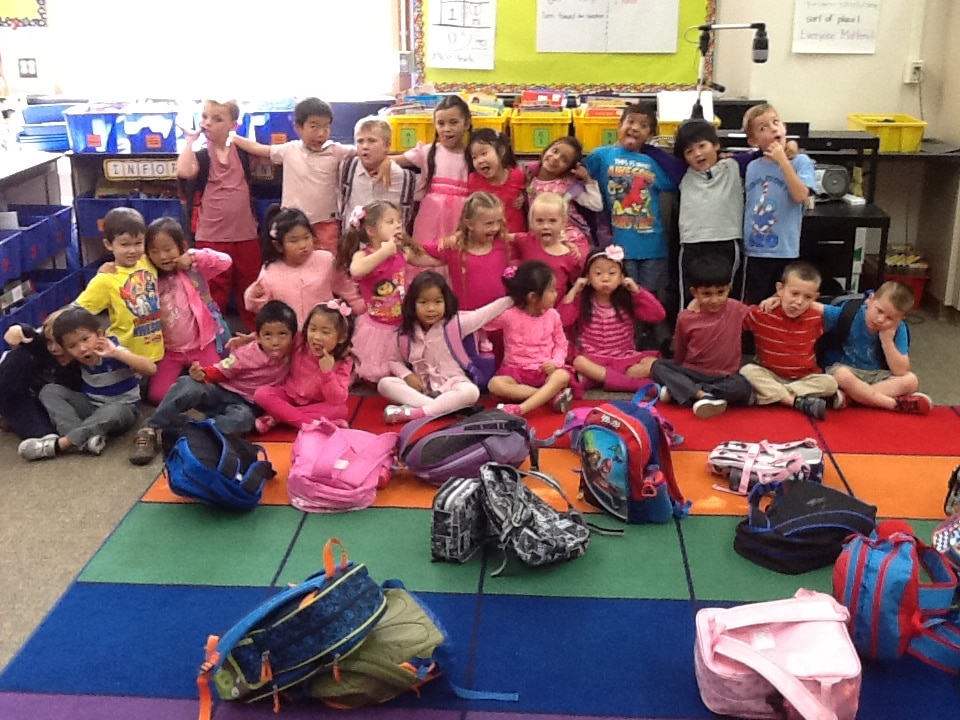 Fine Artist Week
Angela Weathers, Jennifer York and Jan Ash, and Megan Brenk came in to teach the Fine Artist Program this week. This week they came in to teach a lesson on Andy Warhol. The students each did Part I of their art work. They painted piano keys and the base of music notes on their page. Check out a sample here! The finished products will be finished soon and will join their other art in the portfolios.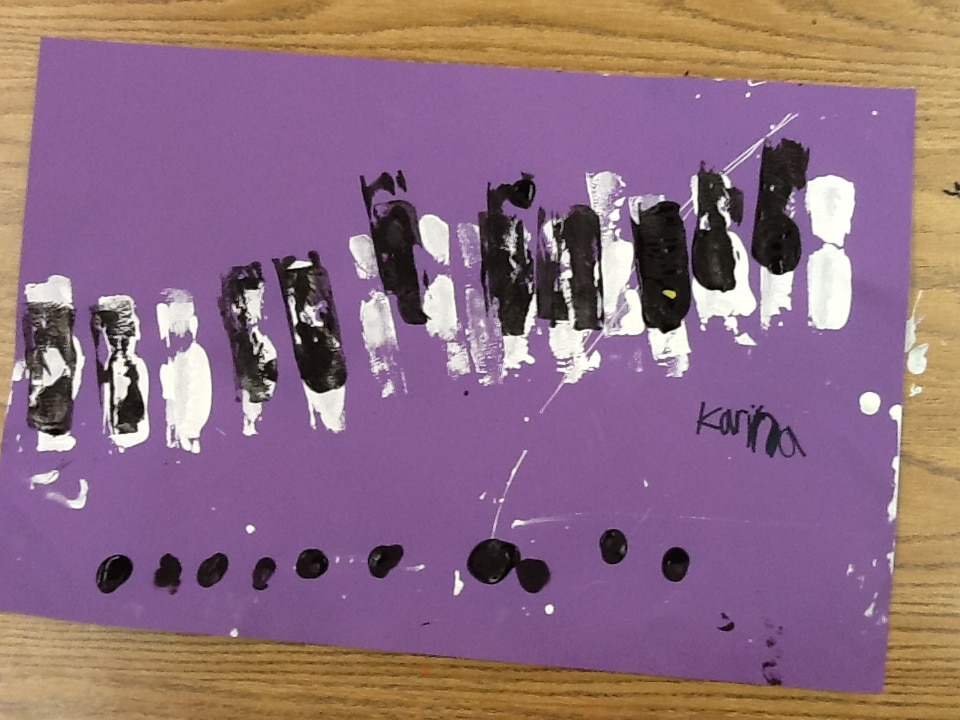 Parent Conferences
Thank you so much for taking the time out of your busy schedules to meet with me and discuss your student's progress. I love these kids and its my passion work with them and to facilitate and teach them as they grow in so many areas. We have grown so close in these past three months and they have all learned so much! I'm so excited to see what growth that takes place in these next 3 months!
A few families mentioned that it would be helpful to have a copy of the sight words put into cards. I created a document that has all the words in a table for you to use. These can now be found under the Info & Resources page > Resources or you can click the links (in red) above.
Here are some ideas below.
Print 2 copies and play Memory
Play "My Pile, Your Pile" (start with a small amount if your child is just starting).
Rainbow write a word each night (write a word in multiple times in layers of multiple colors).
Trace the new words in a cookie tray of rice or sand.
Practice writing 1-2 of the words.
Library Visit
We are back to our regularly scheduled library time starting Wednesday, December 3rd. I've been asked to relay the message that we all exit through the main double-door library exit when leaving (into the courtyard) rather than go through the office/workroom for  safety reasons. Thank you for your cooperation.
Lost Glasses
I still haven't had any takers for the lost glasses from our Halloween Party. I checked with many families at Parent Conferences….but no takers. I'm posting a picture of the glasses (and case) here. I will plan to take them to Lost and Found if I haven't heard any claims by next week.
Monday – 12/1 (Welcome Back)
PE with Mrs. Blower
Return Book Borrow Envelopes (new books will go home for the week)
Tuesday – 12/2
Return Library books in order to check out a book on Wednesday
Wednesday – 12/3
Library Visit at 12:30 (TK parents …dismissal is at the library at 12:55)
Computer Lab
Thursday – 12/4
Color Day – Wear A Favorite Color (its

R

A

I

N

B

O

W

 Week… and our last color week!)
Minimum Day (dismissal at 12:30)
Mission Federal Credit Union at School for deposits!
Scholastic Book Order Due
Friday – 12/5
Homework/Reading Log Due (5 days of reading minimum)
Bring water bottle and wear tennis shoes for Run Club. (K students only)