Listening
(…what does it look …what does it sound like)
We have been working a lot on listening. We listen for many reasons, but one important reason we listen is to have conversation. In order to be part of a conversation (whether it is with one other person or a group of people) you have to listen to what others are saying so you can respond back.
We have worked very hard on some behaviors and words to help us be a valuable part of conversations. In class we often have time that is "turn and talk to your partner or partners" to tell what you think? We are checking to see if partners are actively listening and remembering what their partners are saying.
What does listening LOOK like? …listeners are turned towards the speaker (whoever is talking), looking at the speaker and most importantly are thinking about what the speaker is saying. Having partner-talk helps to get more students involved and engaged in the collaborative conversations.
We also discussed what listening SOUNDS like? …as listener when you respond with "I hear you saying…." or "I think…" (with a relevant response that makes sense with what the speaker was speaking or asking about).
Try these cues and behaviors on at home and hold your child accountable to looking at who is speaking and you might even hear some of the cues in your house to show they are listening. We will be adding to these lists as we find more ways that we can hear and/or see listening!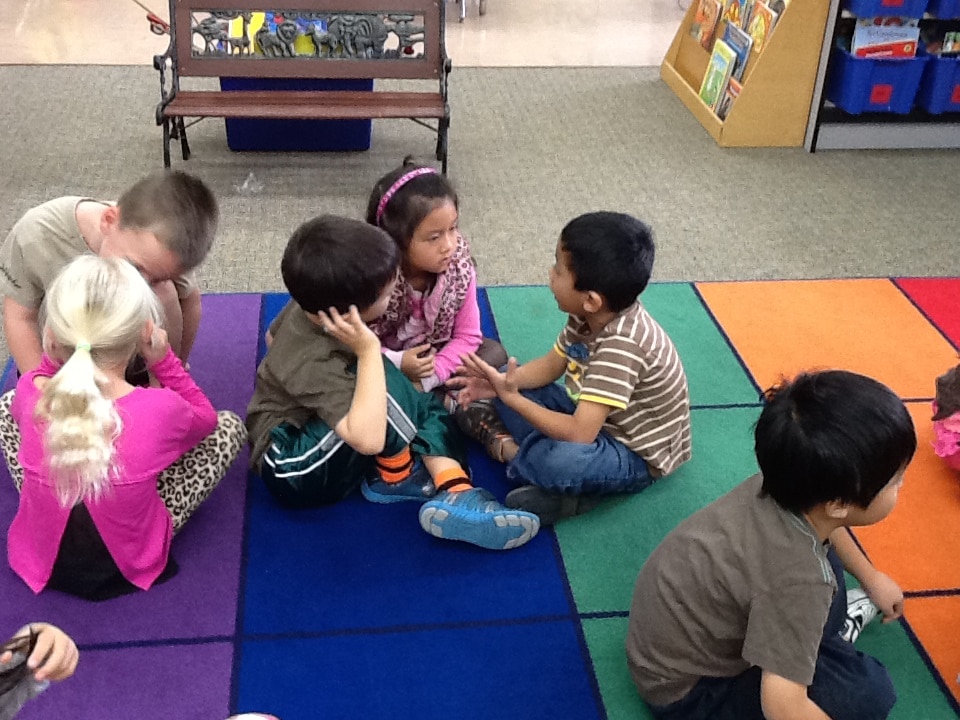 MLK Day – Penguin Parade (Jan. 2015)
You will be receiving a permission slip this upcoming week regarding the EBS Martin Luther King Parade . We will be marching as a school and a class. Each class will have a poster or banner to show something they believe in and want to stand up for.  if you or your family would like to join us, just let me know!
The date of the parade is on Friday, January 16th, 2015. This is a new tradition that EBS is starting and we hope you can help us in our inaugural walk! We are marching up to the Rec center at 11:15 am and plan to be back before TK dismissal. Put this in your calendar and return the permission slip this week.
Color Days Come to an End
Rainbow day didn't turn out to be a rainbow after all, but a red/pink and blue/purple day! It was very cute nonetheless and I loved seeing the children express themselves by wearing their favorite color!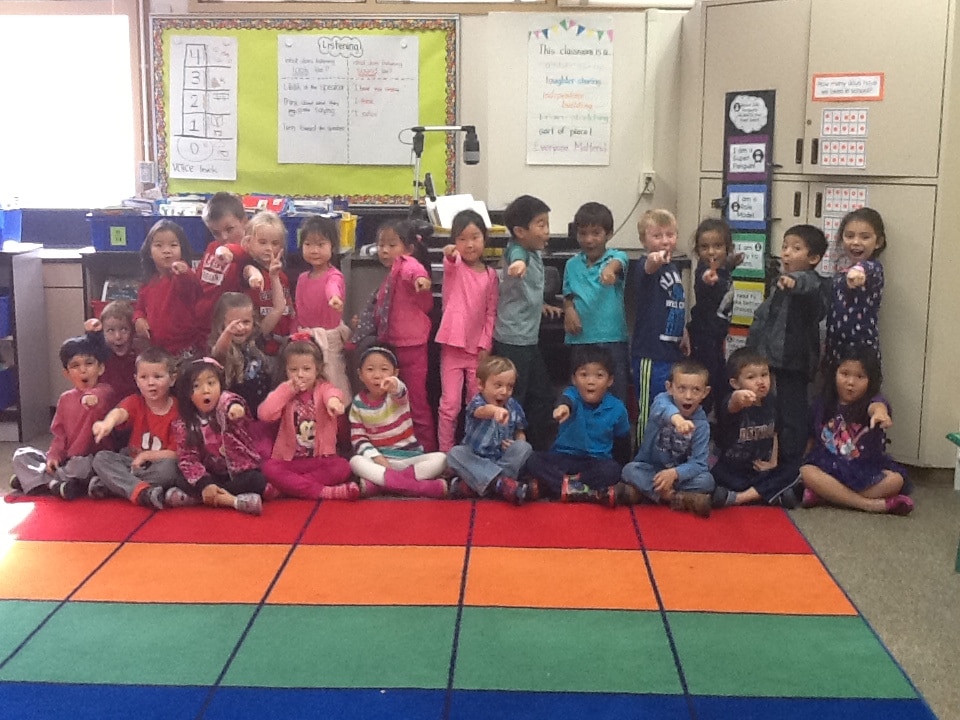 Standards For Mathematical Practice (SMP's)
I spoke with you all about these at Parent Teacher Conferences. These are essentially the attributes of a great mathematician. I am putting a link down below where you can read more about these. One of the beauties about these is that they are K-12. They will be continually built on for years to come throughout your child's educational journey. The language will be come familiar to your child and more importantly the practices will become part of your mathematician's qualities as a thinker and collaborator!
We use many of these daily when we do our math problem of the day. These are similar to the family math problems on the homework. We use everyday life stories to create the math problems and use tools, perseverance and precision when solving and showing our thinking to others. See the link below to learn more.
Standards for Mathematical Practice 
Frosty the Snowman
We have been learning the lyrics and song to Frosty the Snowman. I'll be sending the lyrics home to practice at home. Try singing them in car or while you are getting dressed for school or bed to practice.
Fine Artists
Our awesome Fine Artists Team set up an amazing Art Lesson for us! I absolutely love how every artist's creation comes out so unique! This lesson was focused on Vincent Van Gogh. The students learned about warm and cool colors using special Beeswax Crayons and Watercolor. They drew hills, and Olive Trees with beautiful Sunsets in warm colors. Your children are talented!



Book Borrow BAGS (BBB)
New and improved…the paper envelopes were getting torn apart, so we have moved on to Gallon-sized ziplocs. If you haven't already, return your old paper envelope for a new bag to transport books from home and school.
Save the Date

– Winter Celebration for 206

We had such a good time at our Halloween and Thanksgiving parties we having another 206 Festivity! Put the date in your calendar now so you don't miss it!
When: Friday, December 19, 2014 (EBS Minimum Day/Pajama Day)
Where: Room 206
What: 206 Winter Celebration (story, craft, writing, and snack)
Who: 206 Students and cleared family members 
Time: 10:30 – 11:30 a.m.
PLEASE RSVP to Megan Brenk … mbrenk@gmail.com so we can prepare for the number of people attending. Thank you in advance!
Pajama Day
EBS is having one of its annual Pajama Days on Friday the 19th. Have your child dress up in a pair of their loved PJ's. You might even come in a pair of your pajamas too, I'll be in mine! Make sure they are wearing shoes (no slippers). *Please note this is a half day and the same day as our class celebration.
206 Class Survey
These cute little minds hold more info that we can imagine and think in a way that we don't fully understand. For this reason, I thought it would be fun to hear their thoughts on certain topics. Look at your child's number to see his/her response.
12-4-14 How old is Santa? – Class Survey
Kid Quote of the Week
You wouldn't believe the adorable and hilarious things I hear, or maybe you would believe me as you hear these in your home. This week, I had a kiddo teaching me about being in the red. Read below…
This week, during writing time, I was telling my own story that I write about (I model with my own story and writing before they go off to do their own) which involved some Black Friday shopping. After, they all went off to start their own writing pieces, one student came up to me and said, "I know what Black Friday is." When I responded with, "Oh, what is it?" The response was, "Black Friday is when there is money left, and Red Friday is when there is no money." This little one had a lesson from Grandpa (so I'm told) about being in the red or in the black for end of the year finances! So adorably cute!
Monday – 12/8
Music with Mr. Waczek
Return Book Borrow Bags (new books will go home for the week)
Extra PE …wear Tennis Shoes!
Tuesday – 12/9
Return Library books in order to check out a book on Wednesday
Wednesday – 12/10
Library Visit at 12:30 (TK parents …dismissal is at the library at 12:55)
Computer Lab
Character Education Lesson with Amy Ju
Thursday – 12/11
Minimum Day (dismissal at 12:30)
Mission Federal Credit Union at School for deposits!
Friday – 12/12
Homework/Reading Log Due (5 days of reading minimum)
Bring water bottle and wear tennis shoes for Run Club. (K students only)