Character Education Lesson (Gratitude)
Holly Kalkin came in our class this week to teach the Character Ed. lesson for this month! She did a fantastic job of explaining the concept of GRATITUDE! During the lesson a monkey was passed around to give different students a turn at pulling out a different item of things we are thankful for (such as…water, a home, friends and family, food, etc). She closed the lesson with a great story called, The Gift of Nothing. In this story a friend was in search of the perfect gift to give to his friend who had everything. In the end, he gave him the gift of NOTHING all wrapped up with a bow. When the friend opened the gift, he explained that there was nothing but the two friends and their friendship and time together was the most valuable gift of all!
Generosity and Gratitude
We have been using many new vocabulary words this year. One in particular was from our Character Ed lesson last month…GENEROSITY. The students are learning to practice this is small ways at school, such as letting a friend go ahead of them in line. Friday we had our Character Ed. lesson about Gratitude. These words tie so nicely together and help to explain how and why we contribute to the need of others.
This month there are many programs to donate to people in need.  Each of programs listed below and each gives an opportunity to have a conversation with your child about why and how we help others.
All for Books (Donation Program) ends 11/17/14 – This flyer went home with your Book Fair flyer. There is a collection container in the back shelf of our classroom. Many of our students have already donated $1.00. There is also a contest for the class who donates the most.
Character Education Food Drive ends 11/13/14  – Thank you to so many of you that have donated so many food items to others. Our collection box also on the shelf right as you enter our main South door. In addition, a few volunteers are needed to help bring the food from the classrooms and to sort through all the items on November 12 and 13th. Please contact Ellie Livingstone (her email is on the Shutterfly announcement) if you are able to help.
Food for Hunger – Our food for Hunger box is growing! Students have been brining in change and dollars from home. This box is also on the back shelf by the door. Thank you for all your support and for taking the time to explain why we give!

Hear Ye, Hear Ye … The Annual Book Fair at EBS has begun!
The book fair opens on Monday, November 10th and ends on Friday, November 21st . The library is all decked out like a castle to go with the Medieval theme. We are going to the school Book Fair this upcoming week . We are scheduled to go as a class this Thursday morning right after school starts. If you'd like to join us, we'd love to have you come in with us. The Book Fair will also be open before and after school as well and next week as well. There is a family night with a story, raffle, and knighting ceremony on the evening of November 19th as well….Ms. Sloan and Mr. Morici will be dressed up to match the theme!
As part of the Book Fair each class was asked to create a Coat of Arms to describe your class, or the school. As a class we took some time to brainstorm ideas about how we wanted to symbolize our class and/or EBS. After many ideas, we decided to use the word "Cooperation" to show that we work together as a team and for that we are stronger. To symbolize this we traced a student's hand 2 times in Yellow and Blue  (to represent both groups in our class) and glued them down overlapping to show our own teamwork symbol of locking hands. in addition, we put mini-colored letters around the hands to show that we are love to learn! On the outside, we put all of our names to personalize it. Check out this picture of our Coat of Arms and look for it in the Book Fair when you visit.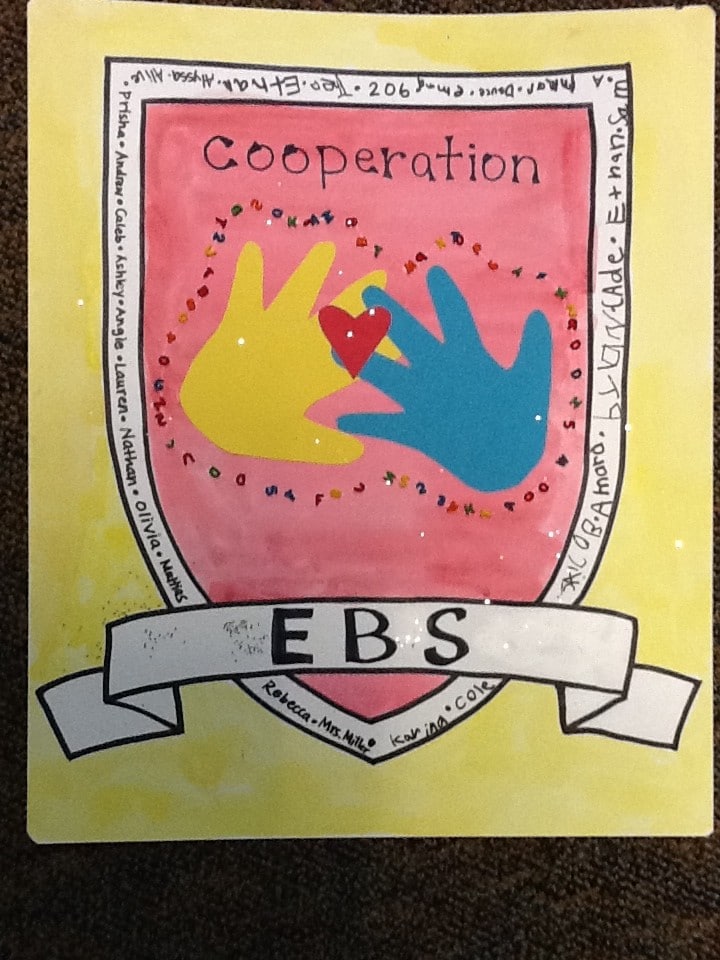 No Library during the Book Fair
This week and next week we won't be able to attend the library as it will be in Book Fair Medieval mode. Due to this change our TK students will dismiss at the regularly scheduled 12:30 in Room 206 on Wednesday. Thank you for your flexibility.
Consistency with Reading
Remember to make reading a part of your daily routine. This will create a habit/routine and will support your student's progress and remind him/her how valuable reading is! Our reading logs are one way to capture all the reading work your child has experienced through the week. Please make sure to take advantage of both types of reading below and log them daily. I have seen many students that logged in this past week to RAZ kids! Awesome job!
Independent Practice – This is a time for your student to independently practice the reading work on their own. They are able to practice fluency (accuracy, pacing, and intonation), comprehension While in search of meaning and text purpose they use their sight words and the pictures to read these books. Many students memorize the texts after reading them multiple times. This is common and helpful with early reading. This is a valuable routine for daily practice. (RAZ Kids on EBS Site and Book Borrow Program)
Listening to Reading – This is great way to discuss story. This commonly looks like the classic bedtime story (even if its on a Saturday morning ;). You or another fluent reader, reads a book TO your child while stopping to discuss the important events in the story (conflict, resolution, etc). Common questions we use when reading in class are:
What are you thinking?
Why do you think that?
How is she/he feeling?
How do you know?
Why did you do that? (this is in response to your child's reaction…ie a gasp)
Hearing Tests
All of our students had their hearing tested this week. The hearing specialist came in and took students in groups of 8. She was pleased to announce that they all passed and with no hearing concerns!
Pink Federal Survey Cards
We still have some of Federal Survey Cards that have not been returned. Please return these ASAP if you haven't already. You may send them in your child's folder or return them to the front office. Thank you!
Veteran's Day
There will be NO SCHOOL on Tuesday, November 11th in observance of Veteran's Day. We're sending a special thanks and admiration to all who have served or are serving in the US Armed Forces. We have a couple parents in our 206 Family that serve or have served! Thank you for all you do! Enjoy this day with your student!
Coming Up this week…
Monday – 11/10
PE with Ms. Blower
Return Book Borrow Envelopes (new books will go home for the week)
Book Fair Starts
Before school RUN CLUB (8:15 – 8:35)
Tuesday – 11/11
NO SCHOOL – Veteran's Day
Wednesday – 11/12
No Library this week
Computer Lab
Before school RUN CLUB (8:15 – 8:35)
Firefighter Presentation for all Kindergarten Classes (2:15 – 3:00)
Thursday – 11/13
Color Day – Wear Brown
Minimum Day (dismissal at 12:30)
Mission Federal Credit Union at School for deposits
Visit the Book Fair as a class
Food Drive Ends
Before school RUN CLUB (8:15 – 8:35)
Friday – 11/14
Homework/Reading Log Due (5 days of reading minimum)
Bring water bottle and wear tennis shoes for Run Club. (K students only)
Before school RUN CLUB (8:15 – 8:35)