IN THIS POST:  Fine Artists – Box Needed (by 2/22/21), ELD Time Slot Changing on Feb. 22nd, Next Week's Schedule, 100 Days of School, Valentine's Day, Weekly Writing – Due on Seesaw, Yearbook Pictures, Asynchronous Work This Week, Anonymous Feedback Form, Art This Week, Save the Date, This Week
Art – Box Needed (by 2/22/21)
Our next Fine Artist Lesson is coming up the afternoon of Feb. 22nd. Your child will need:
A cracker or cereal box (to cut out color, design and pattern for the project)
The paper materials from their Fine Artist paper portfolio
Markers from Dec. Distribution labeled for Fine Artist
Our Lesson is at 1:00pm on Feb. 22nd!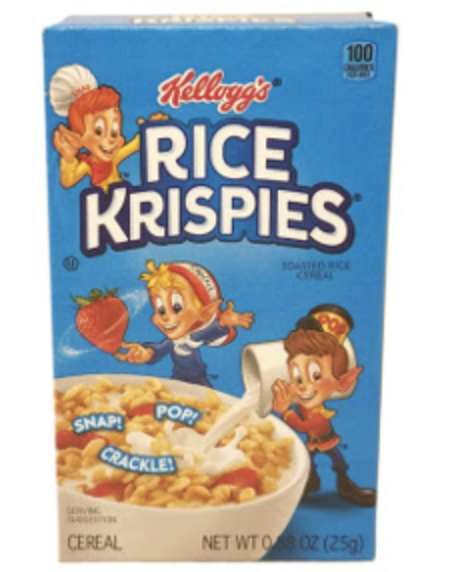 ELD Time Slot Changing on Feb. 22nd
Starting the week of February 22nd, our ELD class:
Old Time: 11:45 am – 12:00pm.
New Time: 8:35 – 8:50 am
Please mark your calendars of this time/date change. This will allow all of our ELD students to not to have back-to-back group times. They will now be our first group in the. morning! (This was also sent out to all ELD families in an email as well and will be updated on the class website > schedules.)
Next Week's Schedule – Modified for Assessments
I will be assessing each child 1:1 to see their progress in Reading, Writing and Math. The schedule is below. Please note the change in times and when your child is to come on. Please have them log on 5 min. early so we don't cut into any of their assessment time.
Students will be on Zoom for a much shorter time on these days. PLEASE make sure they are doing the Asynchronous work listed down below. (Seesaw writing, Reading, Math Options, and Seesaw assignments).
Students will need to log on 5-10 minutes early to be ready
Students will need a whiteboard, whiteboard marker and eraser.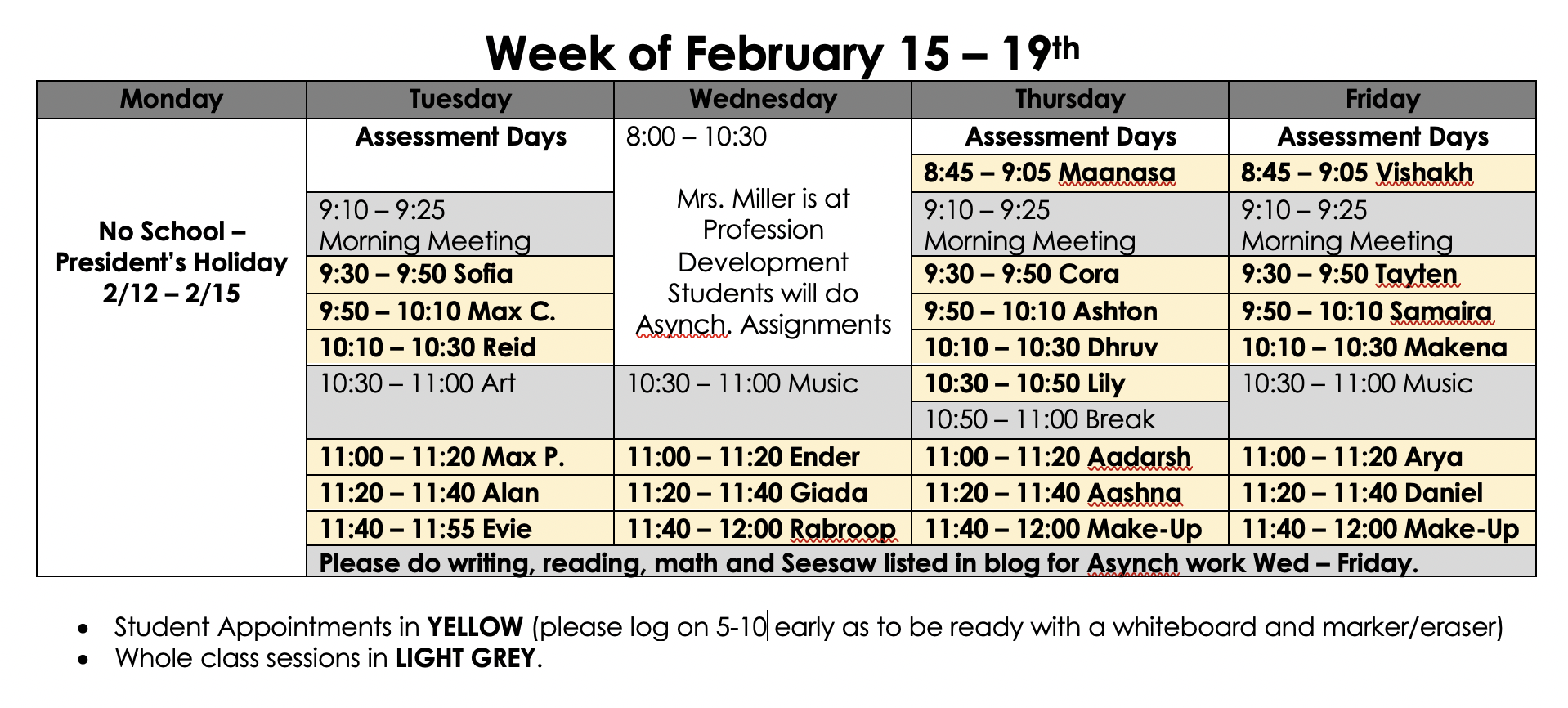 100 Days of School
A special thanks to all the parents! I know in these times, extra student projects can throw your crazy schedules even more out of whack! Our students and all of Team TK appreciate your efforts and time to keep up with it all! Thank you! The kids had such a fun week!
We dressed up like we were 100 years old.
Presented writing to tell about future 100 year old predictions.
We did some 100 day activities
Made a 100 day hat
Counted to 100
Read a 100 Day story
Did 100 exercises!
Watched our 100 day Fashion Show (see on Facebook)!!
A few students opted to stay on and get a 100 year old photo!
Valentine's Day
We tried to change up our Party this month for Valentine's Day! We focused this party on thinking about others. Then we finished our day with a valentine from Mrs. Miller and a movie/show with some popcorn!
Special thanks to Anna Carrasco and Molly Pincherli for prepping all the materials for the cards and gifts to others as well as teaching us about how to stretch our understanding, how these essential workers have been heroes in this strange Covid year! Got me teared up! See the video your child watched below!
RETURN the Essential worker card in March Distribution Day!
SEND your Hug card to someone you love such as a grandparent or aunt/uncle.
Essential Worker Video Click Here
Weekly Writing – Due Weekly on Seesaw
I have going through student journals from January and finding many students are not writing in their journal through the week. In our classroom we would normally be writing 4x a week which is the best exercise for big writing progress. This is the reason for this assignment….practice on their writing goals (goals are in their journal at marked tab).
Please remember to have your child write (this might mean sentences, story, letter, picture with labels) and turn in on Seesaw (take a photo and record your child reading their own writing). They can write 3-5 times a week in the journal, but only 1 entry needs to be turned in on Seesaw each week.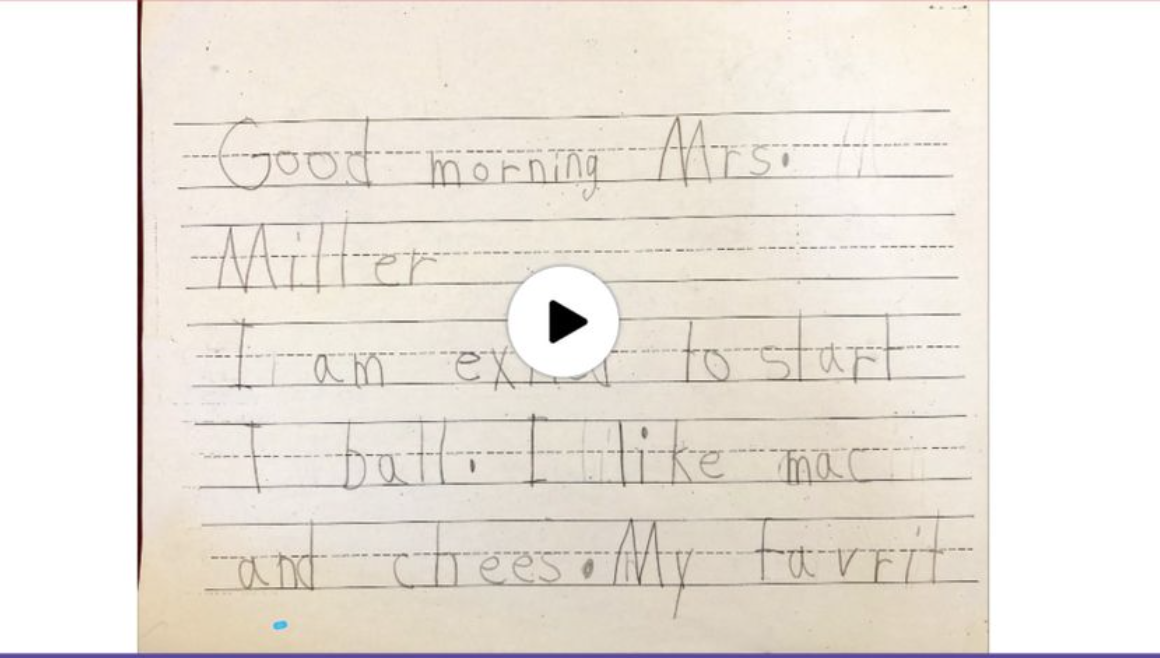 Yearbook Pictures
If you missed this or were on the fence to get your picture taken there will still be an opportunity due to Friday's rain. I took my kids on Thursday and was highly impressed with how organized it was. In case you were wondering….
We drove up and showed our name
We were handed a personalized QR code to hold in our picture through the window.
We drove up further and I waited while my kids got out 1 by 1 and took their picture under a pop-up tent, 6 feet from the photographer.
Then they got back in the car and we drove off!
QR code stayed with us to order and view pictures days later.
LOCATION: in the drive through parking lot, north of EBS across the street from the condo units north of school (close to Scripps Poway Parkway).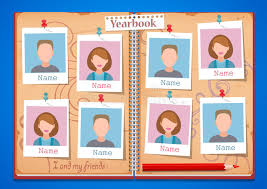 Asynchronous Work for February 15 – 19th
As we have worked a schedule to limit student online time, try to get practice on these platforms for student practice.
Math – ST Math or Happy Numbers
Independent Reading – RAZ Kids  or Book Bag  or Get Epic
Seesaw – Assigned within Seesaw
WRITING – Submit one piece of INDEPENDENT writing each week on Seesaw (done with paper and pencil/crayons). Please have your child use the camera feature to submit a picture of their writing. Then have them use the microphone feature to record their writing and submit with the green check.

If your child is NOT writing sentences, have them label a picture (with their own spelling or letter label for each item) and submit a photo and recording of it.
If your child is writing sentences, they can write a Beginning/Middle/End story about myself OR write a letter to Mrs. Miller asking me and telling me anything they would like. They may include a picture and must submit a photo of the writing and recording of them reading it.
Anonymous Feedback Form
If you have feedback (positive or constructive) or ideas please take a moment to share your thoughts and feedback! I am loving getting to know the kids better and that they are getting to know each other better despite the challenges we don't typically deal with! Anonymous Feedback Form
Save these Dates
Upcoming Distribution Days (TK/K)

Tuesday, March 2nd
Tuesday, April 6th
Tuesday, May 4th

Yearbook Picture Day: New date TBC
President's holiday – Friday, February 12th – Monday, February 15th
TK Assessment Week – Tuesday, February 16 – Thursday, February 18
Dr. Seuss' Week – March 1st – 5th (see red/orange flyer in blue folders)
The Week Ahead…
Monday – 2/15/21
No School – President's Holiday
Tuesday – 2/16/21
Morning Meeting
Art Lesson @ 10:30 (Materials Needed: President Art…2 sets clipped to make Lincoln and Washington.) Post finished product on Facebook!
Wednesday – 2/17/21 
Modified Schedule for Assessments (See above or on the website)
Music with Mr. Waczek, 10:30 – 11:00
Thursday – 2/18/21
Modified Schedule for Assessments (See above or on the website)
Tech Time with Ms. Martin (make sure your child can independently minimize.)
Friday – 2/19/21
Modified Schedule for Assessments (See above or on the website)
Music with Mr. Waczek, 10:30 – 11:00