IN THIS POST:  100 Days of School, Next Week's Schedule, EBS Kindness Week, Assessment Week, Yearbook Pictures, Asynchronous Work This Week, Anonymous Feedback Form, Art This Week, Save the Date, This Week
100 Days of School
By Sunday or Earlier (I have 3 already)
Send Mrs. Miller a photo your child in their 100 apron 
Send Mrs. Miller the slip to accompany the apron photo (See photo). 
By Monday 
Complete the "When I'm 100 years old" writing and practice with your child as they will be reading it aloud to the class on Zoom (on either Tues., Wed. or Thurs.).
By Wednesday
Dress like your 100 years old! I will be dressed up too if your child is nervous!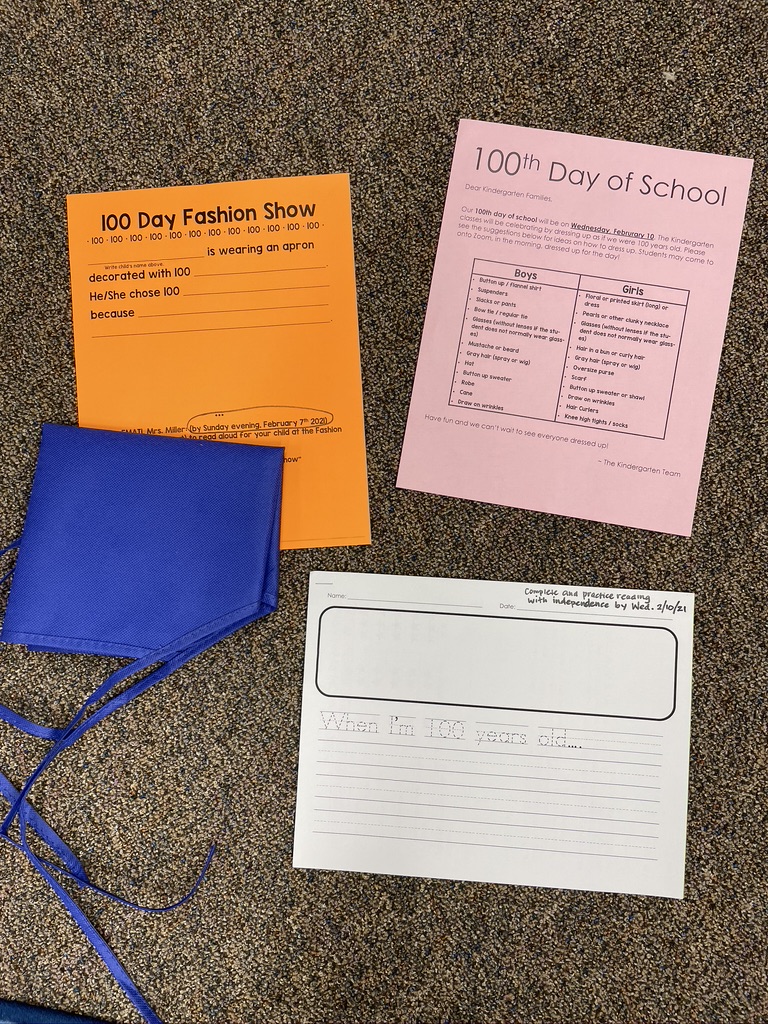 Next Week's Schedule – Modified for Events
Special events are noted in light pink.

EBS Kindness Week
This week is EBS Kindness Week! There is a Seesaw that will be released on Monday to explain all about. In the Seesaw you can also see the Student Announcement to show your child. Children will need an adult to help them read through it. AIM to do one act of kindness a day! If you have a great one, send me an email! I would love to highlight some this week in Zoom!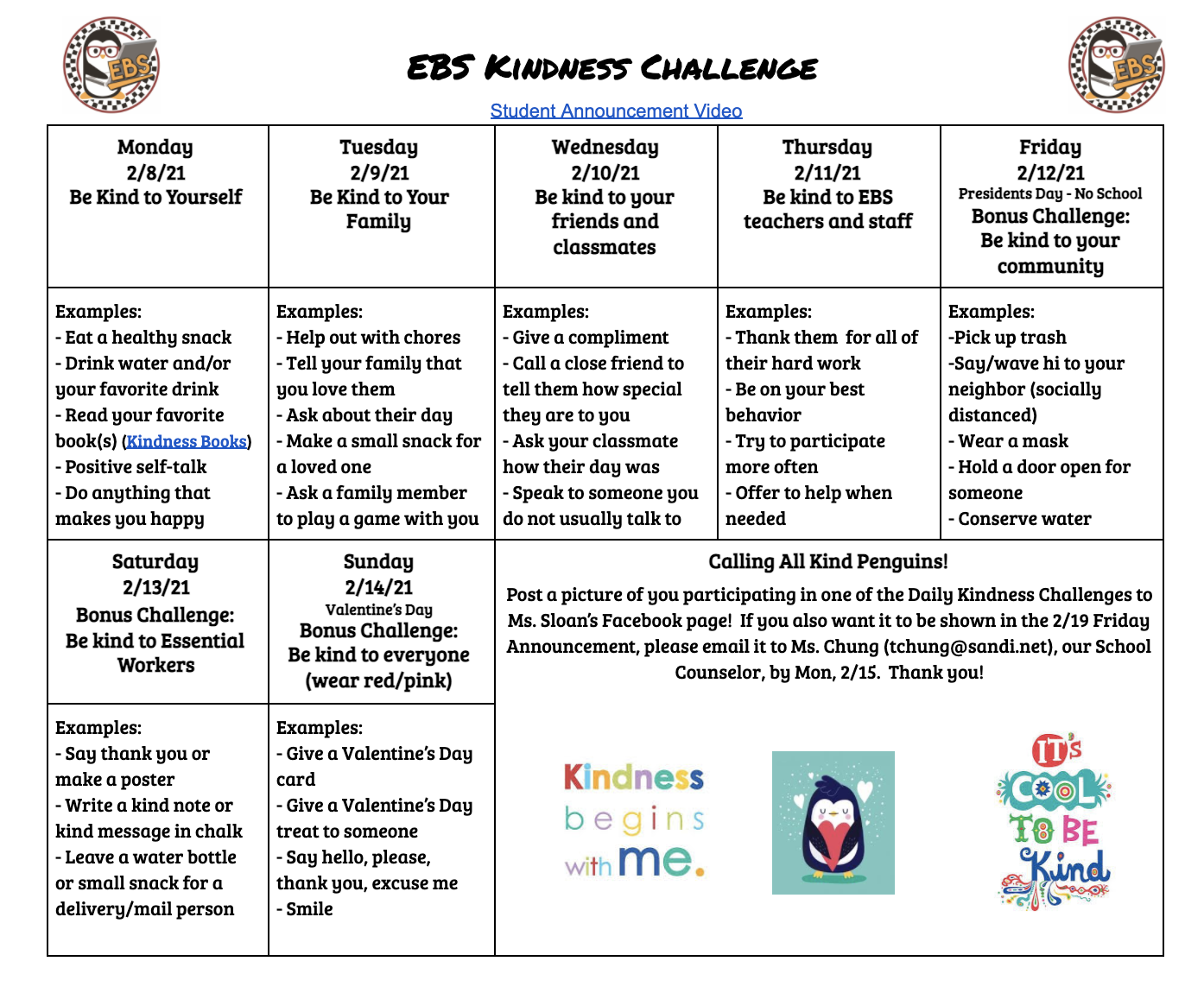 Assessment Week
We are nearing the end of our 2nd Period (2 out of 3) of the school year. I will be assessing the students to get a clearer view of their progress in reading, writing and math. I will put out a schedule next weekend in the blog to notify you of the days and times that I will be assessing your child on Zoom. There may be more asynchronous work on these days as there will be less Zoom time for the 1:1 appointments (similar to October days). 
Yearbook Pictures
Our awesome school has found a safe way to get student portraits for our yearbook. Please see the email sent this past week with sign up slots to get your child's picture taken in February.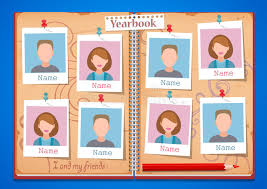 Asynchronous Work for February 15 – 19th
As we have worked a schedule to limit student online time, try to get practice on these platforms for student practice.
Math – ST Math or Happy Numbers
Independent Reading – RAZ Kids  or Book Bag
Seesaw – Assigned within Seesaw
WRITING (NEW) – Submit one piece of INDEPENDENT writing each week on Seesaw (done with paper and pencil/crayons). Please have your child use the camera feature to submit a picture of their writing. Then have them use the microphone feature to record their writing and submit with the green check.

If your child is NOT writing sentences, have them label a picture (with their own spelling or letter label for each item) and submit a photo and recording of it.
If your child is writing sentences, they can write a Beginning/Middle/End story about myself OR write a letter to Mrs. Miller asking me and telling me anything they would like. They may include a picture and must submit a photo of the writing and recording of them reading it.
Anonymous Feedback Form
If you have feedback (positive or constructive) or ideas please take a moment to share your thoughts and feedback! I am loving getting to know the kids better and that they are getting to know each other better despite the challenges we don't typically deal with! Anonymous Feedback Form
Save these Dates
Upcoming Distribution Days (TK/K)

Turn in 100th Day photo and 1/2 sheet by email (see your email for details) – Sun. 2/7/21
100th Day in TK – Wednesday, February 10th (dress up day)
Team TK's Valentine Fun Day: Thurs. Feb. 11th 
Yearbook Picture Day: Feb. 11th & 12th (sign up through school email link)
President's holiday – Friday, February 12th – Monday, February 15th 
TK Assessment Week – Tuesday, February 16 – Thursday, February 18 (details in next week's blog post)
Dr. Seuss' Week – March 1st – 5th (see flyer in blue folders)
The Week Ahead…
Monday – 2/8/21
Morning Meeting @ 9:15 am
Tuesday – 2/9/21
100 Days of School Fashion Show

(email pictures and slip to read by SUNDAY NIGHT)

Art Lesson @ 10:30 (Materials Needed: Penguin Art clipped together.) Post finished product on Facebook! 
Wednesday – 2/10/21 – 100th Day
Morning Meeting (8:50 am – see schedule change)
Music with Mr. Waczek, 10:30 – 11:00
100th Day of School
Thursday – 2/11/21 – Valentine Fun
Morning Meeting (9:00 am – see schedule change)

(Be ready to microwave popcorn for our Movie Time approximately 11:10)
Friday – 2/12/21
NO SCHOOL – President's Holiday Feb. 12 – 15th