IN THIS POST:   Cheers to 2020!, Best News Ever!! (well maybe this month!), Winter Sightings, Family Card, EBS Bowling Bash, Winter Wonderland Party, Computer Log In, Letter/Sound Hh Week, PJ DAY, Save the Dates, Upcoming Events, The Week Ahead
Cheers to 2020!
2019 has been amazing! Your child started TK and made lots of new friends, and we all got to experience bonding and connection as a 206 family! As 2019 finishes we start to prepare for 2020! Set a 100 day goal!!…Maybe a challenge to help others in specific way? Maybe a health goal to try a new vegetable every week? Possibly a time goal to leave earlier or spend 30 minutes of screen free time as a family? Or maybe even going to bed earlier every night to start the next day refreshed and without rushing? So many options! Regardless of your goal, may you reflect on all the good in this life of ours and strive towards your goal with confidence and accountability and of course with love! 
Make sure you relax, rest, and recover from the busy! Take time to enjoy yourselves as a family. Play a game, go for a walk, and try to have a schedule free evening or day! May be the best Christmas gift ever! 
I'm so grateful to begin this new decade with you all! Thank you again for the daily support you all provide in our class and in your homes! Cheers! Wishing you all a happy and healthy 2020! 
Best News Ever!!! (well maybe this month!!)
So many not the best news ever…but some of the best news this year!…our class is finally getting Chrome Book Devices! We have waited patiently and are so excited to have a set of our own!!
Winter Sightings!
Friday we got see EBS Santa in our class. He was visiting the Kinder classrooms and stopped in. (Our kids might have recognized Mr. Tom right away, but know he is also a helper of the real Santa ;). 
Also, Mr. Waczek and the choir did some caroling in the courtyard! The kids had a great time! Check out a video on the Facebook page! (Will be posting soon!)
Family Card
The card/letters to our family presents didn't get sent home with the gifts. We sent them home Friday and wanted to give you all a heads up!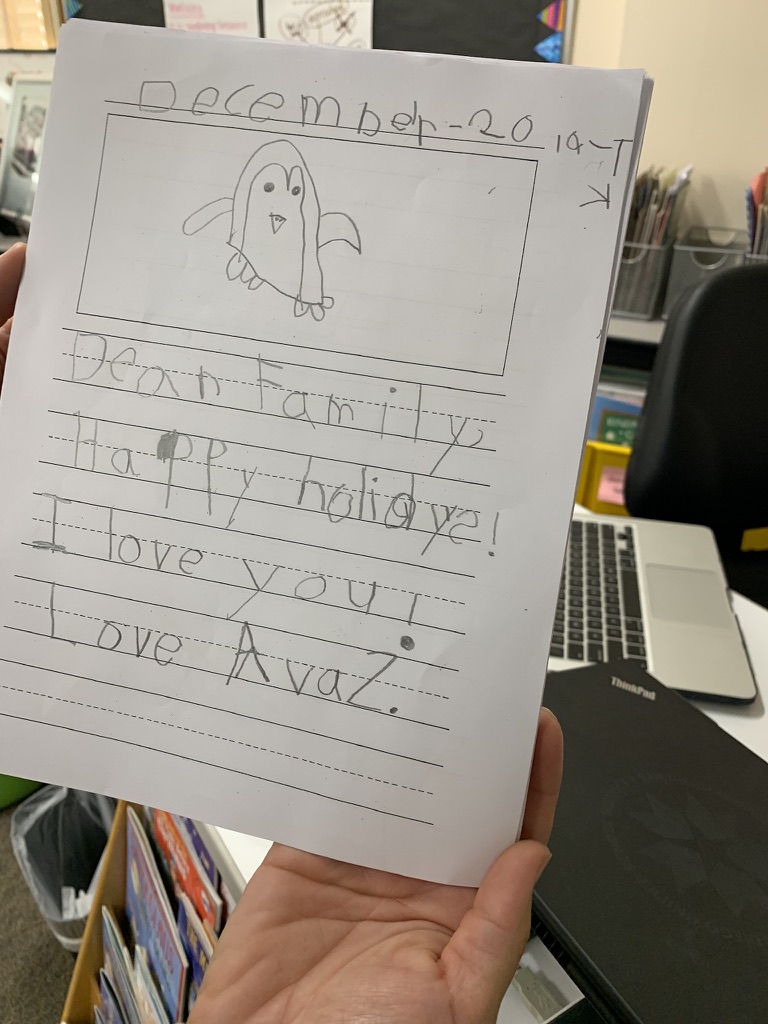 EBS Bowling Bash
The annual EBS Bowling night is near! This was formerly Mother/Son Bowling but this year the night is open and inclusive to all. Please know this sells out! Make sure to sign up soon! 
Winter Wonderland Party
What a ball we had at our Winter Wonderland Party! We got to play the Dreidel game, Elf ourselves and have a feast for kings! A special thanks to our parents who planned the fun festivities! It was a great time! 
Another thanks to you all for the generous and awesome gift from the class! So many favorites! You spoil me! Thank you for sharing your sweeties and being so kind!! 
Computer Log In 
Amazing progress in logging in at the Computer Lab! Thank you all for your support in practicing logging in at home and for those that have come to help each week when the kids get stuck! If you haven't already…..challenge your kiddo to log in without looking at their code! This will help even more once get the Chrome Books up and running! You can do it! 
Letter/Sound Hh Week!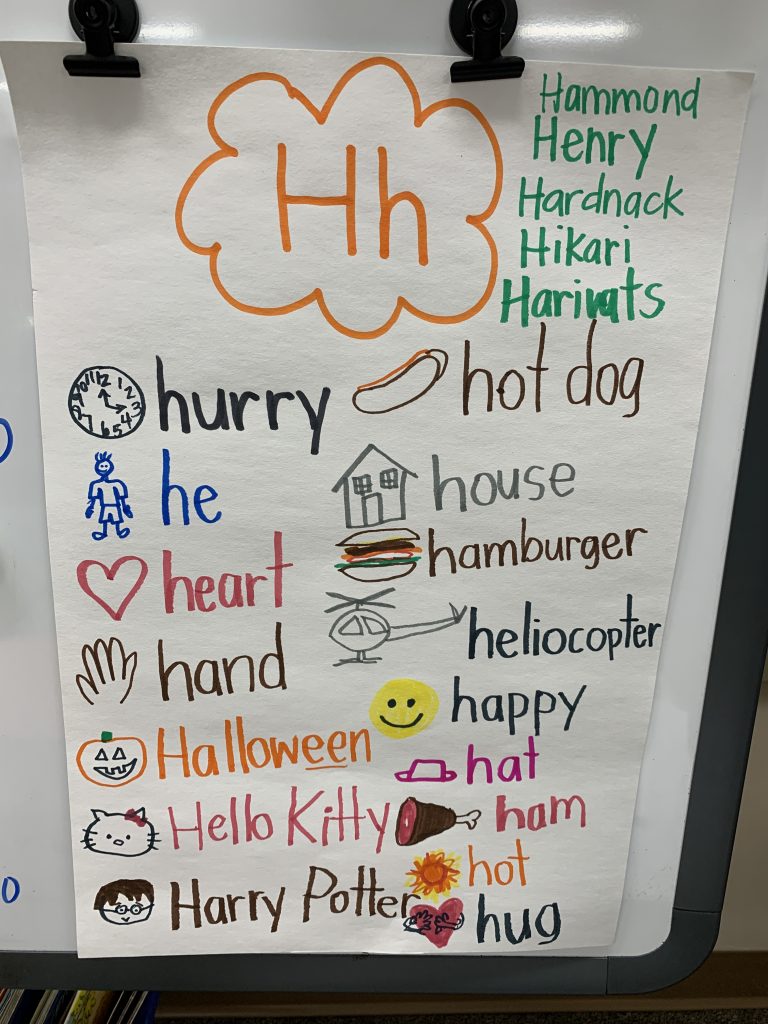 PJ DAY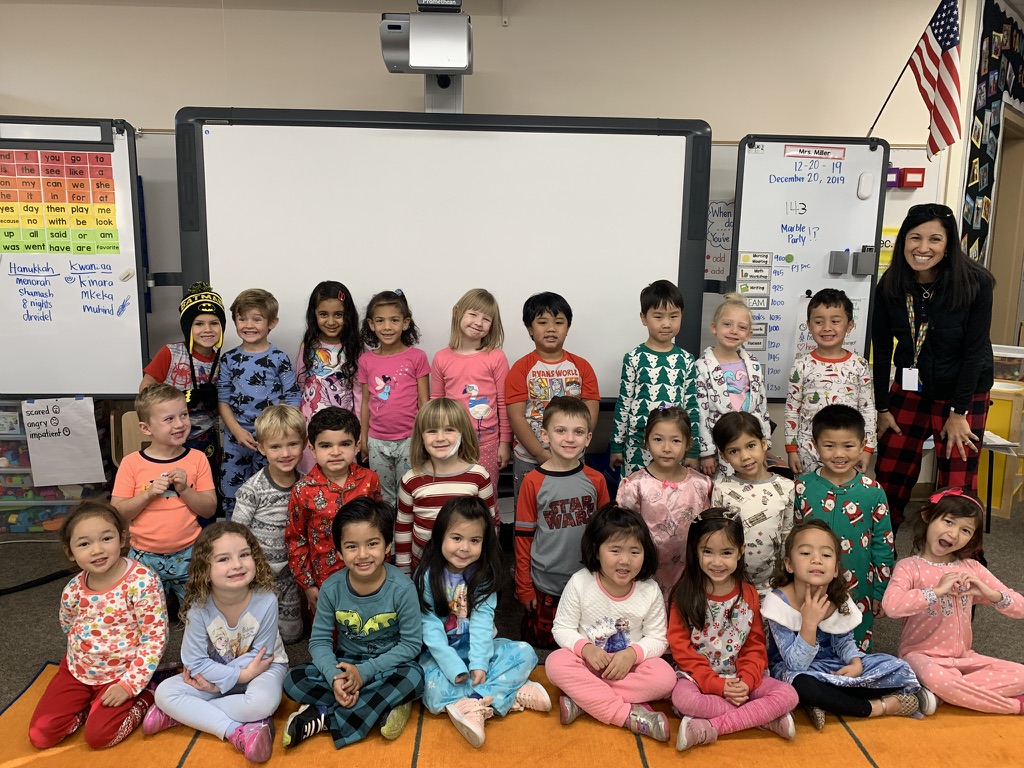 Save these Dates
Winter Break – Saturday, December 21st – Sunday January 5th
EBS Bowling Night – Friday, January 10th, 2020
Western BBQ, Wednesday, January 15th 
No School – Martin Luther King Day – Monday, January 20th
The Week Ahead…
Monday – 1/6/20
Welcome Back to School! 
Computer Lab – (Can you log in without looking at your code)
EBS Morning Run Club @ 8:15 am
Tuesday – 1/7/20
EBS Morning Run Club begins @ 8:15am – 8:30am
Mrs. Miller is at TK/K PLC Meeting – Mrs. Whelehon is teaching!
Wednesday – 1/8/20
Computer Lab – (Can you log in without looking at your code)
EBS Morning Run Club @ 8:15 am
Thursday – 1/9/20
EBS Morning Run Club @ 8:15 am
Friday – 1/10/20
All School Half Day Dismissal
EBS Morning Run Club @ 8:15 am
EBS Bowling Night (Must be pre-registered)