IN THIS POST: Math – Sorting, Name Practice, Interactive Writing, Read to Self Stamina, RAZkids, Computer Log-In, Zones of Regulation, Letter of the Week – Bb, Story Arc,  Save the Dates, Upcoming Events, The Week Ahead
Math – Sorting
This week we continued out sorting experiences. We started to use a new manipulative to practice. Using the Attrilinks, students continued to practice sorting by color, shape, and number of sides. This upcoming week we will introduce sorting by size. 
Home Practice (optional): Get a cup of beads, or legos and have your child try sorting by size and name how they sorted the items. Then mix them up again and have them sort by color and name how they sorted the items. If your child is up to it, ask them if they can come up with an additional way to sort. Applaud your child's efforts and mistakes! 
Name Practice
I apologize for not explaining this ahead of time. Name practice sheets have gone home 1-2 times. I will send these home a few more times. These are not homework nor are they due back, but just an additional way to properly write their name and form their letters and proper casing. If your child wants to send these back they may, but it is not necessary. Spend time working with your child on their grip, where they begin their stroke, etc. Use the letter direction page on the back to check proper formation. These are important habits they will use in their years of writing ahead!
Interactive Writing
Another way we practice formation is Interactive Writing. This is a time where we are all practicing the same writing together at the same time.
We have started using whiteboards this week for interactive writing. The kids have done awesome! We have started by writing our first name as a warm up. I have put a card in each bag with their name correctly printed. We then work on letter formation. We write a message together using our letter practice. You can see an example of this on our No Place for Heart message with our patriotic heart art. Below there is also a picture of the students all ready for interactive writing.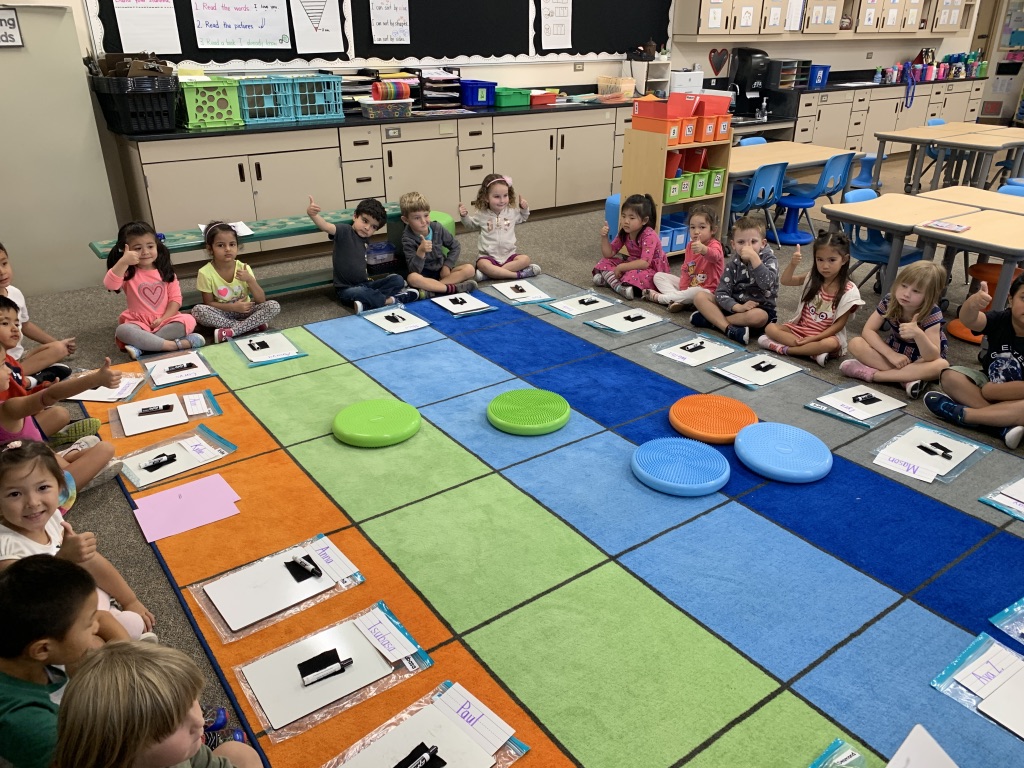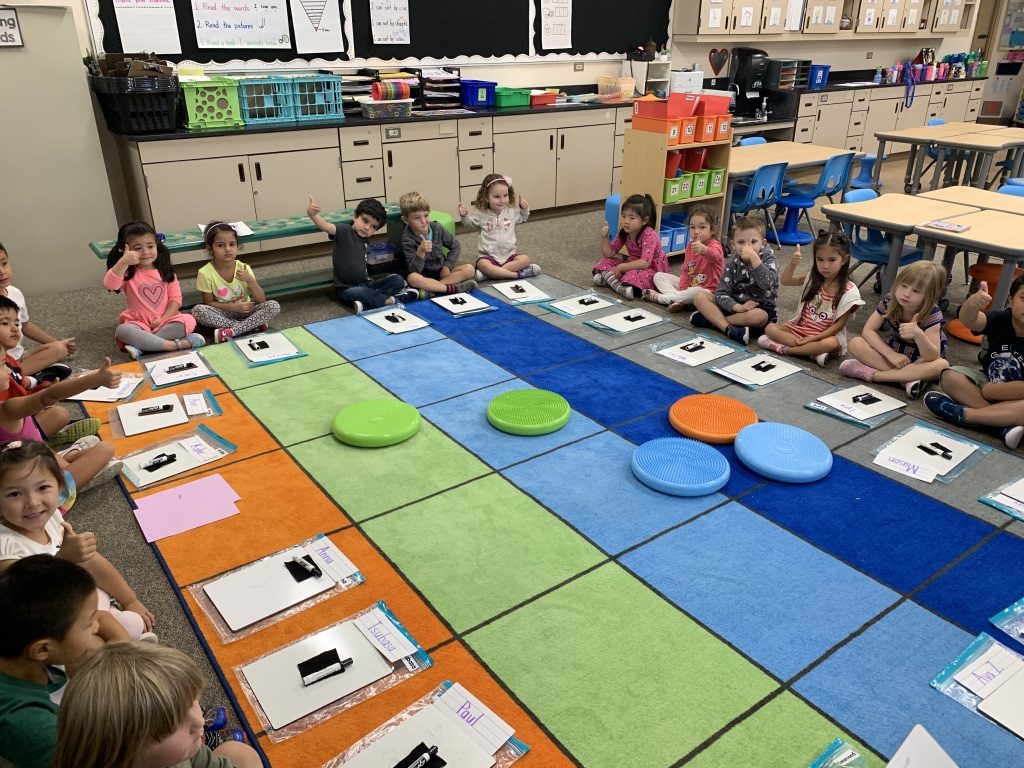 Read to Self Stamina
We have continued to practice working on Read to Self. We are building our STAMINA. We began reading for 2 minutes and are successfully up to 2.5 minutes while still using our reading goals! These kids are awesome!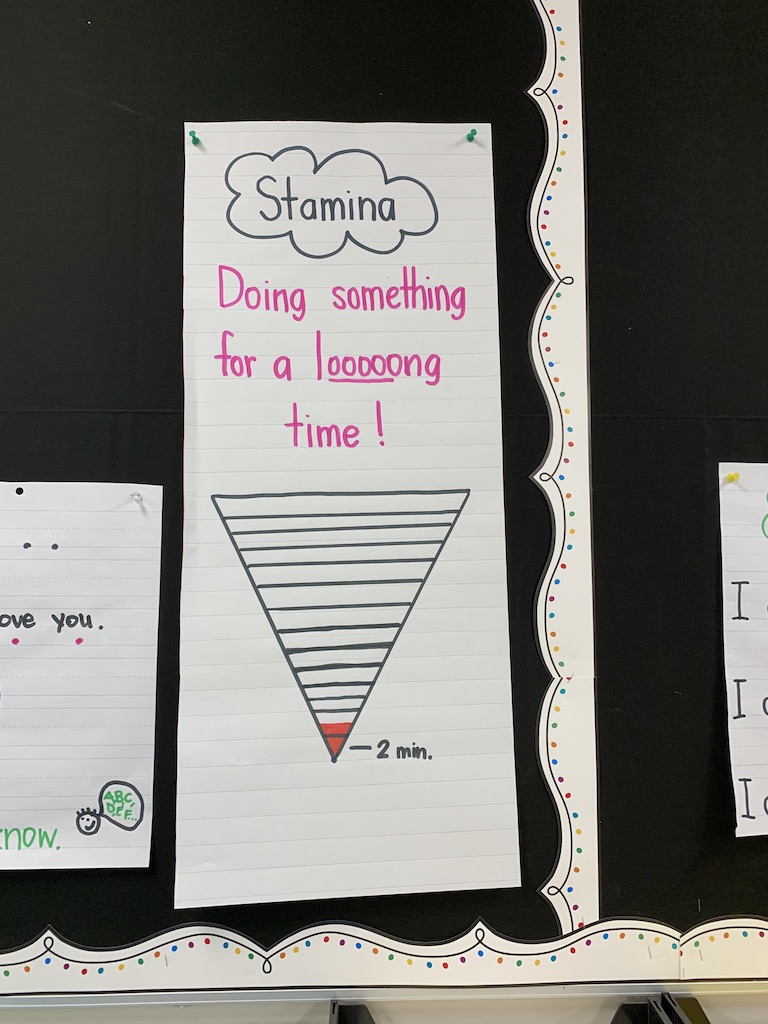 RAZKids
Friday you received a log-in paper regarding an online reading program/subscription. We are attempting to log in and try this out on Monday, but you have access now to give this a try. Many kids enjoy reading on line and having the variety of books. Within this reading program there are comprehension checks in higher levels, and point incentives to motivate the kids to read more. I receive an email each week with a summary of each student and how often they logged in and how long they read for. Try this out this weekend and see how your child responds to it. They get to hear each book first and then try reading the book right after. 
Computer Log-In
This week we had our first time logging in at the computer lab. We will get there, but one of the biggest supports to your child is practicing their log in at home. This allows them 1-on-1 support in learning their log in. We will continue to practice in the lab but are limited in our time and have a higher adult-to-child ratio in class. We are also practicing in class with a paper keyboard (like the one sent home) to give additional practice. Thank you in advance for your time and practice at home. Keep on trying!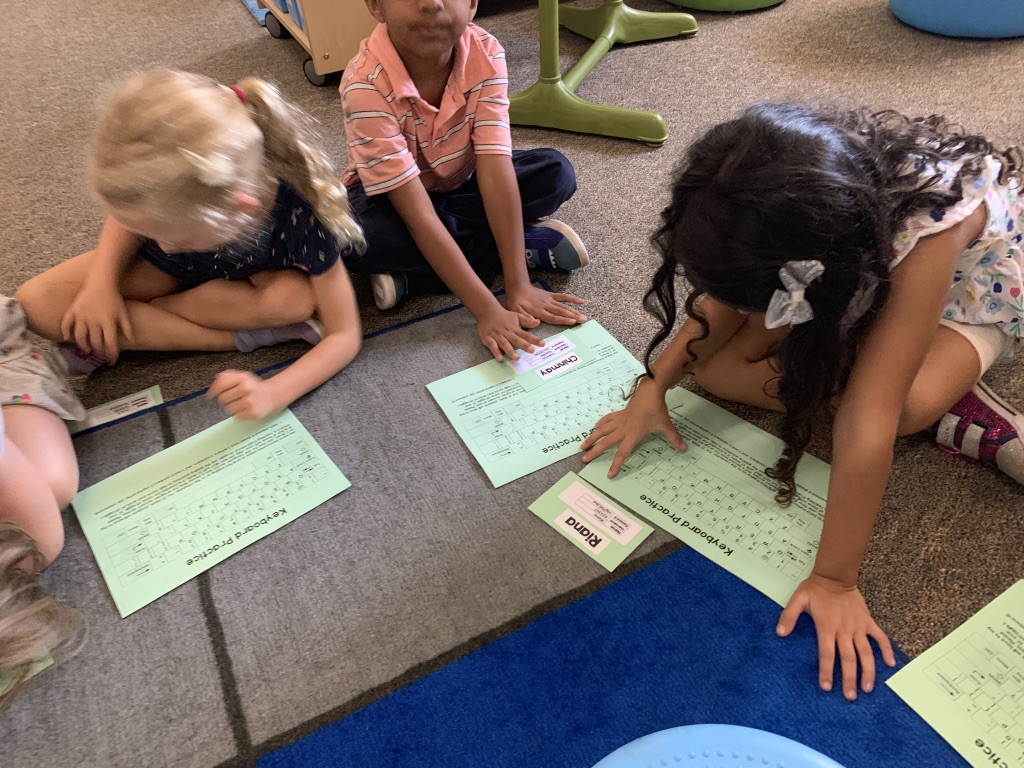 Zones of regulation
This week we spent some time in class learning about the Zones of Regulation. This is a language we will use in class to help understand our own feelings and be empathetic towards the feelings of others and our impact on them. In our discussion we explained what each color means in terms of feelings and how our words or actions can escalate or de-escalate other person into a different color zone. Check out some of the posters we used in class during our discussion and/or google "Zones of Regulation" to learn more. 
Letter of the Week – Bb
Each week we will be focusing on a different letter. You will notice the letters do not go in order, which is why we are starting with the letter Bb. We will practice saying the letter out loud, saying the sound out loud (which is connected to bouncing a ball from our alphabet song) and writing the letter in the air. Throughout the week we come up with a list of words that begin with that sound/letter which the students can refer back to over the year.
Closer to the end of each week, we complete an alphabet book. You likely saw this come home this week. Notice the 3 lines towards the top right of the book. These lines signify the 3 times that your student read the book. There is also an activity page towards the back and a letter formation page for them to practice. If your child did not complete this they can work on it at home. I would also encourage them to read these at home. These could also be logged in on their Reading Logs each week. We are working on "using your reading finger" when they read so they practice 1:1 reading (one touch per one word read). The students have all improved in this area as well! You will love watching the progression of reading happen over these first few months! Its magical to watch!!!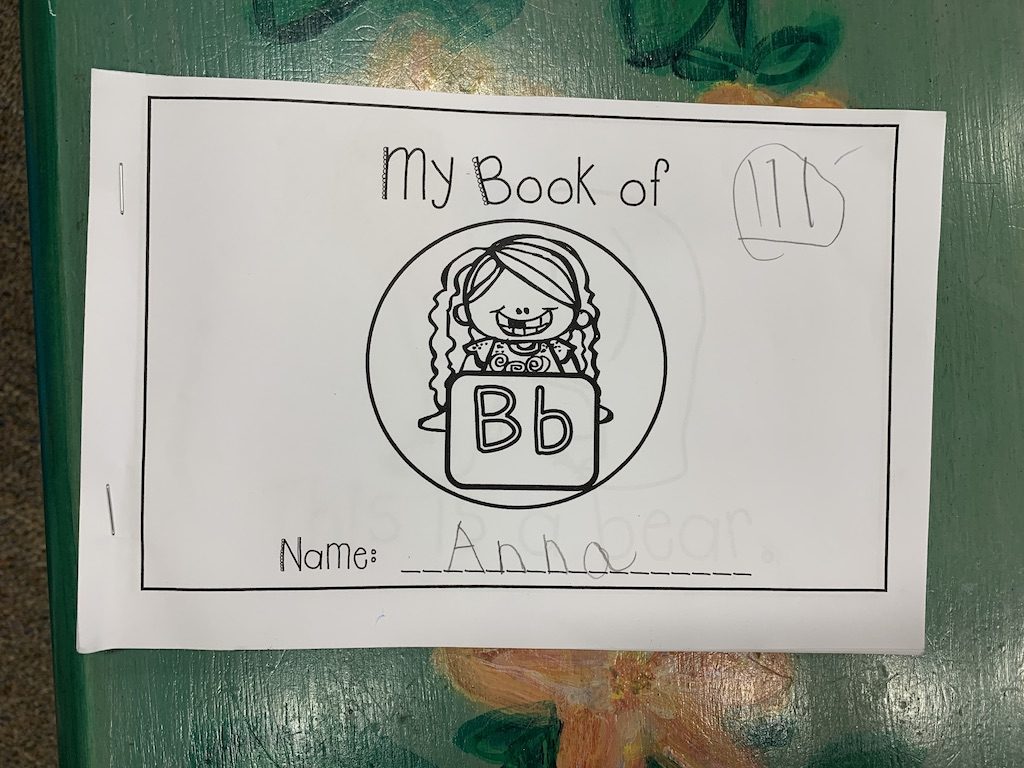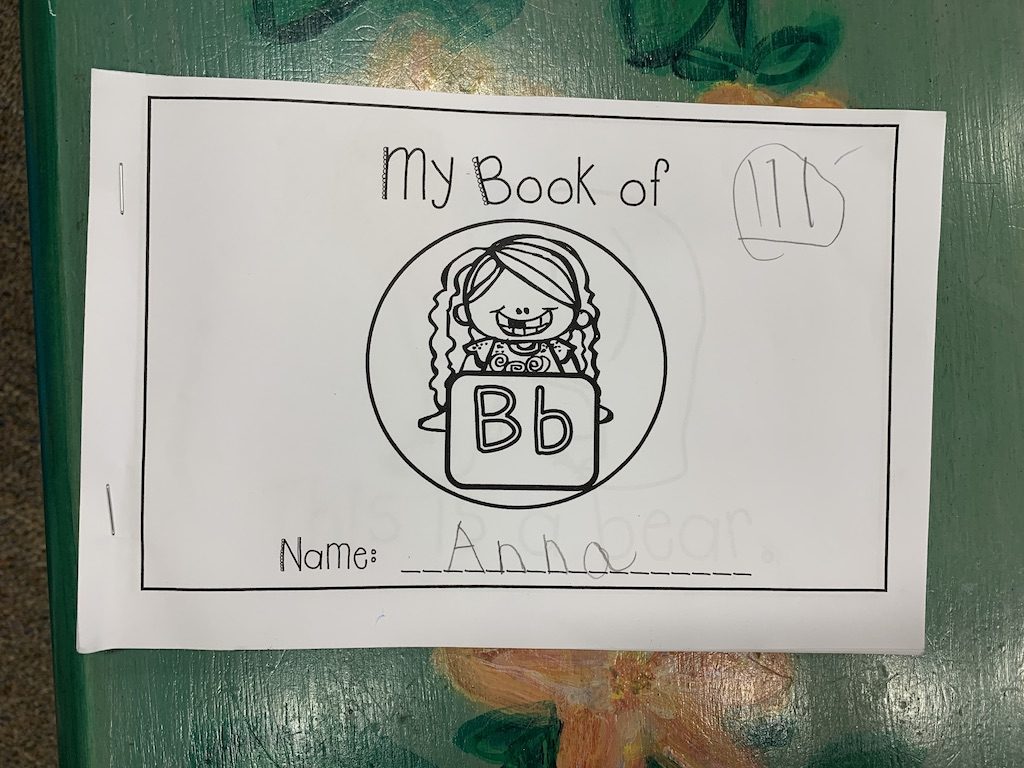 Story Arc
The picture below shows the Story Arc that we use as a Graphic Organizer in understanding the concept of stories. This visual helps us to understand how in stories there is a Normal, how things are when the story begins, then something happens (Exposition) to begin the climbing of the conflict. The conflict concept continues to get worse and worse until a climactic event occurs to begin the resolution. The resolution concept will bring balance to the conflict and in some stories you will see the "New Normal," in which the author shows how things are now after going through the journey of conflict and resolution. The students have done awesome in beginning understand the way that stories work and learning new concepts about texts!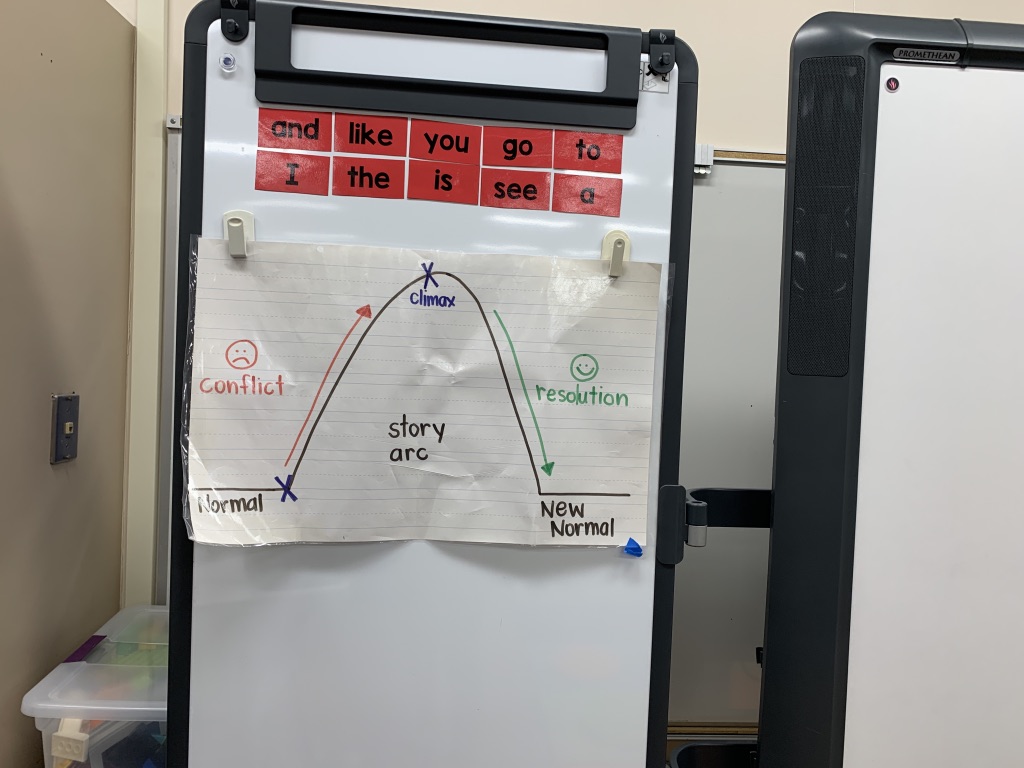 Consider…
Check out these dates below. If you are still considering ways to be involved, the Fine Artists lessons and Character Education Lessons are a fun way to help. The teach you everything you need to know for the lessons as well as give you all the materials in the trainings and I am of course here to help if you need anything as well. 
My Room Parent from last year is heading up the Fine Artist program and is amazing! This is also something you can join in with other parents if you only wish to teach one lesson or if you prefer to only help at the lessons, but not teach them.
Save these Dates
Fine Artists Orientation – Monday, September 16th, 9 am in Room 354
Character Ed. Orientation – Tuesday, September 17th @ 6:30 pm, Room 353
Family Night Out @ Public House 131 – September 19th all day 
TK – 2nd Picture Day – October 2nd
The Week Ahead…
Monday – 9/16/19
EBS Morning Run Club begins @ 8:15am – 8:30am
Tuesday – 9/17/19
EBS Morning Run Club begins @ 8:15am – 8:30am
September AFP Meeting @ 5:30pm
Wednesday – 9/18/19
Computer Lab
EBS Morning Run Club @ 8:15 am
Thursday – 9/19/19
Music Class with Mr. Waczek
EBS Morning Run Club @ 8:15 am
RED WEEK – All Kinders and TK wear RED
Friday – 9/20/19
EBS School Spirit Days! Wear Spirit Wear!
EBS Morning Run Club @ 8:15 am