IN THIS POST:  Room Mom Gratitude, Summer Playdates Save the Dates, Human Impact Effect, Last Day of School, 206 Floor Renovation, Summer!!!!
Room Mom Gratitude
I'm sure each of you will agree when I say how amazing Dani Powell has made this year! She has loved on every child and treated us all (myself included) with great care. She planned and communicated on each and every activity or event we had and helped in our class 1-2 days a week from our October Volunteer Start all the way through the last day of school! She always reached out to see how she could help and did everything with a smile, without complaining and always in a kind voice! It is with great gratitude and sadness to say goodbye that I applaud and cheer on this stellar mom, wife, volunteer, art teacher, nurse, connector, communicator, reader, and much, much more! Thank you Dani Powell! 
EBS Summer Playdates
Don't forget about the EBS Summer Playdates! Its such a great way to reunite with our TK buddies and meet some new friends that will be joining us in Kindergarten this year!

Practice some introduction language with your child so they can be a leader in making new friends and joining old friends and new friends together!
Practice Introductory Language
"Hi, my name is _____, what is your name?"
"Do you want to play with me?"
"This is my friend _______."
"What do you like to play?"
"My favorite _______ is _____. What is your favorite _______?"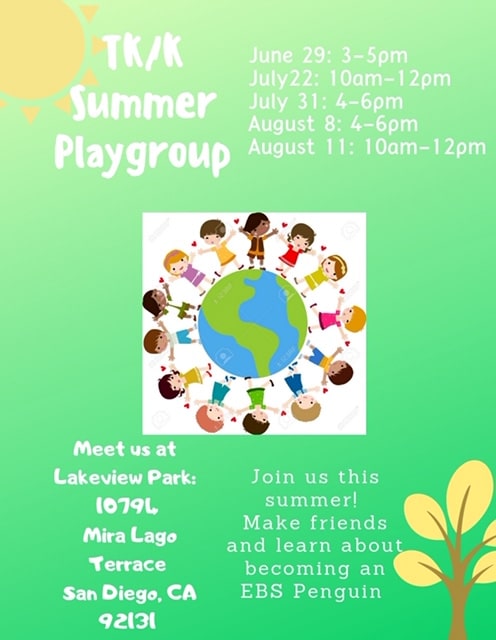 Human Impact Effect
We had quite an impact on our EBS Community! On Thursday, May 24th we made an attempt to get our school to vow to completely avoid using plastic bags for ONE day! We set up an, "I promise…" sheet for students in the school to sign if they didn't use a bag that day! Check out the results below!!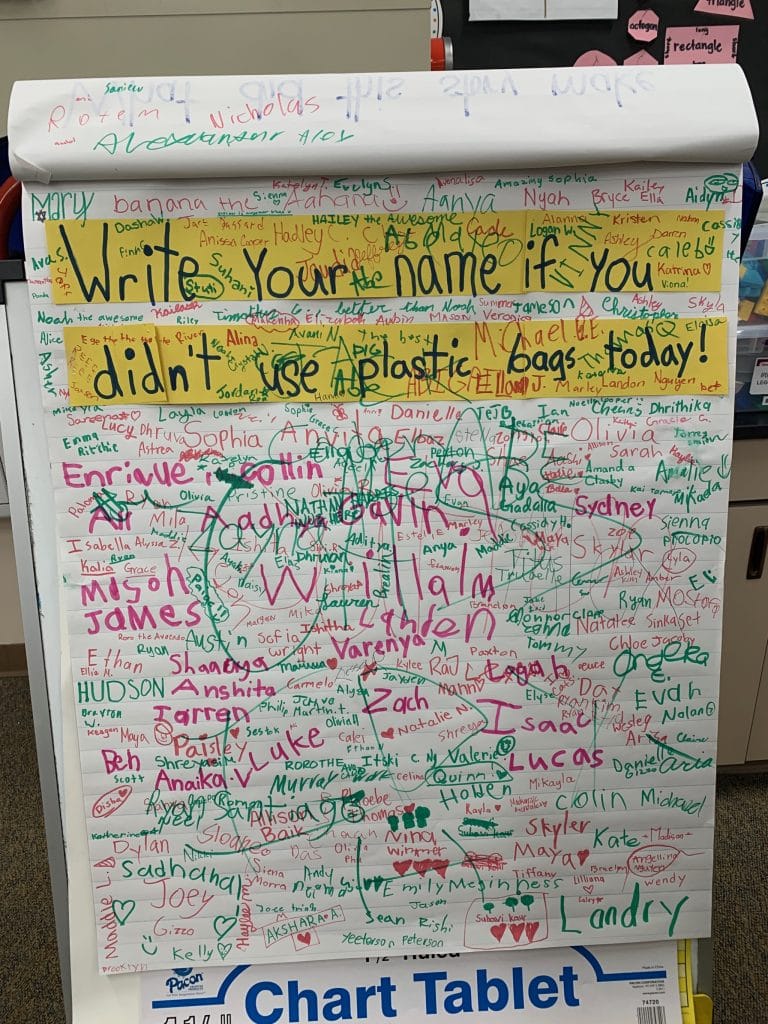 Last Day of School
Our last day of school was a blast! We just soaked up the time together and took it easy! We watched a movie together and ate pizza and Otter Pops! Special thanks to our Room Mom, Dani Powell for getting our pizza on the last day! 
We also snapped these cute pictures of students on their last day! Enjoy! 
Mother's Day Photos
In case you missed your e-version of Mother's Day photos, I've uploaded them here! We love you Mom…every day of the year! 
Room 206 – Floor Renovation
Special thanks to those mamas who came in to help pack up our classroom. I had to be completely out of Room 206 for the summer by Thursday, June 13th! I would have never made it without the help of Dani, Emily C. and Chrissy! Thank you so very much for helping! If you are curious what the room looks like during renovation, I've had some pics sent to me while they've worked! Its amazing! 
Summer!!
Summer is officially here! What are your plans??? Hopefully lots of play, rest and rejuvenation! Maybe you visited the fair, went to the pool, went on a trip or lounged around for a day or two! We are starting our mornings off with reading and math each day to keep in good habits and get in our brain exercise each day, then play and some cleaning out of our drawers! So far so good! Hoping your summer has started off with lots of fun and smiles as the sunshine has finally made its way to SD!