IN THIS POST:   Father's Day, All Book Bag Books Due Now, Newspapers or Packing Paper…Help Wanted, Parachute Fun, TK/K Summer Play Groups, Ramadan – Thank you Sania Ghandi, Library Summer Reading Program, ST Math, Yearbooks – Thank you Emily Caballero, Save the Dates, The Week Ahead
Father's Day
What a fun time we had at our Father's Day! We love to celebrate our dads and how they make such a difference in our lives! They for sure balance out the house and bring a whole special and fun feel to parenting! Thank you for taking the time to move your schedules around and spend some fun moments in class with us!! We had a full house! 
We spent a moment showing dad our top 3 Reason's why we love him and giving him our Father's Day gift! Then we watched the students version of Here Comes the Sun and finally we got down to the fun stuff! We played some Minute to Win It games. We had to up the challenge with our dads though! They not only had a lot of fun with us but they are total studs! They did amazing!! We love you dad!!
All Book Bag Books Due Now
If you haven't turned in your 206 Book Bag yet, please do so tomorrow. We use these books each year and let the next students borrow them to learn to read, just as your child did. If you happen to still have them, send them in your folder tomorrow. If you already sent yours in…Thank You! 
Newspapers/Packing Paper? – Help Wanted
Room 206 is having a little reconstructive surgery done over the summer. Our floors will be completely ripped out (foundation and all) and replaced. With that said, I have to pack up all my personal belongings by Wednesday while the work is being done. If you are interested in coming in on Monday to help pack up, I'd be more than grateful! 
I'm in search of some newspapers or packing paper to pack many of these items up. Thank you so much! 
Field Trip Recap!
What a fun day we had a the San Diego Science Discovery Museum! The kids had a blast exploring all the options to play with their buddies! We took a STEAM class on Force and then got more play time together! It was a perfect way to celebrate the finish of our school year together! Thank you to all the parents who chaperoned and helped our students!!
Parachute Fun
This past week we got to rotate to all the kindergarten classes to do a quick and fun activity for 20 minutes. In Room 206, we did parachute play! Catch these pics of our class having a blast with the parachute! 
TK/K Summer Playgroups
Just a reminder to mark your calendars regarding our Summer Playgroups! As TK's, you have a unique position in that your are getting a reunion and meeting new classmates! You never know who you might meet and how you could connect! Some best buddies were met at these playdates…and different friends and some EBS staff show up at each one!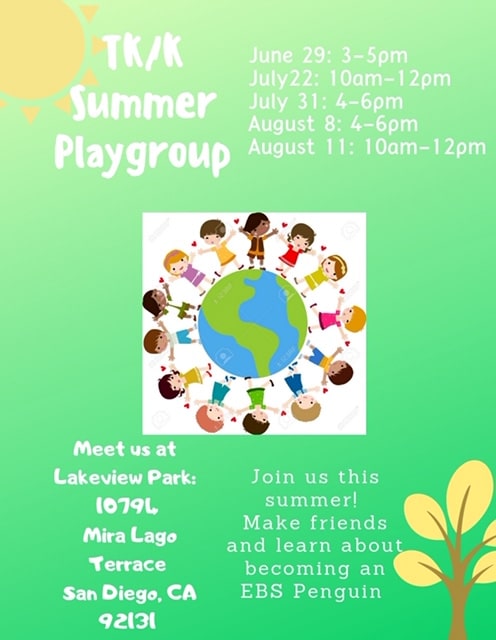 Ramadan – Thank you Sania Ghandi!
The last week of May, Sania Ghandi came in to teach us about Ramadan & Eid! This year we have learned about many different holidays and traditions from many different cultures! It has been an absolute joy to share how each family celebrates! I have taught for 20 years and I still learn more every year! This also helps us gain and appreciation and respect for all families with similarities and differences! This is important learning and greatly impacts who we become and how we appreciate life and those who we get to share this world with! Thank you Sania! 
We learned about when Ramadan comes and how it is around the lunar calendar! For Ramadan, we fast in the day time for 30 days and when the moon is sighted on the 30th day, we begin the celebration of Eid. Eid last three days and is full of fun! My favorite part of Ramadan is that during the 30 days of fasting, the focus is on respecting others, helping those in need, doing your best and giving to the poor (those who have less than you). This is our best self and this is something we can always improve on! I absolutely love this! Thank you for sharing Sania! We all learned so much and gained a new respect understanding and respect for Ramadan! 
Library Summer Reading Program
If you haven't ever joined the summer reading program put on by the public library system…this is something you should try this summer! My kids have done it for  years. There are no strings and each summer our accomplishments have varied but we have always had fun! Sign up at the link below and simply read 10 books or 10 hours (your choice) and you can receive a free book, some coupons and usually a little gift or swag! Its motivating for us to get to the library and try out some new books as well as read a book or two while we are there! The Scripps library is fun and close or if you haven't visited the PQ library…thats a great one too (its in our old hood and we had many great memories there). Take a moment to check it out, maybe sign up and see some of the other activities they are providing over the summer! 
https://www.sandiego.gov/public-library/kidsandteens/summerreading
ST Math 
Set a learning goal for summer! My family has set a time and goal for our reading…what about Math! Conveniently, you can keep using the ST Math log-in and system through July 31st. If you complete it to 100% you will receive a certificate in the fall. Set a time goal or a number per week goal that your child will work on ST Math. Just get your kids to the EBS website and they should be able to navigate to the Clever Portal and sign in from there! 
Remember in ST Math to let your kiddo do most of the problem solving. If they get stuck and keep making the same mistake over and over, use guiding questions to help them move past the bump. 
Yearbooks – Thank you Emily Caballero!
Our annual year books showed up this past Friday. If you ordered one (it was a pre-order) they brought yours to the class. If you still wanted to purchase one you can typically get one at the front of the school tomorrow before or after school until they are all sold. 
This year was especially unique in that there are 2 Mrs. Miller pages! It was a mistake by the company, but in the first Mrs. Miller page, I was paired with a 3rd grade class. If you turn the page, our actual TK page and class are there! Totally okay though…right….as the TK's say, "We love Mistakes!" 
Check out the beautiful layout that Emily Caballero spent a lot of time to build! Thank you so much! There are some class favorite pictures to remember our year! 
Puppet Show
We got to visit Mrs. Gelaro's annual Puppet Show! The students make their own puppets and write their own versions of plays to present! They did awesome and our class enjoyed!! Thank you Mrs. Gelaro's Class! 
Save these Dates
Spirit Week – June 5 – 12
Last Day of School – June 11th (whole school minimum day)
The Week Ahead…
Monday – 6/10/19
Tuesday – 6/11/19
Movie & Pizza in Room 206
Wednesday – 6/12/19