IN THIS POST:  Field Trip Paperwork Return, Volunteer Appreciation Assembly, No Plastic Bag Day Follow Up, Last Volunteer Calendar, Spirit Week, TK Kinder Summer Playgroup, Early Bird Volunteer Applications for 19-20, Join EBS @ the 4th of July Parade, Last 10 Sight Words, Library Books Due this Week, Save the Dates, Upcoming Events, The Week Ahead
Field Trip Paperwork Return
If you have not returned your Field Trip Paperwork and plan to drive on our field trip, please turn in your paperwork on Tuesday, May 28th as I have to turn in our driver information a week in advance. If you already turned in your license and insurance information for the last field trip I still have it, therefore there is no need to submit new copies.  If you are willing to drive in another car, please note this on the paperwork or email me. 
Volunteer Appreciation Assembly – May 30
This is our new Volunteer Appreciation Celebration. We have never done this format before and are hoping it accommodates more parents' schedules. We look forward thanking you formally! 
8:30 am Donuts and coffee on the lunch court (adults only)
8:55 am Assembly on Blacktop
Volunteers will march down the red carpet onto the playground and take a seat
Student speeches
Choir  performance
Volunteers gather with specific class for individual thank you's
RSVP's were sent about 2 weeks ago if you were planning to attend. 
No Plastic Bag Day Follow Up
Our push for no plastic bags was a great success and a chatter in the lunch area. We set up a sign for students to write their name if they participated in the day of no bags! This movement has made my own family more aware of the amount of trash we have been opting for rather than being diligent in our support to Impact the Earth in a positive way! Though our unit is over, we will keep the momentum going by growing our awareness!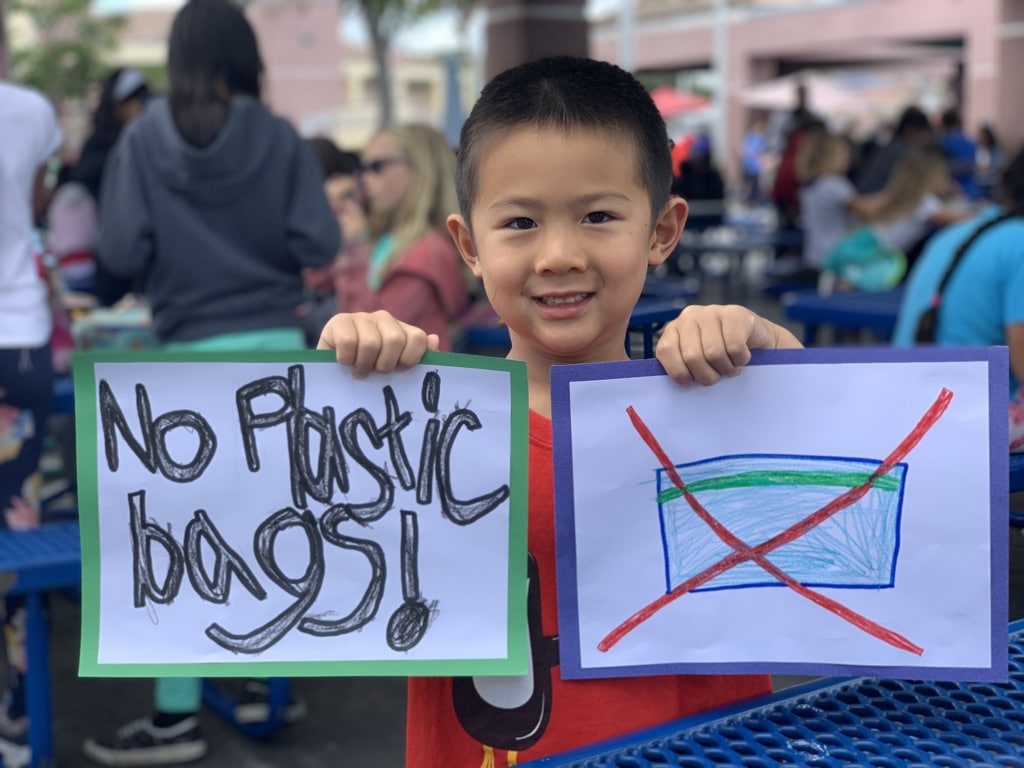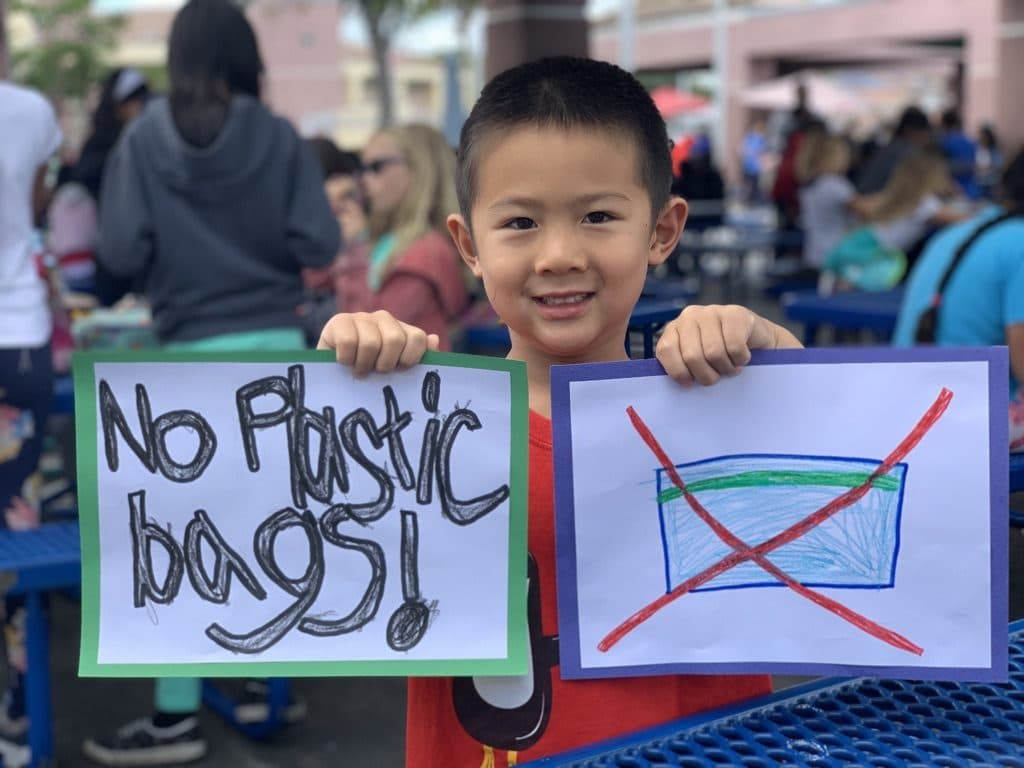 Last Volunteer Calendar/Summer Bucket List
The last volunteer calendar of the year is ready to go out on Tuesday! Special thanks to all of our volunteers who stuck through thick and thin to make this year so amazing!! 
On the back of this month's volunteer calendar, is a summer bucket list! I'm not sure if you do these with your family, but we make one of these ever summer and try to cross all of items off as a way to set some goals and create a summer of eclectic activities! There are lots of choices to choose from on here, but hoping you have fun choosing some 10 items (or more if you want) to try out a 2019 Summer Bucket List! Have fun!!
Spirit Week
The end of the school year always warrants a SPIRIT WEEK! The whole school is involved and these are also marked on the June Volunteer Calendar! Join the fun and dress up! 
The only conflict is that our class will be wearing our Jog-A-Thon shirts on Wednesday, June 5th as well for our field trip! 
(see volunteer calendar above or in your child's folder on Tuesday for spirit week details)
TK/Kinder Playgroup for Summer
There is a playgroup for Summer for new incoming students in Kindergarten (which includes our TK class). There are a multiple dates to attempt to accommodate your summer plans! Its a great way to join up for a TK reunion with a few memorable buddies and meet some new buddies that will be in your class and/or on the playground this upcoming year!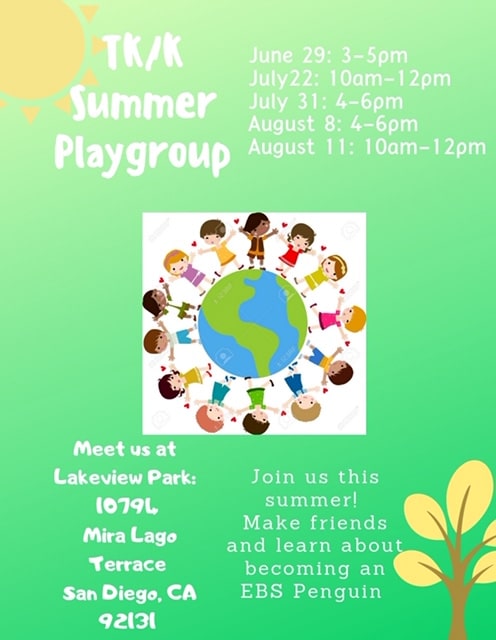 Early Bird Volunteer Apps for 19-20 School Year
The Volunteer Applications for next school year are out and ready. A copy will go home on Tuesday in your child's folder. This will help you to be one of the first processed for the next school year so you will be able to help your child's teacher and other on campus events in the fall! I highly recommend to fill this out if you are able. You will not need to re-finger print or re-test for TB (unless your test results have expired). Don't forget to sign all the areas and send back in your child's folder.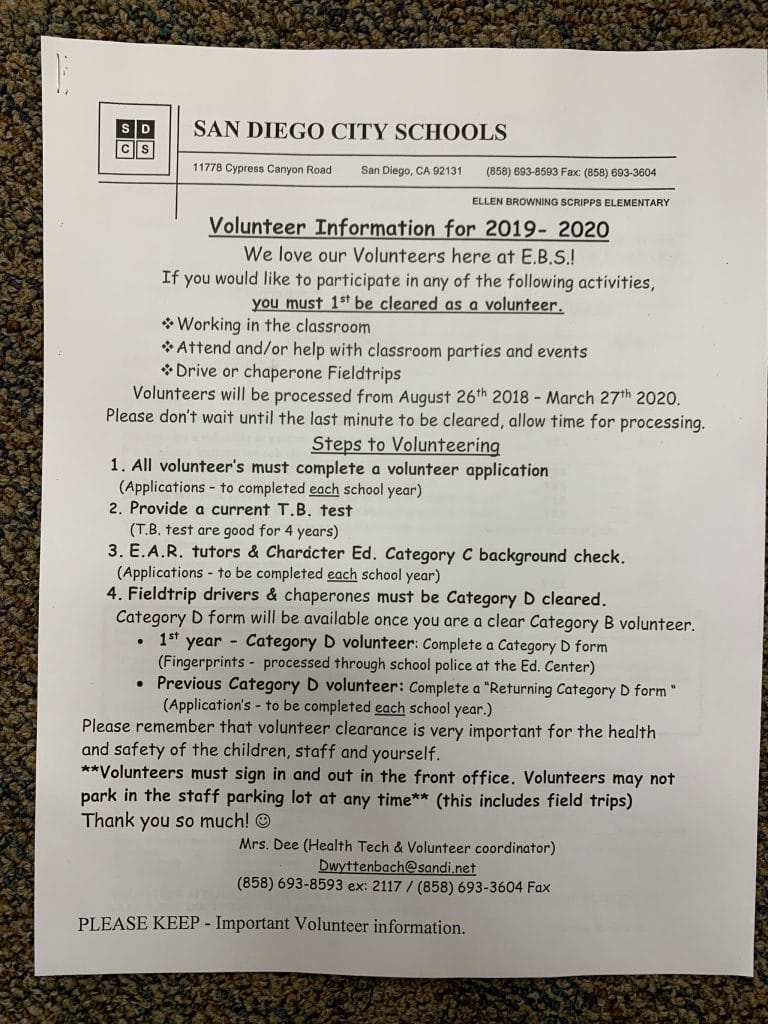 Join EBS @ 4th of July Parade
Interested in walking with the EBS Float in the 2019 4th of July Parade in Scripps Ranch! Its a popular, and fun Scripps Ranch event! Check out the flyer if you are interested in joining the fun!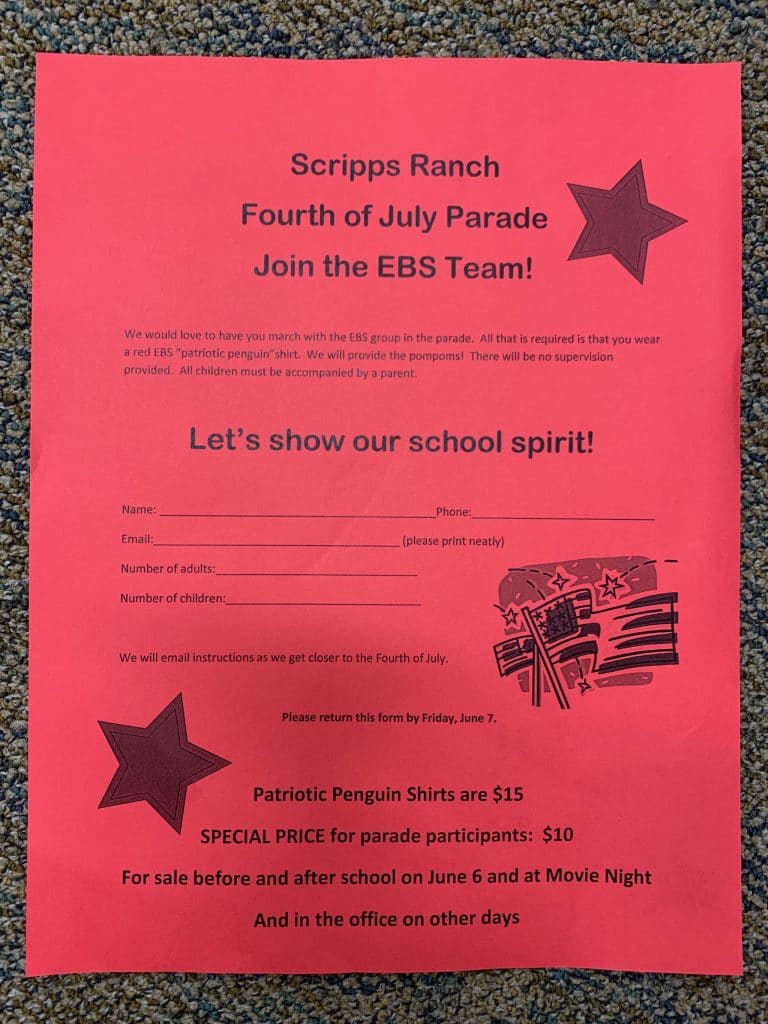 Last 10 Sight Words
 We are officially on the last set of 10 sight words of the year! If you kept up that was a huge challenge! No matter where you are on the Rainbow Words Journey, keep going! These words are super helpful in continuing to develop reading and writing! Keep plugging away over summer! #100 words
Library Books Due This Week
Please begin to return all library books as you finish reading them. We have had our last check out date so we will not be returning to the library this year! I strongly encourage you to visit the local libraries over the summer or even join their summer reading program. My kids and I are going to attempt to visit the downtown library too…if you'd like to add that to your list…its beautiful! 
Save these Dates
End of Reading Rotation Groups – Wednesday, May 29th
Volunteer Appreciation Assembly – Thursday, May 30th @8:45 am
Children's Discovery Museum Field Trip – June 5th (aka End of Year Party)
Kindergarten Round Up (rotation) – June 6th
Father's Day in Room 206 – Thursday, June 6th @ 8:50am – 9:20am
Last Day of School – June 11th (whole school minimum day)
*NOTE: For our Father's Day event, another relative is welcome to participate on behalf of a parent if a family member is unable to make it. 
The Week Ahead…
Monday – 5/27/19
Tuesday – 5/28/19
Wednesday – 5/29/19
Last day of Reading Rotation
Thursday – 5/30/19
Mrs. Van Duren will be teaching.
Music @ 11:05 am
Friday – 5/31/19
Mrs. Van Duren will be teaching