IN THIS POST:  No School, Field Trip Recap, Western Family BBQ, PSA by TK, Last Library Visit, EBS Padres Night, Home Help???, Father's Day, Generosity Bags, Save the Dates, Upcoming Events, The Week Ahead
No School
Just a reminder that we have a 4 day weekend ahead of us this week. There will be no school on Friday, May 24th or Monday, May 27th. We'll see you back in the class on Tuesday, May 28th. 
Field Trip Recap
What a trip we had last Wednesday! We were lucky enough to visit Sunrise Living Senior Center this past week! The residents were excited and waiting for our arrival! Our sweet TK kids sang "Here Comes the Sun," to the seniors. Some of the seniors joined in the singing, but they all loved bright little faces! 
We practiced our conversation skills we had worked on by introducing ourselves and telling about our selves and then asking about our senior friends! We were able to play "Rock, Paper, Scissors," and a little game of catch using scarves! Smiles were all around! At the end we were able to play our 2 recorded songs from our Mother's Day in class and give them a little craft gift we had made! This was a memorable and loved time for everyone in the room! 
After saying goodbyes, we headed to a nearby park for our snack and lots of playtime! These kids had a great time playing on a new structure at a new park with some gorgeous San Diego weather! We all loved this day and are so excited for the next trip! Thank you to all the parents who came out to help and join the fun!
PS…check out the picture of "the list." This was given to me by a student the day of the field trip! This is a student who was not only excited but prepared for this trip! #adorable
Western Family BBQ
This Wednesday is the Western Family BBQ! If you haven't ever gone to this before, it can be a lot of fun. It is during the afternoon lunch after our dismissal. If you plan to go, please make sure you stop in the office first to check in as a visitor before the 12:30 pick up time. You can then: 
Come directly into the classroom and pick up your child a minute or two early and head up to the lunch courts together. 
OR you can wait until our class comes out and when we dismiss at the gate you can come IN the gate (if you have a visitor sticker on) and walk up to the lunch courts with your child. 
Your child will need to know their lunch pin and will put this in at the cafeteria. This will charge lunch to your account for your child (or I believe you can pay cash for your child). Adults will pay at the table/stand with the register. There are also additional offerings to purchase such as waters, cookies and some other extras….I believe these are typically a dollar each. 
We hope to see y'all there! 
PSA by TK!!
This week we are closing up our Human Impact Unit that many of you experienced at Open House! Our final learning in this unit is how to share the learning we gained to others to spread the impact. We discussed many ways to make an impact, but one way that we thought our whole school could benefit from (including Mrs. Miller;) would be to challenge our school to go a whole day without using plastic bags! With almost 750 students at our school we know that for one day we can reduce the number of bags used, but we also hope to leave a memory in people's mind's for the future ahead! Check back next week for the PSA Video we are asking all teachers to play in their class on Wednesday, May 22nd! 
Last Library Visit
We will be taking our last visit to the library! Our kind librarian allowed us to visit on Wednesday, May 22nd (the last visit day possible) as we were on our field trip last Wednesday, which was our normally scheduled day. 
Many or most of you have turned in your books, but if you haven't, please return them this Monday or Tuesday so your child can check out for the last time this school year!!
EBS Padres Night
Were you at the game??? What a fun night at Petco Park for Teacher Appreciation Night! Many EBS families (it was rumored that 200 EBS peeps were there) came to watch the game on Friday night! Our awesome AFP purchased "The Landing" which came with hot dogs, hamburgers, nachos, mac n cheese, peanuts and beverages as part of our package. Families socialized and enjoyed watching a game! Our own Ankrit from 5th grade was able to call "Play Ball" to start the whole game! High recommendation to come on out and enjoy it next year if you missed this year's game!!
Home Help??
We are threading together quilts (punching holes and tying squares together with yarn) and writing books! If you think you would be able to take home one of these projects, email me and I'd be happy to share the load with anyone able and willing to help! 
Thank you! 
Father's Day
Just a reminder that our Father's Day is on Thursday, June 6th from 8:50 – 9:20. We are looking forward to a special time with our dads! If you wish to have someone else special come in place of a dad who isn't able to make it (such as a mom, uncle, grandpa, or grandma…please welcome them into our 206 home!)
Generosity Bags
We are at 98 Generosity Bags! I think I know 2 little elves that may be making 2 more bags to get us to 100! Super exciting as Room 206 has really loved the giving, counting, generosity discussions around this momentum!! Let's celebrate the gifts we've collected and those we are giving them to!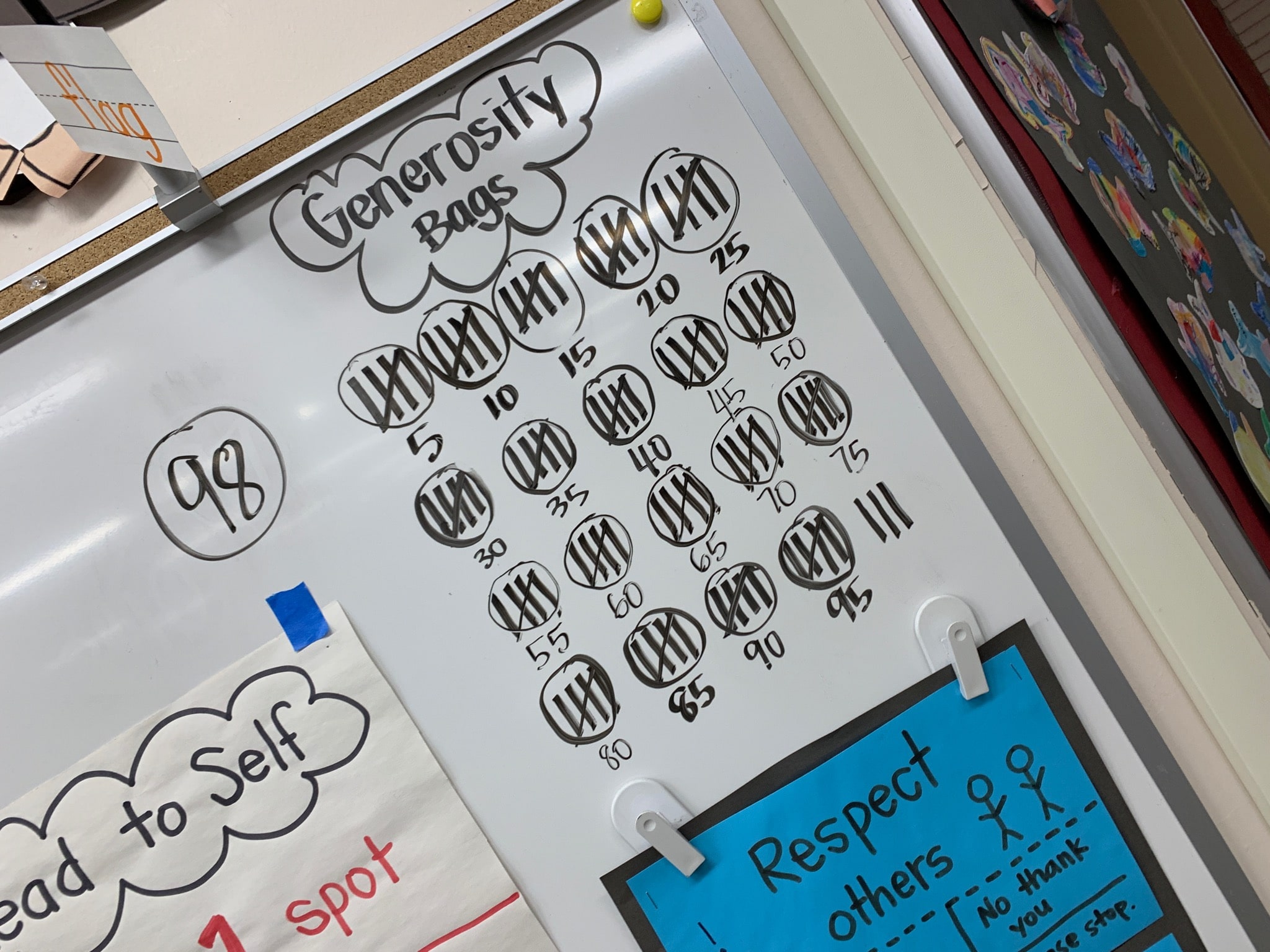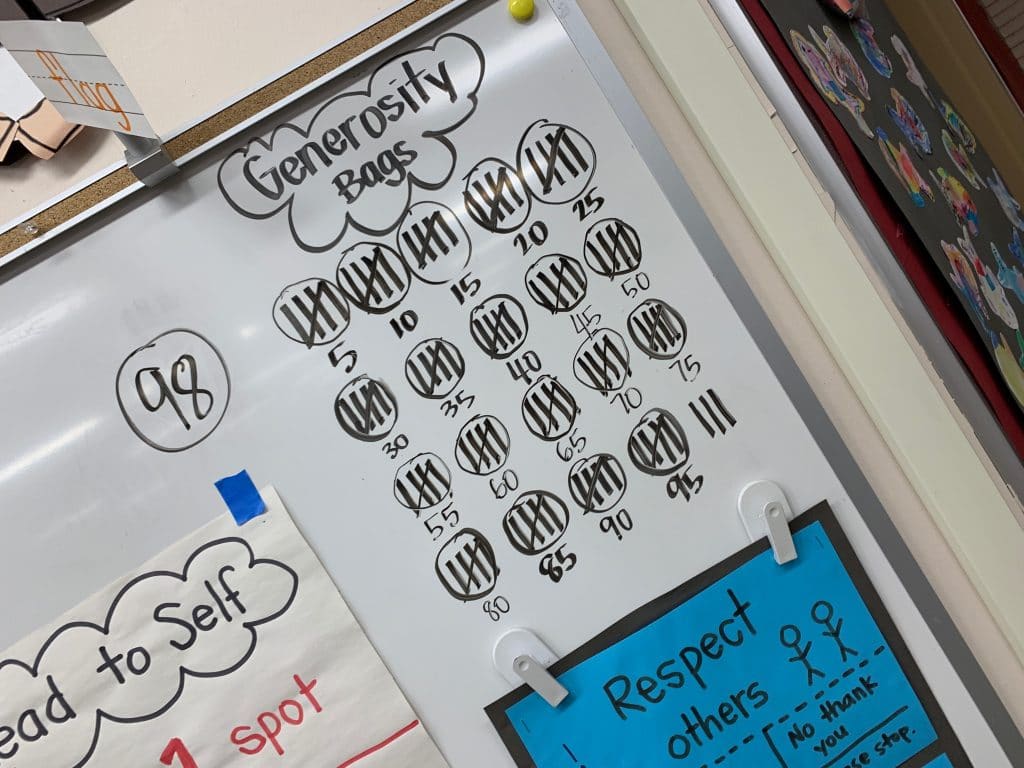 Save these Dates
Family BBQ – May 22nd @12:30 (check in at the office before 12:30)
Memorial Day Weekend – Friday May 24 – Monday May 27th
Volunteer Appreciation Assembly – Thursday, May 30th
Children's Discovery Museum Field Trip – June 5th (aka End of Year Party)
Father's Day – Thursday, June 6th @ 8:50am – 9:20am
Last Day of School – June 11th
*NOTE: For Father's Day events, another relative is welcome to participate on behalf of a parent if a family member is unable to make it. 
The Week Ahead…
Monday – 5/20/19
Before School Run Club
Computer Lab @ 10:15 am
Mrs. Van Duren is teaching!
Tuesday – 5/21/19
Before School Run Club
Computer Lab @ 10:15 am
TK/PLC Day  – Mrs. Van Duren is teaching!
Wednesday – 5/22/19
Before School Run Club
Computer Lab @ 10:15 am
Family BBQ @ 12:30 at the lunch courts
Thursday – 5/23/19
Before School Run Club
Whole School Dismisses at 12:30
Music @ 11:05 am
No Plastic Bags Day….remember to pack a No-plastic-bag lunch! 
Friday – 5/24/19