IN THIS POST:  New Room, JAT 2019, Last Birthday in TK, Spring Picture Day, Get Air Family Night, Fine Artists, EBS Idol, Alphabet Complete, Generosity Bags, Morning Hallways, Save the Dates, Upcoming Events, The Week Ahead
New Room
I'm not sure if you've heard, but we got a little plastic surgery done to our classroom over the break! A construction crew came in and removed the cabinets under the window. This expanded the width of our room by a few feet. This also created some rearranging of our desks and seats! Its been a minor change and super fun!
JAT 2019
Our students have greatly enjoyed the excitement of the Jog-A-Thon and raising funds to support our school. They love coloring in the red meter with each donation that came in. We had a total of $1740.00 raised for JAT 2019! Great job! Check out the link to some pictures that taken by Anaika's mom on the day of! 
https://photos.app.goo.gl/vwLifA6F8Cj4hZ9a7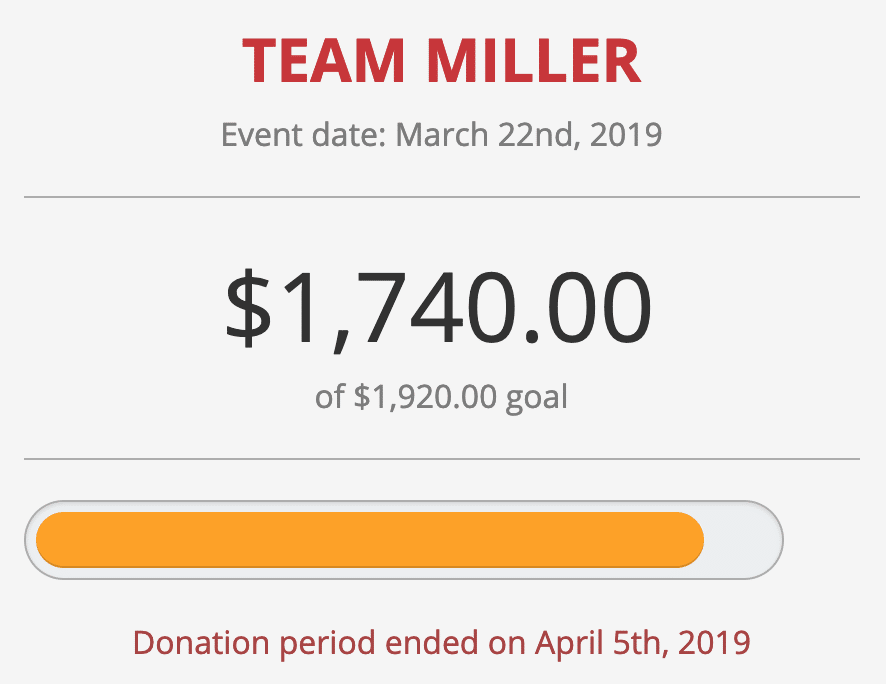 Spring Picture Day
This Tuesday is our Spring Picture Day! Unlike Fall pictures, you will receive a proof first and then will have the choice to buy. These pictures are not for any other purpose than personally purchasing. Our class will be taking our pictures at 8:45ish on Tuesday morning. We will be in our PLC meeting that day but Mrs. Van Duren will be here. If you are wanting or able to help with pictures, you can stay with our class that morning and head up to help with managing the waiting and helping students be ready when its their turn to say, "cheese," we'd love your help!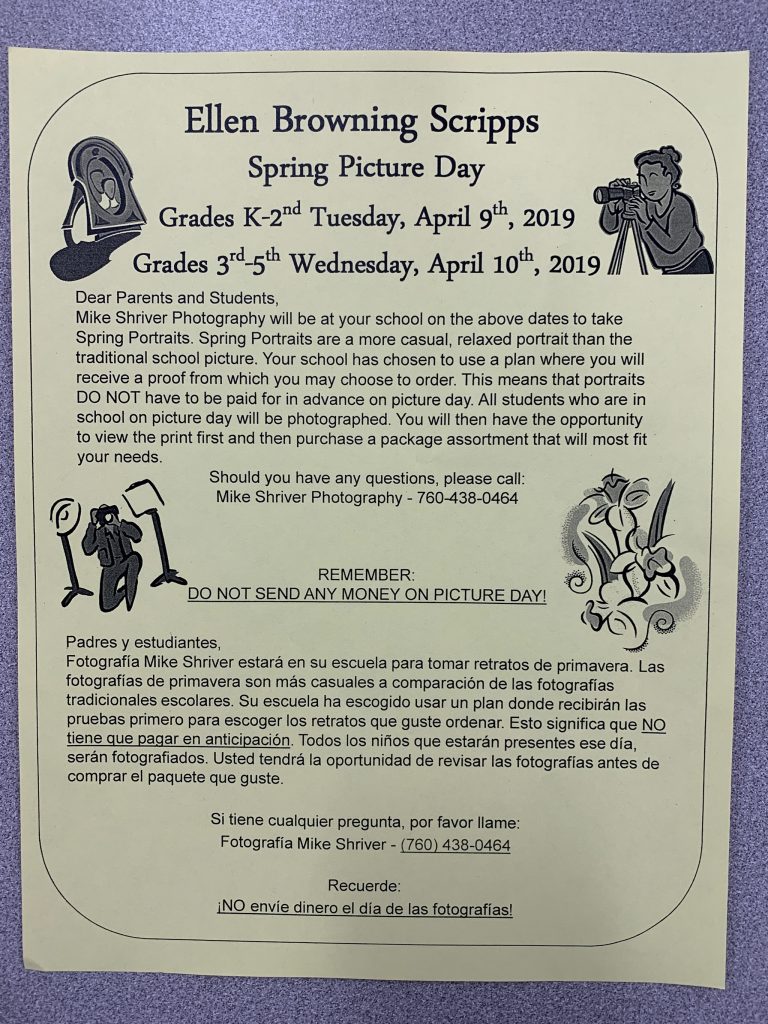 Last Birthday in TK
This week we celebrated our last birthday in our TK class! This cutie had his birthday and the next birthdays for this group won't be until they are all in Kindergarten! We were so happy to celebrate, but a bit sad to know the end of the year is coming soon! We have many special days ahead! Please take a moment each week to skim/read the blog each week to stay up-to-date on information!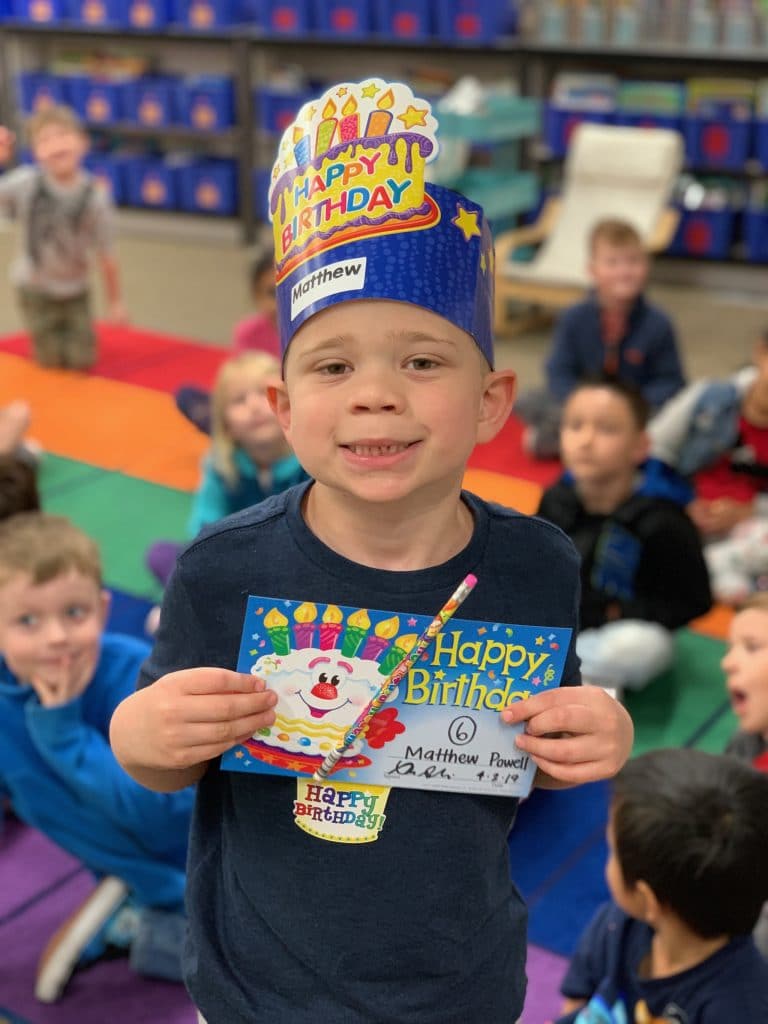 Get Air Family Night
You might have seen the flyer for the EBS Get Air Family Night! It sounds like a fun event that is new for our school! We hope you can make it and are able to jump with all your friends from school!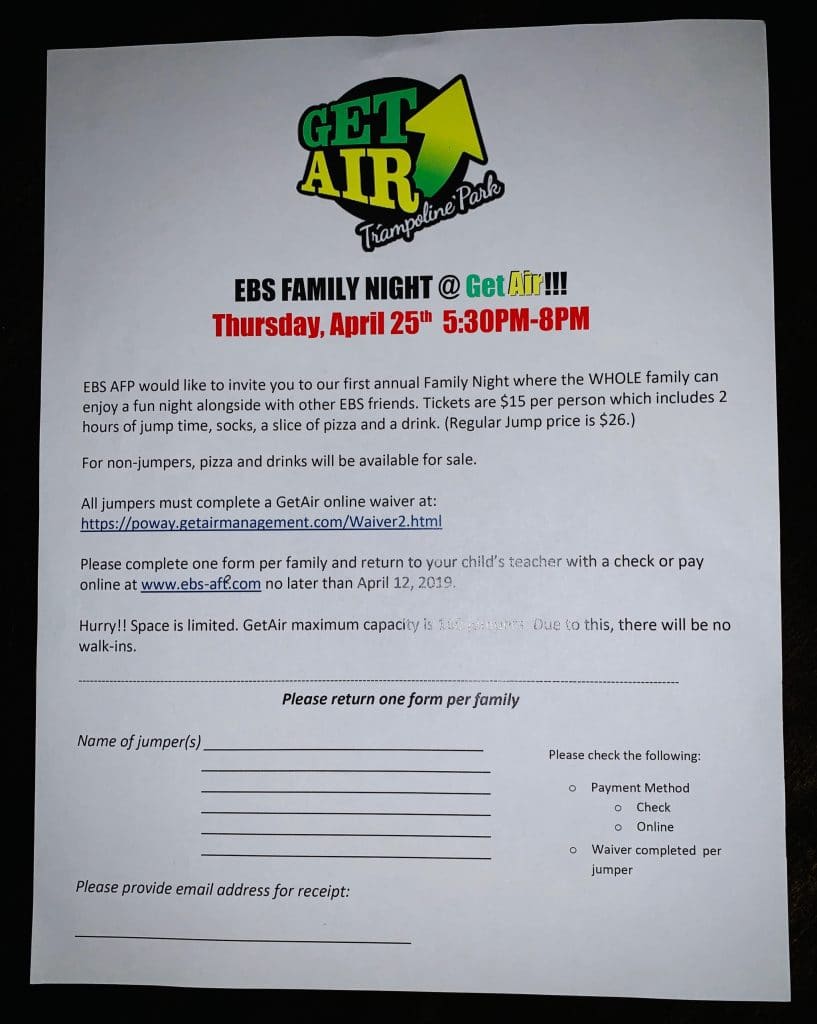 Fine Artists
This week our awesome Room Parent, Dani Powell taught the students about Van Gogh and helped them to understand warm/cool colors as well as different texture lines used to create a beautiful art piece! We have one more art lesson left! Wondering what happens to all these art pieces???….  At Open House on Thursday, May 9th, there is an art show that is displayed in the MPR. Each student in the school will have one piece of art on display at the show. Following the art show, all the piece created this year will come home to you during the last week of school along with many other things from this year! 
EBS Idol
Next Friday is EBS Idol! It is a fun and exciting show you won't want to miss! There are many student performances showing off mad skills on the piano, singing, skits, martial arts, etc.! The night finishes off with a Teacher Finale that I will be participating in (dancing is way out of my comfort zone, but I wouldn't miss the chance to perform with my awesome colleagues!). Hope you can make it! 
Alphabet Complete
We have carefully been through each letter in the alphabet this year! We are now focusing on a blend, dipthong, or suffix each week. This week we started with the dipthong – – CH. We commonly use this chunk in writing and see it in our books! We will start making charts for these instead of letter books. In addition, there will be some sight word books we begin to use and send home to practice reading, writing and knowing these words even better!
Generosity Bags
This week we collected many more generosity bags (we still have more coming over the weekend!). The kids are getting super excited and are reminded of those out there who are in great need as well as ways that we can be generous to others! If you still want to be involved, please feel free to bring in a bag or two! We will be delivering in a couple weeks to a downtown area. In the past we have given out at least 100+ bags in less than 10 minutes. Word spreads quickly and many friendly faces come to grab a bag and are extremely grateful!
A special thanks to all those who have donated bags this year!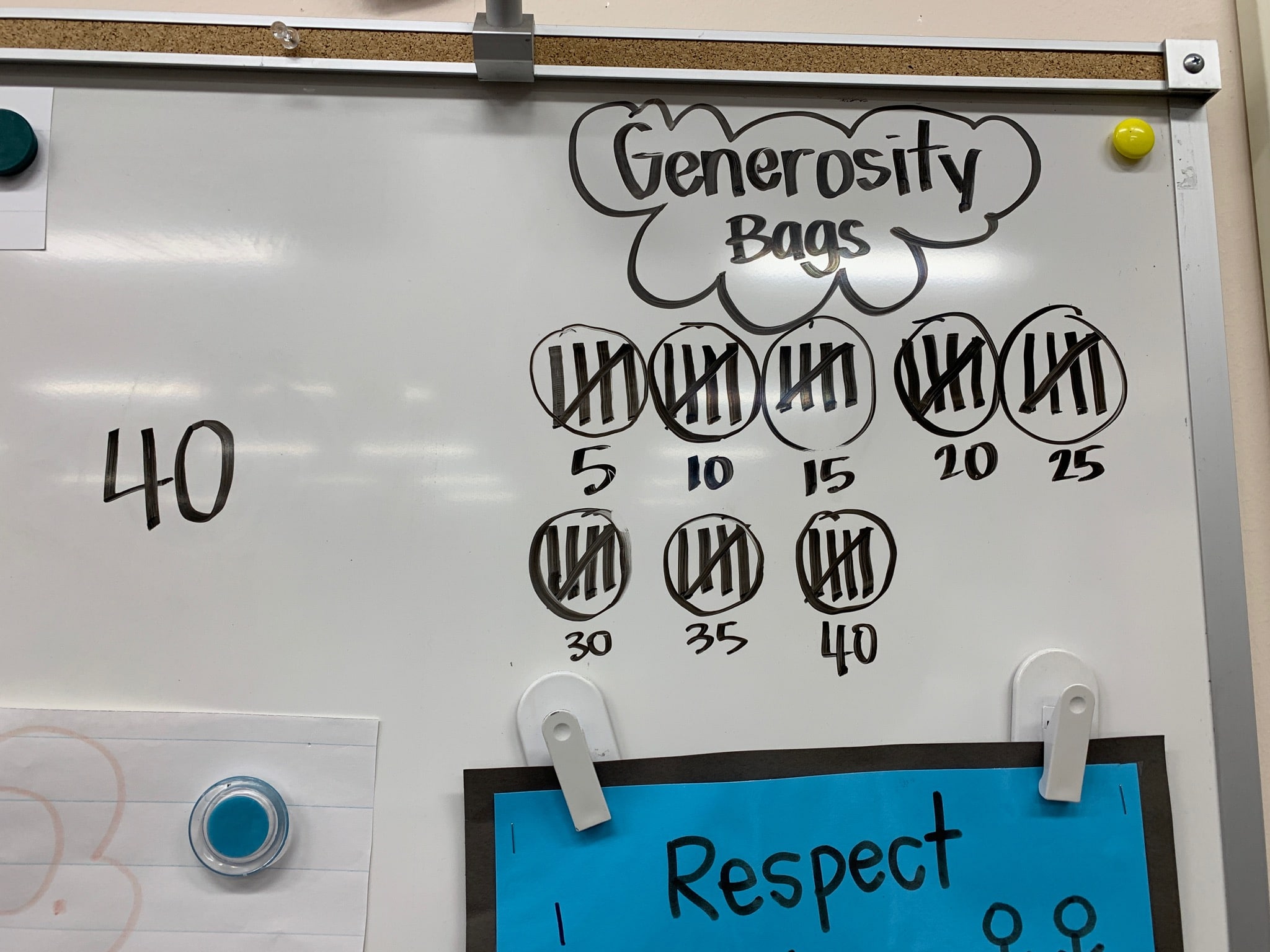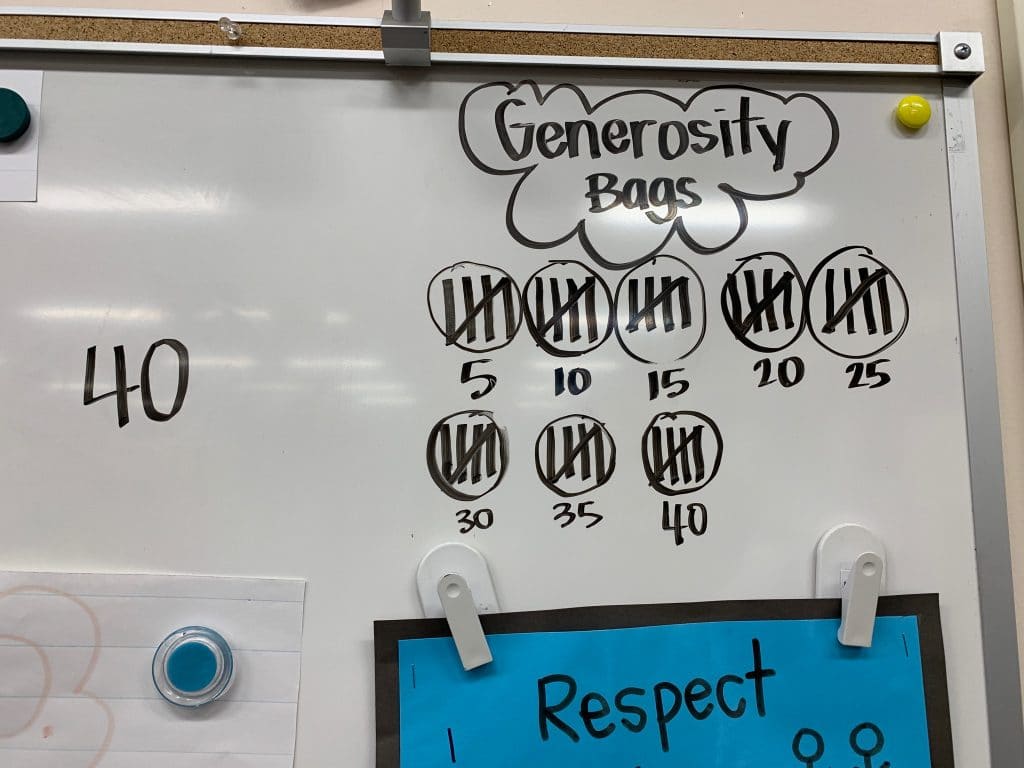 Morning Hallway
Our Kindergarten and TK Hallways have become a busy & noisy traffic area in the morning. We are reminding all Kinder & TK classes as stated back in August to:
Hang up backpacks

Walk around the building

to the side gate to the Kindergarten playground  for line up. 
Please aim to arrive by 8:40 so your student can be a part of the class as we come in for morning greeting and to start our day. 
If you are arriving in the 8:40 – 8:50 range, it is especially important that you still go around to meet our class in line as you will be going against the class lines as they are coming in to begin their day. We ask that you do not wait in the hallway for the class to come in or walk through the hallway door to get to our line. We appreciate your support in helping us keep our hallways clear, quiet and the student traffic flowing. 
Save these Dates
Mother's Day – Friday, May 3rd @ 9:00am – 9:40am
Open House – Thursday, May 9th @ 5:30 pm
Field Trip Sunrise Senior Living – Wednesday, May 15th
Father's Day – Thursday, June 6th @ 9:00am – 9:40am
Field Trip June (aka End of Year Party)
*NOTE: With both Mother's and Father's Day events, another relative is welcome to participate on behalf of a parent if a family member is unable to make it. 
Upcoming
Events
Spring Picture Day – Tuesday, April 9th 
EBS Idol – Friday, April 12th
Earth Day – April 22nd 
Get Air Family Night – Thursday, April 25th 
The Week Ahead…
Monday – 4/08/19
Before School Run Club
Computer Lab @ 10:15 am
STEAM Training with Mrs. Sloan – Mrs. Van Duren will be teaching!
Tuesday – 4/09/19
Before School Run Club
Computer Lab @ 10:15 am
TK/K PLC Meeting – Mrs. Van Duren will be teaching!
Wednesday – 4/10/19
Before School Run Club
Computer Lab @ 10:15 am
Thursday – 4/11/19
Before School Run Club
Whole School Dismisses at 12:30
Music @ 11:05 am
Friday – 4/12/19
Before School Run Club
EBS Spirit Days: Wear Red & Black or any EBS shirt!
EBS IDOL!!!!