IN THIS POST:   Jog-A-Thon, Character Education – Honesty, New Spots, Celebration, TK/Kinder Science Night, Upcoming Events, The Week Ahead
Jog-A-Thon (JAT) Update – Team Miller
WE DID IT!! So proud of Team Miller! We placed in the top 3 for whole class registrations! The JAT team is giving little squishy keychains for donations. Kids are asking how to get them. We've had some discussions about donations to help our school, but you may want to have this discussion and possibly ask neighbors and family to see if they are interested in supporting their little runner and EBS (flat donation or an amount per lap). 
If you want to check our donations page click here:  https://secure.eventsonline.us/reg/getmovincrew/pub/classroom/63076
The top class gets to silly string Ms. Sloan! How fun would that be? As fo this morning we are up to $320 raised in our class! I put a picture of our fundraising meter on Facebook. We add to it each day! Great job Team Miller! 
Character Education – Honesty
This week our 5th grade students came in to share about Honesty. They had the students get in small groups and drop a quarter in a tub of water. They then proceeded to see if they could cover up the quarter by dropping pennies in the water to cover up the quarter. The quarter represented a lie and the pennies represented our trying to hide the lie with other lies. It was a great representation and engaging activity for the students. 
We also had Emily Forgeron come in this week to also give the students a follow up lesson on Honesty. She shared a book with them and gave some examples of "truth" or "not truth." In the end the students each got their own Honesty Heart necklace with words to remind them about honesty and the trust it brings! Thank you Emily!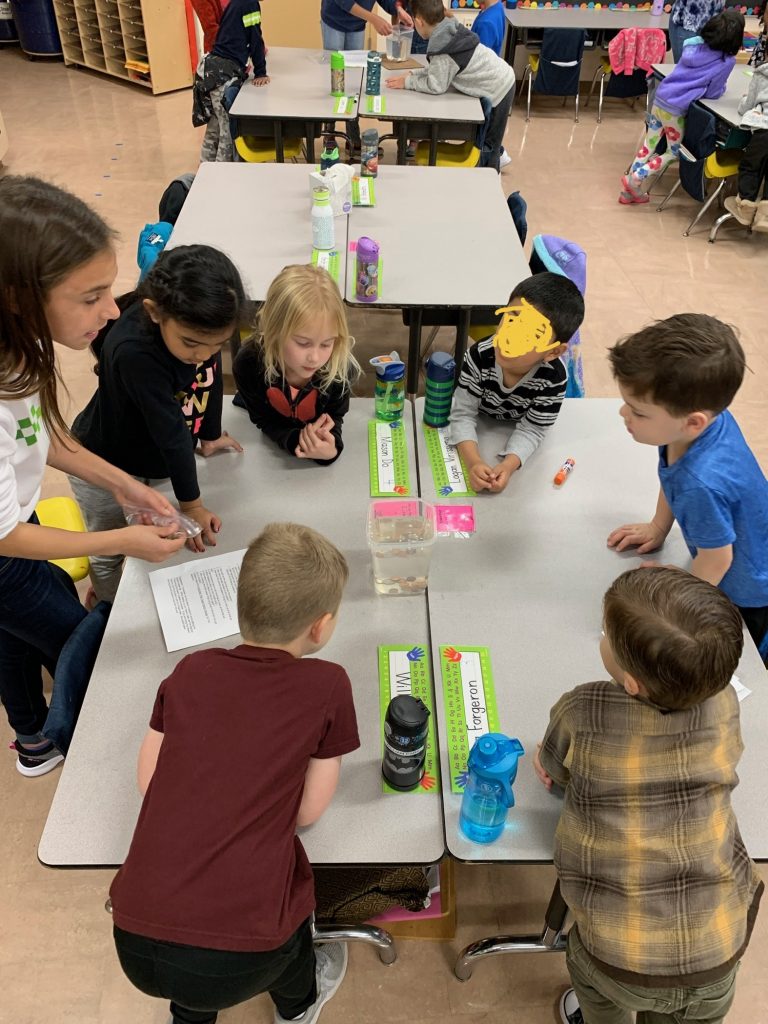 Changing Spots!!
In case you haven't heard we got some new rug spots and desk areas this week! It was a fun change and we always make minor adjustments as needed. All students moved desks and most students moved rug spots. Its a great time for this relocation and good practice to getting used to change and working with different personalities. Ask your child about their new neighbors and how they felt about the change! #dinnerdiscussionidea
Celebration of the Arts
Next Thursday is the Celebration of the Arts at Barnes at Noble. This is a fun night we have each year. Some of the activities include: 
Marking your passport as you visit stations at the store (used as a raffle ticket)
Listening to the EBS choir and band
Visiting with Mrs. Sloan's dogs
Checking out student art (there could be a piece of your child's art!)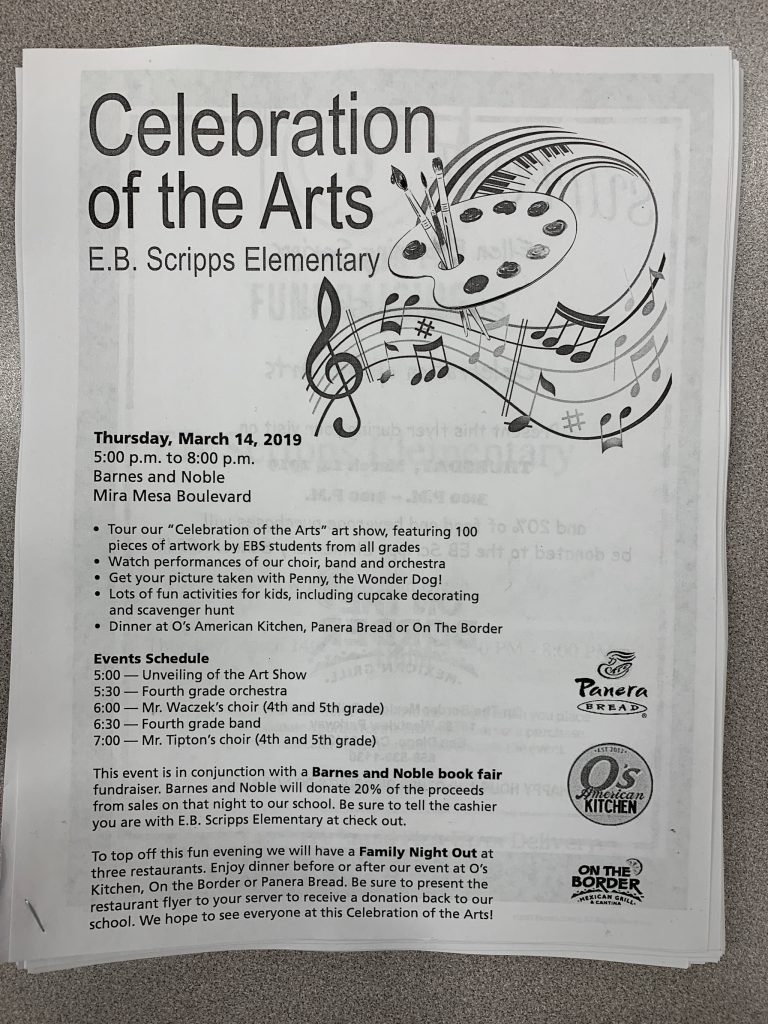 TK/Kinder Science Night
What a blast we had on this night. We solved different experiments to help Mr. Peabody. The kids who came explored with their parent and found some solutions for Mr. Peabody! If you didn't get a chance to join this event, you can definitely join next year!
Parenting Idea: Make it a daddy date night or mom date night with your child. Grab a quick meal before hand and give special and undivided attention to your child that night. Its a lovely time to spend with your child and remind them that they are a special gift in your life!
Upcoming
Events
March 14th – Celebration of the Arts @ Barnes & Noble
March 20th – 22nd – All School Minimum Days for Conferences
March 22nd – EBS Jog-A-Thon
March 25th – 29th – Spring Break
April 12th – EBS Idol (its a late night, but you won't want to miss it!)
The Week Ahead…
Monday – 3/11/19
Before School Run Club
Computer Lab @ 10:15 am
Tuesday – 3/12/19
Before School Run Club
Computer Lab @ 10:15 am
Wednesday – 3/13/19
Before School Run Club
Computer Lab @ 10:15 am
Thursday – 3/14/19
Before School Run Club
Whole School Dismisses at 12:30
Music @ 11:05 am
Celebration of the Arts @ Barnes & Noble
Friday – 3/15/19
Before School Run Club
EBS Spirit Days: Wear Red & Black or any EBS shirt!