IN THIS POST:   Dr. Seuss Week Follow-Up, Assessments, Jog-A-Thon, Parent Survey, Kindergarten Science Night, EBS Idol Auditions, Upcoming Events, The Week Ahead
Dr. Seuss Week Follow-Up
This past week, we had a great time celebrating a beloved author, with a fun spirit week and reading many of his books. We noticed that as an author he used lots of rhyming, silly words and humor, repetition, and many sight words. Here are a couple pictures from this week in which we celebrated a wonderful writer who left a legacy of reading that will be carried on for many years to come! 
Assessments
As you know that conferences are coming up. Beyond conferences, this is a time we take at this time of year to assess where the children are at and to see how they are progressing. The majority of these assessments need to be done one-on-one as it is typically the only way to see what each child truly knows at this young age. Though these grades have no affect on their college acceptance letters, they are interesting and informative to see how your child has adjusted to their first year in elementary school so far. If there are areas your child may not be progressing as quickly as possibly you expected or as quickly as a sibling might have in the past…no need to worry. Children progress and learn differently and at various paces. As with my own children, when they are struggling in an area, we take a little more of our home practice time to focus on that area. If you need specific ideas, we can discuss that in our conference. 
If you child is not needing a conference, are there any areas in school that your child is feeling are more challenging or that they may have dislike? For these areas you can try to maybe focus on in a new or fun way at home to build a fresh opinion or new perspective on that subject area. 
EBS Jog A Thon
This past Friday, you received a packet regarding the Jog-A-Thon in your child's folder. Check out this video to tell you a little more about it and give you some visuals on what our day will be like! It's a day of fun, exercise and loads of excitement from the class. Read through the packet and let me know if there are any questions. We are scheduled to have this day on Friday, March 22nd! 
PLEASE go to this link and register your child: http://www.tinyurl.com/ebsjogathon
If we register 100% of our class we get an otter pop party and possibly an extra recess if we are the first of 3 classes to register!! Help our class by going on to register!
Here are some Individual incentives: 
Raise $40 – You will get  (1) monster squishy and enter in drawing to do Friday announcements with Ms. Sloan OR a $50 g.c. to Corvette Diner.

Raise $80 – You will receive (2) monster squishies AND enter in drawing to win a FitBit (2 winners!)

Raise $100+ – You will receive (3) monster squishies AND enter in drawing to win a 4 tickets to Aquatica Waterpark or a 4 tickets to Legoland!
School Wide Incentives include: 
At $15k – We will have a 5min Dance Party over the PA for the whole school!
At $25k –  We will have a School Pajama Day
At $35k – We will have a School Crazy Hair Day
At $45k – Every classroom gets 2 wobble seats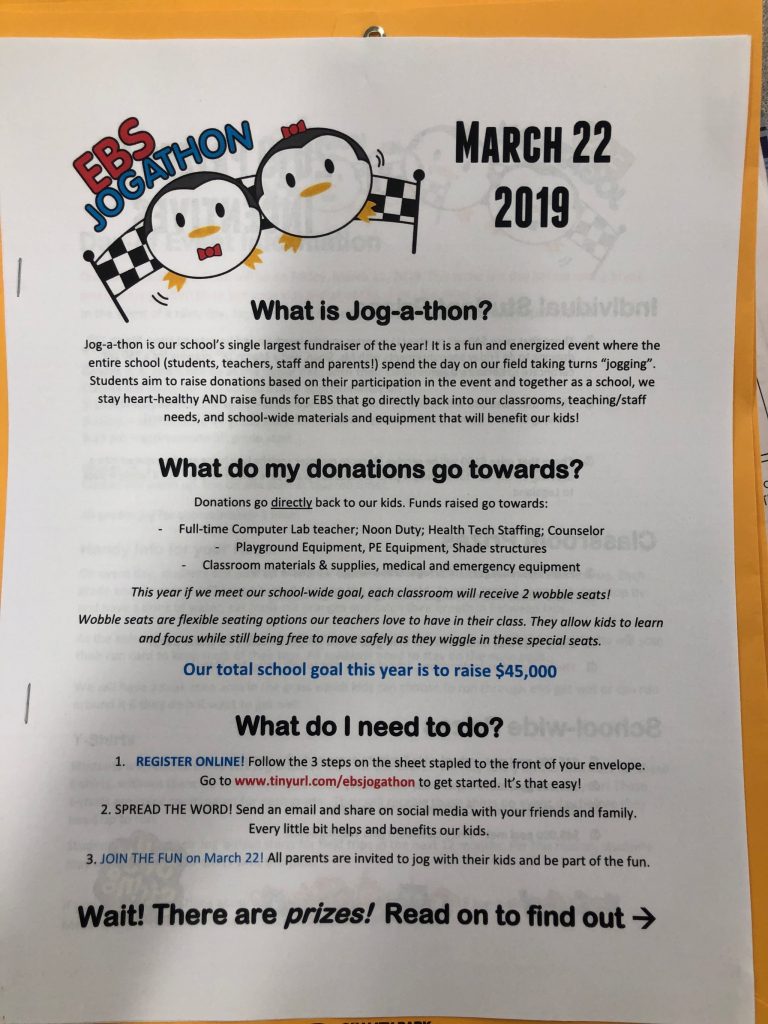 Parent Survey
This past week, you also received a Parent Survey. Please take a moment to fill this out and let us know about your experience here at EBS this far. These are completely anonymous. Feel free to drop them off in the front office or send back in your child's folder. 
If you have any feedback on our 206 class, I am always looking for ways to improve and would love to hear ways you may see to better the TK experience for the remainder of this and for future TK students. I welcome any feedback and truly value your opinion.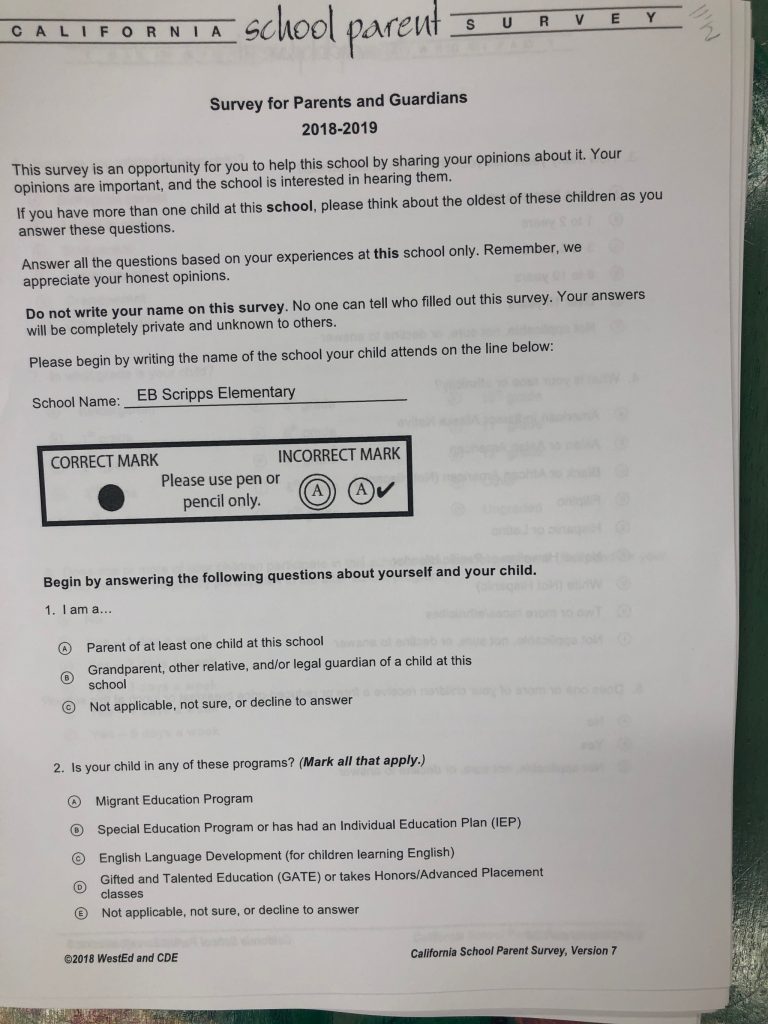 Kindergarten Science Night
Our turn is coming up! Next Thursday, March 7th @ 6:30, EBS will be having its TK/K Science Night. This night takes place in the MPR. The organizers request for every science night that no siblings attend as there are limited materials for the experiments and it is a special night for you and your child to experience some Science fun together! Come and enjoy! 
EBS Idol Audition
I'm not sure if you saw the past post about EBS Idol! This is a very fun and unique EBS night! Besides the fun entertainment, it is an awesome opportunity to have your child experience a true and admirable skill of being on stage in front of an audience. Some kids love this and some kids are frightened by it, but for all children it takes true bravery and a great sense of pride when it is over! You will see a variety of piano performances, cultural dances, solos, dances, tricks, and skits that are performed. Consider signing your child up for a solo act or two perform with a friend or group! You won't regret it. 
Sign-Ups end on March 5th and are located on the doors of the school library! 
Upcoming Events
Last Day for EBS Idol Audition Sign Ups….consider it!
March 5th – TK/K PLC All Day Meeting
March 14th – Celebration of the Arts @ Barnes & Noble
March 20th – 22nd – Parent Teacher Conferences
March 22nd – EBS Jog-A-Thon
March 25th – 29th – Spring Break
April 12th – EBS Idol
The Week Ahead…
Monday – 3/4/19
Before School Run Club
Computer Lab @ 10:15 am
Tuesday – 3/5/19
Before School Run Club
Computer Lab @ 10:15 am
Mrs. Van Duren will be teaching!
Wednesday – 3/6/19
Before School Run Club
Mrs. Van Duren will be teaching!
Thursday – 3/7/19
Kindergarten Science Night at 6:30 pm in the MPR
Before School Run Club
Whole School Dismisses at 12:30
Music @ 11:05 am
Friday – 3/8/19
Before School Run Club
EBS Spirit Days: Wear Red & Black or any EBS shirt!