IN THIS POST:  Dr. Seuss Week, 100 Coins, Conferences, Volunteer Calendar, Jog-A-Thon, Generosity Bags, Clearance,  Upcoming Events, The Week Ahead
Dr. Seuss Week
Don't forget this week we celebrate Dr. Seuss! Check reminders on the dress up theme for each day! Remembering an amazing man who had a big impact on kids and reading!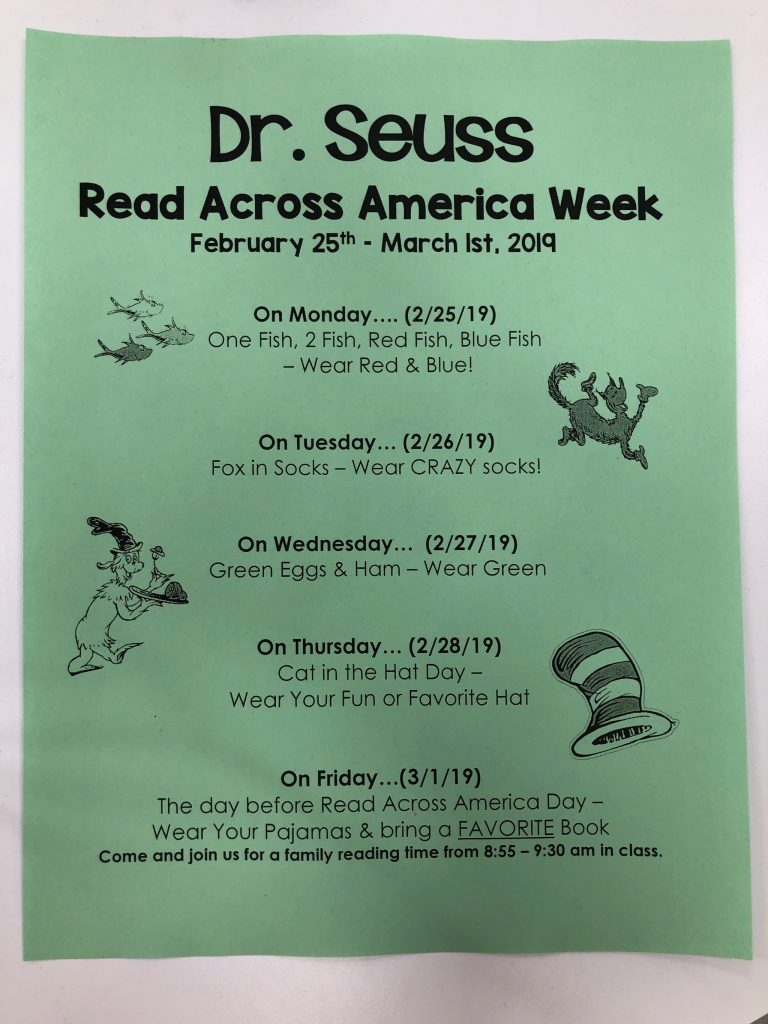 100 Coins
This month we were trying to collect 100 coins as a way to help others, working hard to earn for others, and counting! How did counting coins to 100 go? This month comes to an end this week. If you planned to participate in this and haven't turned your coins in, this is the week to do it! Thank you so much for participating and joining the work and fun!!
Conferences
Conferences are coming up! If a conference is needed, an invitation will go out likely by next weekend after all assessing has been completed. If a conference is not necessary, I will send an email notifying families that no conference is needed. All students will receive their report card and work to accompany it by Friday, March 22nd. 
Volunteer Calendar
The March volunteer calendar has been created and copied and will go out on Monday. It has all volunteer dates on there, in addition to important dates that apply to the whole class! The back side of this month's calendar is a second copy to this week's Dr. Seuss Week!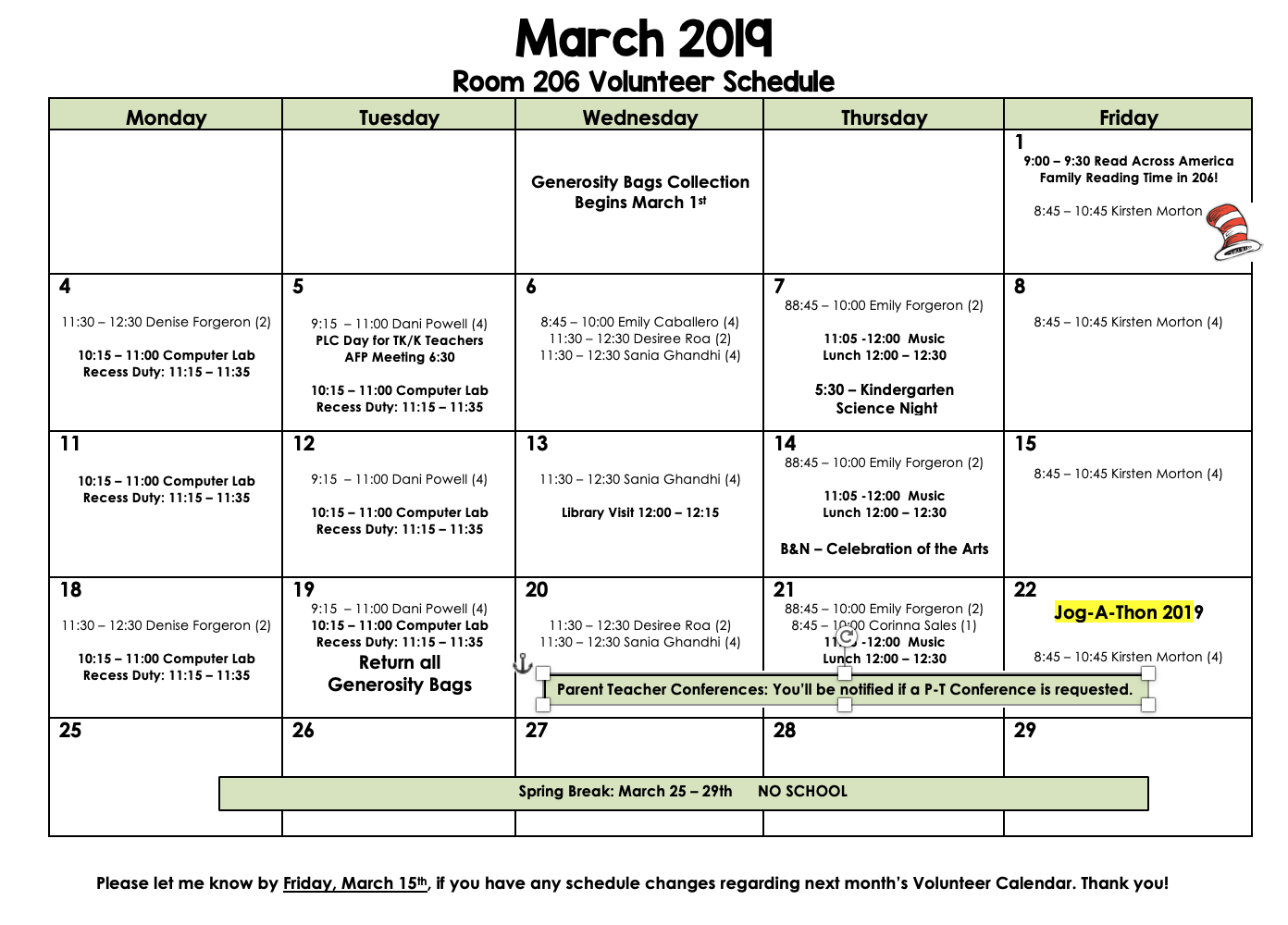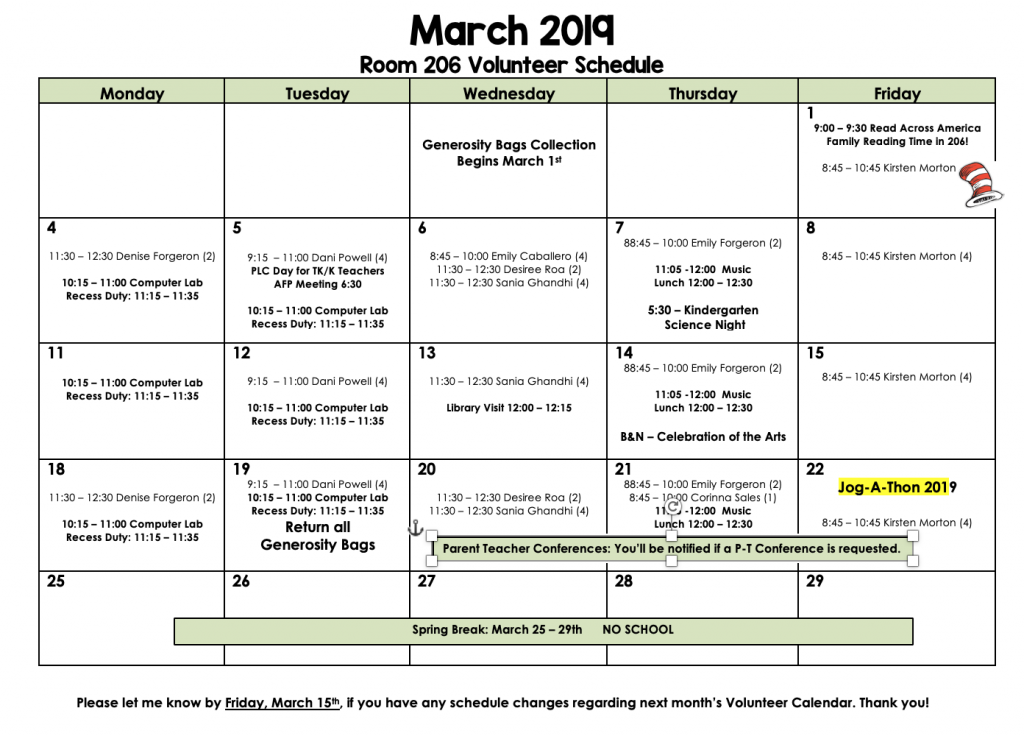 Jog-A-Thon
Our upcoming Jog-A-Thon is coming up in the month of March! If you haven't ever experienced this day, it is one you will sure enjoy! Your child will be getting a packet sent home in which they can gather donations and/or sponsors for the laps they run this day. 
On the day of the event, families come out to watch, volunteer and/or participate! The students are given 1 hour to run around the Run Club field as many times as they can. They will receive a free T-shirt from the school in a color that signifies our grade so we are easy to spot! The kids have a blast and get a lot of good exercise! We encourage you to come out and participate in some way that day! 
Date: Friday, March 22nd (this is a minimum day)
Time: 2nd half of the morning (likely around 10:30/10:45)
Location: Run Club Field
More information will be going out to families regarding this day! Save the date if you haven't already!
Generosity Bags
March is a special month in 206! During the month of March, we focus on helping a population of people who don't have a home. This week we read a book called Good People Everywhere. The focus and theme of the book is that there are people all over the world, right this minute doing good things. (We even discussed how our sweet parents are doing good things every day to take care of us; ) 
At the culmination of the book and our discussion we discussed, what good things we could do! This was a great start to our activity this month. This is completely optional but if you are interested, we would love your participation! 
Flyers will go home explaining how you can help. In general you can prepare a bag (or as many as you would like) filled with items that might help someone without a home. I have some ideas that you can fill it with, but please know that you can come up with some of your own great ideas as well! If you make a gender specific bag, please mark it on the outside Here is an example of a generosity bag: 
Clearance
Just a reminder about being cleared…
Typically our school only clears parents up to the end of March as the office is then preparing for Kindergarten registration and the following school year. If you haven't been cleared and plan to get cleared for Father's Day in 206, Mother's Day in 206 or either of our upcoming field trips in the spring, PLEASE make sure you get cleared now so you don't miss out on activities. (Please share with other families who plan to attend our special events). 
D Clearance is necessary to attend, drive, or accompany our class on any field trip. This is also necessary to work with students outside, or in a hallway. 
Only a B Clearance is needed to join us in class for special events. 
Upcoming Events
March 5th – TK/K PLC All Day Meeting
March 14th – Celebration of the Arts @ Barnes & Noble
March 20th – 22nd – Parent Teacher Conferences
March 22nd – EBS Jog-A-Thon
March 25th – 29th – Spring Break
April 12th – EBS Idol
The Week Ahead…
Monday – 2/25/19
Red Fish, Blue Fish Day – Wear Red and Blue!
Before School Run Club
Computer Lab @ 10:15 am
Tuesday – 2/26/19
Fox in Socks Day – Wear crazy socks!!
Before School Run Club
Computer Lab @ 10:15 am
Wednesday – 2/27/19
Green Eggs and Ham Day – Wear Green! 
Before School Run Club
Thursday – 2/28/19
Mrs. Taber will be teaching this day!
Cat in the Hat Day! Wear a fun or favorite hat this day!
Before School Run Club
Whole School Dismisses at 12:30
Music @ 11:05 am
Friday – 3/1/19
Mrs. Taber will be teaching this day! 
PJ Day…wear your PJ's! Parents come in and join us to read for 30 minutes. 
Before School Run Club
EBS Spirit Days: Wear Red & Black or any EBS shirt!