IN THIS POST: Sight Word Packets, Name Casing Practice, Back to School Packets, Library Books, Emergency Drills, Room Mom Assistance, No Medications sent with Students, Adam's Hats for Hope, Interactive Writing 
TK for 9 days!
Our kiddos have made it through 9 days of TK. Those are probably the hardest days with the most adjustments for them and for parents. They are facing a new teacher, new friends, new classroom, new procedures, new, new, new. That can be a lot when you 5 years old or 35 years old! Give these kiddos a round of applause for doing such an amazing job. If you child is still saying they don't want to go to school in the morning, or crying or holding onto your leg some days…these are all normal and typical. Each child handles it in their way. Just be there to love and hug them regardless of their reaction and praise them for being so brave, courageous and for learning so much in just 9 days!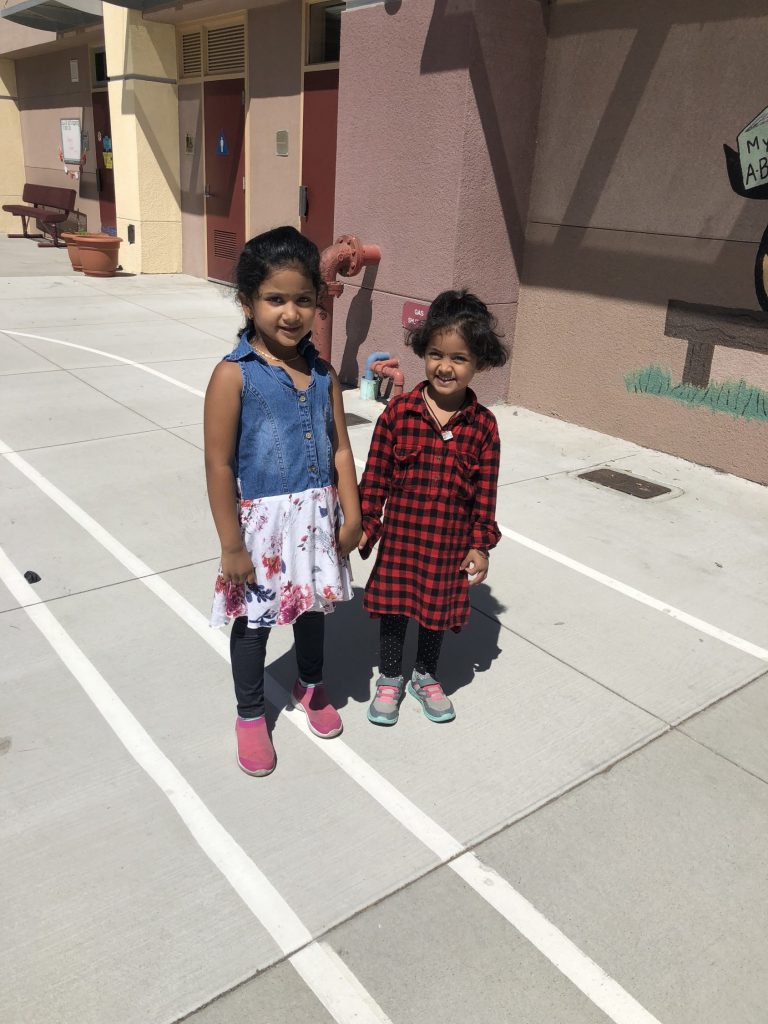 Sight Word Packets
This past week, the September "RED" Sight Words went home with each child. Stapled to the words, were directions to a game and how to use the cards. Please remember to:
Cut out the red words and use them to practice (keep them in a bag or rubber band when not using as we will be adding orange words next month.
Practice these words regularly until your child knows them all.
Play "My Pile, Your Pile" most nights with your child.
If your child knows all of these words already have them practice writing these words.
Name Casing Practice
You also received a sheet with your child's name on it. (See sample below) Please have your child practice writing their name with correct casing and start/stop point for formation. We will send home a new copy next week to practice again. We are practicing this in class too and hope that with practice at home and school we will nail it soon!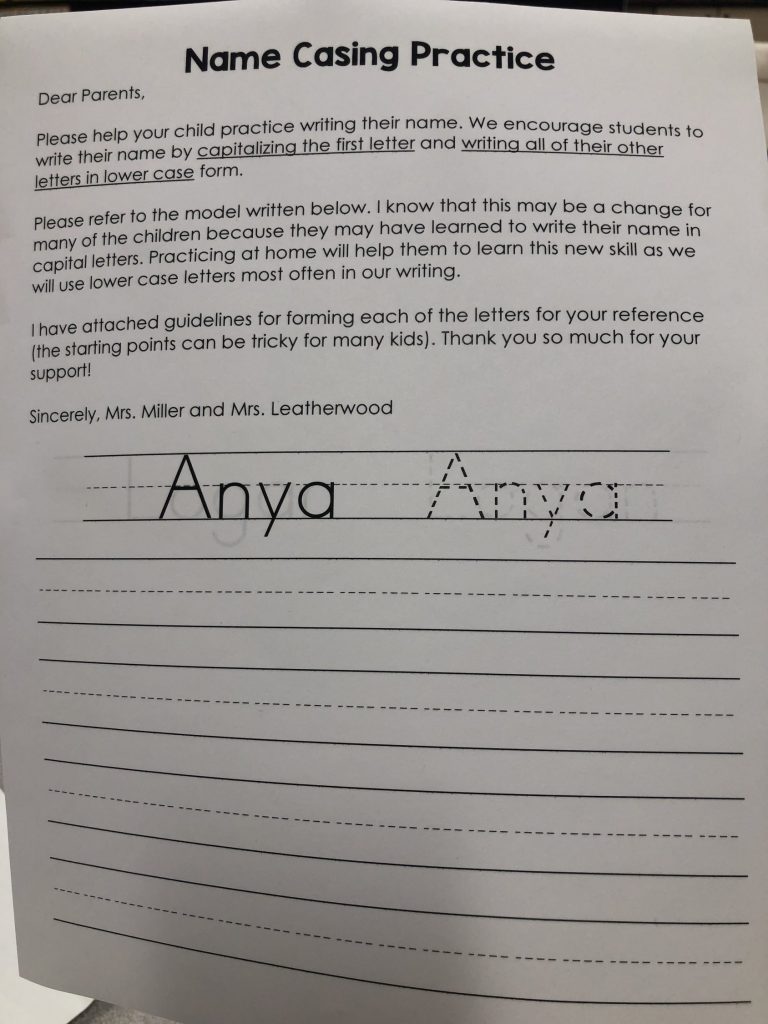 Back to School Packets
Just a reminder, if you haven't sent in the school/district forms, please turn these in as they were due last Friday (September 7th).
Library Books
This past week your child went to the library and checked out their first book for the year. We will go to the library every other Wednesday. Students may keep their books for as long as they'd want within the 2 weeks. When you are ready to return your child's book, please return it to the green "library books" tub. NOTE: If your child forgets to return his or her by the due date, they will not be able to check out a book at the next library visit. Thank you for your cooperation. Let
Emergency Drills
This past week the students had their first "Lock-Down" drill. Each month, there is approximately one drill. There are three types of drills we practice:
Fire Drill (exit the room/building)
Lock Down Drill (stay locked in the room)
Disaster Drill (exit the room/building after 2 minutes of non-shaking time).
For each of these drills there are different safety the procedures. The goal is that we practice them enough, that the students are very familiar with what to do and they are able to act safely even under pressure of fear. We have a safe spot outside that we go to each time for our fire/disaster drills. For the lock down drill we turn out the lights, close all the blinds, lock the doors/hallways, and stay low and quiet in the classroom.
For the fire drill we hear a broken bell that reminds us to exit the building. For the Lockdown drills we stay low and quiet  until Ms. Sloan calls the drill as clear. The disaster drill the students get under the desk and cover their eyes to protect from broken debris. We then exit the class after 2 minutes of the room not shaking and go our same safe spot we use for our fire drills. Our safe spot is up on the big kid playground by the basketball courts. One of the most challenging parts of drills for the students is the loudness of the bell (I remind them that it is this loud so all can hear and be safe) and walking closely together in line. we are trying to get up to our safe place fast, but students are quite in awe of all going on and go into observing mode and have lost our line before due to distraction. This is a great discussion to have with your child as well as a good idea to check for understanding and any questions.
Room Parent Assistance
Our wonderful Dani (pronounced /donny/) Powell will be our Room Parent this year. She has already been busy at work and is doing an amazing job behind the scenes! Please offer her a round of applause and word of thanks! We would love some help with this room if you are able or interested, please let me know.
No Medications Sent With Students
Our nurse has asked that we remind all families that students are not allowed to bring ANY medications with them or keep them in their backpacks or desk. If your child needs to take any type of medicine/medication please speak with Nurse Dee and fill out the appropriate form to send/administer medications to your child at school. Thank you for helping us keep our school safe by following these rules.
Adam's Hats for Hope
In case you didn't see the flyer that went home this week, we got a wonderful opportunity to be a part of to show love and support for a fellow EBS student who is facing a battle right now. Adam Hom with diagnosed with a rare form of cancer this summer. I had Adam in TK 4 years ago. I'm so saddened by this news, but so impressed with his wanting to help others in his own time of need and sorrow! He is trying to collect hats to give to other boys and girls who are losing their hair from a battle with cancer as well. We are taking this on as our first WE HAVE HEART activity of the year. If you are able to bring in or collect any new hats to donate, please bring them in through the month of September. Thank you in advance for helping with this sweet boy and family.
Collections may be brought in through 9/26.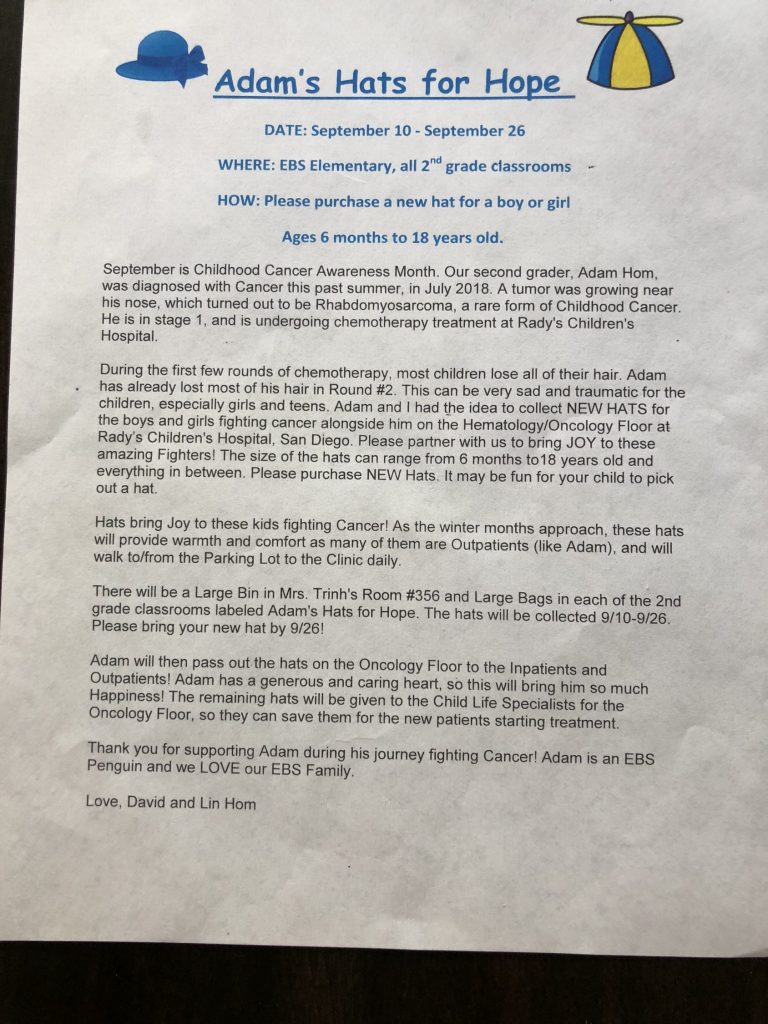 Interactive Writing
One part of our day that we take on regularly is Interactive Writing. During this time, students will each have some form of writing tool to follow along while a student in front is writing as a model to the class. We start with drawing in the air/carpet with our fingers and then move into clipboards and eventually into write boards. Together we write an authentic message and the class is following along writing the message themselves. For this part of the year it is super new, so it looks a little bit different as we get very familiar with the routine and procedures of this part of our day. We are using clipboards and we practicing the letter of the week, with correct formation, grip and starting points. We are drawing some pictures at the end that start with that sound. You may have seen some of these papers come home with your child already. I'm so very proud of all their hard work! We made huge improvements through this week!
Upcoming Events
September 11th – Monthly AFP Meeting @ 5:30 pm, MPR
September 14th – Family Movie Night
September 29th – Family Boomers Day
The Week Ahead…
Monday – 9/10/18
Tuesday – 9/11/18
Before School Run Club
Computer Lab
Wednesday – 9/12/18
Thursday – 9/13/18
Before School Run Club

Whole School Dismisses at 12:30

Music @ 11:05 am with Mr. Waczek

Mission Federal
Friday – 9/14/18
Before School Run Club

EBS Spirit Days: Wear Red & Black or any EBS shirt!

Mrs. Leatherwood Teaches