In This Week's Post:  Field Trip, LAST Scholastic Book Order, Lock Down Drill, Last Day Lunch, Art, Star of the Week, Upcoming Events, The Week Ahead
Field Trip
As many of you saw in folders, the date of our last field trip has changed from Tuesday, June 12th to Friday, June 8th. A new permission slip went home on Friday. If you had planned on joining us for the special date and are now not able to come, please drop by as soon as possible to let us know.
LAST Scholastic Book Order
Our last book order for the year went home this past week. Check out any deals you may want to order for summer. There are $1 book deals and some favorite to engage your child to read through the summer.
Lock Down Drill
If you were at drop off on Friday morning, you got to experience our Lock Down Drill. Ms. Sloan wanted to make sure that we all got a practice of what to do when being caught off guard. The families and students did awesome! Thank you for being so prompt in coming in. The kids are getting better at it as we all know we need to lock doors, close the blinds, turn off the lights and stay in a quiet huddle. We have also discussed how this might play out differently if you are coming in late, or in transition to another class/room on campus! I'm truly impressed with the understanding and confidence these guys have!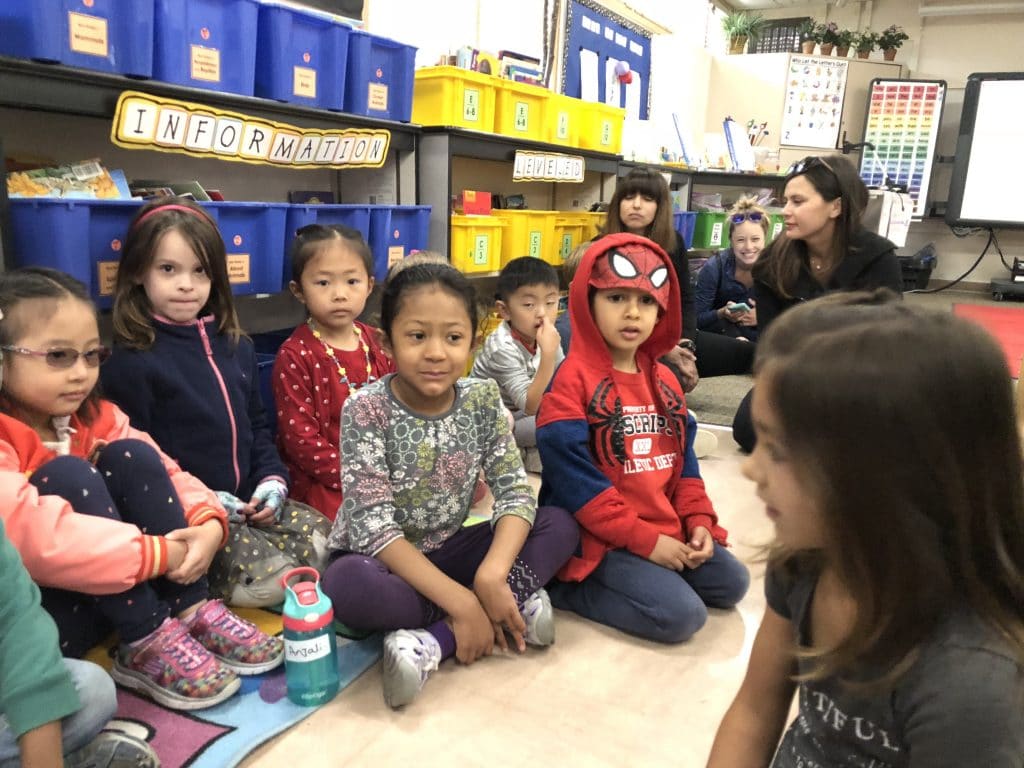 Last Day Lunch
Our last day of school we will be having pizza from Costco for our snack/lunch. If for any reason you do not want your child to take part in this lunch or wish them to bring a lunch, please contact me ASAP. We will be eating inside that day due to 5th Grade Promotion. If you wish to buy from the cafeteria as an alternative to Pizza the only menu options are listed below:
Turkey/Swiss sandwich or Sunbutter and jelly sandwich

fresh fruit

baby carrots and ranch

white or chocolate milk
Volunteer Tea
We have so many volunteers! Invites were sent home. Please return ASAP if you plan on attending. This is a special time you can come to be thanked and appreciated for all you do for our students and school as whole! There will be some light snack/desserts and drinks. The choir will likely perform with a few songs to enjoy! I will be dropping by during the student's recess to say hello and grab a couple pictures. We hope you can all make it!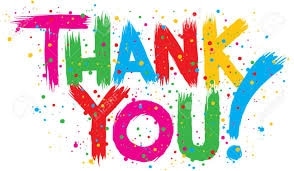 Art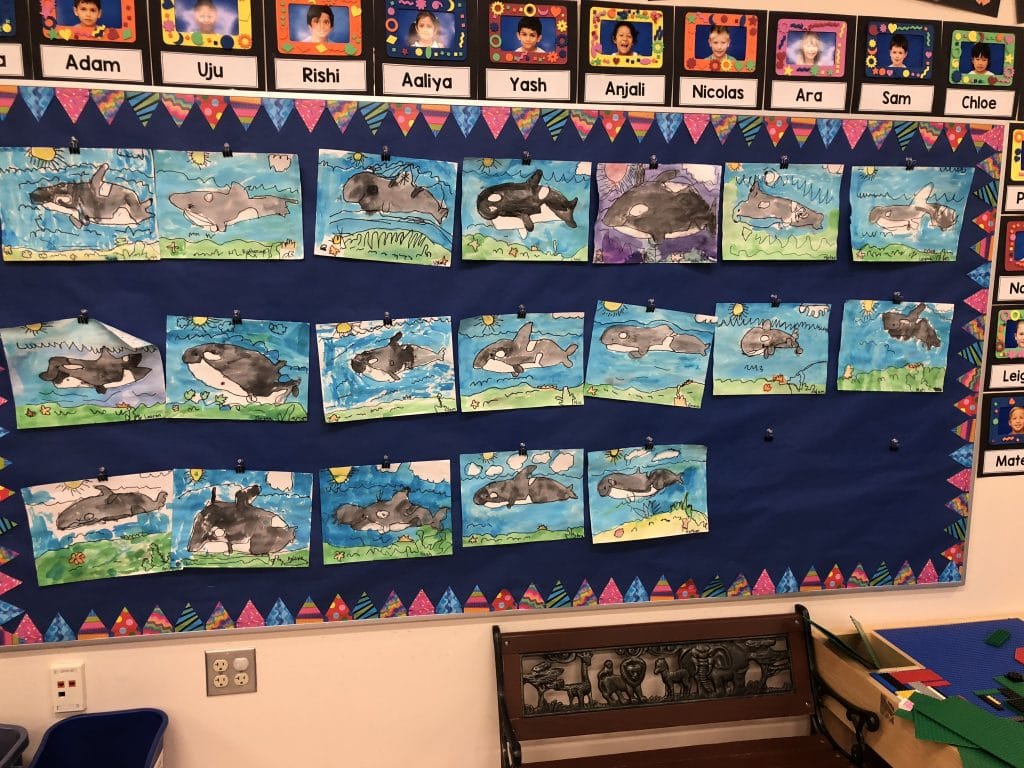 Star of the Week
Flyers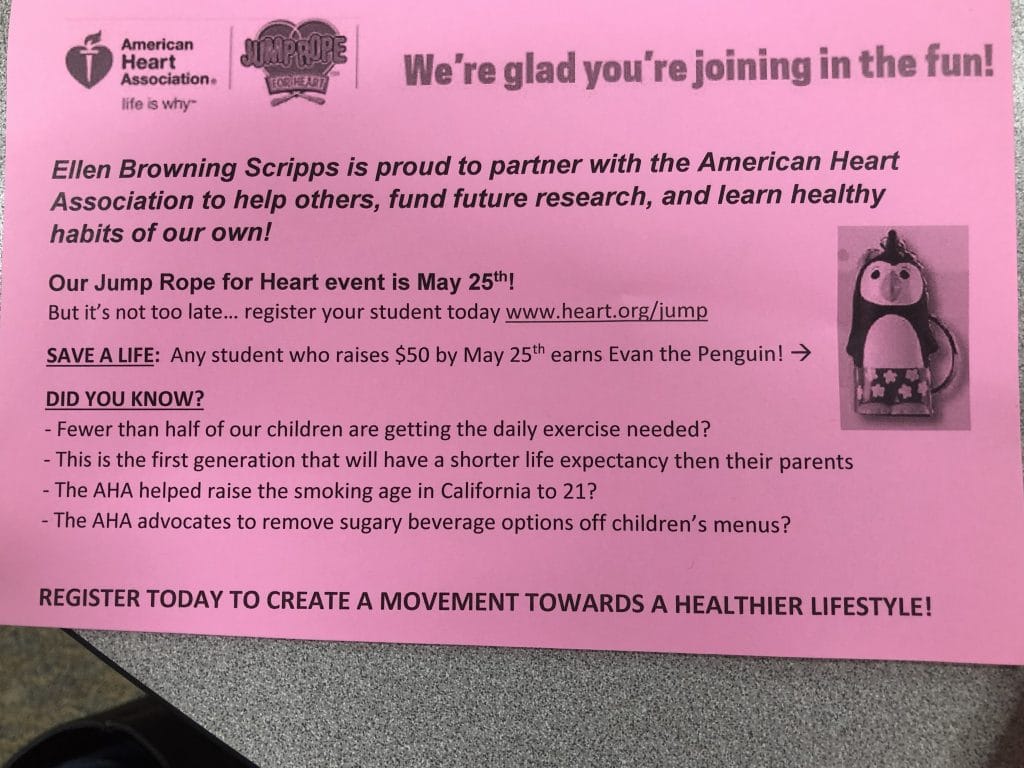 Upcoming Events
May 24th – Volunteer Appreciation Tea 11:10 – 12:30
May 28th – NO School – Memorial Day
Friday, June 8th – Field Trip to San Diego Children's Discovery Museum
Wednesday, June 13th – Last Day of School
The Week Ahead…
Monday – 5/21/18
Mrs. Leatherwood Teaches
Before School Run Club
Tuesday – 5/22/18
Before School Run Club
Computer Lab 11:15 am
Wednesday – 5/23/18
Thursday – 5/24/18
Before School Run Club

Whole School Dismisses at 12:30

Music @ 10:15 am

Scholastic Book Order Due
Friday – 5/25/18
Before School Run Club

EBS Spirit Days: Wear Red & Black or any EBS shirt!

Jump Rope Day (See flyer above)