In This Week's Post:  Field Trip, World Penguin Assembly, Lock Block/Lock Down, Western BBQ, Mother's Day, Open House, Mini Book Fair, Scholastic Book Order (last 2 of the year), Art, Star of the Week, Upcoming Events, The Week Ahead
Field Trip
This week we were so fortunate to visit the Sunrise Living Senior Center in Sabre Springs! What a beautiful experience to see these sweet little faces, not only sing, but engage with these residents and bring pure JOY to their faces. They thanked us over and over for coming to visit them. I was so impressed with the students and how kind and open they were to interact and share conversations as well as teach them how to play "Rock, Paper Scissors," or "Thumb War." Thank you to all our volunteers who came with us on Tuesday! We had a great day bringing smiles to faces and then enjoying a great day in the park!
World Penguin Day Assembly
On Wednesday our school celebrated World Penguin Day with an Assembly. The choir sang a song, a second grader read a speech about Penguins and the teachers replayed their EBS Finale dance. The kids had a great time!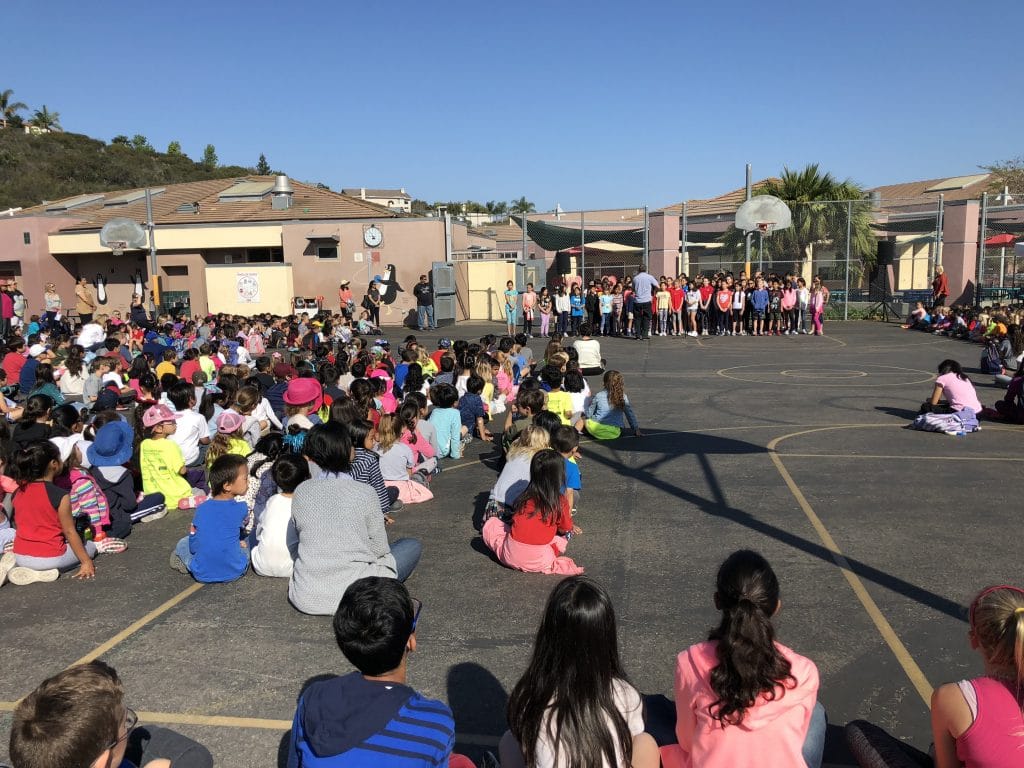 Lock Down, Lock -Block
This week we discussed and reviewed what to do in the event of a Lock Down. Another Lock Down drill will happen this year and may be at any time of any day so we can practice being prepared in a variety of situations. Students each learned how to close and open the Lock-Block on our doors in the event that they had to lock a door by themselves. We also reviewed to get inside the nearest door and to close the door, windows and lights. They have done great this year in practicing all the different drills to be prepared!
Western BBQ
This next week is our last Western BBQ lunch for the year. RSVP slips went home a couple weeks ago. If you plan on attending, please fill out a slip so they can account for how much food to prepare for families that day. Please make sure you stop by the office prior to coming to pick up your TK student if you plan to head directly up to the lunch area. I will plan to bring the students out a few minutes early to let all who plan on going to the BBQ join up with their students. Look forward to seeing y'all there!
Mother's Day
Next Friday, May 4th is our 206 Mother's Day at 9:00 am, we are hoping all our Moms can attend. We love you and can't wait to celebrate you and how special you are! If you plan on attending, please sign up on the sheet on the whiteboard by the backpacks!
Open House
Thursday, May 10th is our annual EBS Open House. This is a night where families are able to come and look at their child's classroom and work. You may also visit the Art Show in the auditorium as well as visit other classes. We hope you are able to make it! What to expect: During this evening your 5-year old tour guide will walk you through their class and show you some specific items on the tour guide sheet. It is a true Open House, where you are welcome to come/go and visit our classroom and school. The classrooms will be open for 1 hour and the Art Show is open the entire night. Come on by!
Mini Book Fair
There is a Minis Spring Book Fair just around the corner. Its is from Tuesday – Friday only, the week of May 8 – 11. Here are the hours:
Tuesday 8-8:45 am; 3:15-4:15 pm

(Rita's offered outside the library in the afternoon with accompanying Parent)

Wednesday  8-8:45 am; 3:15-4:15 pm
Thursday 8-8:45 am; 12:30-1:30 pm;   Open House 5-7:30pm

(we will open 30 mins prior to Art Show)

Friday 8-8:45 am only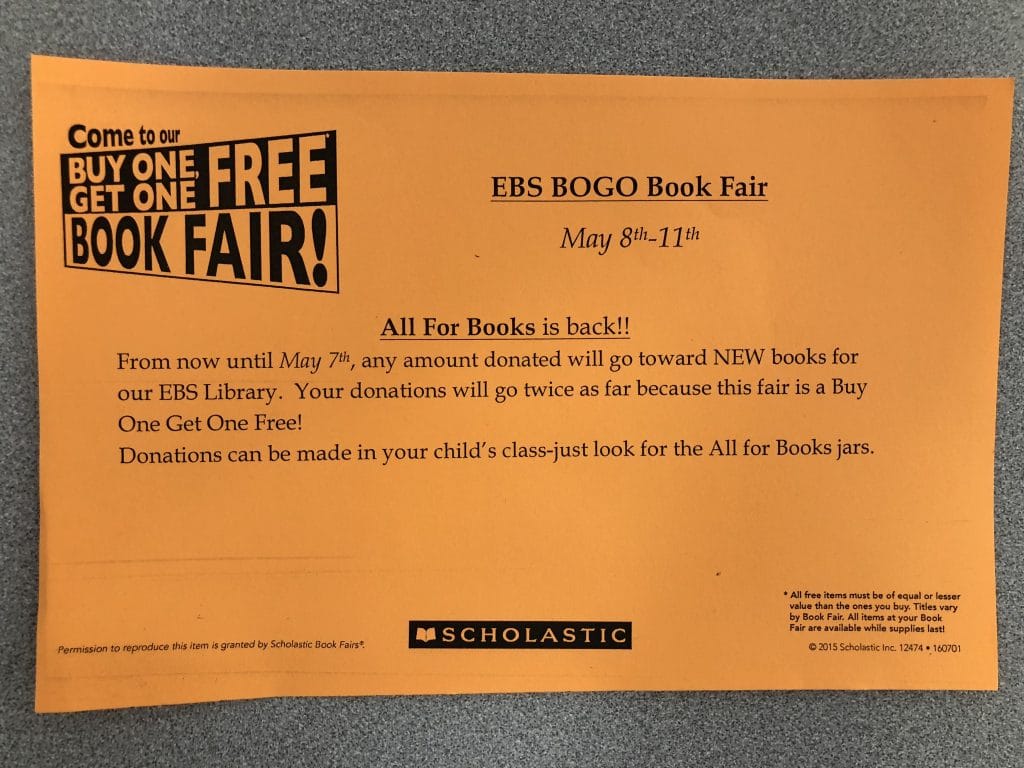 Scholastic Book Order (only 2 left)
This is our 2nd to last Scholastic Book Order if you'd like to buy any for summer or gifts. There are 2 books for $1 this month and the overall prices are awesome. The flyer went home this past week. Check it out and order by next Thursday. The last book order of the year will go home at the end of May to ensure books are back by the end of the year! (its going so fast!)
Art
Stars of the Week
Upcoming Events
May 4th – 206 Mother's Day @ 9:00 am
May 8 – 10th, EBS Art Show
May 10th, Open House
May 9 – 10th, Mini Book Fair
May 18th – Movie Night @ Rec Center Park
May 24th – Volunteer Appreciation Tea 11:10 – 12:30
The Week Ahead…
Monday – 4/30/18
Mrs. Leatherwood Teaches
Before School Run Club
Tuesday – 5/1/18
Western BBQ Lunch 12:30

(please check in at the office first with a visitor sticker)

Before School Run Club
Computer Lab 11:15 am
Wednesday – 5/2/18
Thursday – 5/3/18
Before School Run Club

Whole School Dismisses at 12:30

Music @ 10:15 am

Scholastic Book Order Due
Friday – 5/4/18
Before School Run Club

EBS Spirit Days: Wear Red & Black or any EBS shirt!

Mother's Day Celebration @ 9:00 am