In This Week's Post:  EBS Idol, Morning Line-up, Mother's Day, Field Trip, Generosity Bags 2018, Art, Upcoming Events, The Week Ahead
EBS Idol
Hopefully you didn't miss this show! Every year its a highlighted event of the year to watch all these students perform for the entire audience! Enjoy a few pictures and if you didn't get to come, make sure you save the date to attend next year! It's an EBS favorite!
Our own Shreya was on stage and stealing the show! The next picture is our staff after the finale!
Morning Line-Up
This past week we had a small incident in line where one of our class members were hurt before school started in the line area. I spoke with the class and reminded them that all students in all classes should be standing in line. I reminded them that siblings and parents may stand where they would like, but students must wait in line. This is for safety as the students begin playing when they are not in line. They are welcome to sit on their number and play a quiet game with a neighboring friend if they wish.
Thank you in advance for helping us enforce this to keep them safe and ready to come inside for the day.
Mother's Day Celebration
Invitations went home this week from your little ones. There will be a sign-up sheet by the backpacks Monday. Please sign up if you plan to attend so we can plan accordingly.  We can't wait to celebrate our mamas!
Field Trip
Our field trip is just around the corner of the weekend! A reminder will go home on Monday to bring the following items:
Bring a LUNCH from home (no cafeteria option is available)
Wear your YELLOW Jog-A-Thon Shirt!!!
Sunscreen before we leave for a playful day at the park!
We are looking forward to this day! We will post some pictures and maybe video of our eventful day! Download lyrics below!
Field Trip Song PRACTICE:
I am attaching the lyrics to the 2 songs we will be singing to Sunrise Living. Please look up the songs on Amazon Prime Music (free with your Amazon account) and practice these songs with your kiddos. Some students know them very well, but others are still working on the lyrics. Thank you for all your support!
Lovely Day (Bill Withers)
Here Comes the Sun (Glee Cast)
We will send home paper copies on Monday as well for extra practice the night before!
Generosity Bags 2018
Hopefully you saw the post from earlier this week! We had such a special time delivering the bags downtown! I can tell you that there were many thanks to share and pass forward! Thank you for all your time, to create, gather and buy a bag to help another! We try to keep one in our car at all times to share when we pass by a friend in need! Thank you again!
https://www.linneamiller.com/2018/04/generosity-bag-day-2018/
Art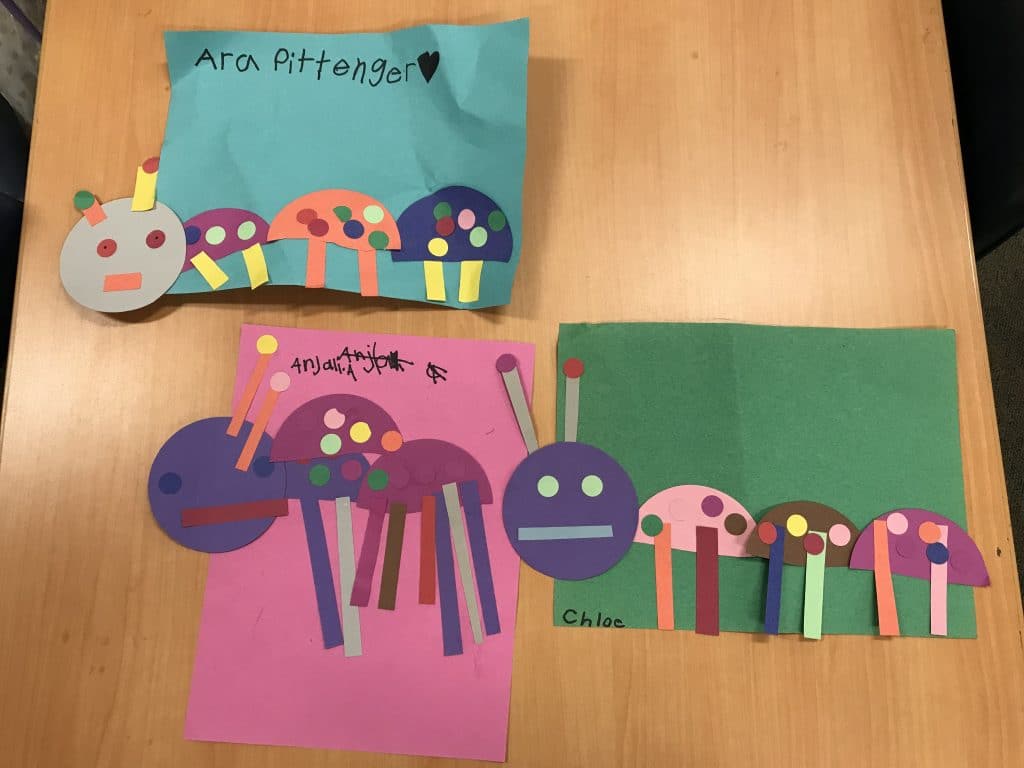 ST Math
As we near the end of our school year, our school has asked that we send home the information to get on ST Math at home. This is a program that our school has available to work on. If you have ever spent time in our computer lab with us or time on our tablets, you've likely experienced a snapshot of ST Math. It has no words or directions, but is meant for the students to problem solve when using. We will also send home a support sheet that advises on to use at home. One of the main reasons it hasn't been sent home with students until now, is that it is designed for the students to use independently without any help. This allows students to struggle through the problem solving process and allows the feedback of results to be authentic in knowing how our students are able to solve independently without support. Be on the look out for a direction and support sheet that will come home with your child.
Upcoming Events
April 24th – Field Trip to Sunrise Living
April 24th – World Penguin Day – All School Assembly
May 4th, 206 Mother's Day Celebration
May 8 – 10th, EBS Art Show
May 10th, Open House
May 9 – 10th, Mini Book Fair
The Week Ahead…
Monday – 4/23/18
Mrs. Leatherwood Teaches
Before School Run Club
Tuesday – 4/24/18
Field Trip to Sunrise Living
Before School Run Club
Wednesday – 4/25/18
Library Day – 12:00 – 12:15 (every other week)
Before School Run Club
World Penguin Day – All School Assembly 8:50 am
Thursday – 4/26/18
Before School Run Club

Whole School Dismisses at 12:30

Music @ 10:15 am
Friday – 4/27/18
Before School Run Club

EBS Spirit Days: Wear Red & Black or any EBS shirt!

Mrs. Leatherwood will be teaching