In This Week's Post: Happy Spring Break, Jog-A-Thon, Generosity Bags, Magic Show Assembly, Art, Star of the Week, Upcoming Events, The Week Ahead
Happy Spring Break
Welcome to Spring Break! Your kiddos have done so well in the last 128 days of TK! The next few months will fly by….so hang on! Take this week, to rest, do lots of play, tell your loved ones how you feel about them, spend quality time together, cook, observe nature, practice a new trick, send a gift to encourage a friend….and a lot more of good stuff that helps you relax, be grateful and smile!!
Jog-A-Thon Finals
Wasn't that event so much fun! I'm sure your kids are all ready to do that event again next year!
Lap Results: Went home on Thursday in your child's folder. Use this number to collect if you had any friends/family pledge per lap. ALSO….praise your kiddo with a big huge hug and word of love to say, "great job!" I will tell you, there are some kids who tap out half way through, take a rest for the last 15 minutes or just give up, but these kids never gave up their effort! They each set a personal goal that morning for their laps and they all exceeded their goals! I'm so proud of them and their trying!
Donations: At the end of the Jog-A-Thon period, we collected $1765.00. We reached our goal!!! Hooray!! I also wanted to say thank you all for every drop of effort, time, money, encouragement and love you give to our school. This is why EBS is such a special place!!
Generosity Bags
We collected so many bags this past week! Thank you so much for the time, donations and conversations with your kids! Thank you again so much! We finished with 102 bags!!! I have a feeling more will trickle in as they always do!
If you happen to find goodies over the summer and fall start to collect and hang on to them! We collect Generosity Bags every March! We'd love you to contribute to the effort next year!!! Thank you in advance from all those receivers of your love!!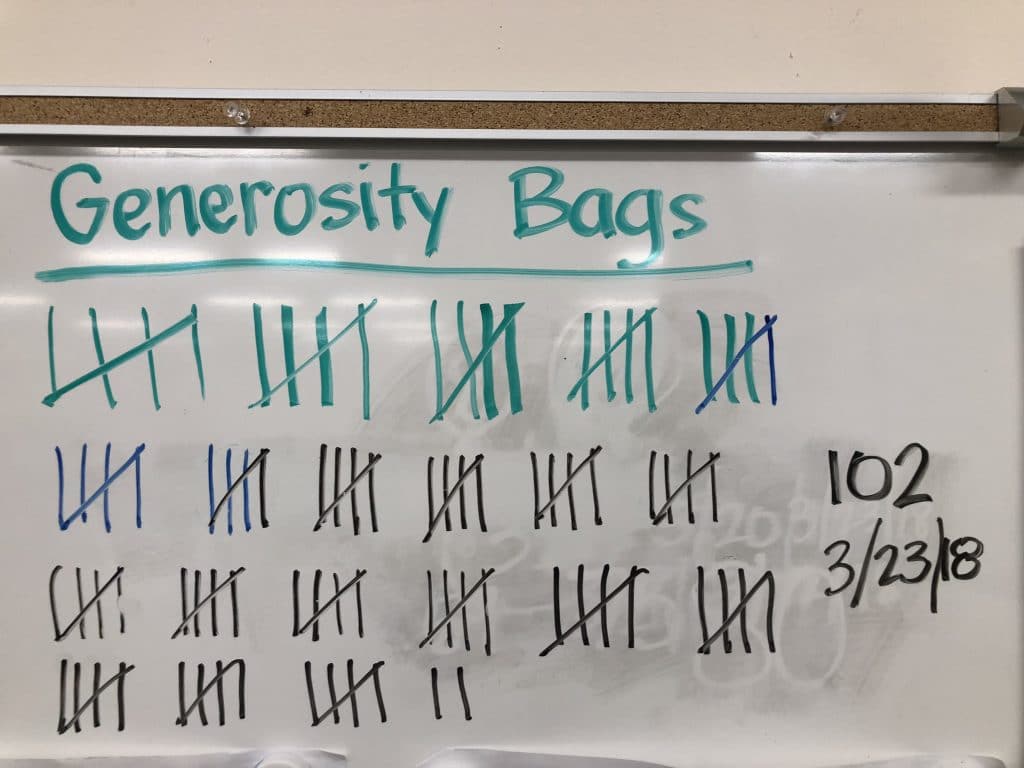 Magic Show Assembly
The kids had an amazing time at our Magic Assembly on Friday! Some of you went to the Magic Show on Thursday evening as well and we heard it was equally as good! Check out some of the pics from our show!!
Folder Flyers
Art
Stars of the Week
Upcoming Events
Spring Break – March 26 – March 30
AFP Monthly Meeting – Tuesday, April 3rd @ 6:30pm
Kindergarten Science Night – Thursday, April 12th
EBS Idol – Friday, April 20th (buy tickets now!) You don't want to miss!
206 Mother's Day Celebration – Friday, 4th
After Spring Break…..
Monday – 4/2/18
Mrs. Leatherwood Teaches
Before School Run Club
Tuesday – 4/3/18
Before School Run Club
Computer Lab 11:15 am
Last Fine Artists Lesson
Wednesday – 4/4/18
Library Day – 12:00 – 12:15 (every other week)
Before School Run Club
Thursday – 4/5/18
Before School Run Club

Whole School Dismisses at 12:30

Music @ 10:15 am

Scholastic Book Order Due
Friday – 4/6/18
Before School Run Club

EBS Spirit Days: Wear Red & Black or any EBS shirt!

Fine Artist Class #6 (last one in Room 206)