In This Week's Post: Dr. Seuss Week, Kindergarten Science Night, Generosity Bags, Celebration of the Arts, Volunteer Sign-in, Clearance, Field Trips, Jog-A-Thon, Character Education – Honesty, EBS Idol, Star of the Week, Upcoming Events, The Week Ahead
Dr. Seuss Week
What a great week we had celebrating one of the most famous childhood authors! Each day we read a new book from our beloved Dr. Seuss and found a silly way to celebrate him! Check out some highlight pics from our week!
Monday – Red Fish, Blue Fish Day
Tuesday – Fox in Socks Day
Wednesday – Green Eggs & Ham Day
Thursday – Cat in the Hat Day
Friday – Read Across America Day
Kindergarten Science Night
This night was originally scheduled for the end of this month. This evening has been postponed until April 12th. Please adjust your calendars.
Generosity Bags
You received a gallon ziploc bag this week to kick off our act of generosity for this month! Together we will collect as many homeless bags as possible. You can be as creative and personal as you want by leaving a note, decorating the bag or even putting a food gift card in a bag. Each bag is filled many necessities and items that we all typically have available to us on a daily basis..be thinking what that might be for you. Check out the flyer that was inside your ziploc bag for ideas. We are aiming to raise 150 bags!
One of the main reasons we do this activity is to open our eyes to all that we have and to the many others in this world that don't. Its easy for us (since its an expected part of our every day) to forget that we are so fortunate just to have clothing, food, water, warmth and medicine all at our fingertips as needed. This is a new concept for many of our kiddos to understand, but through enough of these activities they began to realize and build compassion for all those in this world who go without these daily luxuries or have to work so hard to get them. A little over 9,000 people in San Diego alone live daily without a home!
All bags need to be returned before spring break as I will deliver these with my family the week of spring break.
Thank you in advance for you generosity and feel free to offer the opportunity up to any neighbors, friends, or family.
Celebration of the Arts
This event takes place this upcoming week! Come on our to enjoy a fun, social evening to support our school while enjoying some entertainment in one of the most positive locations ever….Barnes and Noble bookstore (Mira Mesa)!
This takes place on Thursday, March 9, 2018, starting at 5:00 pm and ending at 8:00. Come and stay as long as you would like!
Tour our "Celebration of the Arts" art show, featuring over 100 pieces of artwork by EBS students
Watch performances by our choir, guitar, band and orchestra
Guitar "Petting Zoo"
Get your picture taken with Penny, the Wonder Dog!
Lots of fun activities for kids, including cupcake decorating and scavenger hunt
Dinner at O's American Kitchen, Panera Bread or On The Border
Events Schedule
5:00 — Unveiling of the Art Show
5:30 — 5th Grade Band Performance
6:00 — Choir Performance
6:30 — Guitar Performance
7:00 — 5th Grade Orchestra Performance
This event is in conjunction with a Barnes and Noble Bookfair fundraiser. Barnes and Noble will donate 20% of the proceeds from sales on that night to our school.
To top off this fun evening we will have a Family Night Out at three restaurants. So when you have finished viewing the art show and listening to some music you can pop across the parking lot and enjoy dinner at O's Kitchen, On the Border or Panera Bread or stop by beforehand.
Volunteer Sign In
Just a reminder when volunteering in our class… Make sure you sign-in at the front office, using your whole name as listed in our system. This sign-in is used in the event of an emergency so it is important when regularly volunteering as staff and police would check the sign-in sheets to know who is on campus and where they are at. Our nurse also checks these lists regularly to also make sure everyone coming in is cleared. This is all for safety purposes, and of course we are extremely grateful for all your time that is generously given.
Clearance
If you have not got on the EBS cleared list to join our class for events, or to volunteer, you will want to do that ASAP. Nurse Dee stops accepting/clearing volunteers at the end of this month. After March, you will have to wait for next fall to get cleared. Please remember you must be cleared to attend any field trip as well as come in our class for any event such as Mother's/Father's Day activities. If you wait until May/June, it will be too late! Please consider if you plan to attend even for one hour on our Mother's Day morning in May or our Father's Day morning in June.
Field Trips
Many have been asking about field trips as they are a memorable and favorite part of each school year. We have enough D cleared volunteers to escort and drive our class to a field trip! Yay! Our first field trip will likely be in April as we will be visiting a senior center and then will stop for a playdate/lunch date at the park on the way home. Our second field trip will be part of our end of the year activities as we plan to go to the Children's Museum in Escondido to participate in a class as well as explore the museum. More information will be coming out, but I wanted to give you a idea of location and dates for these upcoming events. Again you must have D clearance to attend either of these even if you are not driving.
Jog-A-Thon 2018
Hooray! We are at 100%! We also have $610 dollars (as of today) towards our goal and are in 10th place as a class. In case you haven't read the details, this is a super fun event for the kids and parents as we all come out and run our hearts out for about 45 minutes – 1 hour while stopping for water, oranges, a soak zone (run by ambitious parents) and taking pictures with friends and family! Each student will receive a free class t-shirt (which we will use again for our field trips) which helps identify our grade (TK). There is music and lots of smiles and exercise the whole morning. This is also on a minimum day for conferences, so the whole school will dismiss early at 12:30 that day. We hope you can attend and get family and friends to support our school!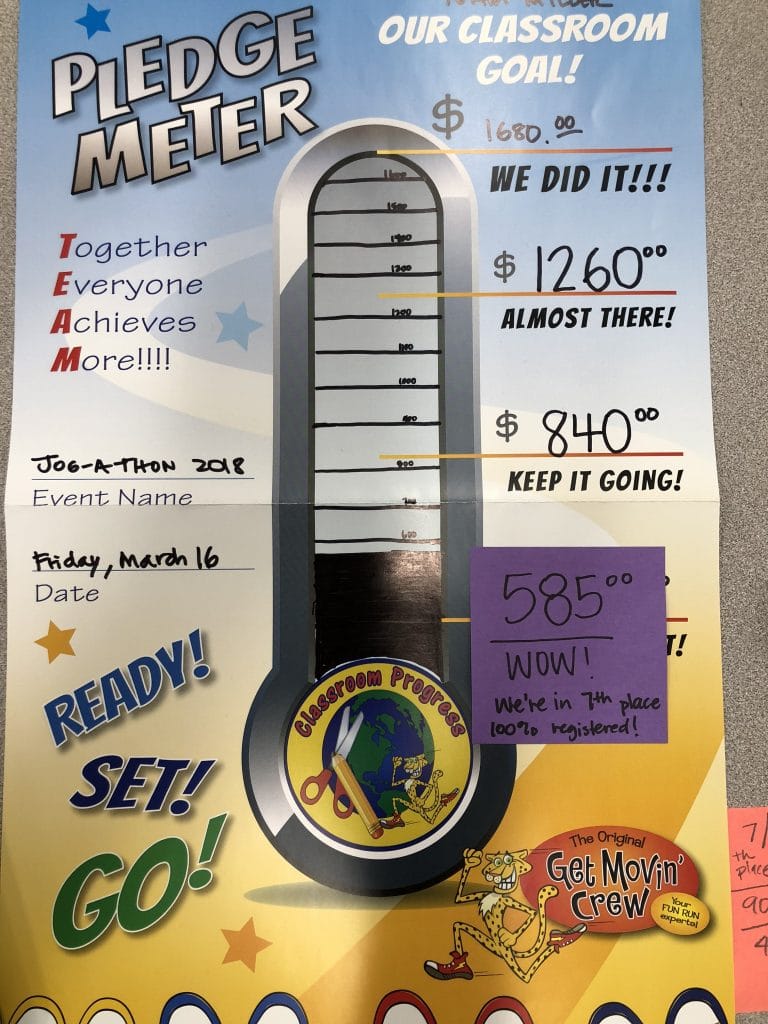 Character Education – Honesty
This week we had our 3 Fifth Grade Friends come and teach us a lesson on Honesty. She reminded us again what it was and then did 2 activities with us. The first activity required students to stand up if the statement was showing honesty, or sit-down if the statement was showing dishonesty. The second activity allowed the students to attempt dropping a penny in the water to try and land on top of the quarter. This was a correlation to when we try to cover up lies with other lies. Our Fifth Grade Teachers let the students keep the pennies as a reminder. Cheers for great teachers and learners!
EBS Idol
A flier went home for this fun event that takes place towards the end of April. This is one of our school's unique and super memorable events of the year! This is a huge talent show that our school loves to come out and watch and many students love to be a part of it! Its a great opportunity to let your child practice courage and effort  by taking the stage for 2 minutes of the night and to feel so proud of themselves. There are often 1-2 or no TK participants each year…this may want to make you consider having your child give it a try. We have a full house that evening and the night ends a little late with a teacher finale which Mrs. Miller and Mrs. Leatherwood will both be in! You won't want to miss this evening as its probably a school favorite! Consider participating and if not, definitely attend this fun evening! Here's a picture of the teacher (troll) performers from last year!
Star of the Week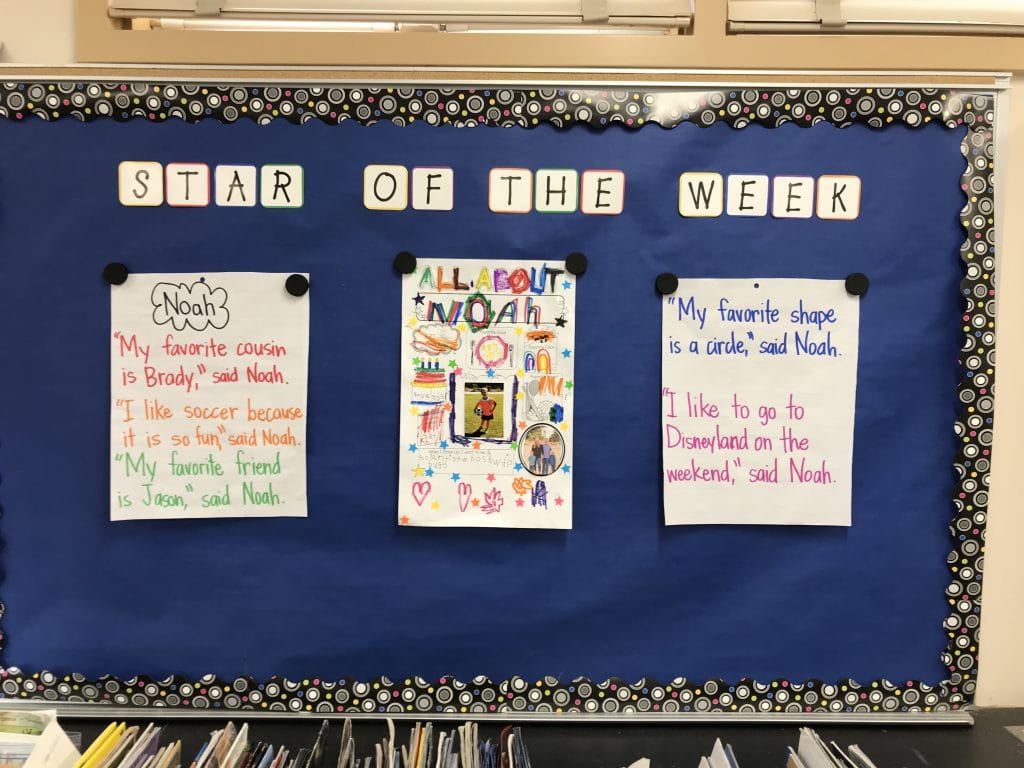 Upcoming Events
Thursday, March 8th at 5:00 pm – Celebration of the Arts
Wednesday – Friday, March 14th – 16th – All School Minimum Days
Friday, March 16th – Jog-A-Thon
Monday, March 26th – Friday, March 30th – Spring Break, NO SCHOOL
The Week Ahead…
Monday – 3/5/18
Mrs. Leatherwood Teaches
Before School Run Club
Tuesday – 3/6/18
Before School Run Club
Fine Artists Lesson #5
Mrs. Leatherwood will be teaching – All day TK/K meeting
Wednesday – 3/7/18
Library Day – 12:00 – 12:15 (every other week)
Before School Run Club
Thursday – 3/8/18
Before School Run Club

Whole School Dismisses at 12:30

Music @ 10:15 am

Computer Lab @ 11:15
Friday – 3/9/18
Before School Run Club

EBS Spirit Days: Wear Red & Black or any EBS shirt!

Mrs. Black's last day!