In This Week's Post:  Dr. Seuss Week,  Writing – Opinion, Parent Conference Week/Report Cards, Reading Levels – Book Bags, Star of the Week, Upcoming Events, The Week Ahead
Dr. Seuss Week
This upcoming week, we'll be celebrating Dr. Seuss as his birthday marks "Read Across America" Day. Each day we will focus on a different Dr. Seuss book and dress according to the theme of the book. A schedule went home this past week and on the back of the March Volunteer Calendar.
On his actual birthday (Friday, March 2nd) we are inviting families into our class to read with the class. You must be cleared to attend. Parents will be able to join up in small groups or pairs to read with children in the class. We will having our family reading time from 9:00 – 9:30 in the morning. This will also be a PJ day where students can wear their pajamas and bring a favorite book from home (please label with your child's name).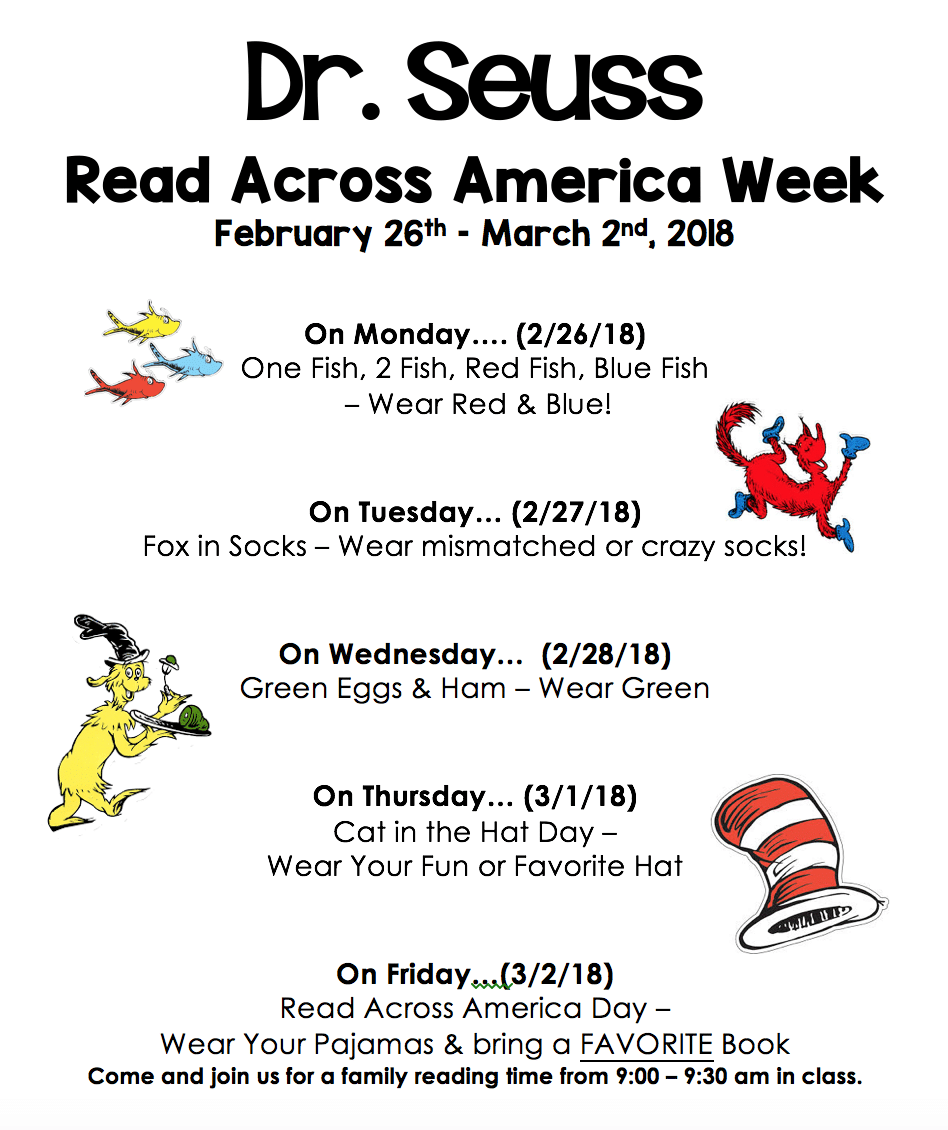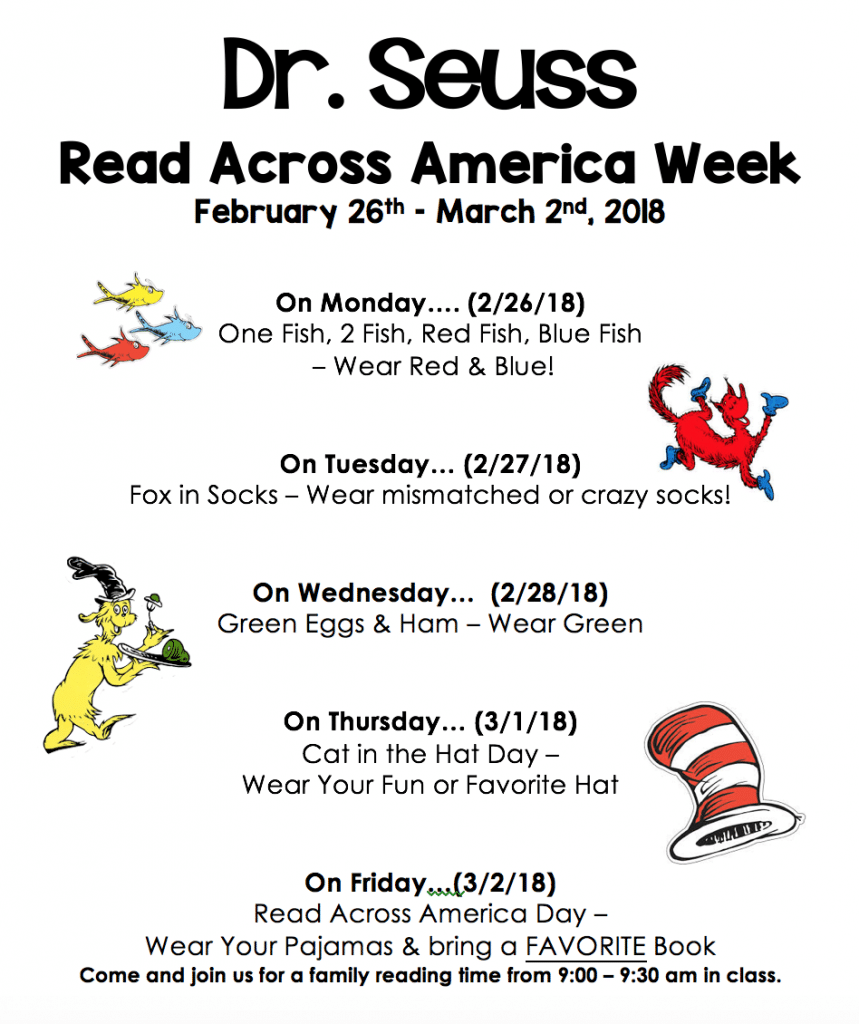 Writing – Opinion
We have been learning about how to write our opinion during our Writing time. The students are supported with a practice/model day where we write together about a topic. The following day, the students choose their own similar topic and write about it, while trying to work on what we practiced and learned in the model the day before.
Students are writing about what they like or don't like. So far we have focused on choosing a topic, and writing your title. We are beginning to focus on including reasons why we feel that way, with pictures to support our writing.
Parent Conference Week/Report Cards
Spring Parent Teacher Conferences are coming soon. (Wednesday, March 14 – Friday, March 16th). These are minimum days for the entire school, therefore we will dismiss from the classroom on each of these days, as we do on Thursdays.
As you might remember from our conversations at the fall conferences, we will only request conferences from some families. Though each child will receive their report card and student work which will be sent home the on Friday, March 16th in your child's folder.
Reading Levels – Book Bags
As we are assessing all the students right now, you may notice that your child's book bag level may have changed. Thank you for those of you that have continued to have your child read regularly and return reading logs so that we can communicate about your child's home reading and to allow them to get regular practice at home.
Star of the Week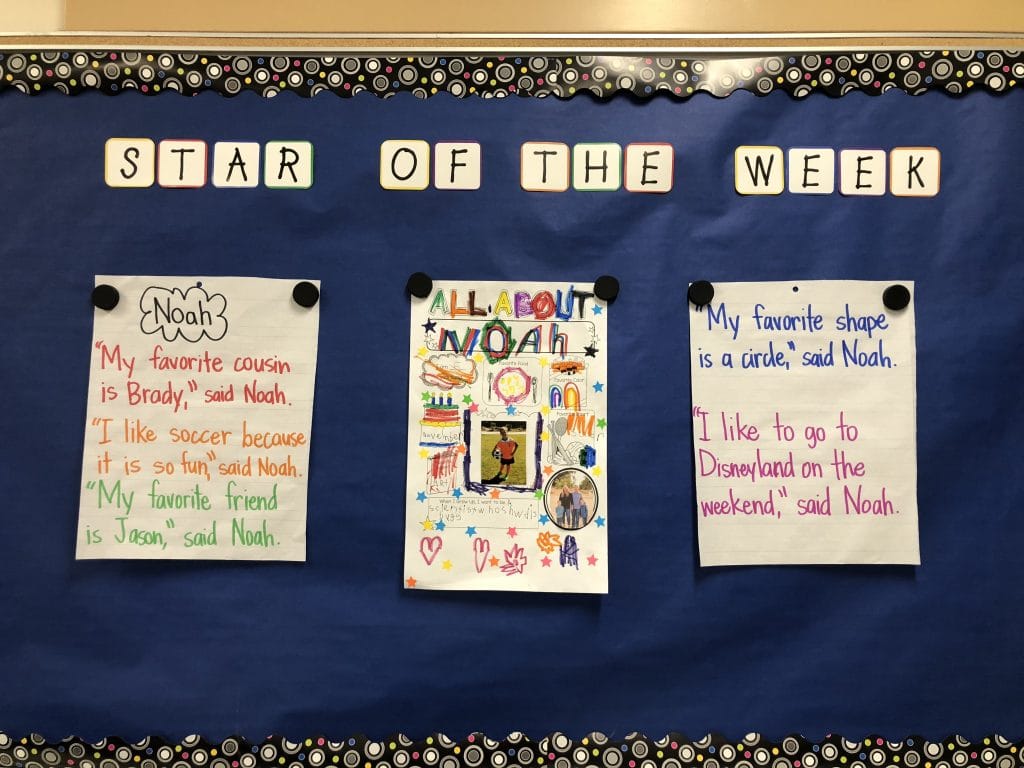 Upcoming Events
Feb. 26th – Mar. 2nd – Dr. Seuss Week
Friday, March 2nd, 9:00 – 9:30 – Family Reading – Read Across America Day
Wed. March 14 – Fri. March 16th, Parent Conferences
Friday, March 16th – Jog-A-Thon
The Week Ahead…
Monday – 2/26/18
Wear RED & BLUE (One Fish, Two Fish, Red Fish, Blue Fish)
Mrs. Leatherwood Teaches
Before School Run Club
Tuesday – 2/27/18
Mismatched or Crazy Socks (Fox in Socks)
Before School Run Club
Computer Lab 11:15 am
Wednesday – 2/28/18
Wear Green (Green Eggs & Ham)
Before School Run Club
Thursday – 3/1/18
Wear a HAT Day (Cat in the Hat)
Before School Run Club

Whole School Dismisses at 12:30

Music @ 10:15 am
Friday – 3/2/18
Read Across America Day – Come Read with our class from 9:00 – 9:30 am
Before School Run Club

Wear your PJ's for Read Across America Day!!!