In This Week's Post: 100th Day is Coming!, Writing, Math, Valentine's Day, Art, Star of the Week, Upcoming Events, The Week Ahead
100th Day is coming!!!
Just a reminder that we have a few fun things going on this week! Check out the reminders below!
100 Coins – School wide effort to raise 100 coins per student to donate to the San Diego Food Bank. Every dollar gives a meal! So powerful in message. I spoke the students about earning coins by helping around the house, cleaning the car, making their bed, etc. See if this works for your family to help others in need. This is also a great counting activity….count those coins…..counting past 30 can be very challenging for some TK's!
100 Year Old Writing – This is due on Thursday. Students will be reading and graded on their speaking and listening during this time. Since the focus is not on the writing, feel free to help your child as much as needed for the writing, but make sure they practice reading aloud many times so they can read it without help. The presentation rubric is below.
Dress like you are 100 Years Old! – This is completely for fun and the whole Kindergarten grade level (teachers as well) will be participating! We hope you partake in the fun! Its hilarious!
100th Day Apron – An apron was sent home last week. Glue 100 pieces of something on the apron. This is also for fun. These can be turned it at anytime with the presentation sheet. The kids will put these on during our 100th Day to show off. They don't need to say anything nor will they be graded! This is another counting activity at home that they'll love and remember!
Writing
We just finished our current "How To…" writing unit this past week. The kids wrote an assessment piece with no support to show what they could do on their own. We will be starting our first Opinion Writing Unit this week. These kids have grown so much in the area of writing! I'm so proud of them!
Math
In math, we are finishing our numbers 6 – 10/addition and starting a new unit on subtraction. We will start slow with small numbers to help build a strong understanding of the concept as well as practicing a lot. We will also be building in a lot of work on explaining our understanding and explaining what we have written to show our thinking about the concept. This is a challenging part of math even as they get into other grades. Many children are able to do the math problems, but explaining their work is often very challenging but a valuable skill that helps to solidify their own understanding.
Valentine's Day
Valentine's Day is coming up soon! I know there are always a few families to like to get an early start on their Valentine's so I like to send this out to give out an important message regarding this fun holiday of giving!
There is NO CANDY or FOOD allowed in any of the valentines. This is policy is designed to keep all kids safe. There are many other non-food options. Check out Pinterest or there are even a few non-food ideas sold with Valentine kits in stores.
Please make sure when you are filling out your valentines DO NOT label who the valentine is for. Only label the "From: " Though it may not seem as personal it is extremely helpful to each little mail deliverer as they fill their friends bag with notes/goodies.
There are 21 kids in our class so you aware of how many to make/purchase.
Art – Groundhogs Day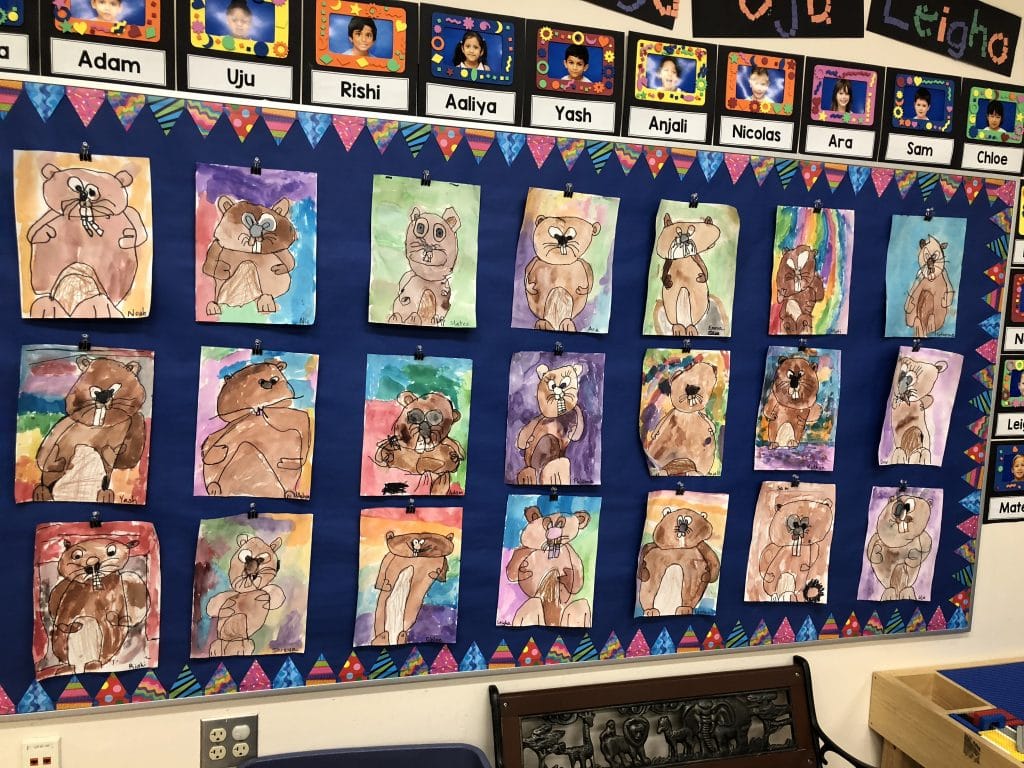 Star of the Week
Upcoming Events
Thursday, Feb 8th – Return 100 year old writing (this will be sent home next week)
Friday, Feb. 9th – Father Daughter Dance
Friday, Feb. 9th – 100th Day of School (Dress like you're 100, Return aprons, and bring 100 coins)
President's Holiday – NO SCHOOL – February 17th and 19th
The Week Ahead…
Monday – 2/5/18
Mrs. Leatherwood Teaches
Before School Run Club
Tuesday – 2/6/18
Before School Run Club
Computer Lab 11:15 am
TK/K All Day Meeting – Mrs. Leatherwood will be teaching
Wednesday – 2/7/18
Library Day – 12:00 – 12:15 (every other week)
Before School Run Club
Thursday – 2/8/18
Before School Run Club

Whole School Dismisses at 12:30

Music @ 10:15 am

Present ("When I'm 100 years old…." writing)
Friday – 2/9/18
Before School Run Club

EBS Spirit Days: Wear Red & Black or any EBS shirt!

100th Day of School (Dress 100 years old, "Walk the Runway" with your apron)