In This Week's Post: Strep, 100th Day, Perseverance Sheet, Valentine's in 206, Writing How-To's, Stemfuse Class,  Parachute Play, Father Daughter Dance Registration, Upcoming Events, The Week Ahead
Strep
There have some cases of Strep floating around our campus that our nurse asked us to share this information.
100th Day
Our 100th Day is coming up soon (Friday, February 9th)! There are many activities and ways that we celebrate this day as a class, grade level and school! Check below to get the scoop on this special day!
Fashion Show – TK's will be walking the 206 Runway! The 100 Day Apron Kits will go home on Monday with directions and materials. Be as creative as possible! Send them back as early as you want. The kids will show off their aprons on Friday the 9th! (Aprons Due No later than Friday, 9th, but send as soon as yours is complete)
100 Year Old Writing (Due Thursday, Feb. 8th) Students will receive a writing sheet to do at home telling about when they are 100 years old.

This is the only project that will receive a grade

. Like the "Star of the Week" poster students will only be graded on their presentation to the class, not the actual writing.
100 Year Old Dress Day (Friday, Feb. 9th) – Join the TK/Kindergarten Fun! All kindergartners and their teachers will be dressing up like they are 100 years old! Start thinking about some possible ideas! For anyone who is worried if they'll look silly…..we all look old and silly that day! Its super cute and you can count on teachers being dressed up as well!
100 coin collection – See the picture below of the sheet that went home this week from the school. It tells about the act of generosity we are using school-wide to help others in celebration of the 100th day!
Perseverance Sheet
Last week, the volunteer calendar went home with students. Attached was an additional/optional sheet for students to partake in trying. The purpose of the sheet is for students to understand and put these traits into practice. Perseverance can be challenging as it requires you to get comfortable with failing and trying again and again. If you choose to return the sheet, we'd love to share these with the class!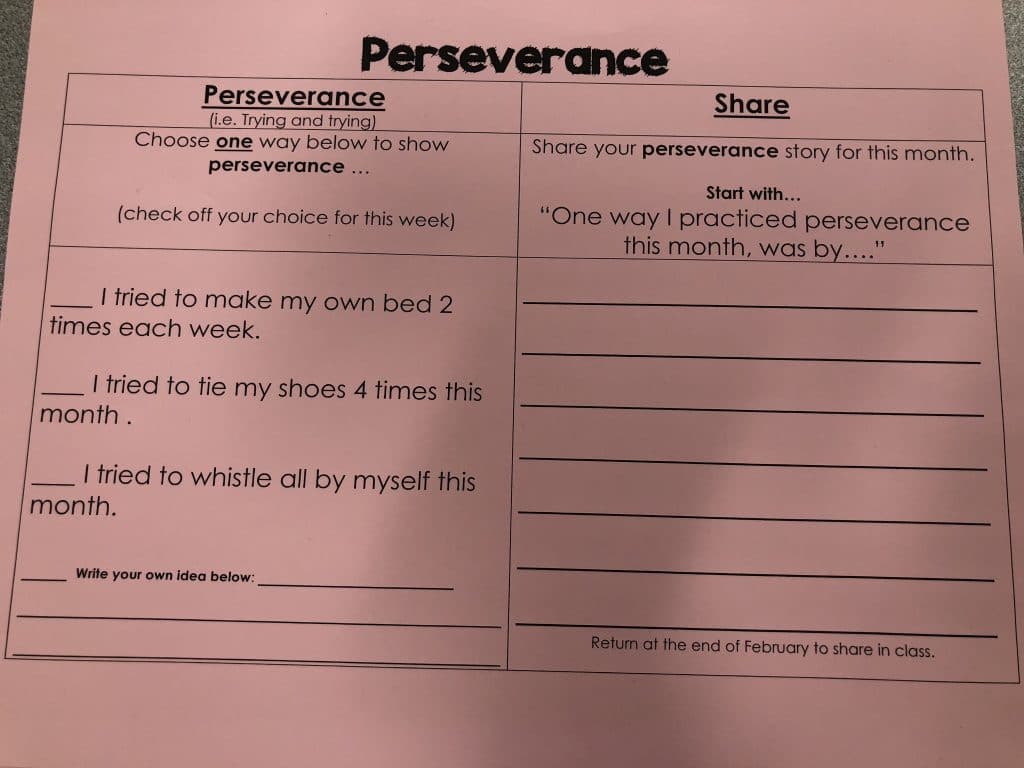 Valentine's in 206
Valentine's Day is coming up soon! I know there are always a few families to like to get an early start on their Valentine's so I like to send this out to give out an important message regarding this fun holiday of giving!
There is NO CANDY or FOOD allowed in any of the valentines. This is policy is designed to keep all kids safe. There are many other non-food options. Check out Pinterest or there are even a few non-food ideas sold with Valentine kits in stores.
Please make sure when you are filling out your valentines DO NOT label who the valentine is for. Only label the "From: " Though it may not seem as personal it is extremely helpful to each little mail deliverer as they fill their friends bag with notes/goodies.
There are 21 kids in our class so you aware of how many to make/purchase.
Writing How-to's
We are finishing up our How-To Informational Writing Unit this week! The kids have loved it! They have learned to write/teach a skill in steps with pictures to match! I'm so impressed with their effort and interest in this unit! Books will go home in the future for families to see!
Stemfuse Class
This week we had the pleasure of having Ms. Stephanie come into our class to teach a STEM lesson with our class. She used prepositions as one of her contents and had the kids work in collaborative partners to learn about prepositions in a fun way as they hid treasures around the room and drew a treasure map!
Parachute Play
This week our kids filled their marble jar! This means they earned a "Marble Party." This is a collaborative effort in which the kids earn marbles for working together as a class. We got to vote how they wanted to spend their Marble Party. Their was many choices and the Parachute won out! We had a blast playing with a group parachute for the morning!
Father Daughter Dance Registration
Don't forget to sign up for this awesome Daddy/Daughter Night!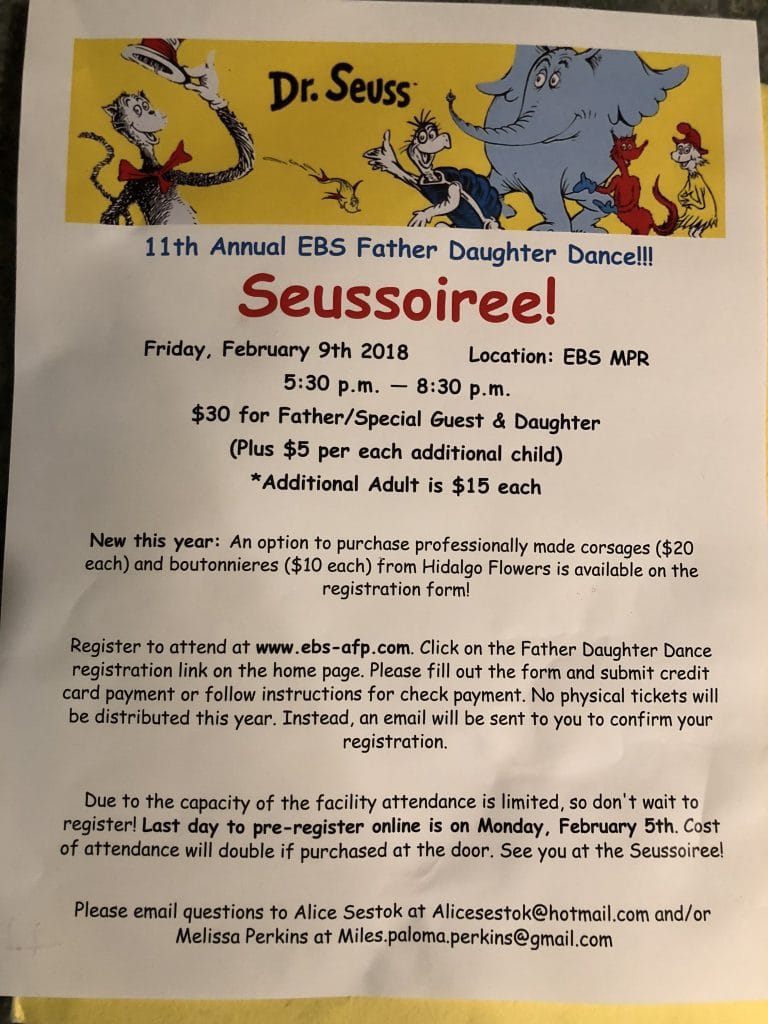 Upcoming Events
Friday, Feb. 9th – Father Daughter Dance
Friday, Feb. 9th – 100th Day of School (Dress like you're 100, Return aprons, and bring 100 coins)
Thursday, Feb 8th – Return 100 year old writing (this will be sent home next week)
President's Holiday – NO SCHOOL – February 17th and 19th
The Week Ahead…
Monday – 1/29/18
Mrs. Leatherwood Teaches
Before School Run Club
Tuesday – 1/30/18
Before School Run Club
Computer Lab 11:15 am
Wednesday – 1/31/18
Library Day – 12:00 – 12:15 (every other week)
Before School Run Club
Mrs. Leatherwood teaches – Mrs. Miller at all day meeting
Thursday – 2/1/18
Before School Run Club

Whole School Dismisses at 12:30

Music @ 10:15 am
Friday – 2/2/18
Mrs. Black will be teaching with Mrs. Granucci (substitute) helping
Before School Run Club

EBS Spirit Days: Wear Red & Black or any EBS shirt!