In This Week's Post: Math, Writing, Art, Assessments, Parent Teacher Conferences, Generosity Food Drive, Grandparents Day, Reminders, Upcoming Events, The Week Ahead
Math
ST Math on Tablets – This week as you may have seen from Mrs. Leatherwood's post, the students were able to get on Tablets this week to work on ST Math. This is a great program we use at school only. This allows us to track each student and their independent progress. We will try to get on these 2-3 times a week.
Tile Math – We are continuing to spend time on Tile Math. The students will be doing Tile Math and ST Math (on tablets) in 2 groups. Half will use one program while the other half of the class uses the other program. Half way through the students will switch so they get time to do both. This is a new process for us all so it will take a little time to get the kinks ironed out, but so far the kids are doing great!
Showing Understanding vs Difficulty of the problem – During our Problem of the Day (POD) time, students are working with numbers 0 -5 to practice how to show their understanding and thinking to solve. In addition they are learning how to show the problem in a number bond (see photo of teacher sample) and write the equation and solution. As students become more proficient at showing their thinking they can solve the same problem with larger numbers. For now the focus is on the explanation and thinking so they can discuss and defend their solving. This is a great foundation for what is to come in future years with more complex problems that still require the showing their thinking and understanding in more than one way!
Writing
We are so impressed with the students growth in writing in just 40 days! Its so amazing! Some of the main skill we are working on in writing include:
Counting out the words in their sentence before writing it down (on their fingers)
Including finger spaces between words
Starting each sentence with a capital letter (this will take some time to work on as casing usually involves habit breaking and setting).
Matching our words to our picture (this is very important and something that many are still inconsistent on)
Drawing a detailed picture that may include labels
Stretching (saying the word slowly by individual sounds to help write down what we hear) and matching the letter to the sound we hear our mouth stretch.
We will be preparing a collection of all your student's writing since the start of the year with date stamps so you can see their writing progress by date!
Art
Here is this week's art made with Mrs. Leatherwood. So cute!!! These have a very cute and classic poem attached!
Assessments
Over these next two weeks we will be doing assessments with each student to see where they are currently at in math, reading, writing an other literacy elements. These assessments will be explained at Parent Teacher Conferences. This helps us to track student progress, reflect on individual next steps, and plan for next steps in our lessons.
Parent Teacher Conferences
November is the month where every family is given a time slot to meet with their teacher to go over their child's progress. An email will be going out this afternoon to sign up for a conference time/date for the week before Thanksgiving break. Be aware that the sign up email will go to both parents, so please coordinate when choosing one slot. Each slot will be 30 minutes. During the conference, we will go over literacy and math progress levels and evidence within this time. The conference will be full of information. To be respectful of everyone's time we will run as close to the schedule as possible. Keep your eyes out for the email in the next couple of hours.
Generosity Food Drive
This month our school has been learning all about generosity and what it means to give freely! As a school we practice this trait by working as a team to bring in dry foods for the Food Drive. This year families are offered another way to give to the Food Drive…families can donate on line!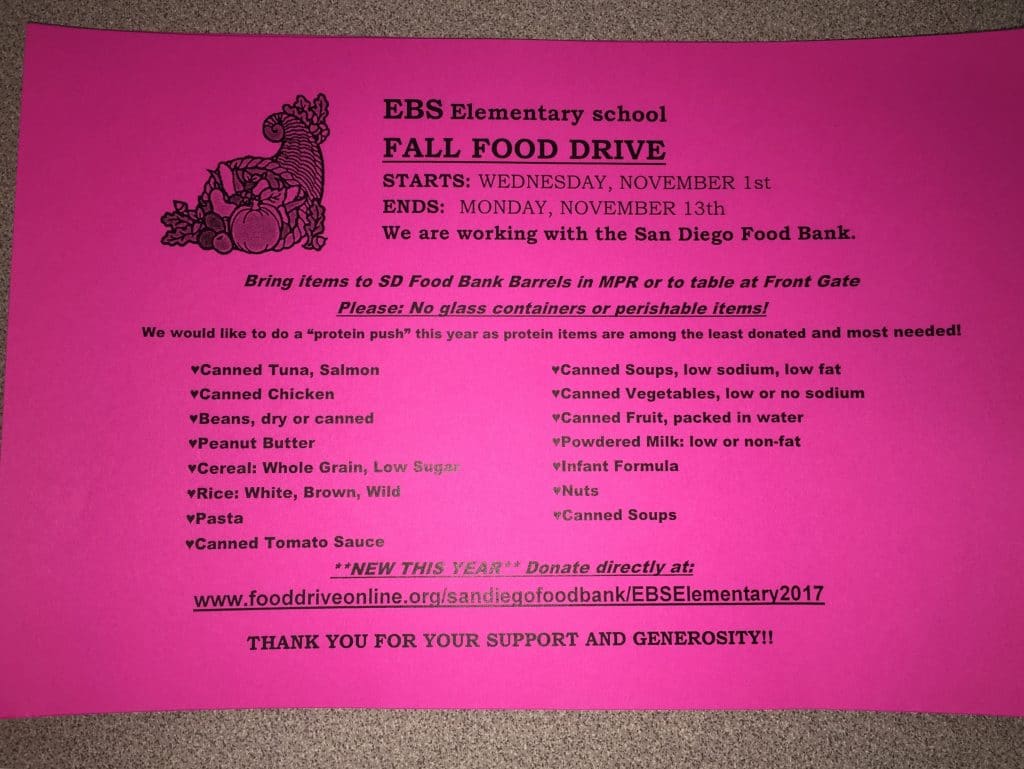 Grandparents Day
At EBS we LOVE grandparents so we set aside a special day to celebrate them! Our class will be having its own celebration to honor our grandparents in our class beginning at 9 am in our 206 Classroom! Please invite any grandparents who are able to visit and receive some special love! This is the one day that non-cleared family members are welcome on campus so that all grandparents may attend! (Our class celebration will last from about 9:00 – 9:45 and then grandparents will be given the option to personally take their grandchild to the book fair for a visit together and then return their grandchild to class).
Scholastic Book Order
Just a reminder that November's Scholastic Book Order went out Friday and is due back next Thursday.

Guest Reader
This past week Mrs. Krissy from the office offered to come and read a very engaging story to our class! The kids loved it and had many questions!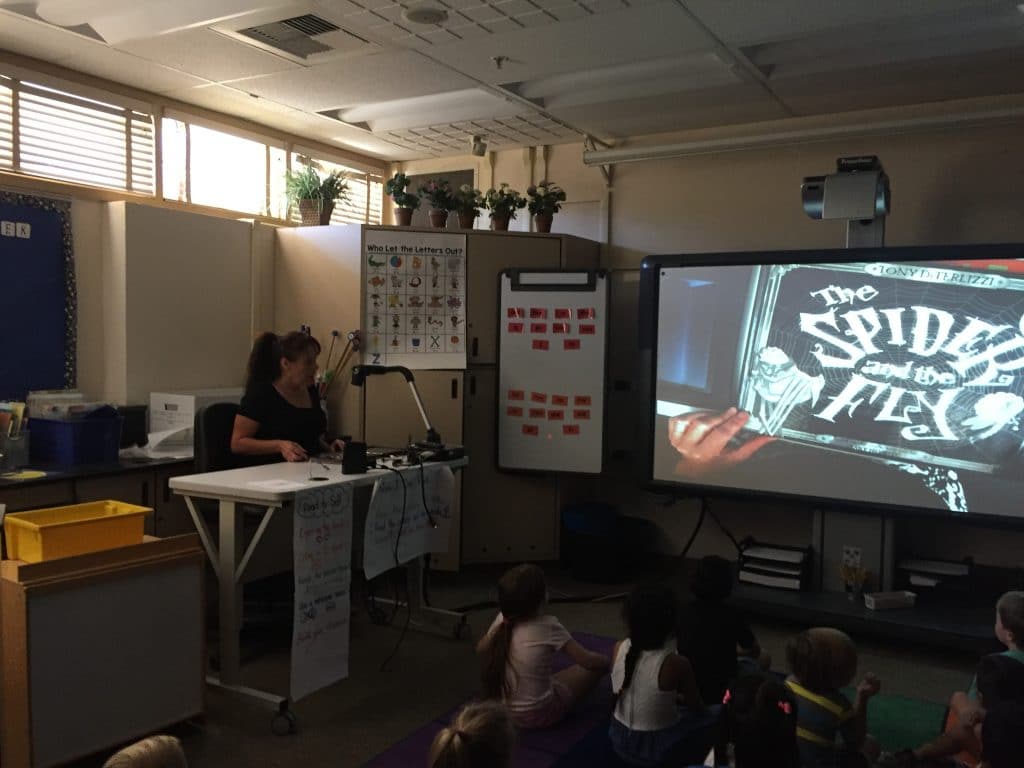 Color Week! BROWN Day!
Reminders
No costumes on Halloween Day at EBS. Save them for later that day for a fun filled evening in your neighborhood!
If you'd like a Personalized Volunteer Badge, please come on Make-Up Picture Day and get your photo taken! (November 6th)
Upcoming Events
October 31st – 206 Halloween Party – 11: 20 – 12:20 pm
November 6th – Make Up Picture Day, Volunteer Picture Day
November 7th – Monthly AFP Meeting @ 6:30 pm, MPR
November 10th – Veteran's Day, NO SCHOOL
November 8th – 17th – Book Fair
November 13th – 17th – All School Minimum Days for Parent Teacher Conferences
November 17th – Grandpersons Day @ EBS
Thanksgiving Break – 11/20 – 11/24
The Week Ahead…
Monday – 10/30/17
Mrs. Leatherwood Teaches
Before School Run Club
Tuesday – 10/31/17
Before School Run Club
Class Halloween Party – 11:00 – 12:20 (this includes set up)
Wednesday – 11/1/17
Thursday – 11/2/17
Before School Run Club

Whole School Dismisses at 12:30

Computer Lab @ 11:00 am

Music @ 9:00 am
Friday – 11/3/17
Before School Run Club

EBS Spirit Days: Wear Red & Black or any EBS shirt!