In This Week's Post: Halloween Party,  Conferences, Birthdays, Art, Volunteer Pictures/Make-Up Picture Day, Grandparent's Day at EBS, Book Fair, Upcoming Events, The Week Ahead
Halloween Party
This week we celebrated Halloween in 206! Many parents came and helped the students. They created masks, played Halloween BINGO and then enjoyed popsicles to celebrate all the October Birthdays along with Halloween! Thank you for all the volunteer help and for our 2 Room Parents who planned this day for us!
Conferences
If you haven't signed up for a Parent Teacher Conference yet, please check your email for the link and sign up for a spot. The Sign-Up Email went out last weekend. We are looking forward to meeting with each parent to review your child's progress and share how they've been doing in school this fall! Thank You!

Birthdays
November is our last big month of birthdays until next spring. If you have a November Birthday, please email Mrs. Leatherwood and Mrs. Miller prior to your child's big day to let us know if you plan to drop by at the end of the day to bring goody bags (with non-edible treats). If your child's birthday is during the break, please let us know if you would still like to celebrate it so we can determine which day.
Art
This week, Mrs. Leatherwood made spiral ghosts with the students. She hung them up on Halloween for the party so we could make the festive for the occasion!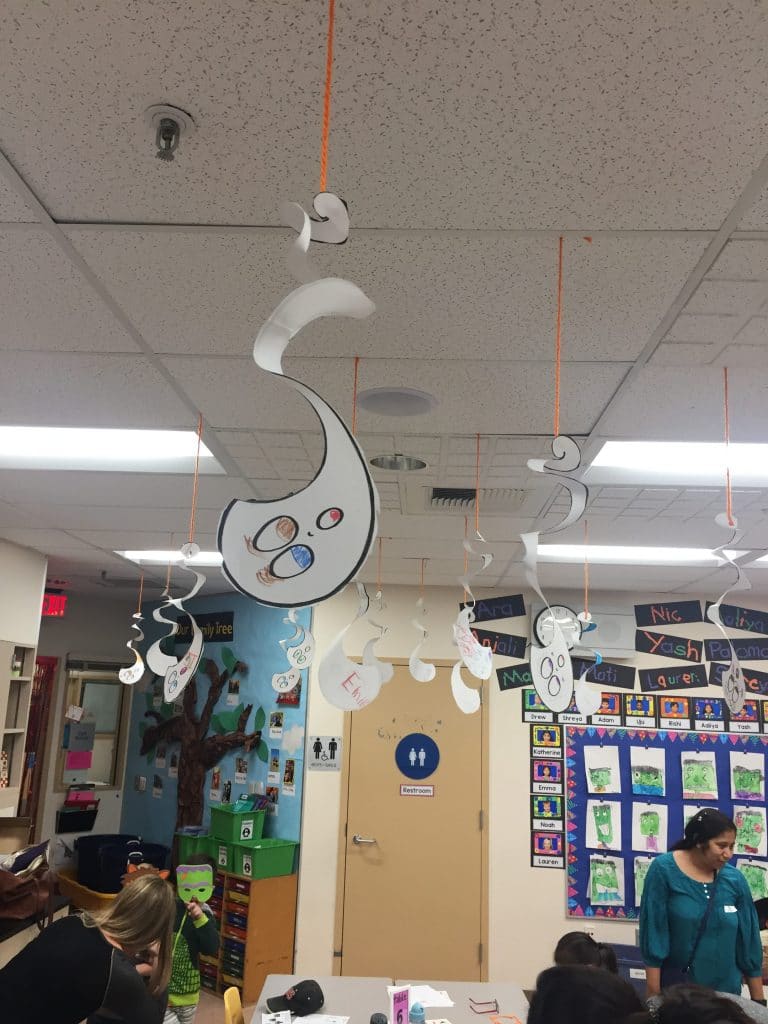 Volunteer Pictures/Make-Up Picture Day
Next week our photographers come back. If you are a classroom/EBS Volunteer and would like to have a custom volunteer badge wit you photo to use when you come each time, come to the MPR at any time on Make-Up Picture day for your photo to be taken.
Grandparents Day at EBS
Friday, November 17th is Grandparent's Day at EBS. Make sure you share the word Grandparents who are able to visit! This will be in Room 206 from 9:00 – 9:45. All grandparents are welcome!

Book Fair
The annual EBS Scholastic Book Fair is coming up next month. This event runs from 11/8 – 11/17. Our class will be able to attend as a class to preview the book fair on Tuesday, November 14th, from 9:00 – 9:30. Students who bring money are welcome to choose a book that day. In addition all students will be given a paper to make a wish list of books they want. We would love any volunteers who can stay after school starts that day to help us in this process. Families are also welcome to attend any day the book fair is open (before or after school).
The book fair has three different events to help promote and celebrate the book fair!
Parents Cafe – The first day the BF opens, parents are welcome to preview/purchase without their students as this begins right after school starts.
Family Night – This is an evening event where students can dress up, participate in contests and other activities!
Grandpersons Day at EBS (open at 10 am) – On Friday, November 17, the last day of the book fair, there is a special opening so grandparents are able to bring their grandchild to do some shopping together!
This is a fun event that our school looks forward to each year!
Orange Week
Upcoming Events
November 6th – Make Up Picture Day, Volunteer Picture Day
November 7th – Monthly AFP Meeting @ 6:30 pm, MPR
November 10th – Veteran's Day, NO SCHOOL
November 8th – 17th – Book Fair
November 13th – 17th – All School Minimum Days for Parent Teacher Conferences
November 17th – Grandpersons Day @ EBS
Thanksgiving Break – 11/20 – 11/24
The Week Ahead…
Monday – 11/6/17
Mrs. Leatherwood Teaches
Before School Run Club
Tuesday – 11/7/17
Before School Run Club
TK/K PLC All Day Meeting (Mrs. Leatherwood will be teaching)
Fine Artists – Lesson Begins at 11:15 am
Wednesday – 11/8/17
Library Day – 12:00 – 12:15 (every other week)
Before School Run Club
Book Fair Opens!
Thursday – 11/9/17
Before School Run Club

Whole School Dismisses at 12:30

Computer Lab @ 11:00 am

Music @ 9:00 am
Friday – 11/10/17
NO SCHOOL – Veteran's Day Holiday!