In This Week's Post:  Box Tops, Buddy Bench, Letter Aa, Color of the Week, Math, Writing, Shared Reading, Art, Scholastic Book Orders, Reminders, Upcoming Events, The Week Ahead
Box Tops
Our school is having their first Box Top Collection of the year! From October 3rd – 15th. This helps bring money to our school to help fund all that we have! Feel free to collect from all your neighbors and family. The class with the most will get a popsicle party.
A special thanks for our parent volunteers who are our class representatives. Thank you Dunja La Rosa and Sura Pittenger who will be collecting, counting and turning in our class Box Tops.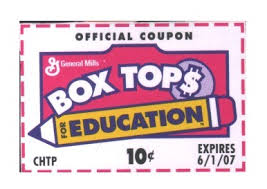 Cleared?
A new updated list went out this week. Another updated copy will come out soon! Nurse Dee is working like a mad woman to make this all happen (thank you Nurse Dee)! If you are able and willing to get D Cleared (meaning you need to go to our District Office to get fingerprinted and fill out the D Clearance Form), please make sure you are at a B Clearance level before doing so. If you are on the most recent clearance list, you can stop by Nurse Dee to pick up Clearance D form. Thank you in advance for jumping through hoops to volunteer and understanding it is to keep everyone safe!
Apologies for not sending out a paper copy of the calendar this last week. There were changes made each day as many people's schedules either changed or we had more parents that were adding into the volunteer schedule (hooray!). Thank you for your patience.
See the updated calendar below. (this is subject to change)
Buddy Bench
Two young groups from a local Girl Scout Troop had a great idea to make a Buddy Bench for our Kindergarten/TK playground. They painted it colorfully and delivered it to be used during recess. The also created a booklet to go along with the bench to explain that when someone is looking for a friend to play with they can sit on the buddy bench. This lets others know who is wanting to play with a friend. The kids have enjoyed the bench and sometimes even choose to sit on the bench together.
Its very typical for kids at the beginning of the year to feel overwhelmed or shy about the unstructured time at recess. Some simply observe until they are ready to jump in and take part and others might try playing with many different friends and activities to see where they enjoy spending their choice time on the playground. This has been a great tool to help the students feel more comfortable with requesting a friend to play with them.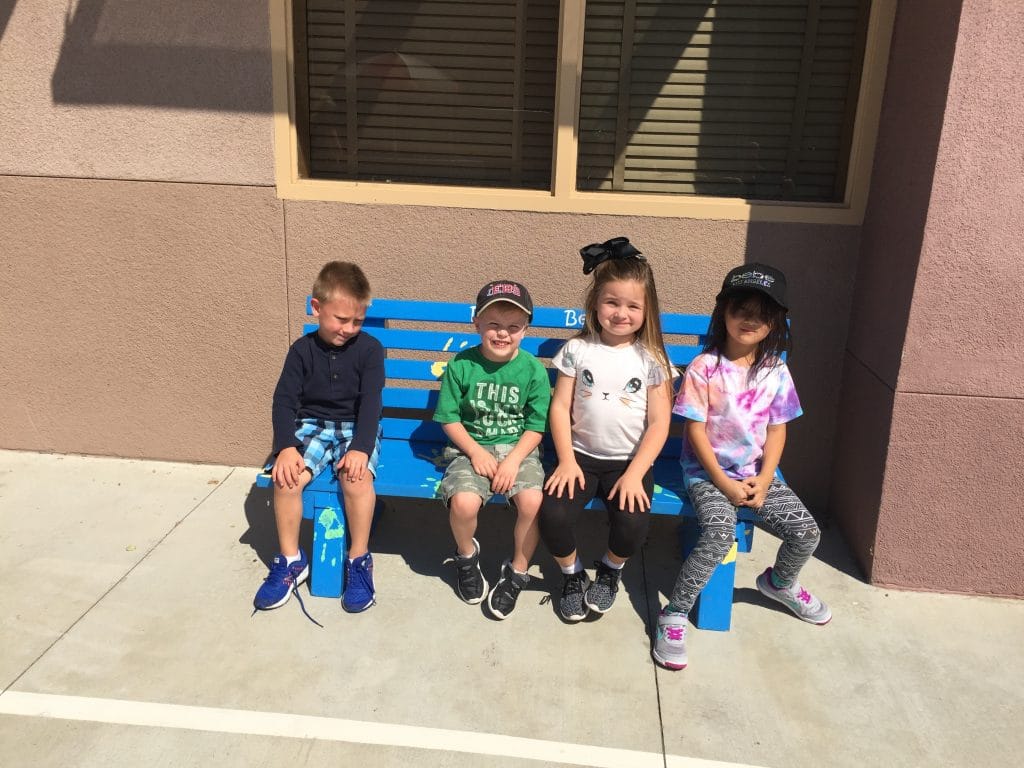 Letter Mm
This week we studied the letter and sound of Mm. We practiced writing this letter, saying this letter, saying its sound, coming up words that start with this letter and reading words and our book that includes Mm words.
Color of the Week –
YELLOW
This week's color was yellow! Check out our yellow picture! Silly and NOT Silly! Next week's color is GREEN. (This week the sun changed placed and popped out big so our silly picture came out a little better this week…who can resist a silly pose!
Math
This week in Math we continued our practice of numbers 0 – 5. We also started Problem of the Day. One day we did this activity together, where I posed a story and described the question/problem that went with the story. We discussed how we:
think about what it looks like
draw a picture of our thinking
add labels and/or circles to group items
count our picture
and write a number sentence
This will all take a lot of time and learning which we will be doing this whole year. In addition we plan to spend a lot of time on the partnership work. This will mostly include the discussion; how to share your thinking, how to listen to your partners thinking and how to ask questions to your partner if you don't understand or can't hear them. This will be a big challenge but definitely one that each child will improve on and continue on next year as well.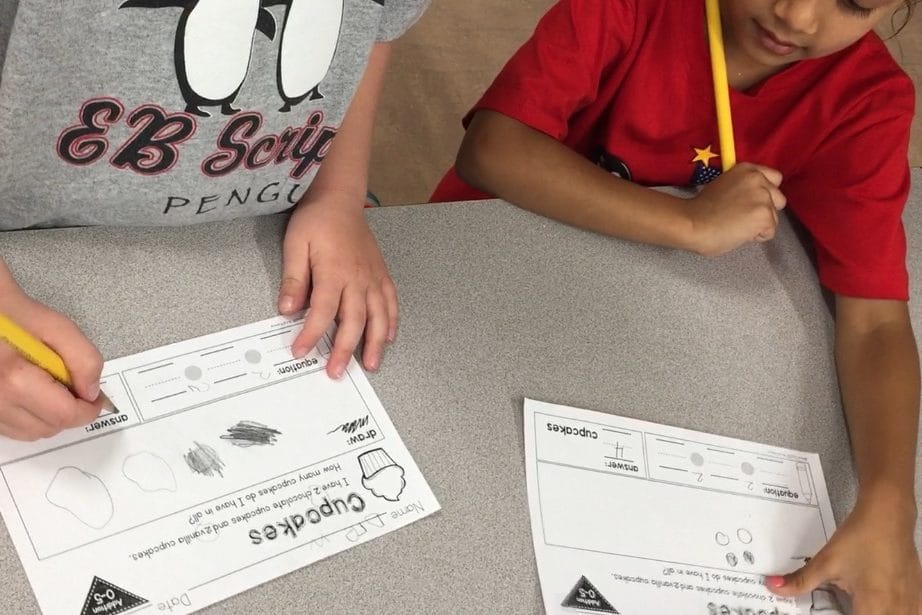 Writing
Writing Craft

: This week we practiced how to add on a new page to our story when we have more to say about a topic. This took some time to build on the concept. The students enjoyed this and are starting to understand and love!

Interactive Writing

: At the end of this week, we finally introduced our Interactive Writing Bags. Each bag has 4 items in it: a whiteboard, a dry erase marker, a felt strip (eraser) and a card with their first and last name on it. We discussed how to take care of the bags and to be careful to not mark other items with our marker. The students were able to try writing on the boards to explore and try writing their first and last name in proper casing using the card as support. We will continue to use these each week as we practice learning how to write.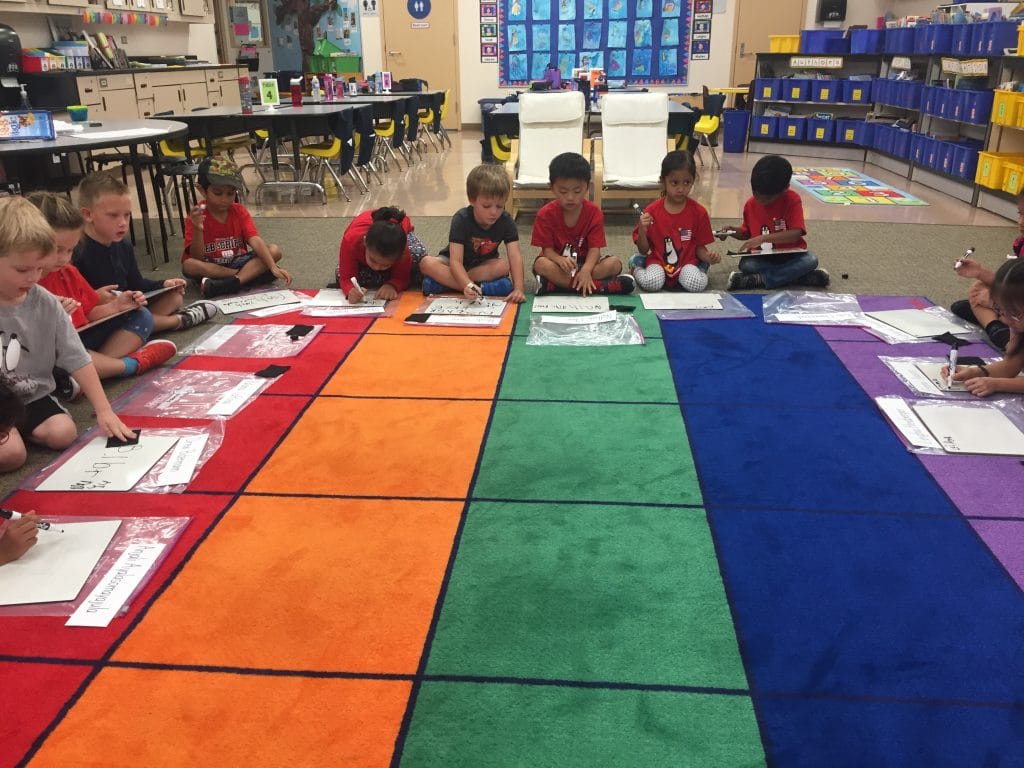 Art
This week Mrs. Leatherwood read The Very Hungry Caterpillar by Eric Carle. This was our monthly window art project, given by Nikita Malavia. After the students created their own caterpillar. You likely saw these by the backpack area. We have wiggled our way through a whole month of TK and we've grown so much!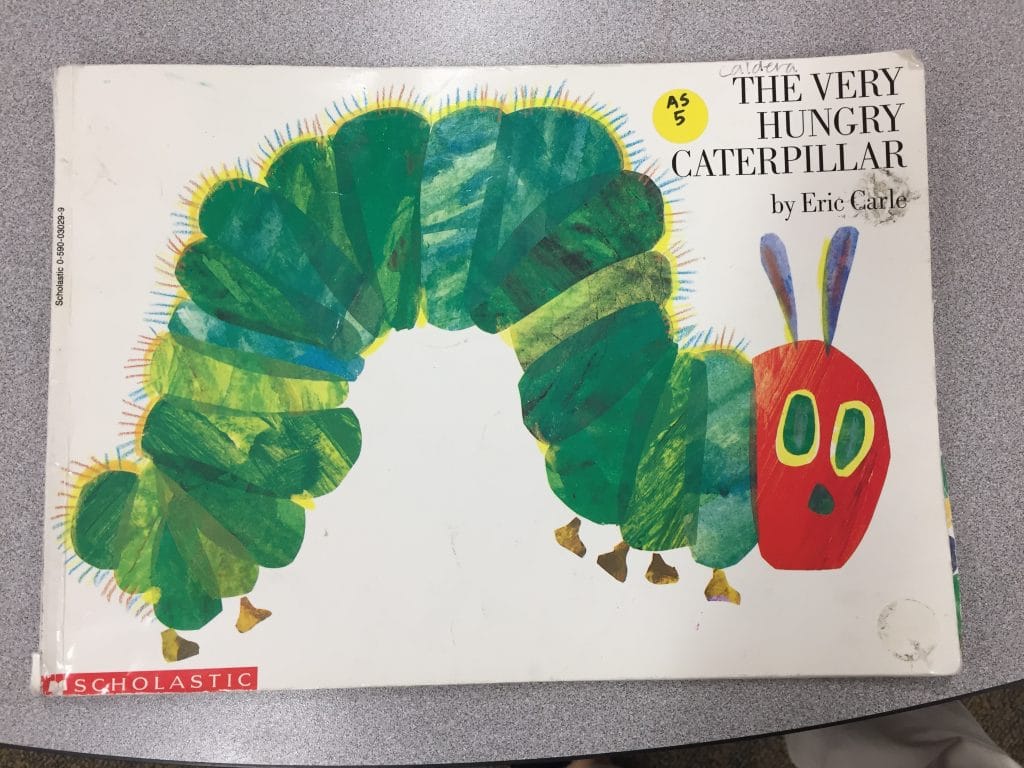 Scholastic Book Order
October Book Orders went home this past Friday. Take time to select any books you wish to purchase. I can hold any book separate to give if you ever wish to keep some as a surprise for your child for any holidays or birthdays. Please complete all book orders by Thursday, October 5th.

Reminders
You can send back library books any time before Wed. Oct. 11th
Return Book Borrow Bags every Wednesday to get new books.
Volunteers start this week for all who are cleared. More are being processed each day!

Upcoming Events
October 3rd – Monthly AFP Meeting @ 6:30 pm, MPR
October 3rd – Picture Day TK – 2nd Grade
October 3rd – TK/K PLC All Day Meeting
The Week Ahead…
Monday – 10/2/17
Tuesday – 10/3/17
Mrs. Leatherwood Teaches (Mrs. Miller in PLC meeting)
PLC All Day Meeting TK/K – Mrs Leatherwood Teaches
Picture Day – 8:45ish am Feel free to stay if you are able to help.
First Fine Artists Lesson – 11:15 am (10:30 arrival for any parents helping)
Monthly AFP Meeting @ 6:30 pm in the MPR
Wednesday – 10/4/17
Return Book Bags for new books
Thursday – 10/5/17
Whole School Dismisses at 12:30

Computer Lab @ 11:00 am

Music @ 9:00 am
Friday – 10/6/17
EBS Spirit Days: Wear Red & Black or any EBS shirt!

Scholastic Book Orders Due (these went home last Friday, Code: G6LT6)