In This Week's Post: Super Pledge,Character Education – Generosity, Mrs. Miller Goes to Houston, Letter Cc, Color of the Week, Math, Writing, Shared Reading, Art, Spirit Wear, Reminders, Upcoming Events, The Week Ahead
Super Pledge
WOW!!! We almost to 100% of our envelopes being returned! Great team work! We only need 3 envelopes left! Thank you for all you've contributed to our school! If you need a new envelope there are blank ones at the office.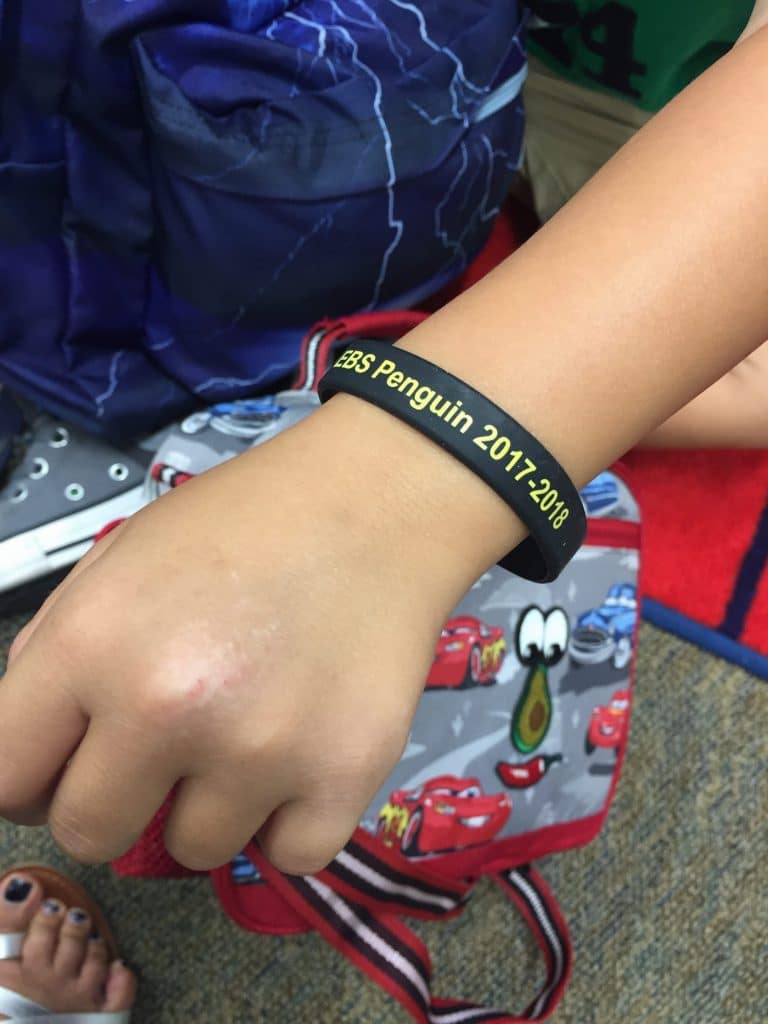 Character Education – Generosity
This month our school is focusing on the character trait of Generosity! This is a special trait to me as we focus on the giving to others. We will practice many ways of being generous this year in a variety of ways.
Meaghan Gallagher came in this week to teach us about Generosity! She gave a brief explanation and description to the students. Then she gave each student a item that would soon be a part of telling the story of Stone Soup. As she read the story the students were able to contribute their item as it was told in the story. For example, when she told that the people contributed onions to the soup, the student who had the plastic onion, would come and bring it to the put in the pot.
This was not only a great illustration of the story, but helped the students to understand how being generous (vs. being selfish) helped to make something very needed for a community who has previously stayed isolated from each other. It also gave great happiness to villagers who were missing joy from their lives.
She closed up the lesson by asking the students to think about ways they could generous with others at school and home.
Mrs. Miller Goes to Houston
Next week, Mrs. Leatherwood will be teaching on Friday, October 13, 2017 as I will be in Houston. An opportunity came my way that allowed me to go to the Corpus Christie area to help with the relief efforts that were devastated by the recent hurricanes. Our wonderful Mrs. Leatherwood will be there in my place. Please give warm thoughts for all those who are still piecing their lives back together from the natural disasters that hit and affected so many people.
Letter Aa
This week we worked on the letter Aa and the sound Aa. We practiced writing it with correct formation ("Make a 'c', up and down …with no lifting of the pencil). The letter Aa can make multiple sounds so that can be tricky. We mostly tried to focus on the Alligator /a/ sound and the Angel /a/ sound.
Color of the Week –
GREEN
Math
This week in math we mostly focused on our Problem of the Day book. We are using this time to simultaneously work on "Active Partnerships." We are slowly learning what this means. For now we have learned we sit Elbow to Elbow/Knee to Knee.
Speaking mathematically we are working to show our thinking in picture or number bond and writing the equation. For now, we are using the words "and"/"is" to share the number sentence.
Friday a sample of this went home. That was the first one we had ever done, so students didn't have much understanding or practice with these at that point. We have now done 3 of these and we've seen so much improvement already!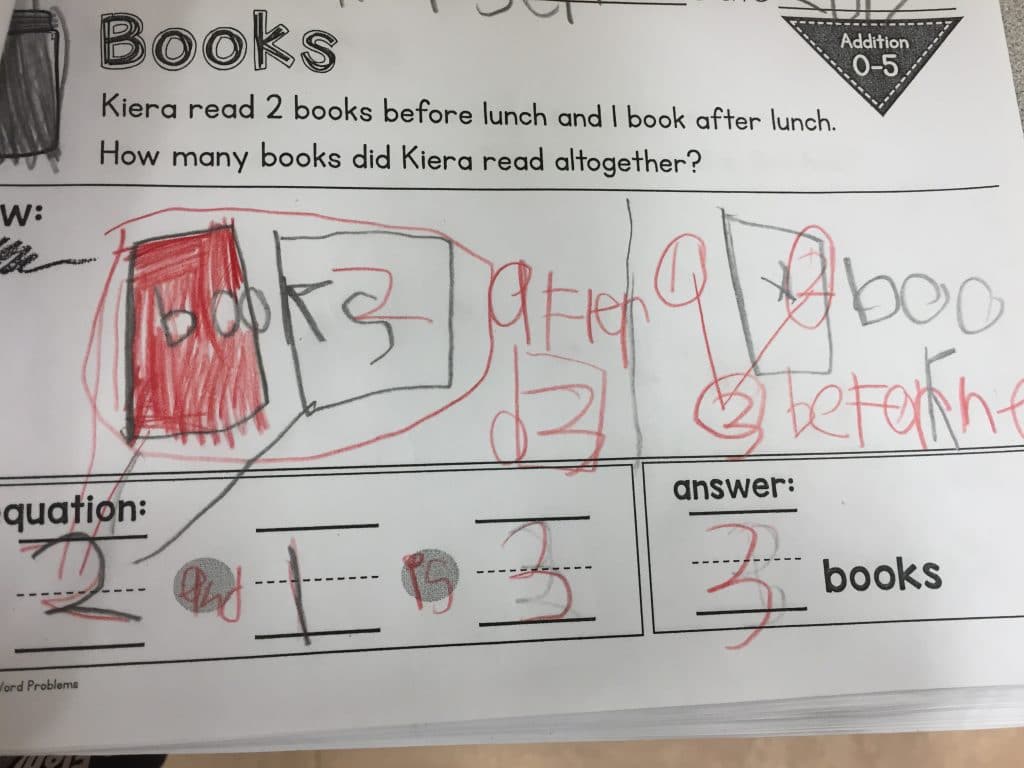 Writing
Interactive Writing Time: We used our write board again this week! We are getting better with each use. They are working on writing their full name with correct casing. We then wrote a title for our caterpillars by the backpack hooks. Friends came up to help to help us model writing the words (including stretching the sounds and letter formation).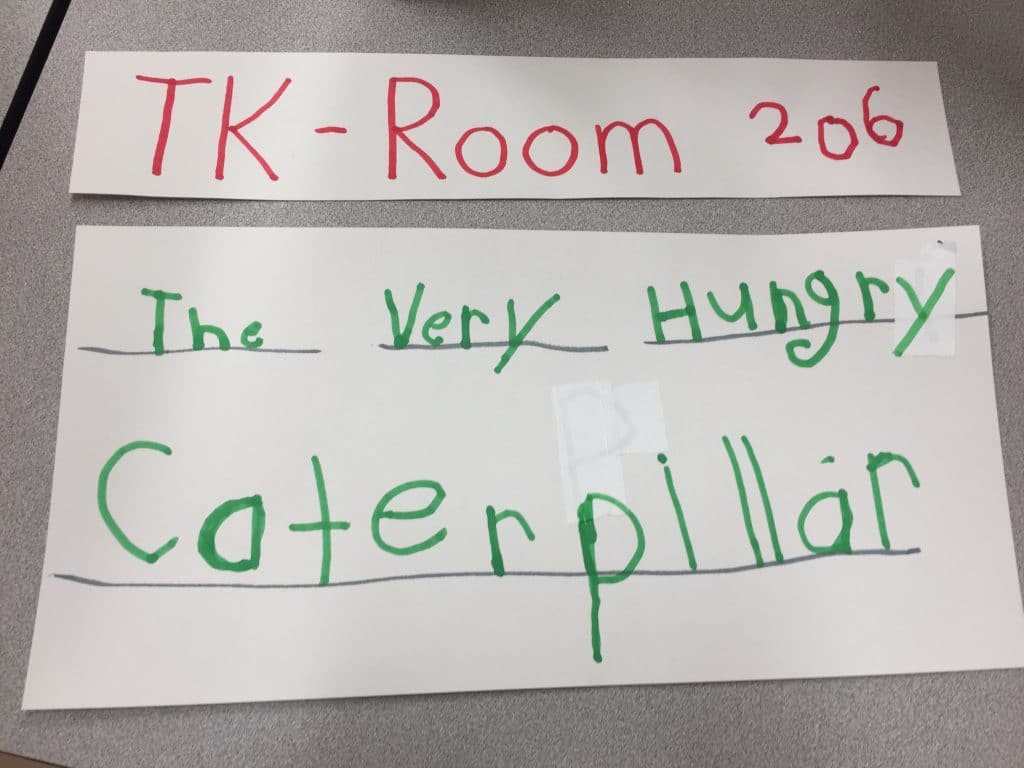 Art
Fine Artists – Our first Fine Artists lesson happened this week! Students came to Art Room and learned about a new artist and were able to try on the lesson themselves.
The class also made some Fall Art with Mrs. Leatherwood this week!
Technology Academy
This week in Technology Academy your student tried out a new program that played with beginner coding. Students were able to attempt building their own code with arrows. This is a website the students will soon be able to try on at home!
Spirit Wear!
Need some EBS Spirit Wear for Fridays…check out the order form that went home last week!
Reminders
Turn in Library Books by Tuesday, October 11th in order to check out a book on Wednesday.
Turn in Book Borrow Bags every Wednesday to get new books.
Some Federal Survey Cards may be returned to correctly fill out per Mrs. Sloan's directions as the some of it put out by the state was new this year and unclear. Thank you for your patience and understanding.
Upcoming Events
October 18th – Mrs. Ellen (Browning Scripps) Assembly
October 19th – The Great Shake Out (Disaster Drill)
October 20th – EBS Fall Festival
October 31st – 206 Halloween Party (more details to come)
The Week Ahead…
Monday – 10/9/17
Mrs. Leatherwood Teaches
Before School Run Club
Tuesday – 10/10/17
Hearing Test for all Kindergartners and TK Students
Before School Run Club
Wednesday – 10/11/17
Library Day – 12:00 – 12:15 (every other week)
Before School Run Club
Thursday – 10/12/17
Color Day – PURPLE

Whole School Dismisses at 12:30

Computer Lab @ 11:00 am

Music @ 9:00 am with Mr. Waczek 
Friday – 10/13/17
Mrs. Leatherwood Teaches/ Mrs. Miller – Houston

EBS Spirit Days: Wear Red & Black or any EBS shirt!