IN THIS POST:  Gift Cards Due 4/10/17, Spring Picture Day,  San Diego County Fair Visits EBS, Tile Math, Fire Drill, Stars of the Week, Sight Words, Upcoming Events, This Week
Gift Cards due 4/10/17
Blue Gift Card Orders went home right after we returned from spring break. This is a great way to buy grocery money you already plan on spending or for gifts for loved ones that you need to buy presents for. This in turn gives money back to our school. These are all due on Monday and will be delivered to me to pass out to you.
Spring Picture Day
Next week is spring picture day for the school. Unlike the fall, you will not have to pay for the picture ahead of time. This round of pics you will get the proofs and get to choose if you want to purchase and which proof you like best. There is a good chance we will be first thing in the morning on the schedule, so if you'd like to stick around to help that would be great! Feel free to dress in any attire that suits your spring picture style! Don't forget to practice your smile in the mirror!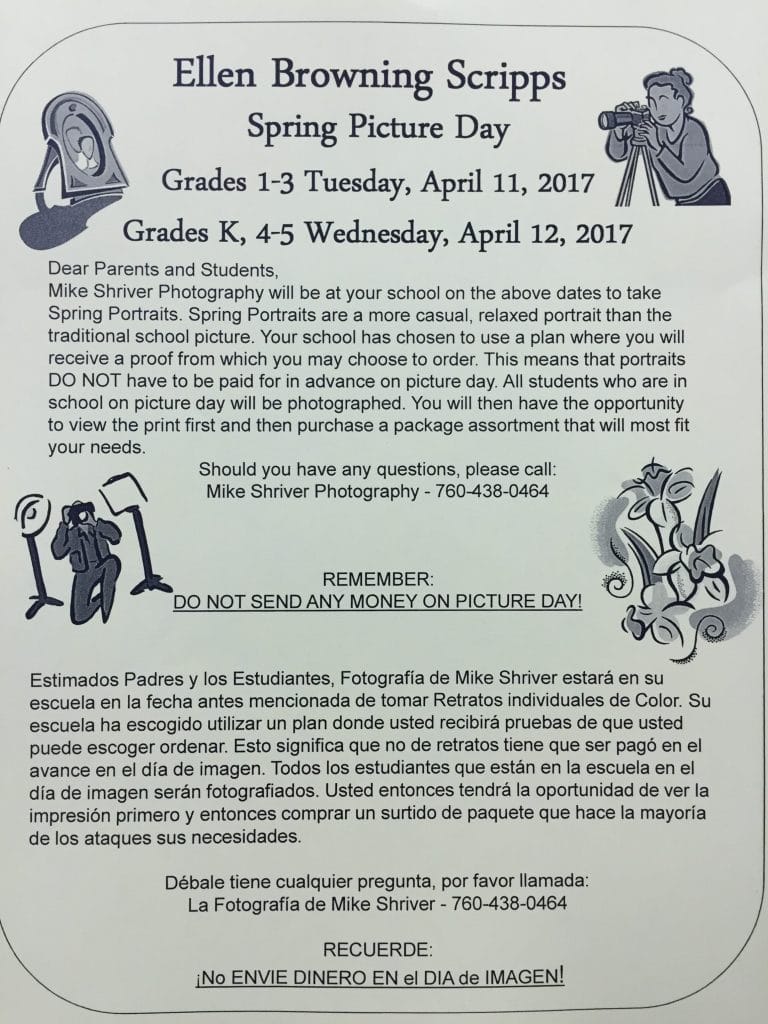 San Diego County Fair Visits EBS
Friday morning the SD County Fair came to our school to share the upcoming fair highlights and theme of the fair this year. Students each received a free fair ticket to attend this years event! Our family attends the fair every year as family tradition and has a blast tasting a few fun flavors, some silly rides and seeing the entertainment! Hope you all get to come on out for the fun!
Tile Math
This week we started Tile Math. This is a program currently being used in 1st grade and as a TK/Kindergarten team we decided to add it in our math curricula. This is self-paced program that students will use to build subitizing knowledge/practice, number concept, problem solving, and algebraic thinking. This week we started at a beginner level to mostly get the hang of the concept of how the program works. In short, students work to match numbers to dots and equations on some cards. Then they raise their hand to show they are finished with that card. At that point an adult will come to check the card and sign it off. Then the student colors in the number of the card they just completed, and then get a new card to start the process all over again. The students love it and are doing great.
Next week, we will change it up a bit where half of the class will work on Tile Math, while the other half goes through a math lesson, and then they will switch. Check out these pictures below to get a peek!
Fire Drill
I'm not sure how many of you were still around, but this week we had a fire drill at 8:45, just as school was starting. Ms. Sloan has us practice disaster, lock-down and fire drills each month at all different times of the day so they are unexpected and help us to know what we would do in different circumstances! It is such great preparedness practice and as you can see it has paid off. In September we had many kids, cry, get scared and even a couple were separated from the group momentarily as they are easily distracted seeing these drills as a new event. Now that they are so well-versed in these, they don't panic, and know exactly what to do! I'm so proud of them and their continued practice and perseverance and trust to know how important and helpful these are!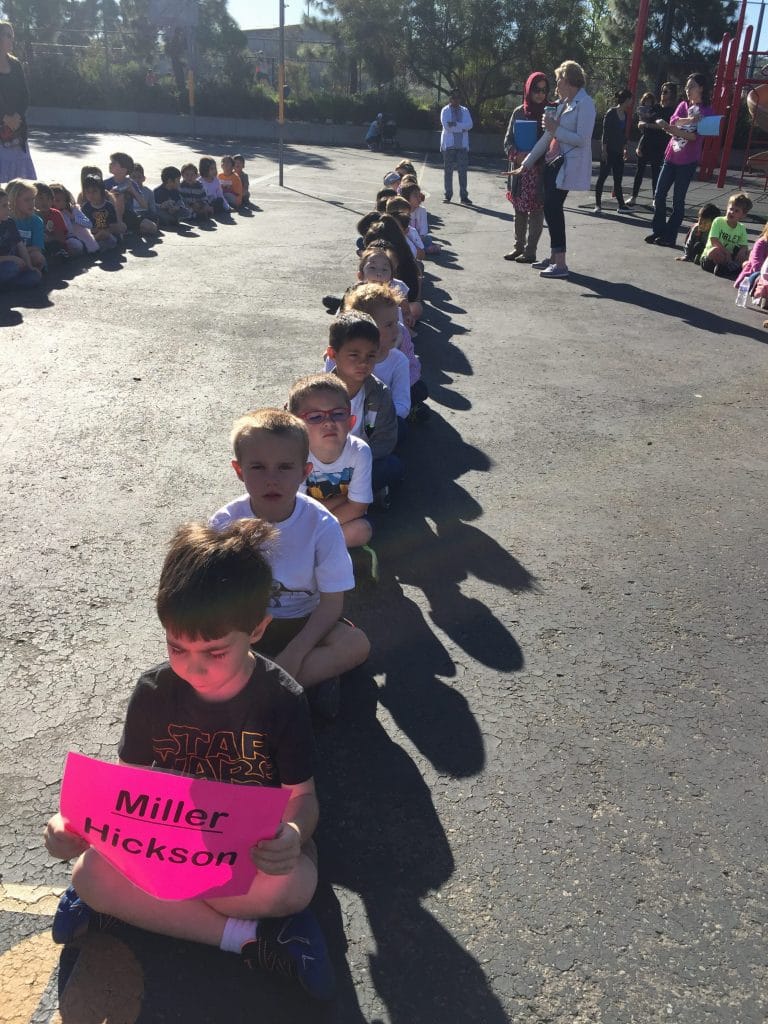 Stars of the Week
Sight Words
We have started to focus on specific sight words for reading and writing in class. If you are using the cards to play, My Pile, Your Pile (as discussed in Parent Teacher Conferences with the packet of sight words) these are words that your child should know or be familiar with. If you need a new packet of words, please let me know:
I, a, the, like, and, is, see, you, went, of, play, look, looking, and, can, in, she, this, my (new words are in red).
Upcoming Events
Spring Picture Day – Wednesday, April 12th
EBS Idol – April 28th…buy presale tickets… its a show you won't want to miss!
MONDAY – 4/10
Before School Run Club
Gift Cards Due
TUESDAY – 4/11
Before School Run Club
TK/K PLC Day – Mrs. R. will be here this day!
WEDNESDAY – 4/12
THURSDAY – 4/13
Whole School Dismisses at 12:30 (pick up at Room 206)
Mission to Save Table open at 8:00 am in front of the school
Character Education with Meredith Nady
FRIDAY – 4/14
Music with Mr. Waczek
Before School Run Club
Computer Lab @ 10:15 am
Fine Artists  – Last Class (to volunteer arrive at 11:00 in the FA room)