IN THIS POST:  Generosity Bag Update, Jog-A-Thon, Window Art, Fine Artists, ABC Mouse Update, Green Assembly, Character Education, Celebration of the Arts, Parent Teacher Conference Schedule, Sight Words, Upcoming Events, This Week.
Generosity Bag Update
This is so awesome! We have spread the word to other grades/classes and to some of my friends and the bags are starting to come in! Thank you so much! This is so exciting!
Generosity Count Update: 19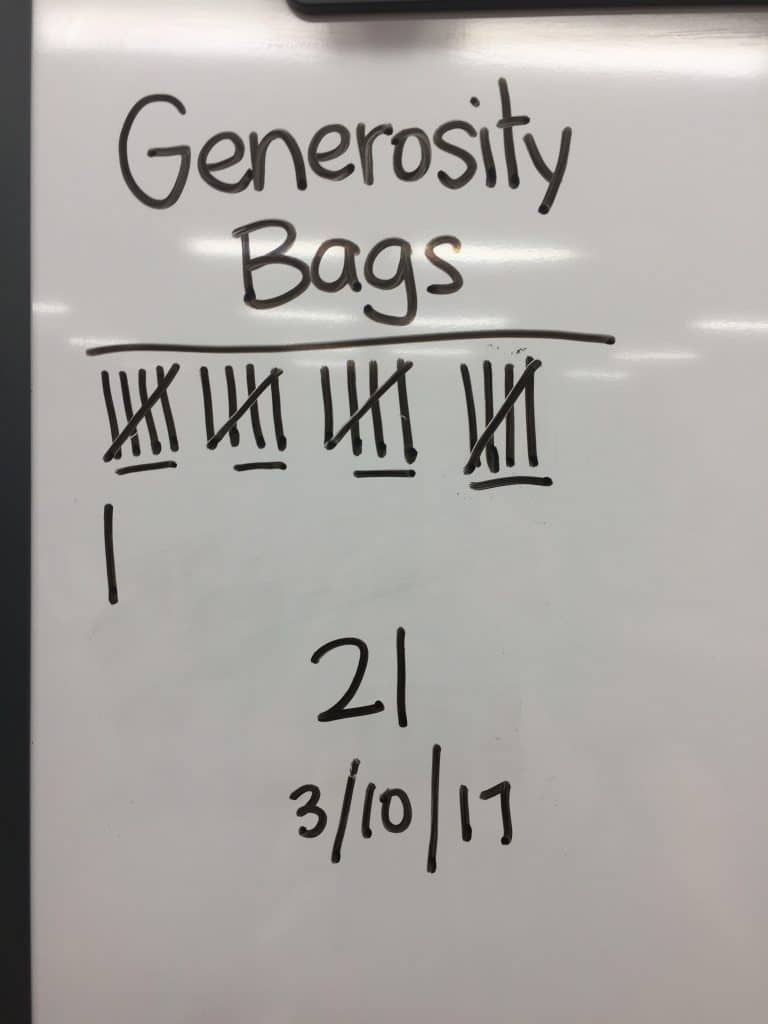 Jog-A-Thon
The Jog-A-Thon is next Friday! We are hoping many families can make it! Its such a fun day with a lot of positive energy! Wear your work out clothes and walk/run a few laps, help at the water/orange station, or spray those little runners at the Soak Zone!
A special thanks to our classroom Jog-A-Thon Rep….Saradha Nanu. She's been on top of it and has attended all the info meetings to help our class. She has created a sign up to help cover all the items we will need for that day! Here's a link to the Shutterfly Sign-Up:
https://ebsroom206.shutterfly.com/signup#signupSheetTab:tab=94
*An salmon-colored sheet went home on Thursday explaining some of the details of this annual event!
As for fundraising…we are in 2nd place and have 100% of our students are registered! You guys rock!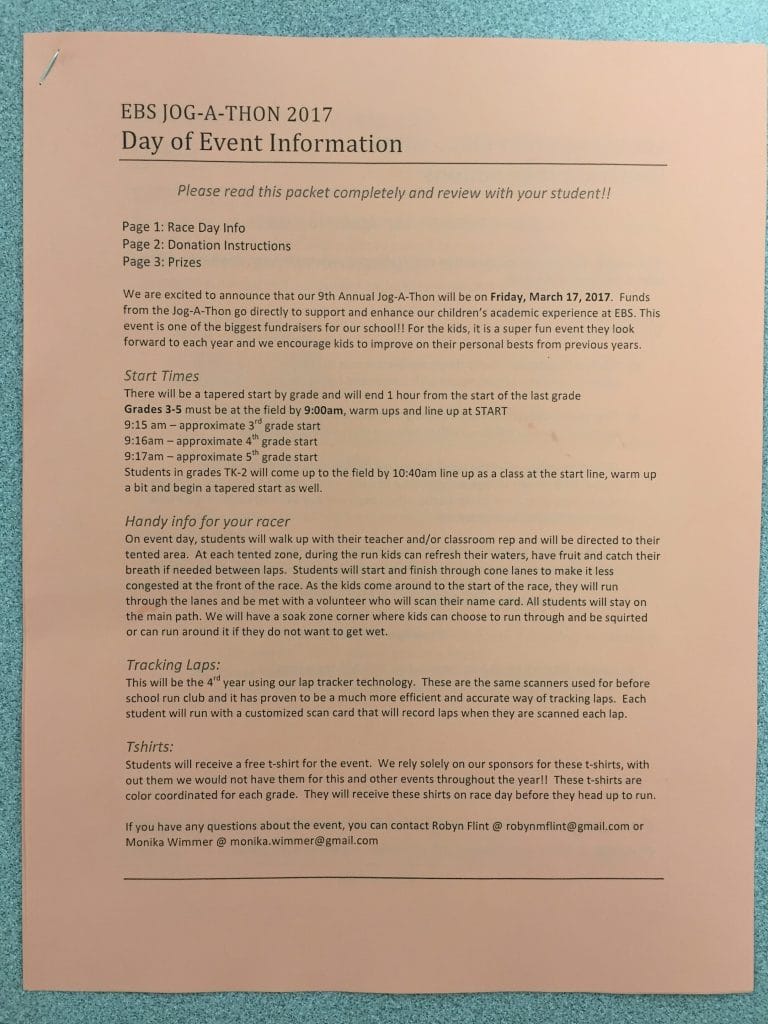 Window Art
This week Neda Afshar came in to do a March/Spring Window art with the students. Each month she comes in to make a fun craft that also decorates our backpack window! These were so cute and the students loved making them. They came up with a title for their art!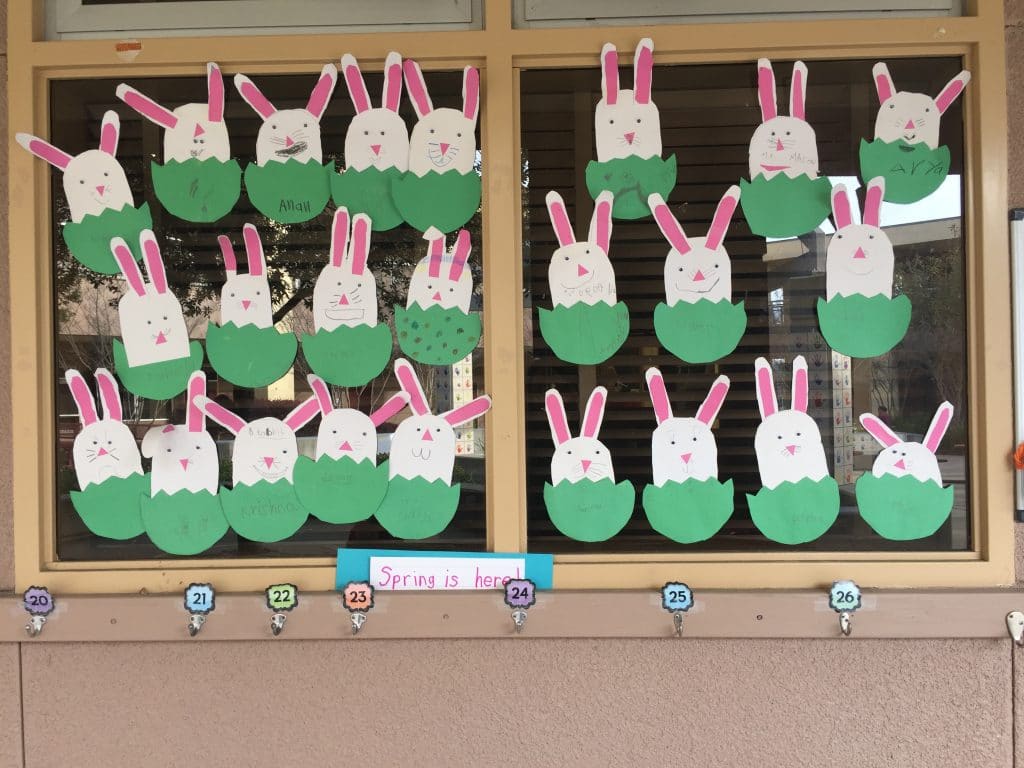 Fine Artists – Vincent Van Gogh
This week Kirsten Morton taught the class our 5th Fine Artist Lesson. This lesson inspired by the famous artist Vincent Van Gogh. The lesson focused on the knowledge and use of warm colors and cool colors. She had the students each take warm colors to create any type of sunset that they want (on the upper half of the page) and then use only their cool colors to create the land below (on the lower half of the page). After drawing the picture in bright colors and lines, the students used water color in the different areas and finally they sprayed the picture with colored ink to  add a final touch to the picture! The students had a great time and learned a lot about warm and cool colors!
ABC Mouse Update
If you have been trying to use ABC Mouse with your child on any device, we discovered a glitch that a few of us were having. If anyone else was having issues using the app at home, hopefully this will solve your problem too. Ms. Martin added every lesson she could for our class, and now you should have a plethora of lessons in the "My Lessons" button. Give it a try and let me know or Ms. Martin know if you are having any additional problems. Thank you for always asking such great questions that help us realize the issues that are happening so we can get them resolved for everyone!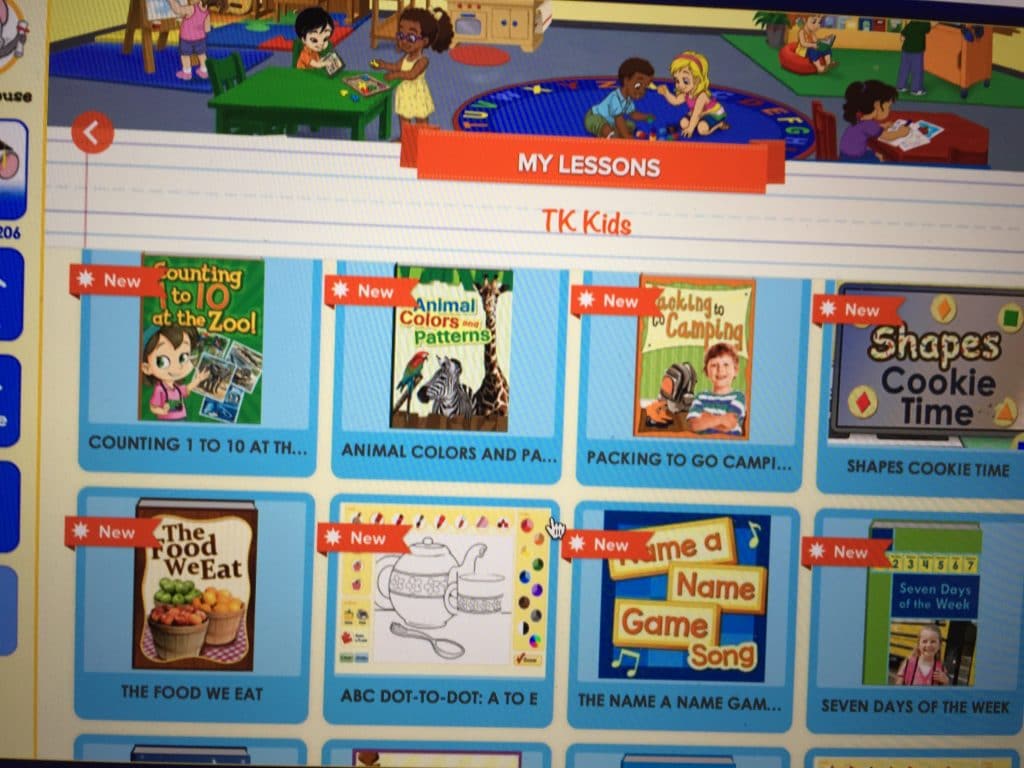 Green Assembly
This week we had a Green Assembly in the auditorium. This was put on by Mrs. Smarty Plants. She was enthusiastic and dynamic. The students loved her! She spoke mostly about water and water conservation that we can help to save water for our earth and to share with all the others on the planet. It was a great assembly! At the end she had them use sign language she taught them to go with the song, "With My Own Two Hands," by Ben Harper. It was sweet and beautiful. Check out these pics and this video below!
Character Education – Compassion
Ali Jones came in this week to speak with our students about an important talk about being compassionate. During this talk they brainstormed some ideas that helped to remind us how to explain being compassionate. Students gave examples of ways that they had been compassionate in the past, or a time when someone had been compassionate to them.
Then she gave the example of how people are not compassionate they can feel hurt they might act like "Eddy the Egg," by using hurtful words. When she first put Eddy in the water, he sunk to the bottom of the cup. Then she showed the students some special "compassion crystals" she brought and let some students say words of compassion to him and them pour in some compassion crystals for Eddy's water cup. Then she put Eddy in again and this time, he FLOATED. The kids were elated. It was a great example to show how compassion can lift others up!
Celebration of the Arts
Thursday evening was our annual Celebration of the Arts at Barnes and Noble in Mira Mesa! It was so fun seeing so many of you there! I saw many past students and a few students from this year. I'm hoping many of you were able to visit. It was a great fun to go on a hunt to get all the stamps offered, which in turn let you be entered in a drawing for the gift basket! We heard the choir sing and the orchestra play! What a fantastic event! If you didn't make it this year, come on out next year!
Parent Teacher Conferences Schedule
Just a reminder that next Wednesday, Thursday and Friday the entire school gets out at 12:30 pm. This may affect traffic/parking. SAY students for these 3 days are only the children that go on Thursdays. This may affect your childcare as well.
Sight Words
We have started to focus on specific sight words for reading and writing in class. If you are using the cards to play, My Pile, Your Pile (as discussed in Parent Teacher Conferences with the packet of sight words) these are words that your child should know or be familiar with. If you need a new packet of words, please let me know:
I, a, the, like, and, is, see, you, went, of, play, look, looking, and, can, in, she, said (new words are in red).
This is a word that shows up in many books often! Its a great one to master to support their reading.
Stars of the Week
Upcoming Events
Jog-A-Thon – March 17th, 2017
St. Patricks Day – March 17th, 2017
Conference Days – March 15, 16, and 17
Kindergarten/TK Science Night – Thursday, March 23rd
Spring Break March 25th – April 2nd
MONDAY – 3/13
TUESDAY – 3/14
WEDNESDAY – 3/15
Before School Run Club
Parent Teacher Conference Days (EBS 12:30 Dismissal)
THURSDAY – 3/16
Whole School Dismisses at 12:30 (pick up at Room 206)
Mission to Save Table open at 8:00 am in front of the school
Parent Teacher Conference Days (EBS 12:30 Dismissal)
Computer Lab
FRIDAY – 3/17
Music with Mr. Waczek
Before School Run Club
Computer Lab @ 10:15 am
Parent Teacher Conference Days (EBS 12:30 Dismissal)
Annual Jog-A-Thon
St. Patrick's Day