IN THIS POST:  Generosity Bag Update,  Jog-A-Thon, You are a GOOD PERSON, Noruz, TK/K Science Night, Sight Words, Stars of the Week, Upcoming Events, This Week
Generosity Bag Update
This week the bags continued to come on in! Each day we had many bags come in! We have one week left to bring in bags! Thank you in advance for the many faces that will enjoy the snacks, comforts and bring smiles to many faces! The last day to bring bags in has been extended until next Friday, March 24th!
Generosity Count Update: 92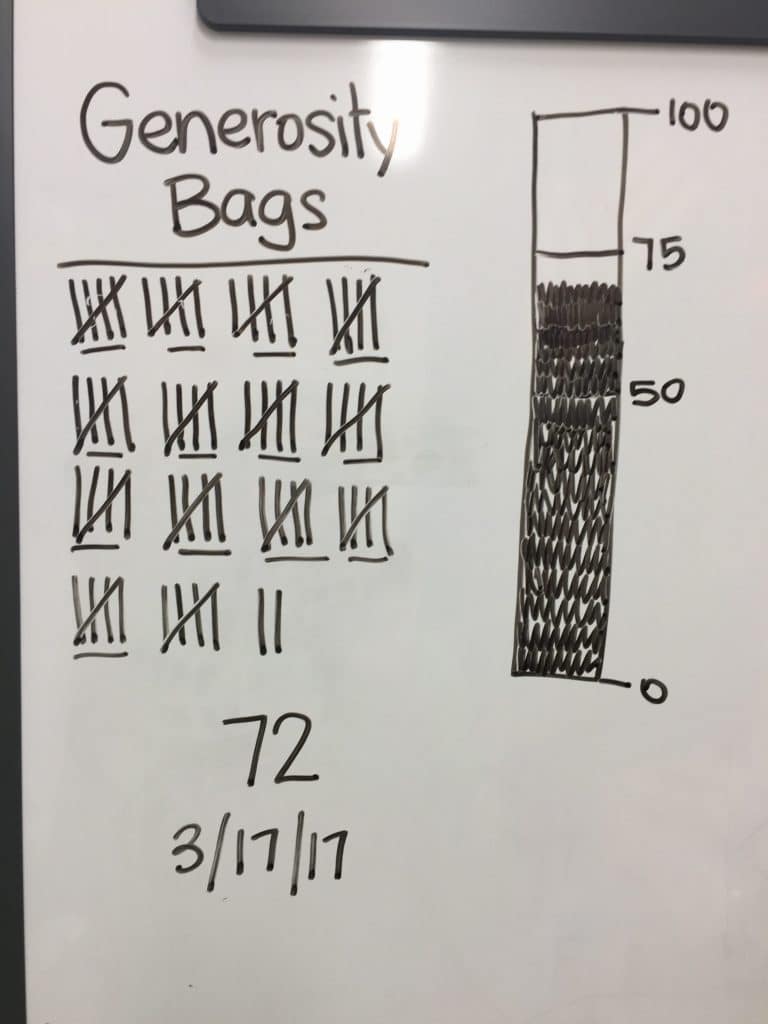 Jog-A-Thon (JAT) 2017
What a day we had! This day is so much fun! Thank you to all the parents who came out for the fun and helped in so many different ways! We started the JAT with a group photo and then went up to the field for  some warm-up exercises with Mr. Nady! Then we got in line to start the JAT! We ran from 10:50 – 11:50 and then went to the lunch tables to eat and enjoy a popsicles (thank you Ali Jones)! There was lots of energy, pride, effort, and fun!
Donations

– Will still be accepted through next Friday, 3/24/17. Our class came in 2nd for reaching their donation goal first! We received a gift card to spend on the classroom!

Running in Action

– Our students rocked the run! They did fantastic! In the beautiful San Diego weather, students persevered to run/walk around the field! Hooray you awesome runners!

Volunteers and Visitors

– Families came out to SUPPORT! They cheered, passed out oranges and water, ran with students and squirted them silly to stay cool! What an awesome day!

Pink Shirts!!

– Enjoy your lovely pink shirt! These are yours to keep, but keep hold of it…there is a chance we may wear it again in the future!
You are a GOOD PERSON!
This past week, we read a lovely new book donated by the Franklin Family. The title of the book is "Good People Everywhere." The book discusses how all over the world there are people doing good things. It goes on to explain how parents, kids, teachers, cooks, siblings, etc. and examples of good things they do. We discussed all the good people in our world and how we can recognize their good by telling them how grateful we are. If you have happened to hear your child say to you or someone else, "You are good person," they are expressing their awareness for other's good and their effort and they are loving, noticing and appreciating them!
*See the thank you note from Mrs. Jill (a noon duty friend) that was so appreciative of their kind words!
Noruz
Mrs. Neda Afshar came in this week, to share an Iranian holiday called Noruz (meaning New Day). This is a holiday that has been celebrated for 3000 years and celebrates the coming of spring! She came in to decorate a sample table showing how they decorate to celebrate the special day. She also read a book to the students that gave some history on the holiday as well and then showed them a short video that shared some traditional music along with seeing some of the dancing they do to celebrate!
TK/Kindergarten Science Night
Next week is the TK/K Kindergarten Science Night. During this night parents and their TK/K student are welcome to come and go through a series of science experiments with their mom and dad! Its a fun and educational date night to spend with your sweet student! It is next Thursday night 3/23/17 in the MRP.
*NOTE: This night is for TK/K students only as there are not enough supplies for siblings.
Sight Words
We have started to focus on specific sight words for reading and writing in class. If you are using the cards to play, My Pile, Your Pile (as discussed in Parent Teacher Conferences with the packet of sight words) these are words that your child should know or be familiar with. If you need a new packet of words, please let me know:
I, a, the, like, and, is, see, you, went, of, play, look, looking, and, can, in, she, come, are, he (new words are in red).
Stars of the Week
Upcoming Events
Kindergarten Science Night – 3/24/17 @ EBS MPR
Spring Break – 3/25/17 – 4/2/17
Scholastic Book Order Due – 3/23/17
Generosity Bag Due Date – 3/24/17
JAT Donations Due Date – 3/24/17
MONDAY – 3/20
TUESDAY – 3/21
WEDNESDAY – 3/22
THURSDAY – 3/23
Whole School Dismisses at 12:30 (pick up at Room 206)
Mission to Save Table open at 8:00 am in front of the school
TK/Kindergarten Science Night
FRIDAY – 3/24
Music with Mr. Waczek
Before School Run Club
Computer Lab @ 10:15 am
Last Day to bring in Generosity Bags
Last Day to Return JAT Donations
Have a wonderful spring break!