IN THIS POST:  Valentine's Day, Disaster Drill, Dr. Seuss Spirit Week, Celebration of the Arts, Parent Teacher Conferences, Sight Words, Upcoming Events, This Week
Valentine's Day
We had a day of love on Tuesday! Our day was themed with hearts and love for this special holiday! The students started their day by splitting into 2 groups to play a math game and to build a snail valentine! Later after snack, our Room Moms planned some fun activities. The students made a special valentine card, painted some awesome "LOVE" art, along with decorating and writing about what they love on a paper heart and then adding it to the Heart Wall which now resides in the back walkway of our classroom. A special thanks to the Room Parents for planning and for all the parents that came in to help!
Disaster Drill
This past Thursday we had a Disaster Drill. We have at least one drill of some type (Fire, Disaster, or Lock Down) each month. The students have made great improvements on these drills.
During a Disaster Drill Ms. Sloan gets on the Speaker and tells the children to pretend that the room is shaking and to act accordingly. During a disaster drill we react in this way:
Get under any desk/table (Curled in a ball, with our faces/head inward. One hand holding the leg of the table and the other arm covering our eyes/head.
Then we wait for 2 minutes with no shaking. (I keep track of the time)
After 2 clear minutes we walk out to our safe place (the upper playground, near the basketball courts).
There we wait while the Safety Team (designated EBS Staff members) walk through the school, checking each room to see if it is clear.
At the end of the drill we walk back to our class and usually do a short debrief about the drill.
The students have improved so much over the course of this year! I'm so proud of them!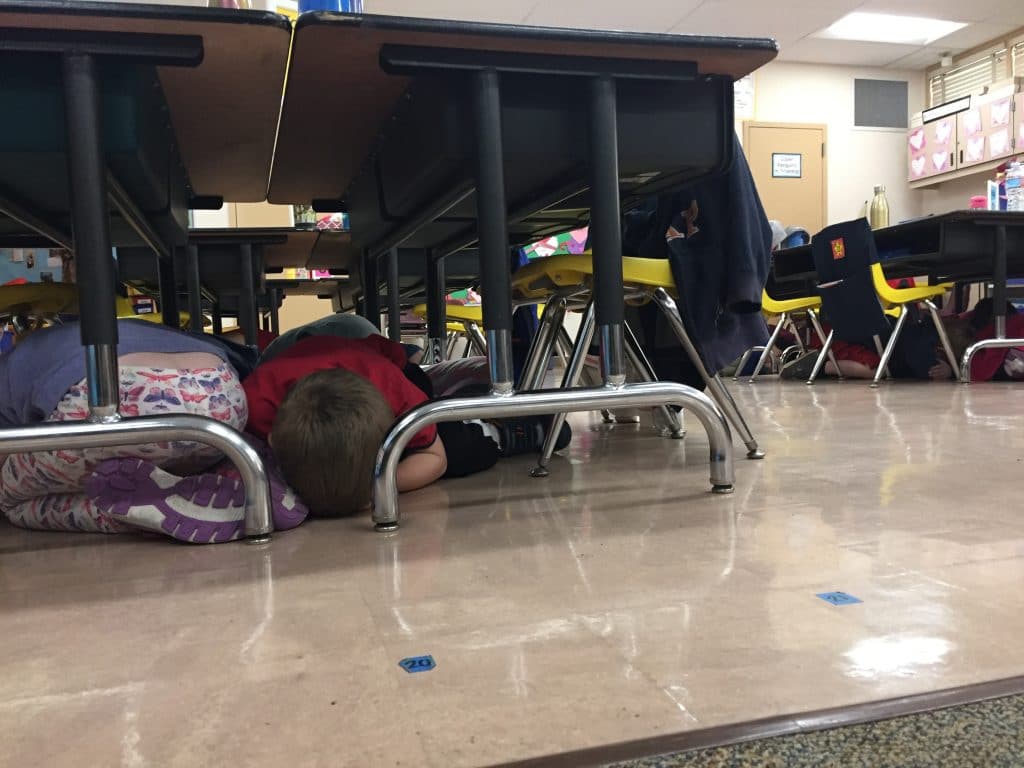 Seuss Spirit Week
March 2nd marks the birthday of one of America's favorite authors who has greatly impacted many readers of young and old. In honor of Dr. Seuss, the Kindergarten classes will be having a Seuss Spirit Week from Feb. 27th – Mar. 3rd. Each day will have a different dress up theme to match a different Seuss book. On Thursday, March 2nd, Families will be invited to come in at the end of our school day to read with students for the official Read Across America Day.
If you are reading this, you are getting a sneak peak of the flyer that will go out so that you can start to prep for how you will show your Seuss spirit!
Celebration of the Arts
Each year, EBS has a Celebration of the Arts night at Barnes & Noble in Mira Mesa. During this event, student artwork will be show cased at the store as well as being able to listen to the EBS Choir and Orchestra. It is also a night to come together as a school community within an environment of literacy.
Parent Teacher Conferences
We are almost at the end of the second grading period as this month comes to an end. March 15th, 16th and 17th will be minimum days for the whole school. The school only reserves 3 days for conferences this grading period, as teachers will conference with some families as requested. Please mark your calendars as the whole school will dismiss at 12:30pm on these days and SAY will only be taking those students who attend on regularly Thursdays for these days as well.
Sight Words
We have started to focus on specific sight words for reading and writing in class. If you are using the cards to play, My Pile, Your Pile (as discussed in Parent Teacher Conferences with the packet of sight words) these are words that your child should know or be familiar with. If you need a new packet of words, please let me know:
I, a, the, like, and, is, see, you, went, of, play, look, looking, and, can, in, she (new words are in red).
Upcoming Events
Dr. Seuss Week – Feb. 27th – Mar. 3rd
Read Across America Day – Thursday, March 3rd
Celebration of the Arts – March 9th, 2017
Jog-A-Thon – March 17th, 2017
St. Patricks Day – March 17th, 2017
Conference Days – March 15, 16, and 17
MONDAY – 2/20
NO SCHOOL – President's Holiday
TUESDAY – 2/21
Before School Run Club
Character Education with Meredith Nady
WEDNESDAY – 2/22
THURSDAY – 2/23
Whole School Dismisses at 12:30 (pick up at Room 206)
Mission to Save Table open at 8:00 am in front of the school
FRIDAY – 2/24
Music with Mr. Waczek
Before School Run Club
Computer Lab @ 10:15 am