IN THIS POST: Parent Teacher Conferences, Fall Festival, Food Drive, 206 Halloween Fun, Box Top Total, 50th Day of School, Scholastic Book Fair, Color of the Week Picture, Upcoming Events, This Week
Parent Teacher Conferences
Sign-ups went out this past week. Please check your email and sign up this week if you haven't done so already! We are looking forward to meeting with each family! Your kids are doing awesome!
Fall Festival
We hope you enjoyed all the fun on Friday night at the Fall Festival! What a great event and how much fun to come to school in your costume! Here's a picture of my little kiddos at the Fall Festival!
A special thanks to Lesley Russe for her donation  of Legoland passes to create our 206 Silent Auction Baskets for the Fall Festival this Friday.
Food Drive
This will be our first act of generosity this year! Our school contributes to a Food Drive each Fall. The Drive runs from November 2 – 16. Its a great reason and time to give food to those who are less fortunate, but also take this opportunity to speak with our child about how abundant our lives are and how there are so many ways we can be kind and give to others and experience the joy that giving brings. We will definitely be talking as a class about this, but also encourage you have some of these conversations at home. Here's the details of this event!
No glass containers
Proteins are preferred to fill these bellies with lasting foods (canned tuna, chicken, beans, peanut butter, tomato sauce, cereal, rice, pasta, canned soups, canned vegetables, canned fruit, infant formula, powdered milk, or nuts.
Bring items to the classroom so we can count them and add them to our generosity wall! We will bring them over the front of the school or MPR after counting them. Thank you!
We will be other events this year where we have the opportunity as a class to give to others, learn about those in need, and discover the joy in helping!
206 Halloween Fun
This Halloween we will be celebrating the classroom! We don't wear costumes at our school, so come dressed in any orange and black garb or Halloween T-shirts you may have!
We will be having a guest reader and poem by Mrs. Rachel Franklin
We will be attending computer lab as well for some practice and spooky fun
We will be having our Halloween Celebration from 11:30 – 12:30 in the class
We will be celebrating our October birthdays at the very end of the day – popsicles!
All parents are welcome to join from 11:30 – 12:30 for the celebration as long as they are on the EBS Cleared list!
Box Top Total
The Box Top Fall Collection time ended last week! Thank you to everyone who contributed Box Tops! A special thanks to the Crystal Meginness for heading up our class collection and Rachel Franklin for providing the collection box. Our class collected 255 Box Tops! Woot! Woot! The overall school collection raised about $1200 dollars for our school! There will be one more collection period and contest in January/February, so keep on collecting and have your family and neighbors collect as well and save them for the new year! Thank you!
50th Day of School
The 50th Day of School is approaching quickly (can you believe we've almost been in school for 50 days! For the first time ever we plan to take advantage of this great TK number on Tuesday, November 8th! We will take this opportunity to do some counting and singing and craft time fun along with some other fun activities to show we are half way to 100 days of school! One of the highlights of our day will be to dress retro-style in classic 50's fashion! No need to buy anything, but look around your house or borrow from a friend some jeans, white t-shirts, poodle skirt, gel up your hair or put a bandana in a high ponytail! This is going to be adorable and so much fun!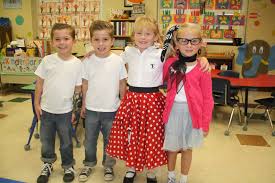 Scholastic Book Fair
The EBS Scholastic Book Fair is on! Our school does a fantastic job of theming and decorating the library to build the excitement and fun of this book event! This year the theme is a pirate theme called the Book-A-Neer! All the details of the dates/times are listed on this sheet. A packet went home with you this past Tuesday explaining all the events in detail. I'm attaching pictures of each page as well in case anyone missed it.
On Monday, November 14th our class will be visiting the Book Fair from 9:00 – 9:30. If you'd like to stay after drop-off and join us over at the library, we'd love your help. Students may bring money to shop while we visit, or they can make a list of items they are interested in buying (in which you can come back later to purchase if you'd like). Where we could use help is during the "writing a list" part. This task can take a large amount of time for the students as they write down the title, location and price of the book. Please let Mrs. Hickson know if you plan to join us that day as it will be a Monday!
On Wednesday, November 16th, Family Night at the Book Fair occurs. There are prizes, games and you get to dress in pajamas or a costume. The last day of the book fair is also Grandparents Day (Friday, November 18th) on campus! Feel free to visit the book fair with Grandma and Grandpa that day as well!
Reading Legacies – As a part of this book fair our school does its best to raise monies to give books to those who don't have any. Again, this is a great opportunity to share with your child about how much we have and how much we can give to those who go without books. Its hard for some children to imagine that there are families without any books in their homes. The school is sponsoring a contest to see who can bring in the most money to donate. I encourage you to not get hung up on the contest, but find spare change, loose dollars and donate to give another family the gift of books that we sometimes forget we are so lucky to have! We got our first donation on Friday! 
Color of the Week Picture!
Upcoming Events
Make-Up Picture Day – November 8th
Volunteer Picture Day – November 8th (for Visitor Badges)
50th Day of School – November 8th
Scholastic Book Fair – Thursday, November 10 – 18
Grandparents Day – November 18th
Minimum Days, Parent Teacher Conference Week- November 14 – 18
Thanksgiving Vacation – November 19th – November 27th
MONDAY – 10/31
Before School Run Club (Mrs. Miller will be there!)
Halloween – Mrs. Miller will be teaching!
206 Halloween Celebration @ 11:30 – 12:30 (all cleared parents are invited)
TUESDAY – 11/1 (NOVEMBER!!!)
Before School Run Club
TK/K PLC Meeting – Mrs. R will be here!
WEDNESDAY – 11/2
THURSDAY – 11/3
Computer Lab
Whole School Dismisses at 12:30 (pick up at Room 206)
Mission to Save Table open at 8:00 am in front of the school
Color Day – 

Don't forget to wear BROWN
FRIDAY – 11/4
Music with Mr. Waczek
Before School Run Club