IN THIS POST: Super Pledge, Halloween Window Art, Fall Festival – Friday, October 28th, Parent Teacher Conferences, Rainbow Reading, Miss Ellen's Birthday, Marble Party, CA Great Shake Out – 10/20 @ 10:20 am, Orange Week, Birthday Shout-Outs, This Past Week, Upcoming Events
Super Pledge
CONGRATULATIONS!!! We have 100% of our Super Pledge Envelopes in! This is so exciting! We were announced Friday afternoon over the loud speaker as one of the 4 classes with 100% of our envelopes in! Thank you sincerely for your time, donations and team effort to turn these in! All bracelets have been given out!
Halloween Window Art
This week Mrs. Afshar came in to do a Halloween Art Project for the window! These little creatures look adorable and decorate our window so nicely!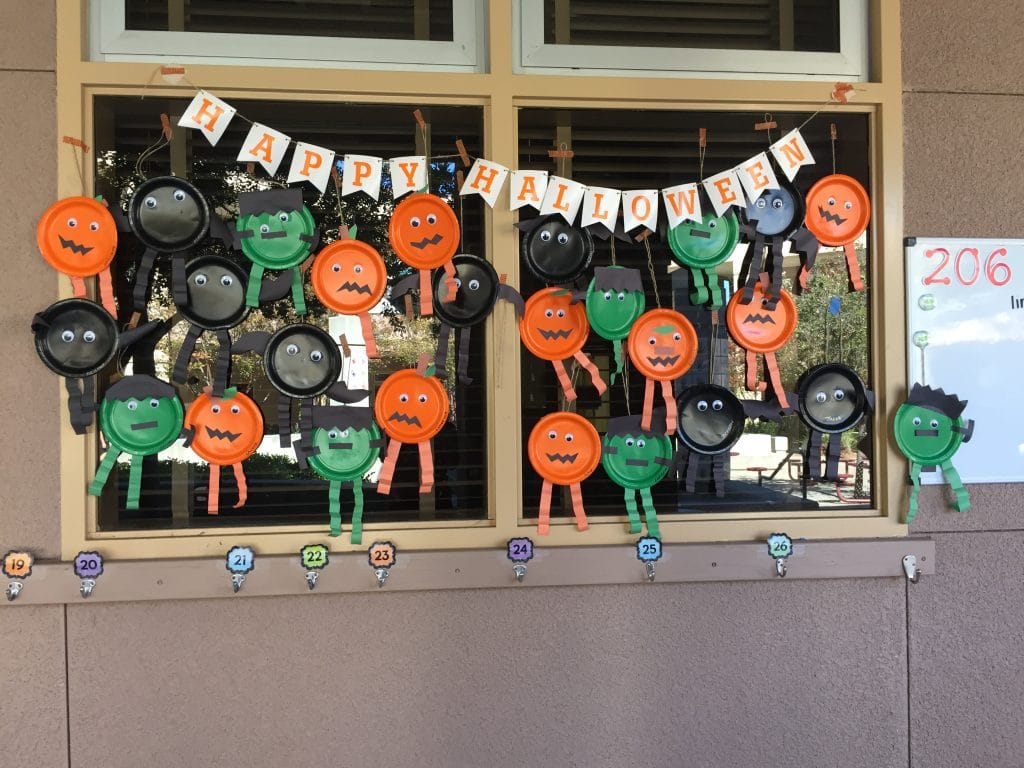 Fall Festival – Friday, October 28th
This Friday, our school will host its annual Fall Festival! Come dressed in your costumes during an eventful evening at school There will be Food Trucks, Cake Walk, Hand Tile Painting, Pumpkin Contest, Silent Auction, Teacher Auction, BINGO, Spirit Wear Sales and more! Come out to join us for a fun filled evening!
**They are needing more volunteers to make this event happen! If you are able or willing to volunteer, Sign-up here: http://signup.com/go/XGhZns
Parent Teacher Conferences
These are approaching quickly! The week of November 14 – 18th is reserved as Parent Teacher Conference Week. I will also schedule some conferences the week prior, around my afternoon work schedule. A link to an on-line sign up will be going out this week. Each slot will be 30 minutes to meet with Parents. There is no child-care for conferences. We will be going over your child's progress in different academic areas, social and noting strengths and areas to continue working on. Looking forward to meeting with each of you!
*The week of conferences is minimum day schedule for the entire school. It is also the week of our Scholastic Book Fair in the library.
Rainbow Reading
Congrats and great job on all the reading logs that have been returned! We are so proud of each student and all the reading that has been going on! Remember you are welcome to return books on Fridays or Mondays as they will be exchanged for new books. Make sure to log in any books read to or by your child on their reading log along with any comments or questions!
Try to include a good mix of books your child is reading to you (on line or from their book bag) with books you read to your child. When you read books you read to your child, there is a great opportunity for a much richer discussion regarding your child's opinions, the conflict/solution and summary of the text. When your child is reading to you, the content discussions may not be as deep, but your little reader gets to practice fluency and comprehension while thinking about the meaning!
Miss Ellen's Birthday
This week the entire school went out to the an all-school assembly to celebrate the infamous Miss Ellen (Browning Scripps)! She is quite an accomplished lady! Here's some facts you might not have known!
She was regarded as the first columnist and the first foreign correspondent
She was the first female to graduate from Knox College
She established the first public playground in the US and deeded it to San Diego
She established Scripps Memorial Hospital
She established Scripps Clinic, the second such facility in the US
She established Scripps College, the foundation of Pomona College
She established (with her sister Virginia) the Bishop's School and James-by-the-Sea Church
She established Torrey Pines State Park
She established (with her brother) the Scripps Institute of Oceanography
She was the co-founder of the San Diego Zoo
What an accomplished individual!
Marble Party
This week the students worked together to fill our class marble jar! Every time the entire class works together they get marbles in the jar. When the jar is full we have a Marble Party! This Friday we celebrated by having a Parachute Play time for our Marble Party! We had loads of fun!
CA Great Shake Out – 10/20 @ 10:20 am
This week, we along with many other Californians practiced and discussed what we would do in the event of an earthquake. We practiced getting under the desks to protect us from falling objects and debris while covering our eyes and waiting 2 minutes with no tremors until it was safe to come out and exit the building to get to an outdoor safe place. The students did awesome and may have shared the conversation with you at home regarding what they should do if an earthquake happened at home! Congratulate your sweet children!
ORANGE Week!
Next Week is Black Week!
Birthday Shout Outs
Cheers to this Birthday Sweet from this week!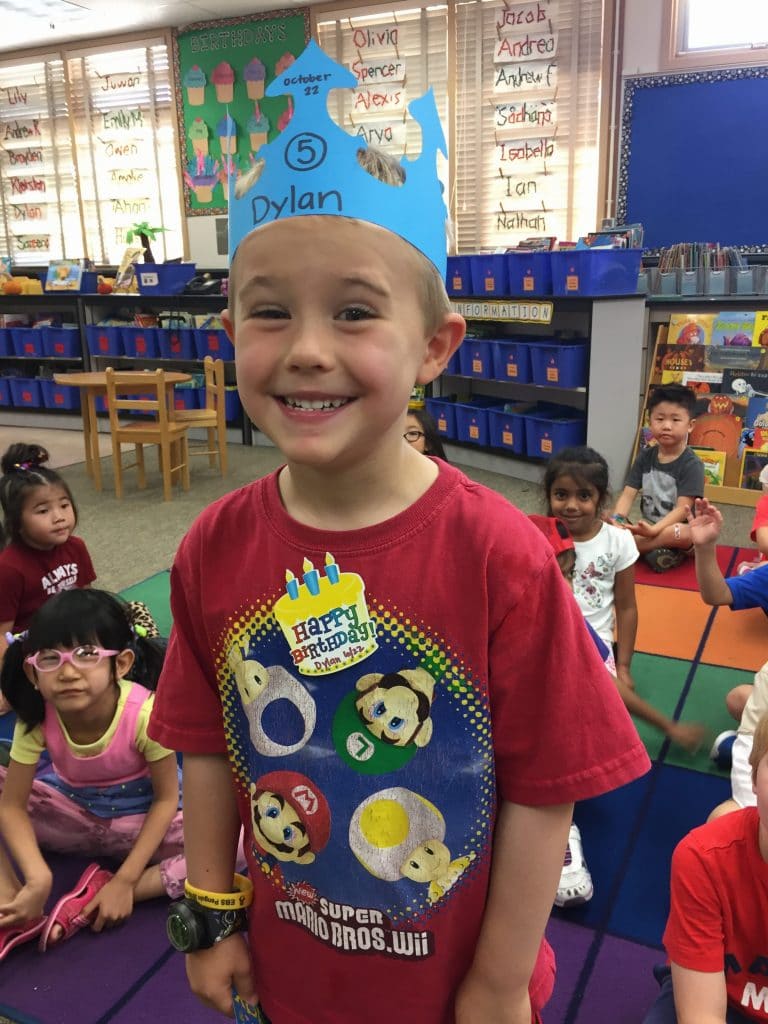 This Past Week
Math – We continued working on numbers 0-5. We practiced building the number and showing parts to 5 (1 + 4, 4 + 1, 2 + 3, 5 + 0, etc).
Interactive writing – As a warm up we practiced forming the letters we've focused on so far – Bb, Mm, Ss, Aa, Cc, Tt in addition to writing our first and last names with the correct strokes.
Writing – Students have been working this past week on writing about an idea that made you feel (sad, angry, excited, surprised, etc). We worked to include our feeling of reaction in our writing. We also continued to check that we added pictures, labels, or words about our story.
Art – Check our our Fall Trees Art this week that Mrs. Hickson did with the class. The class did a Shared Reading with the Fall Trees poem and then created their Fall Trees art!
Upcoming Events
Fall Festival – Friday, October 28th
Make-Up Picture Day – November 8th
Volunteer Picture Day – November 8th (for Visitor Badges)
Scholastic Book Fair – Thursday, November 10 – 18
Grandparents Day – November 18th
Minimum Days, Parent Teacher Conferences – November 14 – 18
Thanksgiving Vacation – November 19th – November 27th
MONDAY – 10/24
Before School Run Club (Mrs. Miller will be there!)
TUESDAY – 10/25
WEDNESDAY – 10/26
THURSDAY – 10/27
Computer Lab
Whole School Dismisses at 12:30 (pick up at Room 206)
Mission to Save Table open at 8:00 am in front of the school
Color Day – Don't forget to wear BLACK!
FRIDAY – 10/28
Music with Mr. Waczek
Before School Run Club