IN THIS POST: Super Pledge,  Class Roster, Rainy Day Schedule, ABC Mouse/Computer Lab, Letter S, Problem of the Day, AFP Family Night Outings, Volunteer Calendar, EAR Training, Birthday Shout-Outs
Super Pledge
This week the annual EBS-AFP Super Pledge has begun. This is our biggest fundraiser of the year and funds so much of the EBS "awesomeness!" Some examples are:
Our Technology Academy along with Ms. Martin
Classroom Supplies for every class
Fine Artist Program and supplies
Family Science Night
Everyone a Reader Program
School-wide assemblies
Facility Improvements
and much more!
Envelopes and information went home earlier in the week. As a parent I am so grateful for our Foundation and all that it offers to create a great education as a whole to my child. As a teacher I am equally grateful as it provides for our classrooms and school so that we have all we need to teach our students! When the white envelopes are filled out and returned (regardless of the donation) students receive a yellow EBS bracelet. Specific amounts will receive an infamous EBS magnet (see picture below) that you see all over town (new 16-17 magnets are a new square shape!!) and a 2016-17 yearbook! Thank you in advance for participating and supporting our amazing school!
Class Rosters
This past week the 206 Class Rosters went home. They were printed on purple-ish color and were laminated to help protect them for the year. The roster has each students name on it (alphabetically listed) along with each parent name and preferred contact information. They can be used for playdates, writing letters/notes/cards, etc.
Rainy Day Schedule
This week, we had our first Rainy Day schedule. In the case of a rainy day, students will still put away their backpacks, folders and snacks and can wait against the wall in the long hallways near our main front door. If Mrs. Hickson or I are already in the room, students may come right into the classroom to wait as the rest of the children arrive.
On those wet days we eat a few minutes earlier in the Multi-Purpose Room and come back to the classroom for a indoor recess. We typically leave umbrellas in the classroom as they get broken/lost up at the Multi-Purpose room and are difficult for students to manage along with carrying their lunches.
If it is a rainy day, you may also prefer to send your child with a snack from home rather than buy a hot lunch as they have to detour to the cafeteria and then carry their snack trays in the rain to get back to the cafeteria for eating.
ABC Mouse/Computer Lab
This week in the Computer Lab students continued to practice procedures of getting into the school website access to play some educational games. See the "click" directions below to practice with your child at home.
Students Tab
Technology Academy Tab
Choose either Ms. Martin's Favorites or Website of the Week Tabs
Students also went home with directions in their folder yesterday of how to log on to your child's free subscription of ABC Mouse (Thank You AFP!) and redeem their free account for home use. Students will also be accessing this account from the computer lab, but this is the way you can access it from home.
Letter S
This week we focused on the letter S and how to write the letter S. Many students will tend to write the Letter S backwards, so we practiced doing the S dance, where you move your body in the shape of an "S" while saying "left-right-left" to remind us of the direction! Try the "S" dance on at home!
Problem of the Day (POD)
Students received their Math Journals this week as they practiced some problem solving inside. We started with some simple math stories (based on engaging stories I told them). An important part in our math solving is to be able to explain your thinking in solving the problem. Many kids simply learn algorithms and computation but aren't able to explain their thinking in solving or understanding of the problem itself. Understanding the concept one of the most valuable parts of understanding and learning math.
This problem solving time also allows multiple opportunities for students to put the Mathematical Standards of Practice in to play. These are K-12 Math Standards that encompass the practices of mathematicians. You can check out these standards here: http://www.corestandards.org/Math/Practice/
AFP Family Night Outings
Each Month the AFP Hosts a Family Night Out at a local eatery in town. These are two-fold opportunities as you can dine with your family or friends on those specified dates while giving back to your EBS Community as a profit from all EBS purchases (usually requires showing a flyer) will go back to the school. Another fun and often unexpected benefit is that you will bump into other EBS Friends and staff while dining since many try to go for the yummy food and to support our school! Mark your calendars as they dates come up so you don't miss out! Our first one is this Thursday, at the Scripps Ranch Pizza Rev! 
Volunteer Calendar!
I'm working on the Volunteer Calendar this weekend and will be sending out a draft by email to confirm days, dates and schedules with those volunteering. A new clearance list just came out Thursday that I will also be emailing out to families to check your Clearance Status. Thank you for your patience as our Clearance List is used as a cautionary measure to keep all students safe and to align with our district policies in safety as well.
EAR Training
This is a great opportunity to learn more about guiding your new reader at home. If you are able to attend, our school has an Everybody A Reader Program, where volunteers get trained in supporting students in how to read. These trained volunteers then are assigned to classrooms to help struggling students by reading reading with them 1:1 on a weekly basis. Its a fantastic program! If you are not able to be a volunteer in the program, but would like to attend the training this week to help your own student in reading at home please feel free to attend.
The training is this week, Tuesday, September 27th at 9:00-10:30 in the Multi-Purpose Room. If you plan on coming please contact Cindy, program leader to RSVP at cindyjt09@gmail.com Please RSVP by Monday at noon. (There is no childcare provided for this event).
**If you are able to attend as  a 206 parent/grandparent, please let me know and I can set up a time where you are able to help in reading with some of our 206 students 1:1 as a volunteer.
Birthday Shout Outs
Here's the birthday buddies from this week!

This Past Week
Math – We introduced POD Math Journals along with assessing each student for classifying, sorting.
Interactive writing – We continued to label our room while using our whiteboard materials to all practice together.
Writing – students are writing stories to add to their folders in which they tell a story with details. Students can go back and add more to their writing the next day or start a new piece. See the picture of a student sharing his story to the class below.
Art – Students made Chicka Chicka Boom Boom tree with the letters of their name and the count of letters in each students name.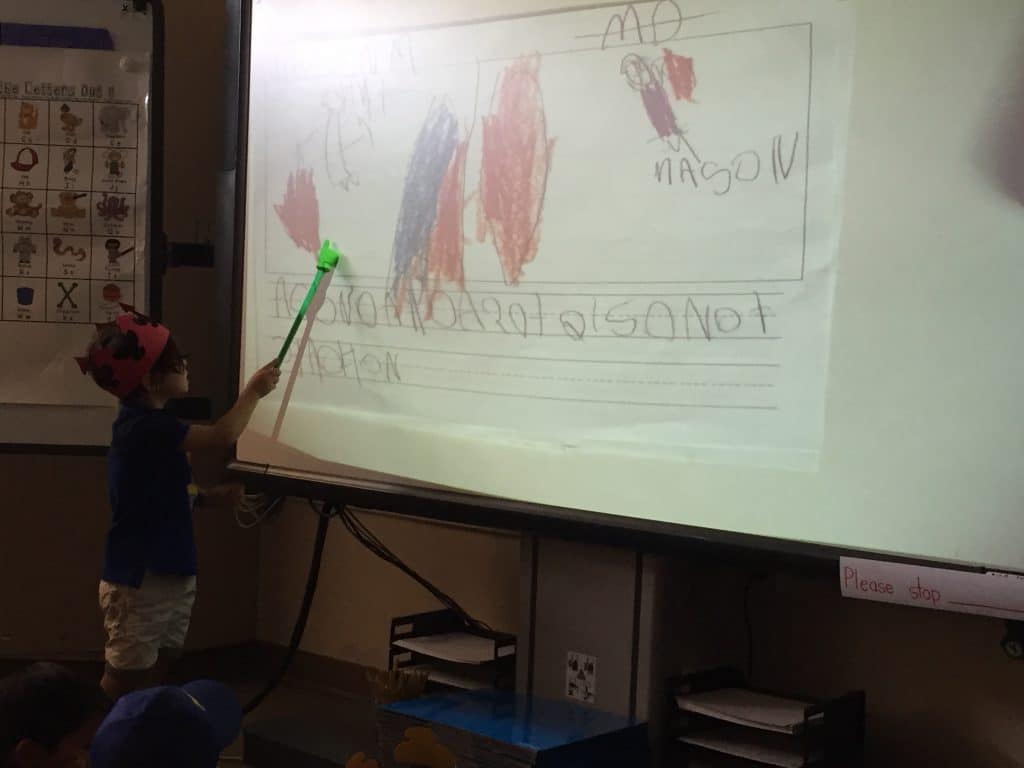 Upcoming Events
EAR Training – Tuesday, October 27th
School Pictures – Tuesday, October 5th
All School Assembly – October 18th
CA Great Shake Out (Disaster Drill) – October 20th
Fall Festival – Friday, October 28th
MONDAY – 9/26
Before School Run Club (Mrs. Miller will be there!)
TUESDAY – 9/27
Before School Run Club
EAR Training @ 9:00 am
WEDNESDAY – 9/28
THURSDAY – 9/29
Computer Lab
Whole School Dismisses at 12:30 (pick up at Room 206)
Mission to Save Table open at 8:00 am in front of the school
Color Day – GREEN
AFP Family Night Out (Pizza Rev)
FRIDAY – 9/30
Music with Mr. Waczek
Before School Run Club