IN THIS POST:  Character Education – Responsibility, Interactive Writing, Scholastic Book Order, Letter Bb, RED Week, Run Club, Shutterfly Class Site,  Room Parent Letter, Upcoming Events, Birthday Shout Outs, Get Waddled, This Week
Character Ed. (Responsibility)
Last Thursday we had our first Character Education lesson of the year!  We were lucky enough to have Dylan's mom, Ms. Ali, come in and teach the kids Responsibility.  The kids loved how she involved them in talking about how to be responsible through different examples.  They acted out different situations and shared how they are responsible at home or in the classroom.  They also talked about making mistakes and how they can fix those mistakes.  She finished the lesson with a fun story about responsibility and the kids drew pictures showing how they would fix a mistake.  It was a great start to our Character Ed lessons!
Interactive Writing
As we have been practicing a lot of interactive writing these last 3 weeks, (students are all writing the same authentic message co-constructed by the class, with a student model writing in front), we have been writing in the air or on the carpet with our fingers. On Friday, we passed out a writing kit to each student, consisting of a whiteboard, dry-erase market, felt eraser, and a name card. The students were so excited to receive their boards as they had been waiting all week!
Scholastic Book Order
Last Call…Since we only had 1-2 orders submitted for the Scholastic Book Order, the date was extended. If you didn't get a chance to look/shop, take a look at the book options available. I usually purchase the $1 books each month in addition to a favorite movie or character book. Check out the options at all different ages/grade levels. Make sure to get your order in by the end of the weekend. Follow the steps below:
Choose books to purchase from any grade/age catalog
Use the class code: G6LT6
The books will be shipped to the classroom and books will be sent home in your child's folder/back pack in about 2 weeks!
Letter Bb
This week we focused on the letter Bb. We practiced writing the upper and lower case correctly, in addition to practicing the sound of the letter and naming different objects that start with the /b/ sound. In addition we read and completed a Book of Bb. Continue to practice this sound along with the recognizing of the letter symbol that matches.
R-E-D Week
Each week we will spend a little time to spell and learn about different colors. The entire Kindergarten team participates in this. On Thursdays, we dress in the color of the week! This week was the color RED. Next week we will highlight the color BLUE! Save your blue outfit for Thursday!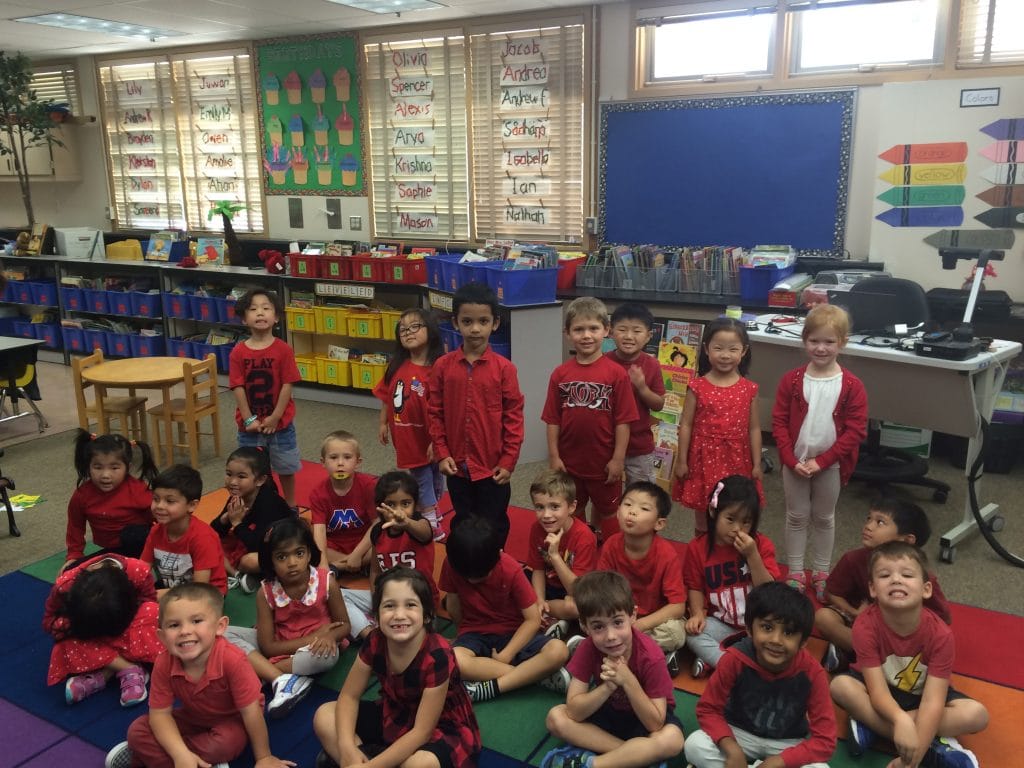 Run Club
Have you tried it out yet? Super fun! Come on out before school and get ready to start running at 8:15 am! I'll be out there running most Mondays and would love to see you all!
Shutterfly Class Site
Neda created a class Shutterfly site this weekend as a common place to share info and pictures. You likely got an invite in your email, but this is the website in case you missed it. The site is called  "EBSroom206" to share pictures with friends and class members. Come check it out at https://ebsroom206.shutterfly.com/.
Room Parent Letter
This past Friday, a letter from the Room Parents went out in folders. The letter introduces the three Room Parents and their contacts as well as explains the optional donation to create our our personal class funds for celebrations, activities, holidays, and a little extra to create the classroom basket.
 Upcoming Events:
Picture Day – October 5th (TK – 2nd Grade Photo Day)
Fall Festival – October 20th (Silent Auction, Food Trucks, BINGO, Contests, Etc)
EAR Training – September 27th (Reading training for your own child and for tutoring)
Birthday Shout Outs
Check out these cutie pies as they all celebrated their birthdays this week!

Get Waddled for your birthday!
Did you know that you have your child get waddled for their birthday! Our school offers a fun little surprise for $25, that allows your child to wake up on the morning of their birthday, with penguins on their front lawn along with birthday sign. Here's a picture of a student in our class who woke up to surprise waddle! If you're interested in having your child waddled, contact… John Cary – johndcary@gmail.com 
This Week
MONDAY – 9/19
Run Club @ 8:15 am
Start of BLUE week and the Letter S
TUESDAY – 9/20
WEDNESDAY – 9/21
THURSDAY – 9/22
Run Club @ 8:15 am
Computer Lab with Ms. Martin
Mission to Save Table open at 8:00 am in front of the school

COLOR DAY

– BLUE
FRIDAY – 9/23