Welcome to Week 36! This post includes:   •End of the Year Party   •Spirit Week   •4th of July Parade   •Western BBQ  •Video of Book Share Fair   •Running Club Achievements   •Donuts with Daddies   •PE on Wednesday   •Summer Playdates    •Future Dates   •The Week Ahead
End Of the Year Party
This date is coming very soon! Thank you for all who have signed up to bring items needed for this day! Please make sure to send in your money for Pizza/Activities.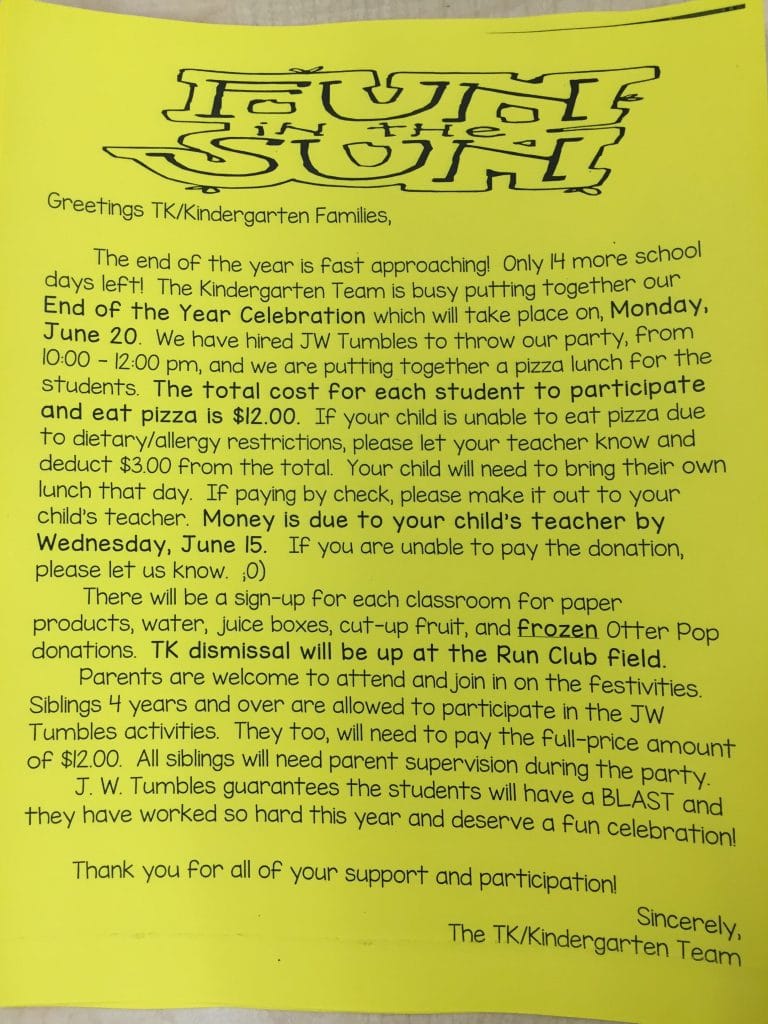 Spirit Week
This week is Spirit Week! Don't be caught without your decor! Get creative each day with the topic of the day. This is school wide and I plan on doing my best to also participate!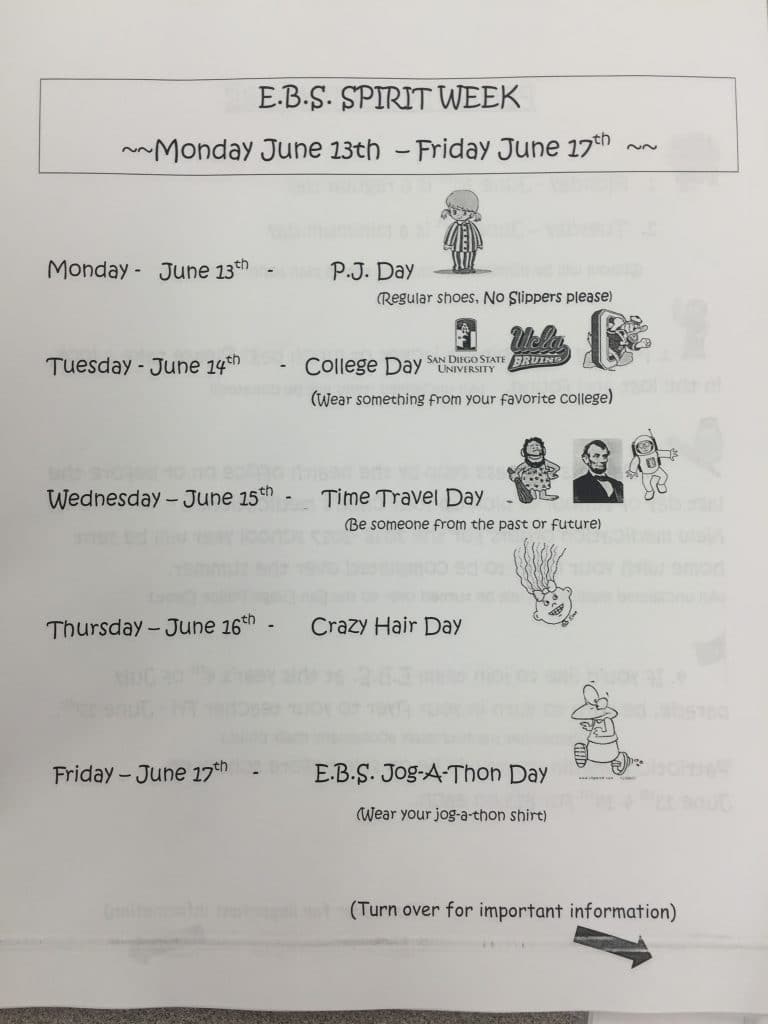 4th of July Parade
Every year EBS is a patriotic part of the Scripps Ranch 4th of July Parade. Many teachers and students and of course Ms. Sloan will come out to show spirit for our country and our school. If you thin you will be in town and would like to be a part of this school and country spirit, please fill out the form sent home and return it. In addition there are EBS shirts available for purchase in case you need one to wear for the parade!
Western BBQ
This week our school participated in the Western BBQ! We had many parents come out and eat lunch with their kiddo! What a great day with beautiful weather! Giddyup!
Video of Book Share Fair
This past Tuesday, the books that we collected (along with many other donated books) were  set up at my friend's school. She said the students had the best day! The staff and families just couldn't believe their eyes and didn't understand why so many people would be so generous to perfect strangers! This is true generosity folks! The kids all took home 5 books each and were elated and begin reading their books immediately!
She plans to do this book drive again next spring, so if you have more books that you are giving away, bring them by Room 206 next year!
Here's a few pics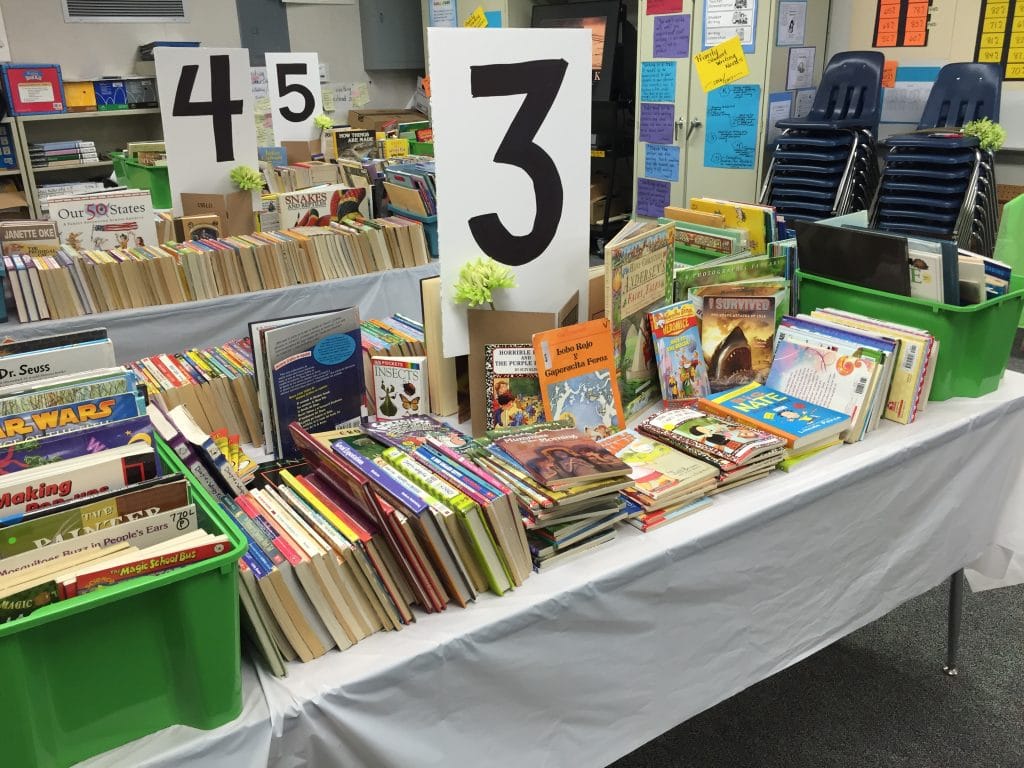 of the day!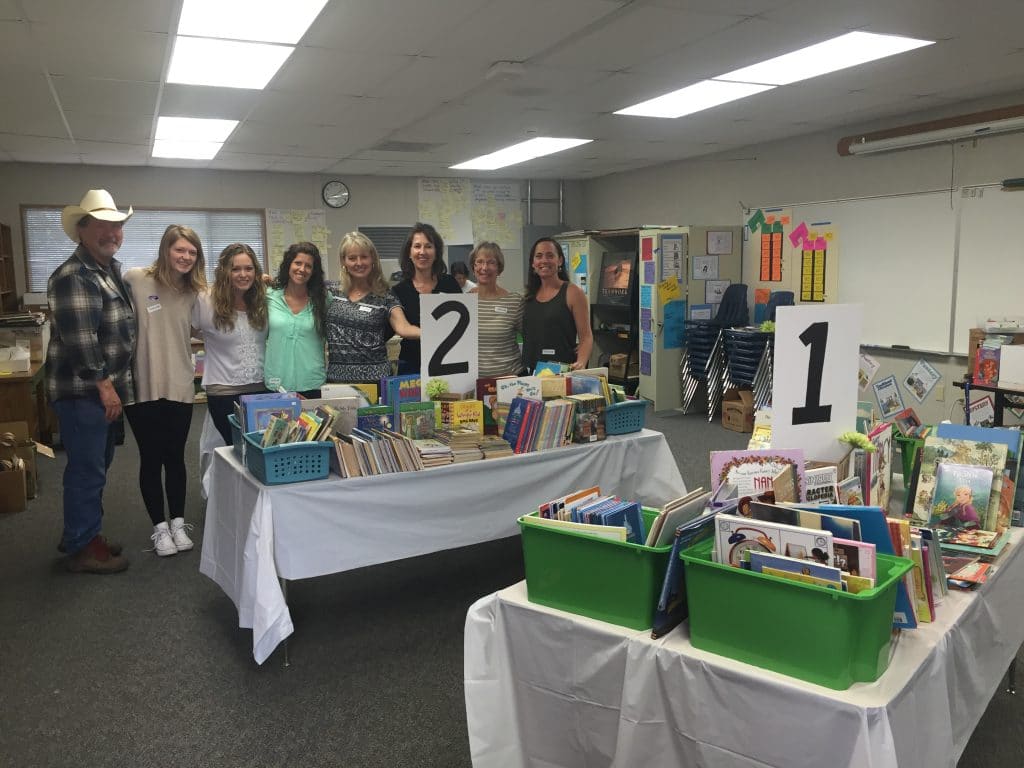 Running Club Achievements
This sweet boy received a ribbon this week to celebrate his achievement and dedication of running 200 laps this year! Congrats!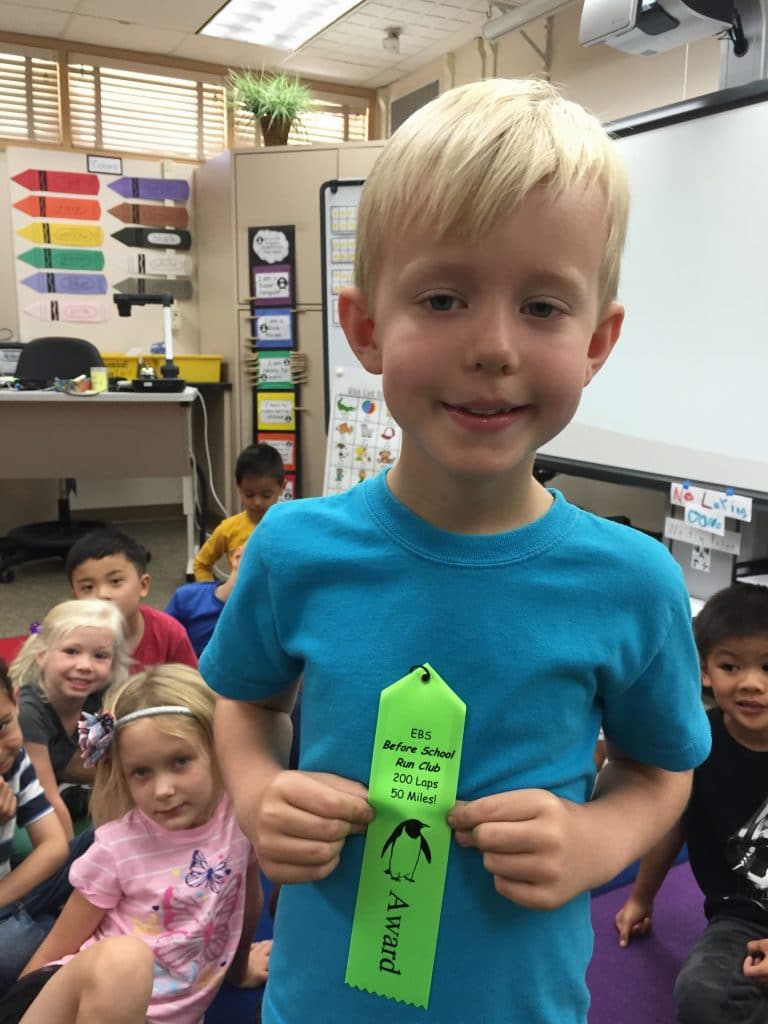 Donuts with Daddies
Just a reminder for this upcoming Thursday! If you daddy is not able to make it (we completely understand). Please feel free to send another loved one in Daddy's place if you and your child decide!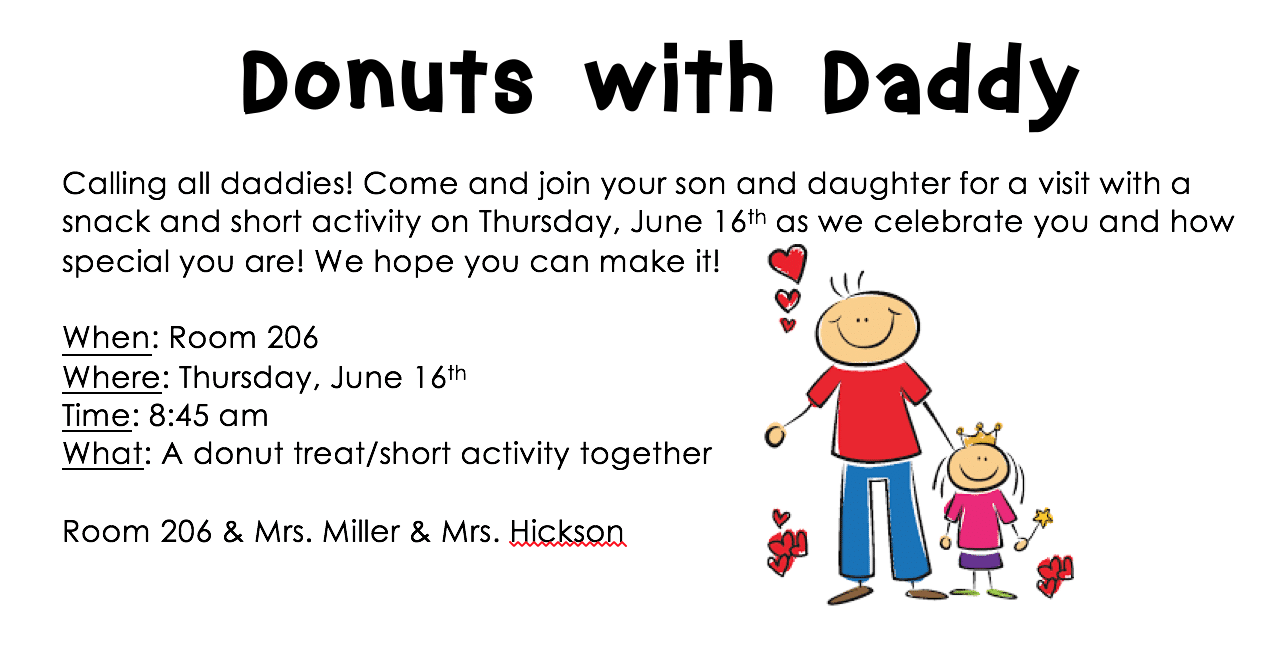 PE on Wednesday
This Wednesday we are so lucky to have a day with one of the EBS PE Coaches. Make sure your child is wearing their tennis shoes that day, with sunscreen and dressed appropriately for that day's weather forecast. Thanks! It will be a little intro to next year!
Boxes
I'll still take any boxes if you have some at home. We are starting to move this week if you happen to have any boxes to donate! Thank you!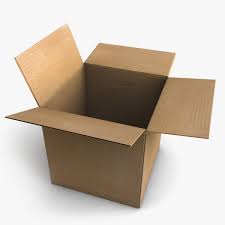 Summer Playdates!
This summer our very own Megan McGarry-Black is hosting summer playdates for any new incoming K's or current TK's. See the info. below! This is a time to join and bond as a new kindergarten community. This will be a great time to see some familiar faces and branch out to meet some new faces! Come on out and join the fun!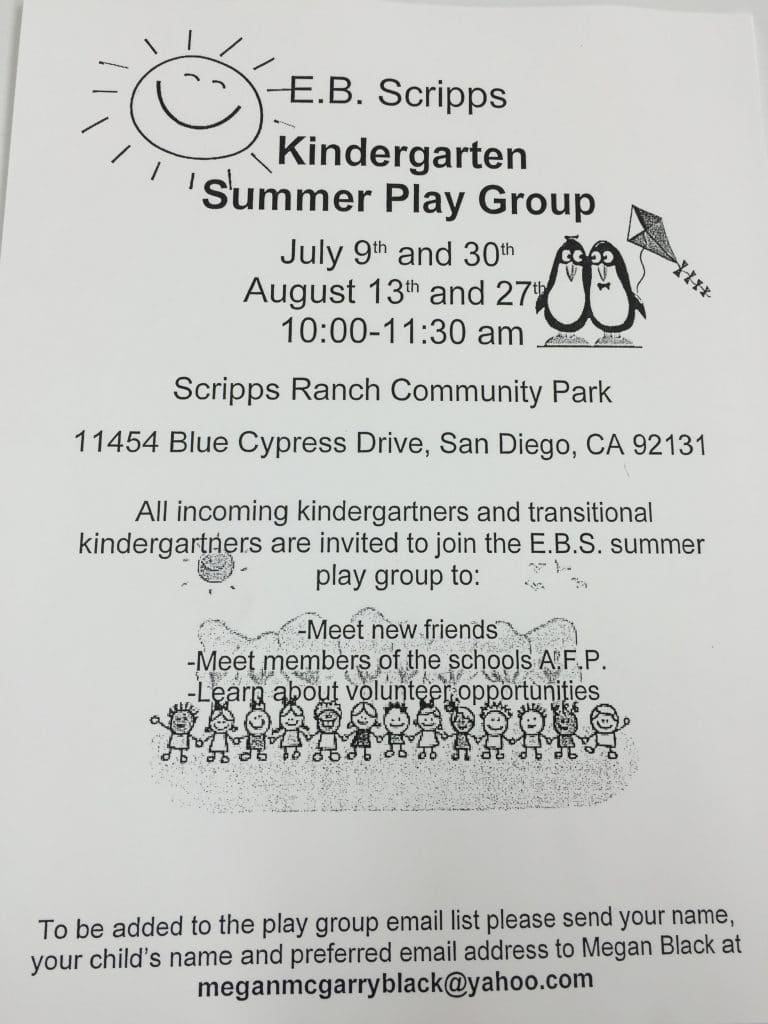 Upcoming Events
Donuts with Daddies – Thursday, June 16th @ 8:45 am
End of Year Party with all TK/K classes – Monday, June 20th, 2016
Last Day of School – June 21st
See Calendar Dates Page on our website to see important dates for this year!  https://www.linneamiller.com/calendar-dates/
A Look at our Week Ahead
Monday – 6/6
Volunteers: Shiho Brenner, Nikki Green
Spirit Week – PAJAMA DAY!!
Tuesday – 6/7
Volunteers: Stacy McMullan
Spirit Week – COLLEGE DAY!!!!
Wednesday – 6/8
Volunteers: Jeannie Smith, Megan McGarry-Black
P.E. with EBS PE teacher – wear your tennis shoes!
Spirit Week – Time Travel Day or MisMatch Day!
Thursday – 6/9
Volunteers: Kelly Murphy, Ann Tran-Lien, Meeyoung Lim
Technology Academy with Mrs. Martin
Lunch Only day at 11:35 pm (eat a BIG breakfast)
Minimum Day, whole school dismisses at 12:30pm (dismissal in 206)
Spirit Week – Crazy Hair Day
Friday – 6/10
Volunteers: Karrie Yi, Leng Tang-Ritchie
Music with Mr. Waczek – 8:50 am
Spirit Week -EBS Jog-A-Thon Shirt Day