Welcome to Week 37! This post includes:   •Donuts with Daddies    •End of the Year Party: Fun in the Sun    •What to expect the last two days….   •Summer Playdates   •The Last Two Days!
Donuts with Daddies
On Thursday we had many of our daddies, mommies and grandparents come to celebrate the love we have for our daddies! Students wrote about the "Top 3 Reasons Why They LOVE Their Daddies," and left them as a treat on the tables. We then listened to the students sing What a Wonderful World by Louie Armstrong. (so sweet) After our song, the fun began! The kids and their daddies played Minute to Win It Games! The students played first and then the daddies got a turn.
The first game was stacking as many pennies as you can using only 1 hand.
The second game was using 1 hand to push cheerios onto a pipe cleaner.
This was a hoot!
Finally, we divulged in donuts and juice! Delish! Thank you to all the family members that came out to participate and hope that each family enjoy celebrating those daddies we love so much!
End of Year Party: Fun in the Sun
This past Friday we went up to the Run Club Field to set up our tent, towels and wait for the fun to begin! Many families came out to join in and watch the kiddos have a fantastic time! J.W. Tumbles set up 6 stations for each of our classes to rotate through. Each station involved water and fun! After the games, the students each got pizza, fruit, a juice box and some Otterpops to fill up with! What a fantastic way to spend one of our last days!
What to expect in our last days…
Below you can read about some details about our last two days. Please send backpacks and folders both days as they may be used to send items home. Feel free to send yearbooks for signing.
Monday

– Students will be attending a school wide spirit assembly this morning. Students will also be coming home with a Trade Joe bag full of school belongings.

TK/K Spirit Day Theme

: Hawaiian Day

Tuesday

– Movie Day! Please send a

"G" Rated

Film to watch this morning. The class will choose one of the films to watch as a class. We will eat popcorn as we watch a great film. Report cards will go home this day in your child's folder. This is also a half day for the entire school so we will be dismissing from the classroom.

TK/K Spirit Day Theme

: EBS Spirit Day
HIGH HEAT WARNING: The temperatures are expected to be very high these 2 days. Students will be eating and playing inside. Please dress appropriately and send water bottles.
Summer Playdates
This summer there will be some organized playdates for incoming TK and K Students. If you will be around, come and join the fun to see familiar faces and welcome in any new friends! Contact our own Megan McGarry-Black for more information. See the flyer below.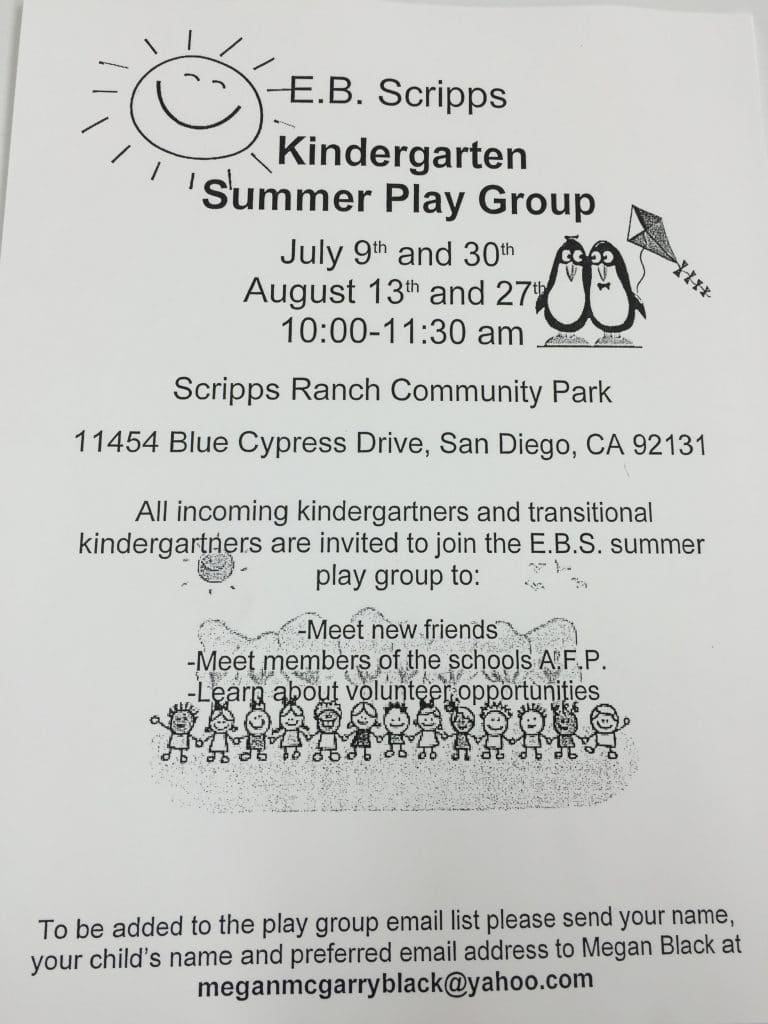 A Look at our Week Ahead
Monday – 6/20
Volunteers: Phyllis Chan, Saori Massey
All School Spirit Assembly
Tuesday – 6/21 LAST DAY!!!!
Volunteers: Stacy McMullan
Movie Day!
Summer Break Begins
Summer Break Begins
Summer Break Begins